Strawberry and Arugula Salad with Grilled Halloumi
WOW!
Seriously guys… WOW!
If I had to summarize this salad in one single word, this would most definitely be the one.
It can't be defined quite so simply, though, I'm afraid. For you see, this was not just a mere salad. Sure, it was a meal made of fresh greens and veggies, fruits, nuts and cheese. Although I agree that, in essence, this IS pretty much what constitutes a salad, this dish right here was much more than that.
This was a high level multi-sensory experience.
This was pure bliss.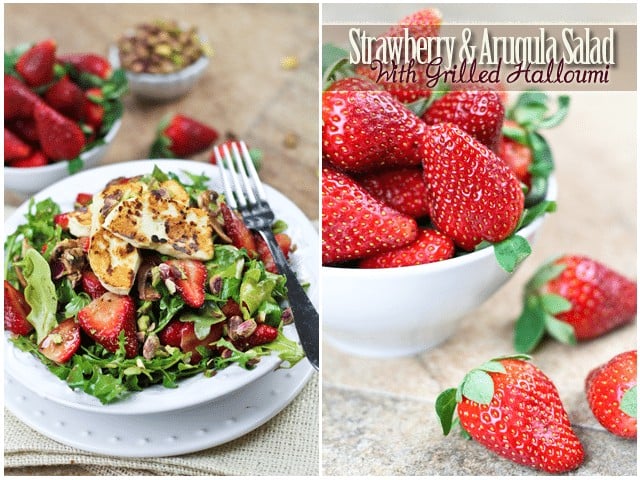 This salad was so good that I had to have it twice in the same week. And I would've gladly repeated the experience once or twice again if I had had more of that delicious cheese…
But I had only purchased a tiny little piece, for you see, this was my first time trying halloumi and I was not convinced that I was gonna like it.
Far from there…
Oh, I had read time and time again about this fantastic cheese that won't melt when heated, not even when you throw it on a grill!
Really?
Although I was curious, I was also highly skeptical and sort of imagined that it would be very similar to tofu in taste and texture. And as much as I appreciate tofu (really, I do!), I'm not sure that its blandish taste and extra firm texture is kind of what I am looking for in a good piece of cheese.
But boy was I in for a surprise. Cold, halloumi isn't all that impressive. It's firm, it's salty… that's about where it ends.
But throw it in a pan, let it form a nice golden crust and get all comfy and warm on the interior?  Oh my… it becomes… it becomes… be still my heart!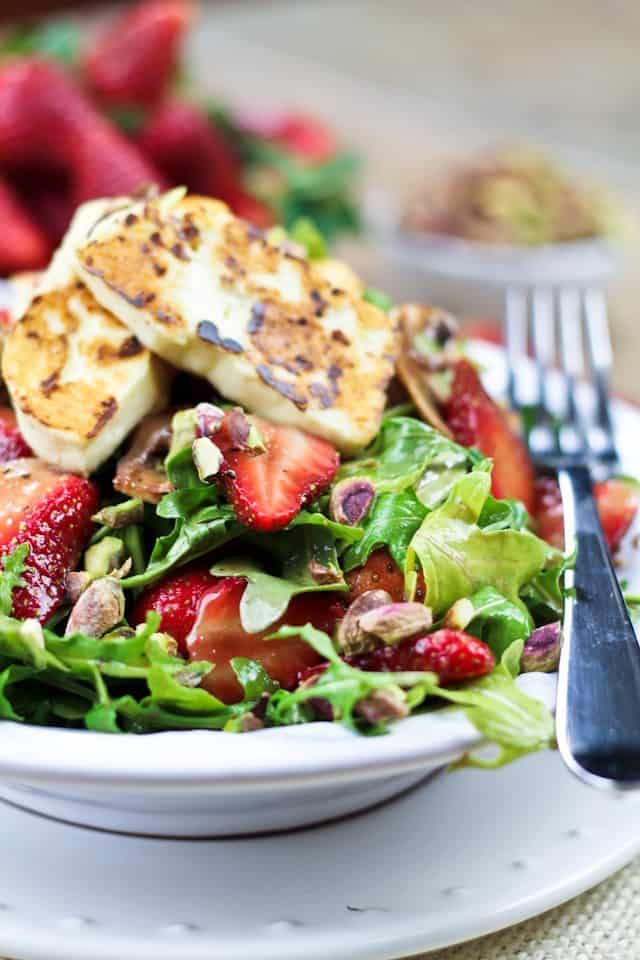 Let's just say I am hooked. Totally HOOKED!
Especially now that I have tried it on this particular salad.
If like me you are a fan of sweet and salty, let me tell you, YOU ARE IN FOR A TREAT! But please, whatever you do, do not pass on the vanilla. This, in my opinion, is what truly made the salad.
The contrast between the sweetness of the vanilla and strawberries and the distinct saltiness of the cheese coupled with the opposing temperatures of the cold salad and warm cheese just totally blew my taste buds' mind. Add all the differences in textures to this equation and you get this overload of conflicting information that will send your brain straight to seventh heaven with every bite!
BOOM! Just like that.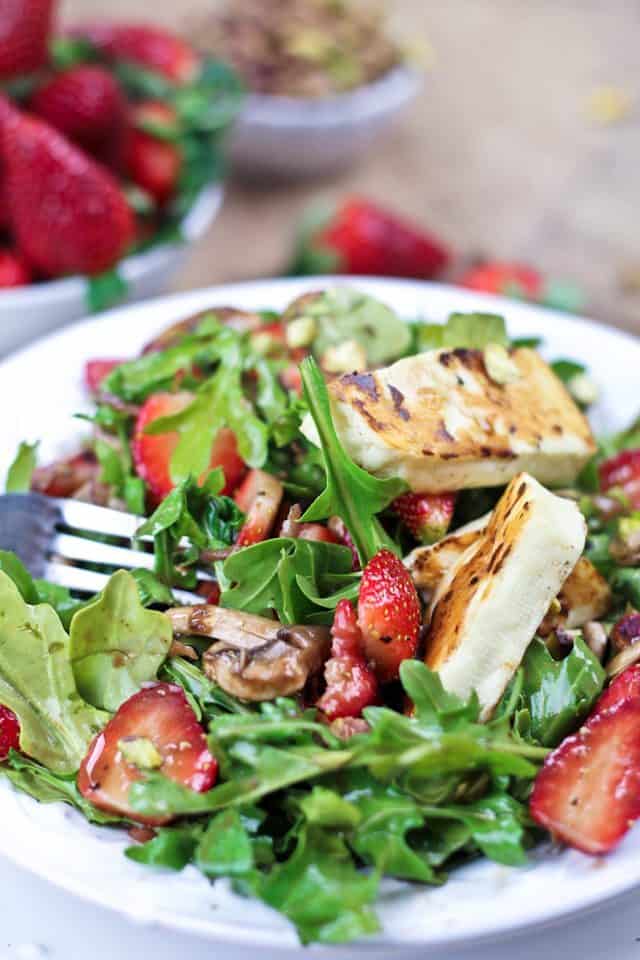 Sorry guys… I got a bit carried away. Can you tell I really love my food?
But seriously, in all honesty, this salad was probably better than candy to me.
Probably even better than a piece of cake…
I can guarantee you one thing: I WILL be buying halloumi again.
Oh, I so can't wait for summer to get here so I can throw some on the grill!
OMG, YUM! I'm thinking halloumi, chicken and peach brochettes.
Or maybe halloumi, lamb and plum? Served on a bed of quinoa and wild rice with a little bit of fresh mint…
Please, please, please, tell me… is it summer yet?
Strawberry and Arugula Salad with Grilled Halloumi
Servings: 1
Ingredients
2 cups arugula
10 large strawberries, sliced
5 button mushrooms, thinly sliced
A few thin slices of red onion
80 g halloumi cheese, in ¼" thick slices
10 g raw, unstalted pistachios, roughly chopped
Vinaigrette
2 tbsp pasteurized egg whites
2 tbsp balsamic vinegar
1 tbsp Dijon mustard
1 tsp liquid honey
1 tps pure vanilla extract
Pinch Himalayan or fine sea salt
Few grinds freshly cracked black pepper
Instructions
Preheat a small non-stick pan over medium-high heat and cook halloumi cheese until a nice golden crust forms on each side, about 1-2 minutes per side.

Meanwhile, in a small food processor or blender, mix all the ingredients of the dressing and process until smooth and well combined. Set aside.

In a large mixing bowl, add arugula, strawberries , mushrooms and red onions; pour in dressing and mix until all is very well incorporated.

Transfer to a serving plate, top with grilled halloumi cheese and sprinkle pistachio all over.

Enjoy immediately while cheese is still nice and warm.
If you've tried this recipe, please take a minute to rate the recipe and let me know how things went for you in the comments below. It's always such a pleasure to hear from you!
You can also FOLLOW ME on PINTEREST, FACEBOOK, INSTAGRAM and TWITTER for more delicious, healthy recipes!