Super Simple and Summery Kale Grapefruit and Shrimp Salad
It's been so warm here lately, it feels like summer!
Actually, it sort of feels like we went from the harshness of super cold winter straight to the comforting warmth of a hot and humid summer day. My hyacinths and tulips have already started to emerge, buds are bursting open, birds are singing… this is all way too much too soon.
It feels like the middle of June and it's not even April yet.
While it will be hard to get back to reality when the cold and snow hits again ('cuz of course, it will) this sure feels nice for the time being and we need to enjoy it while it lasts.
Of course, this sort of weather makes me want to whip out the barbecue and grill me some veggies. I have this HUGE eggplant in the fridge that's just waiting to be used up. I get the feeling that grilled eggplant will be on the menu this week-end. With goat cheese and walnuts, perhaps? Oh yum!
But hey, let's not get carried away here… Let me shift back for a bit and focus on this gorgeous salad, that just literally has health and summer written all over it.
Just one look in its direction and you're immediately transported to a gorgeous, warm and sunny summer day…
Don't you agree? 
I don't know if you've also noticed that, but it seems to me like kale has been everywhere lately. It must've really gotten to my brain because I suddenly decided that I needed to give this supervegetable another try. I say another try because I've never been really big on this rather firm and peppery "lettuce". Or is it considered cabbage?
I'll have to research that…
Anywho… Now that I've tried it again, I really fail to see why I didn't really care for it. I mean wow! Talk about texture AND flavor! Now this is a lettuce that really gives you something to chew on. It will turn any salad into an incredibly satsfying meal, for you get the feeling that you are eating forever!
And when you're eating something as good as this salad, well, eating forever CAN"T be a bad thing.
Go ahead, give kale another try!
I bet you'll love it!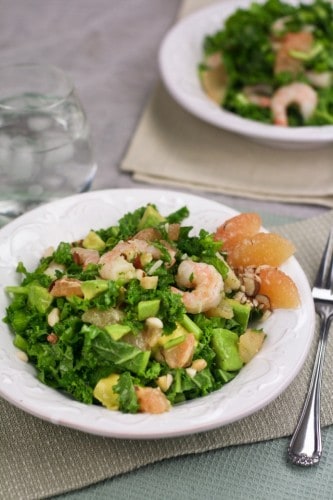 KALE GRAPEFRUIT AND SHRIMP SALAD
INGREDIENTS
(Serves 2) 
3 cups kale, shredded
2 grapefruits, supremed
1 avocado, diced
10 Brazil nuts, chopped
24 cooked shrimp, tail removed
For the vinaigrette
The juice of above grapefruits (about ½ cup)
¼ cup water
1 tsp Dijon mustard
1 tbsp white balsamic vinegar
½ tsp salt
½ tsp black pepper
½ tsp fresh ginger, grated
¼ tsp guar gum
DIRECTIONS
Cut the grapefruits into supremes, working over a bowl, in order not lose any of the juice. When you've got all your supremes done, make sure to squeeze all the juice out of the "membranes" that are left behind. You should be able to get about ½ cup of juice out of your grapefruits.
Transfer that juice to your mini blender or food processor. Add the rest of the ingredients for the dressing and blend until smooth. Set aside
Cut your grapefruit supremes into bite size pieces and add them to a medium size mixing bowl. Add the rest of the ingredients, including the dressing, and stir until well combined.
Divide between 2 serving plates and serve immediately.