Oven Roasted Cauliflower and Edamame Salad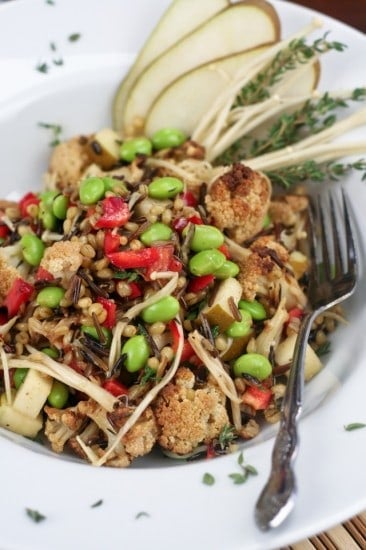 Salads should come together in no time, right?
Salads should be quick and easy and almost instant dishes, shouldn't they?
Right. That's what I think too!
But this one here, well, she's different. I'm not gonna lie to you, she is a member of the "elite", you know. She would be of the "high maintenance" kind.
She requires that you plan ahead of time, that you give her some attention and a little bit of your time before she can finally happen for you.
But she is worth it, I swear!
Besides, she does demand a lot of attention, but she won't make you work too hard!
Basically, all you need to do is, the morning prior (not even the morning OF, really, the morning PRIOR), say before you leave for work, put your wheat berries and wild rice to soak. That'll take only a couple of minutes, oh, 5 at most.
Then in the evening, when you return from work, you cook them, which, again, doesn't require much time or attention. You can do this while attending to your planned dinner.
Of course, you will also need to roast some cauliflower, but it's not something that is very demanding either. Cut florets, add a few simple ingredient, throw in the oven.
Then go back to the night's main event…
When all that is done, you throw everything in the fridge and you're good and ready to put your salad together the next day, which will, by then, require no time at all.
See? I told you, she's a princess alright, but she walks around in knitted slippers, not those of the glass kind!  
So really, don't let the length of the recipe discourage you from making this very original salad.
She is probably like nothing you've ever tasted before. You get a symphony of flavors and textures, namely the distinctive nuttiness of the roasted cauliflower, the sweetness of the pear and red bell pepper, the fresh clean taste of the edamame, as well as a little bit of a zing from the vinegar.
In the texture department, things get even more interesting: you get the chewiness of the wheat berries and wild rice, creamy explosiveness of the edamame, stringiness of the enoki, and softness of the pear, pepper and cauliflower.
Hey, you have to admit that she is really intriguing, completely out of the ordinary and very well worthy of a little bit extra attention.
I know I would certainly give it to her…
If only I could have grains! 
OVEN ROASTED CAULIFLOWER AND EDAMAME SALAD 
INGREDIENTS
(Serves 2-3)
The Roasted Cauliflower
1 small head cauliflower
½ tsp salt
¼ tsp black pepper
1 tbsp extra-virgin olive oil
1 tbsp white wine vinegar
The Rest of the Salad
225g frozen shelled edamame
1 cup cooked wild rice, cooled
½ cup cooked wheat berries, cooled
1 red bell pepper, chopped
½ bosc pear, diced
100g enoki mushrooms, base removed and separated
The Vinaigrette
1 tbsp Extra-Virgin Olive Oil
1 tbsp white wine vinegar
1 tbsp unpasteurized honey
1 tsp fresh thyme
½ tsp salt
¼ tsp black pepper
INSTRUCTIONS
*On the morning of the previous day, soak wild rice and wheat berries in ample amount of cold water (or soak for at least 4-6 hours) While it is not necessary to soak wild rice, I find it really helps cut down on the overall cooking time and makes for a more tender and fluffier rice.

*On the night of the previous day, cook wild rice and wheat berries and roast cauliflower (see directions below), then leave in the refrigerator to chill until the next day. And frankly, if you're gonna go through the trouble of cooking wheat berries, I strongly suggest that you make some extra and use them in all kinds of dishes, like these delicious Raisin Cinnamon Overnight Oats, for instance. They will keep in the fridge in an airtight container for up to a week. Apparently, you can also freeze them, but I've never tried myself.

For Oven Roasted Cauliflower
Preheat oven to 400F
Arrange cauliflower into florets. Transfer to large mixing bowl and throw in salt, pepper, olive oil and vinegar. Stir well to coat evenly.
Line a baking sheet with parchment paper. Lay cauliflower in a single layer and place it in the oven to roast for 30-35 minutes, until cauliflower is fragrant, tender, and has taken a nice golden coloration. Flip the pieces once halfway through cooking.
Allow to cool completely, transfer in an airtight container and refrigerate until the next day (or until cold, at least 2-3 hours)
Salad Assembly
Bring about half a cup salted water to a boil and cook edamame in a steam bath for about 3-4 minutes, until tender. Rinse under cold water until cold and drain well.
Add to large mixing bowl, along with cooked wild rice and wheat berries, chopped red bell pepper, bosc pear and enoki mushrooms. Toss lightly to combine and set aside.
Add all the ingredients of the dressing to a small mixing bowl and whisk vigorously until well combined and slightly emulsified. Pour over salad and toss to coat evenly.
Serve immediately. (phew, finally!)