Remember how I said, not too long ago, that I had an incredible irresistible craving for one of these decadent cookies, right here?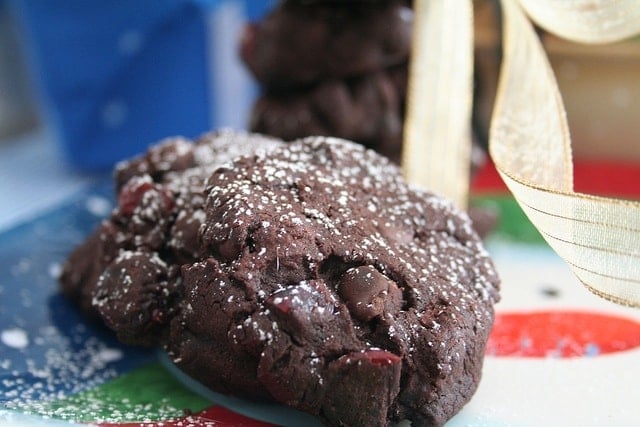 Now of course, making the original version was completely out of the question, ESPECIALLY during Lent. But I had to have one at all costs.
HAD TO!
NOW!
Recreating them was going to be quite the challenge!
I mean, really… baking an exceptionally decadent cookie, using no butter, no sugar, and no flour? Whoa! Seriously… is that even POSSIBLE?
Well, last year, I would've been the first one to say: "No way. Anyone who would attempt that is just plain out of their mind. And if they did succeed, the resulting cookies would be hard as a rock, crumbly as dirt and taste like hay"
But now, well, I have to admit that I completely changed my tune. I can tell you first hand that the task is ENTIRELY realisable.
Not only that, but the resulting cookie has a texture that is soft but dense and chewy and a taste that is incredibly intense, sweet and satisfying.  
Don't believe me? Hey, you don't have to take my word for it… just check them out!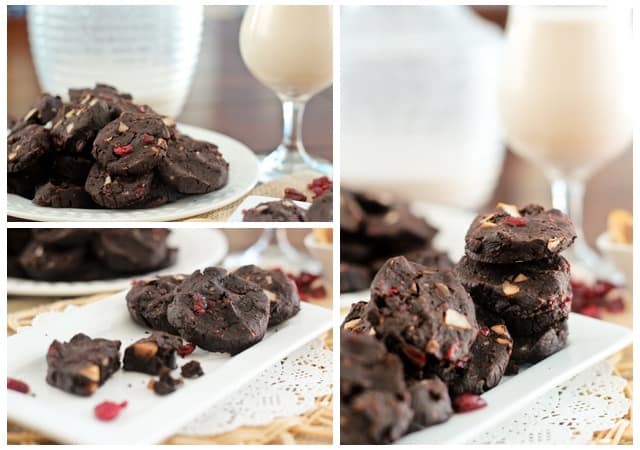 Not only did I recreate this decadent cookie, I made it even BETTER!
Alright, I admit… It does not look AS pretty as the original, but seriously, its texture and flavor are simply out of this world.
Hey, even my coworkers said so.
They don't often get to taste the food that I make, because, well, quite frankly, I often find it really intimidating to have "normal" people taste my "super clean and healthy" stuff. But, hey, I had a whole bunch of cookies, and well, they were eyeing them big time and asked if they could try one.
Almost reluctantly, I let them have a taste. I was half expecting them to say that, well, no offense, but they were say… not bad, but not their cup of tea.
My jaw dropped when they said that the cookies were plain d.e.l.i.c.i.o.u.s!
They found their texture to be almost like that of fudge, or a VERY dense brownie, and their flavor to be so very intense, deep and seriously chocolaty!
I think that they would've eaten the whole pile, if I'd only let them!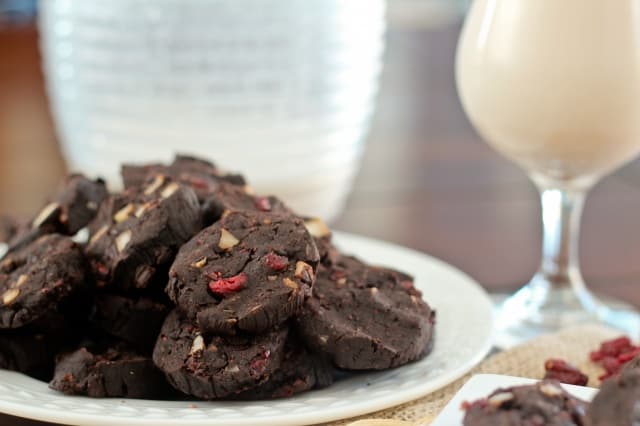 Hmpft… now don't push your luck, guys! The cookies are mine, mine, mine!
Now would you believe me if I told that, not only did I satisfy my craving by having one or two cookies one one occasion, but I even dared have them as a morning snack all week?
Right in the middle of Lent? Oh yes, I did!
There was no reason for me not to! They contain NO grains, NO unhealthy fats and NO refined sugar whatsoever! In fact, they contain nothing but wholesome ingredients that are super good for you!
So here you have it: a cookie that's good enough to be called a healthy snack or even breakfast on the go!
Of course, you could also have them for dessert if you wanted to. Don't let me stop you!
Now I only need to work on making them look pretty.
Which means I'll have to make them again.
Oh! What a shame! 
Double Dark Chocolate Cookies – The Healthy Version!
Serves:
Makes 3 dozen cookies
Ingredients
1 cup hazelnut meal
½ cup almond meal
1 cup extra dark cocoa powder
1½ tsp baking soda
¼ tsp Himalayan or unrefined sea salt
1 ripe avocado
3 tbsp coconut oil
1 cup (150g) dates, chopped
1 large egg
½ tsp pure vanilla extract
¼ cup cacao nibs
½ cup dried cranberries
½ cup Brazil nuts, chopped
Instructions
Whisk together nut meals, cocoa powder, baking soda, and salt. Set aside.
Using a food processor, mix avocado, vanilla, coconut oil, dates and egg. Process until smooth and creamy.
Add flour mixture in three portions, mixing each just until incorporated. Do not overprocess.
Transfer to large mixing bowl and stir in cocoa nibs, Brazil nuts and cranberries.
Refrigerate dough for a few hours until firm.
Place the dough on a clean work surface and divide in four. Place each piece over plastic film, and shape into logs about 10 centimeters long. Refrigerate for about an hour.
Preheat oven to 350°F. Line baking sheets with parchment paper. Cut dough into 3 pieces, and cut each piece into 3 slices. Flatten and shape cookies slightly with your fingers, as they will not really move or expand while in the oven.
Place cookies 1½ inches apart on baking sheets and bake for about 9 minutes, or until cookies look barely baked. They will be very soft and fragile but do not overbake.
Delicately place cookies on a cooling rack and allow to cook completely. Store in an airtight container in the refrigerator for up to a week.

Nutrition Information
Serving size:
NF is based on 1 of 36 cookies