Chunky Tzatziki Sauce
This quick and easy Chunky Tzatziki Sauce is the mandatory complement to any good souvlaki, but really it tastes so good, you'll want to eat it by the spoonful!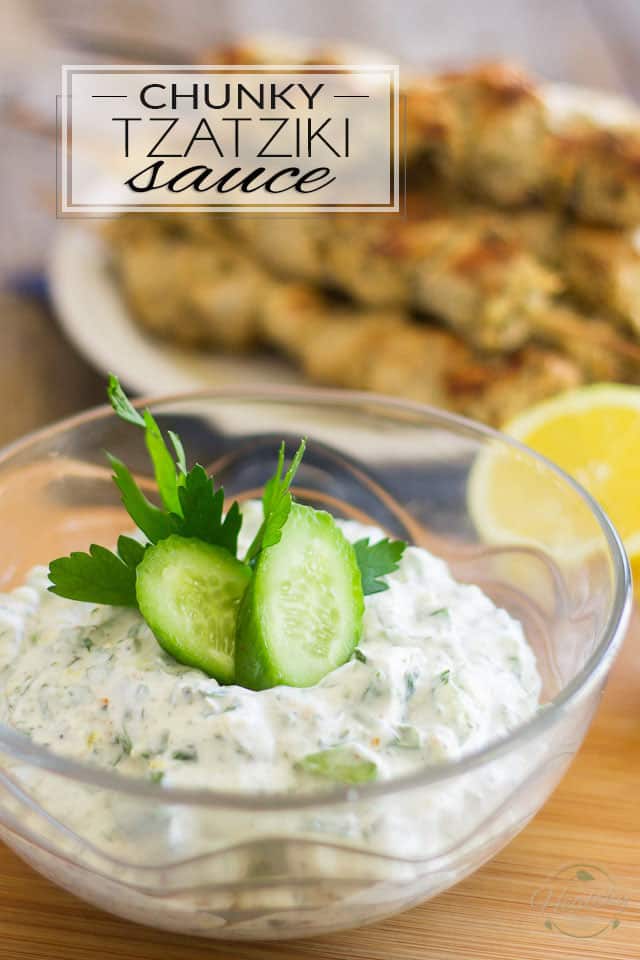 If you're gonna have Chicken Souvlaki, me says you absolutely need some Tzatziki Sauce to go with that, wouldn't you agree? For really, the two of them fit so perfectly well together, it's like they're like a match made in heaven. They're almost inseparable!
I used to think that Tzatziki Sauce was like über complicated to make. Ha! Nothing could be further from the truth. It's as easy as mixing a few ingredients together. There is one very important rule, however, that cannot be foreseen, and that is, you NEED to drain the water out of your cucumbers. But that's super easy…
Speaking of cucumbers: I discovered years ago that I like my Tzatziki to have a bit of a chunky feel to it, so instead of grating my cucumber like most recipes will have you do, I cut mine into small bite size chunks. Oh, heaven. It makes you want to eat the thing by the spoonful!
Also I find that the addition of a little bit of lemon zest and juice gives the sauce a nice little extra tang that I'm not hating at all. If you don't care for it, feel free to leave it out. But I strongly suggest you give it a try!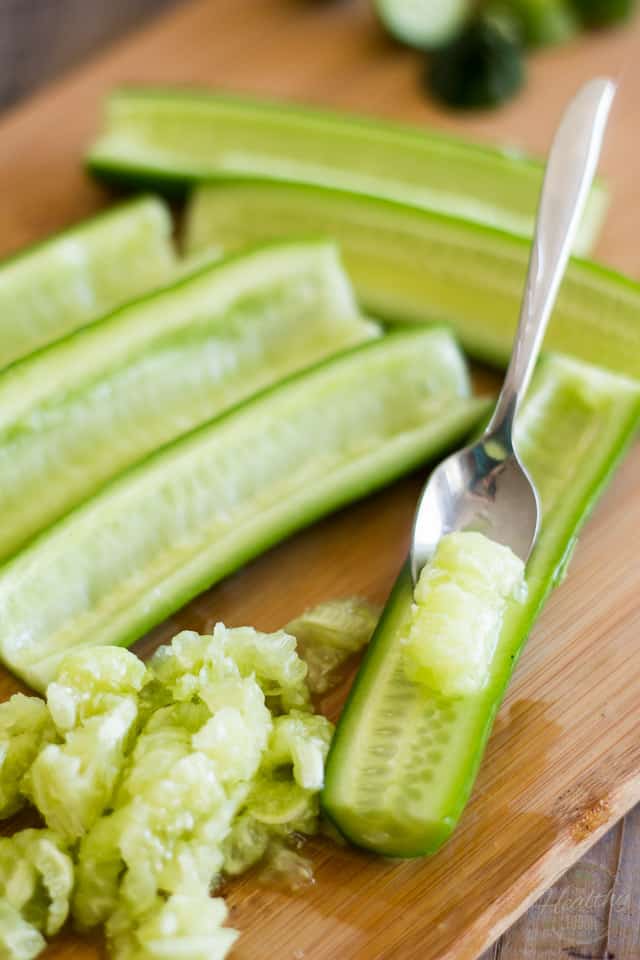 I always prefer to use small Lebanese cucumbers because I find they are extra crunchy, but any kind of cucumber will do, really. However, no matter what kind you decide to use, you will want to remove the seeds because otherwise, it will render way too much water and make your Tzatziki Sauce super watery.
Not really what we're after, is it?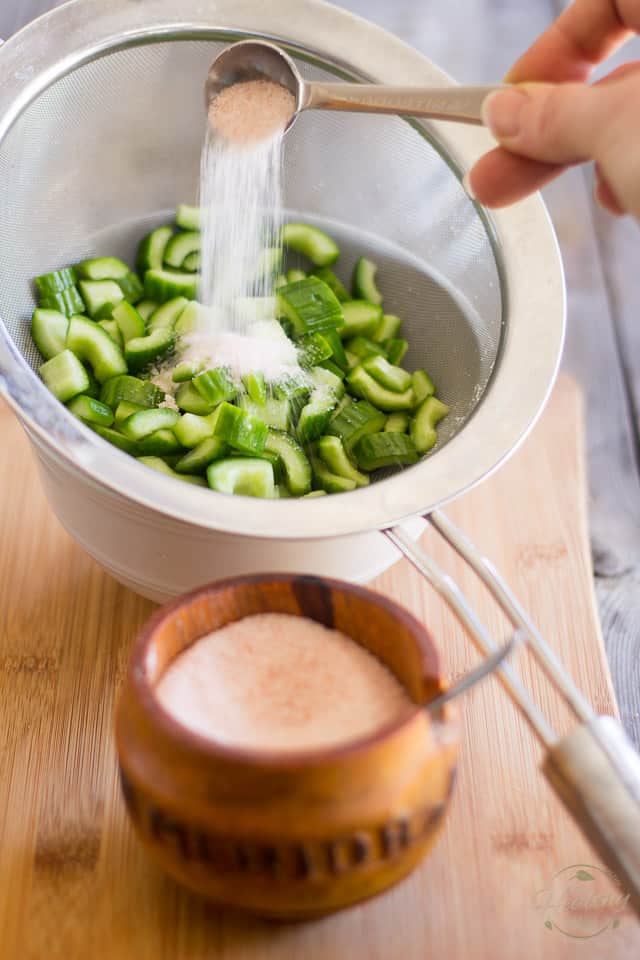 And even after having had its seeds removed, cucumber has SO MUCH water to it, we still want to draw more of it out.
To do this, we'll simply place our chunks of cucumber in a fine mesh sieve and sprinkle them with a good amount of salt, then mix really well to make sure all the pieces are coated with salt.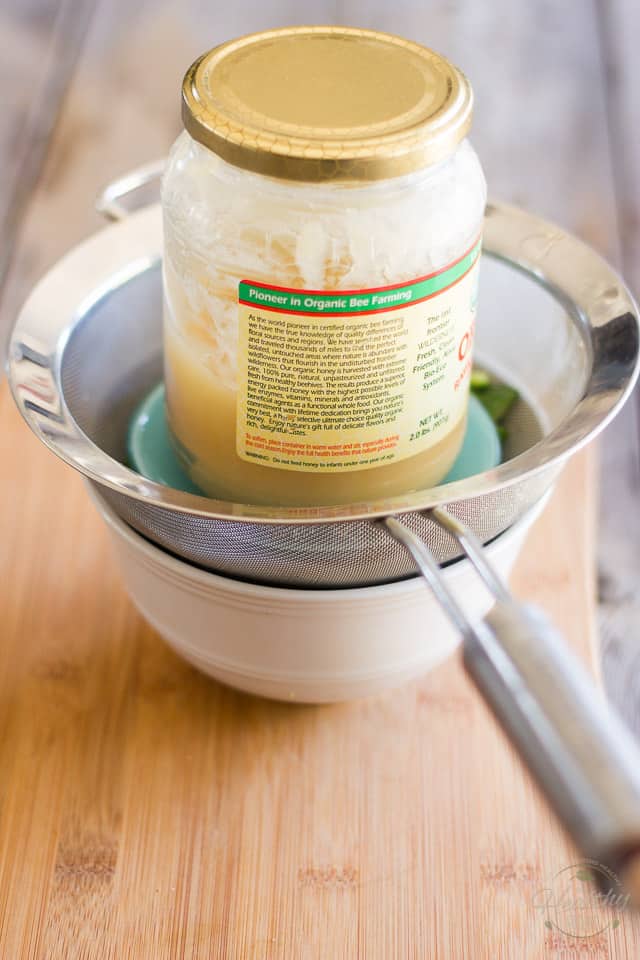 We'll then force that water out by setting a small plate over them and placing a weight right on top that plate. A large can, small saucepan, or even a half empty jar of honey would do the trick! You're looking for anything that's not too large in size and weighs about 1 or 2 pounds.
Leave that to drain for about 30 minutes.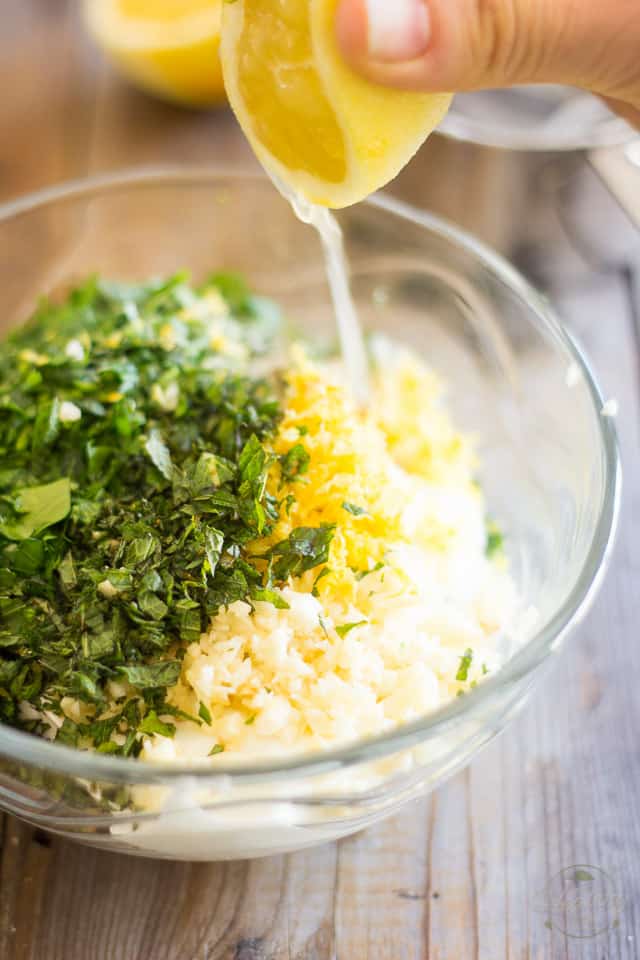 In the meantime, you can go ahead and add the rest of the ingredients to a mixing bowl then give them a good stir. Leave that to sit while the cucumber finishes rendering its water.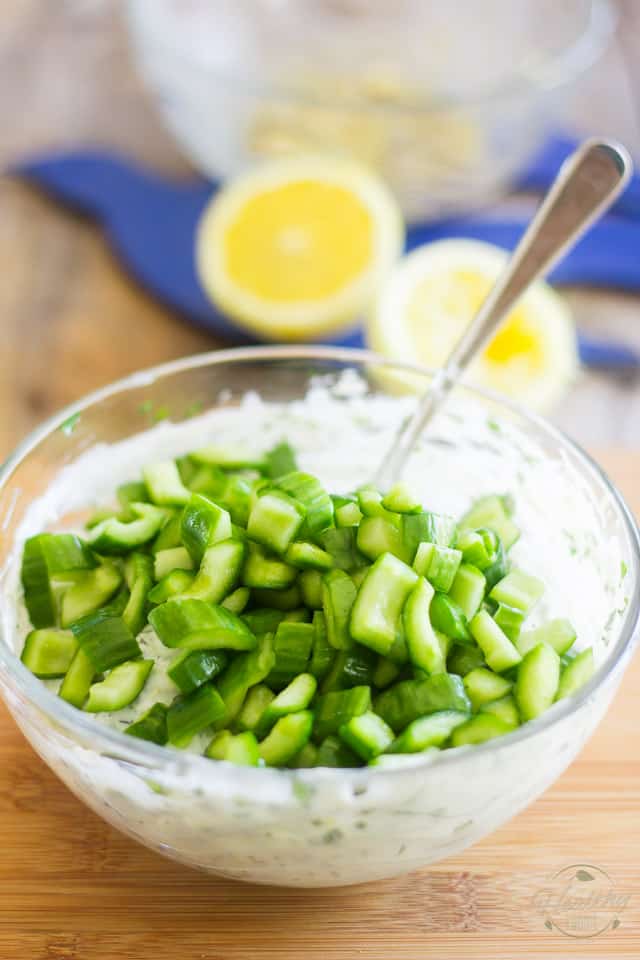 Once the cucumber is done getting rid of its excess water, add it to the sauce and mix well.
Now you *could* serve your sauce immediately, but if time permits, know that it gets even better after it's been given a little bit of time for the flavors to fully develop. If you have an extra hour or more to spare, just let it sit in the fridge.
Your taste buds will thank you for it!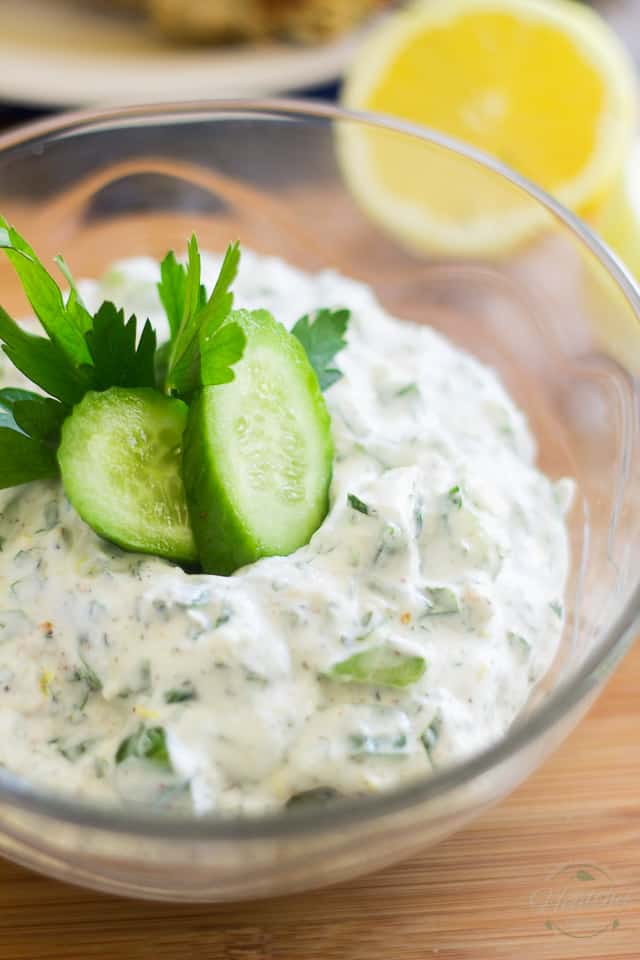 Chunky Tzatziki Sauce
This quick and easy Chunky Tzatziki Sauce is the mandatory complement to any good souvlaki, but really it tastes so good, you'll want to eat it by the spoonful!
Servings: 2 cups
Ingredients
3 Lebanese cucumbers, seeded and diced
1 tsp salt, I use Himalayan salt
1 cup plain Greek yogurt
the zest and juice of 1/2 lemon
4 cloves garlic, minced
1/2 tsp freshly cracked black pepper
1/2 tsp Himalayan salt
2 tbsp fresh parsley, finely chopped
2 tbsp fresh mint, finely chopped
1 tbsp dried oregano or za'atar
Instructions
Peel the cucumbers and remove the seeds by halving them lengthwise and running a spoon down the middle to scoop out the seeds. Slice in half lengthwise again, then dice into ¼ inch cubes.

Place the chopped cucumber in a fine mesh sieve and sprinkle with salt. Top with a small plate and add some weight, such as a large can, over that plate. Leave that to drain for about 30 minutes.

In a mixing bowl, combine yogurt, lemon zest and juice, garlic, black pepper, salt, parsley, mint and oregano or za'atar and stir to combine.

Add the cucumber to the yogurt mixture and again, stir to combine.

Cover and refrigerate for about an hour before serving to allow the flavors to fully develop.
Nutrition
Serving: 2cups, Calories: 108kcal, Carbohydrates: 16g, Protein: 12g, Cholesterol: 5mg, Sodium: 1787mg, Potassium: 481mg, Fiber: 2g, Sugar: 7g, Vitamin A: 545IU, Vitamin C: 40.3mg, Calcium: 164mg, Iron: 1.1mg
If you've tried this recipe, please take a minute to rate the recipe and let me know how things went for you in the comments below. It's always such a pleasure to hear from you!
You can also FOLLOW ME on PINTEREST, FACEBOOK, INSTAGRAM and TWITTER for more delicious, healthy recipes!
*Editor's Note: This post was originally published in May of 2014 and has since been completely revamped and updated with better pictures. A few minor modifications to the original recipe may also have been made.