Chicken Souvlaki
He finally got me!
There's only so much a girl can take, you know…
Mike, my good friend over at The Iron You is probably the king of kebabs. He keeps making all kinds and they all look absolutely MOUTH WATERING! Every single time he posts a new kebab recipe, I'm like OMG, I have GOT to make that one.
But then I never do…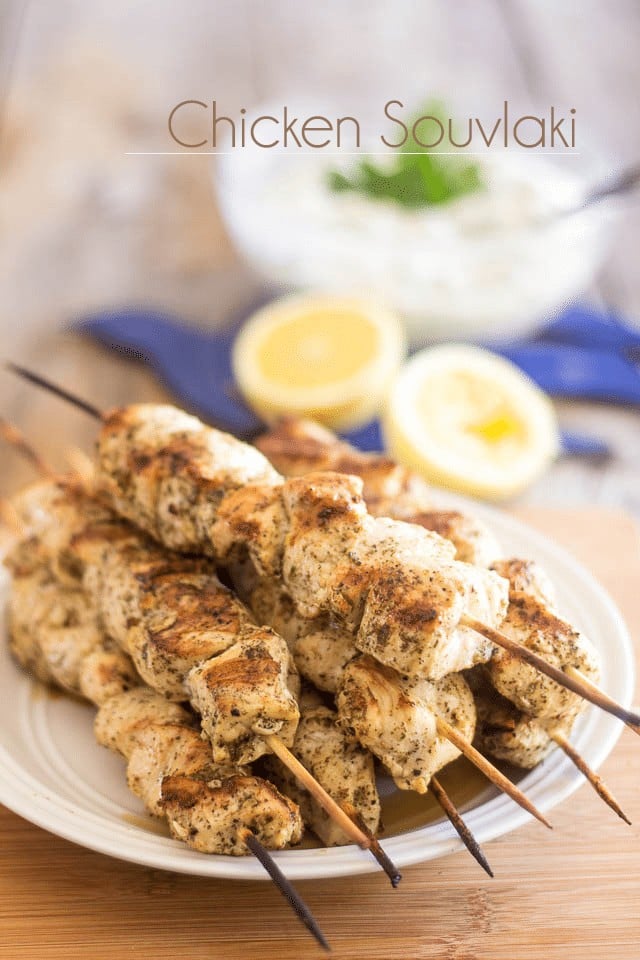 For some reason, I'm not really one to make kebabs. I prefer to grill the whole chicken breast, or other piece of meat, with no other form of ceremony… *maybe* I'll give it a little bit of pounding action from time to time, just to make it flatter and help it cook faster, but that's about it.
I think it's the whole "hand-dirtying" and skewer soaking thing that puts me off…
However, when I saw Mike's Chicken Souvlaki, I just couldn't resist. I surrendered to his kebab-making convincing superpowers.
Plus, believe it or not, I don't think I'd ever tried making genuine souvlaki at home before. I'd always enjoyed them from a styrofoam box, aka takeout.
It was about time I remedied that.
And you know what? They're so stupid easy to make and so crazy good, I think I'll be eating nothing but souvlaki all summer!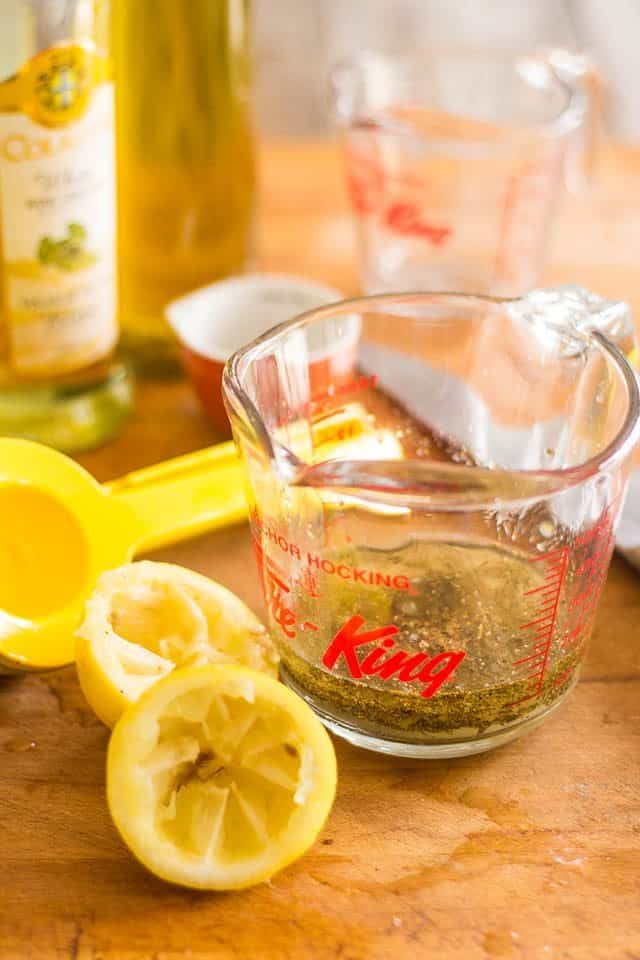 Basically all you need to do is make a quick marinade by mixing some olive oil, lemon juice, garlic, vinegar and some seasonings.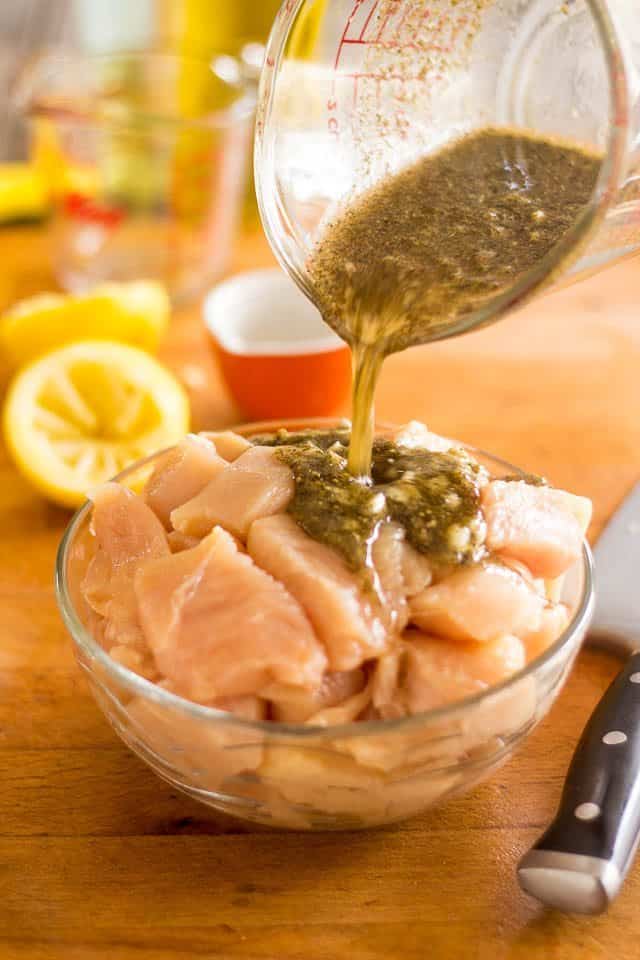 You then pour that over the chicken, mix well and leave that to marinate in the fridge for a few hours, or better yet, overnight.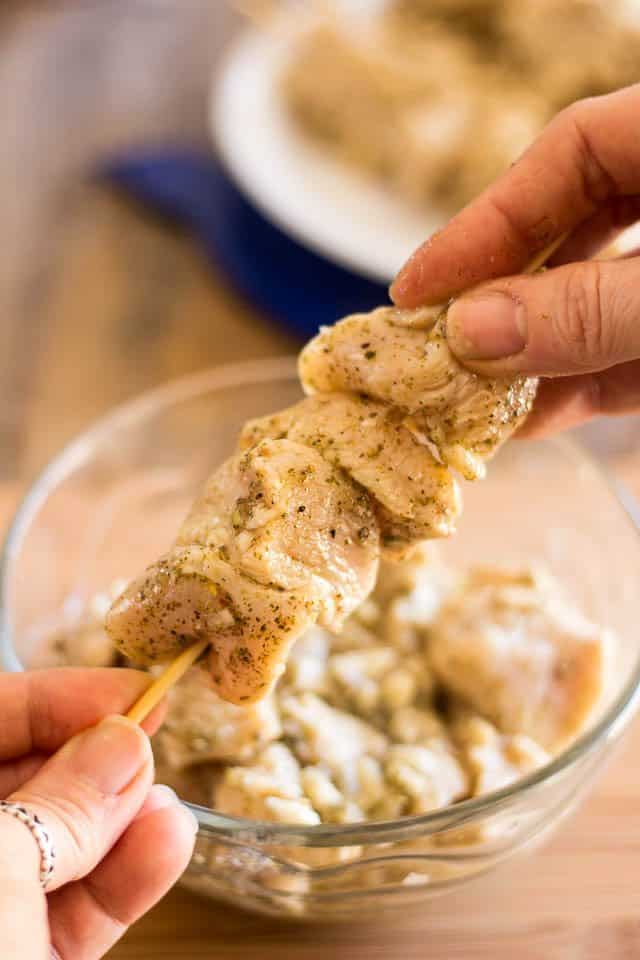 Then comes the part that I don't care much for… You need to skewer your meat onto those skewers.
First, you MUST remember to soak your skewers preferably at least 30 minutes before you are ready to start building the kebabs. Me being me, I always manage to forget… and my skewers they always burn on me!
Then you need to get your hands dirty and thread the pieces of meat onto the PRE-SOAKED skewers. GAH! I hate that. But hey. It doesn't last that long, and it's for a good cause. So I'd say it's very well worth it in the end. And hands, well, they are highly and easily washable, after all.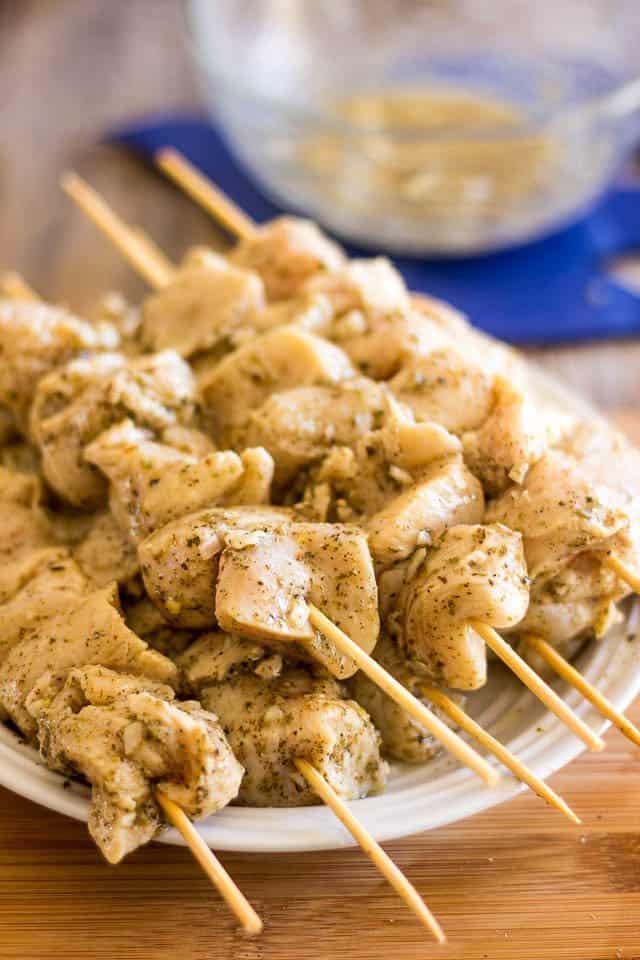 Pile your finished kebabs onto a plate, fire up the grill and grill those babies nice and good until they get all deliciously golden and showcase beautiful char marks on all sides, which shouldn't take much longer than 10 minutes.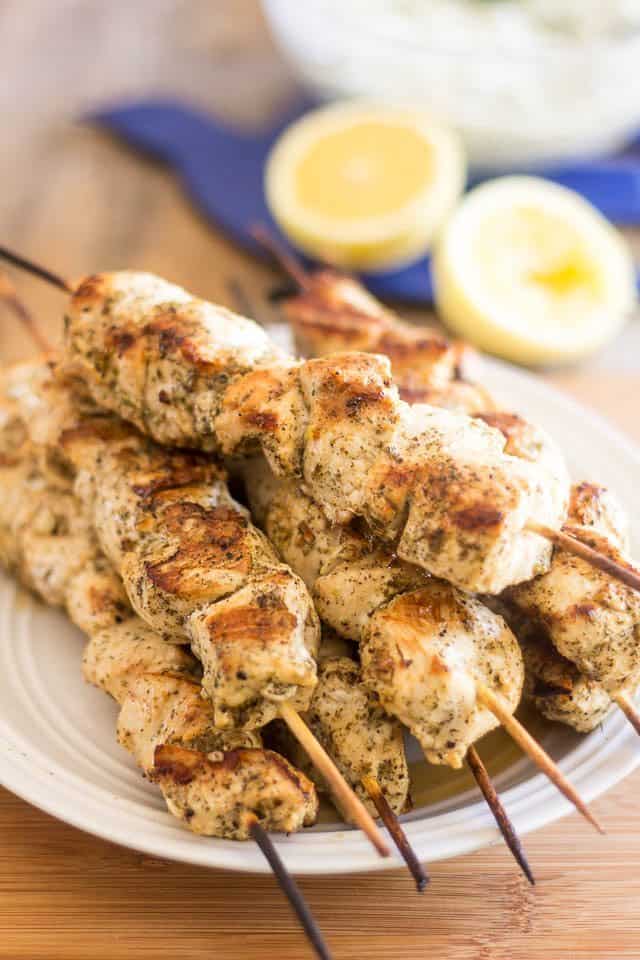 You then want to serve your souvlakis with a side of green salad or my favorite, grilled vegetables.
Ah, and of course, tzatziki sauce. No Chicken Souvlaki would be complete without a good Tzatziki, right?
Where's a good recipe for that? Don't worry you guys, I've got you covered… and I promise I won't be keeping you long…
One Tzatziki Sauce Recipe coming right up!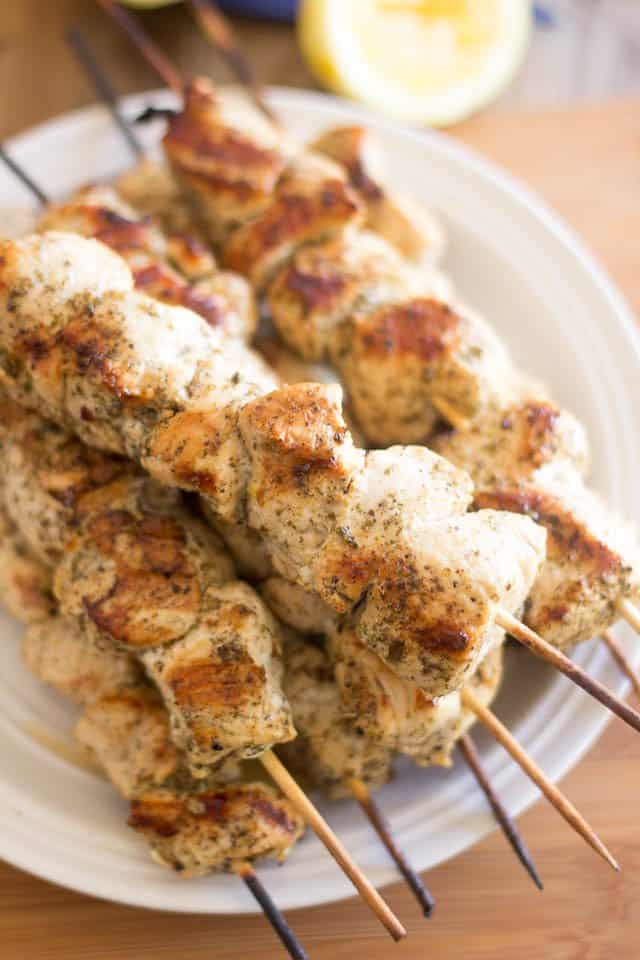 Chicken Souvlaki
These authentic Chicken Souvlaki are so stupid easy to make and so crazy good, you'll probably want to eat nothing but that all summer!
Servings: 8 kebabs
Instructions
Add olive oil, lemon juice, white wine vinegar, minced garlic, dried oregano, salt and pepper to a small mixing bowl or measuring cup; whisk until well incorporated.

Place chunks of chicken in a bowl and pour marinade over them. Mix to coat really well, cover and place in the refrigerator to marinate for a couple of hours, or better yet, overnight.

Place skewers to soak in cold water for about 30 minutes before you start building your kebabs.

Preheat outdoor grill (or grill pan) to medium-high heat.

Remove chicken from the marinade and skewer onto bamboo sticks. Discard unused marinade.

Grill the kebabs, turning them a few times, until chicken is cooked through, is nicely browned and has nice grill marks and is no longer pink in the center, about 10-12 minutes total.

Serve with tzatziki sauce.
Nutrition
Calories: 194kcal, Carbohydrates: 1g, Protein: 24g, Fat: 10g, Saturated Fat: 2g, Cholesterol: 73mg, Sodium: 423mg, Potassium: 432mg, Fiber: 1g, Sugar: 1g, Vitamin A: 45IU, Vitamin C: 3mg, Calcium: 18mg, Iron: 1mg
If you've tried this recipe, please take a minute to rate the recipe and let me know how things went for you in the comments below. It's always such a pleasure to hear from you!
You can also FOLLOW ME on PINTEREST, FACEBOOK, INSTAGRAM and TWITTER for more delicious, healthy recipes!