Avocado Cucumber and Pistachio Salad
It feels like it has been forever since I last posted a salad recipe!
Now that I've decided to go keto for a while, I don't get to eat quite as many vegetables as I usually do. This would be the one thing that I miss the most. I'm so used to eating MASSIVE amounts of veggies each day and making several different varieties of salads on the week-ends to last me all week.
I had to put this habit of mine on hold for the time being. I now have to limit my vegetable intake in order for my net carb absorption to remain below the 50g required to enter and/or stay in ketosis.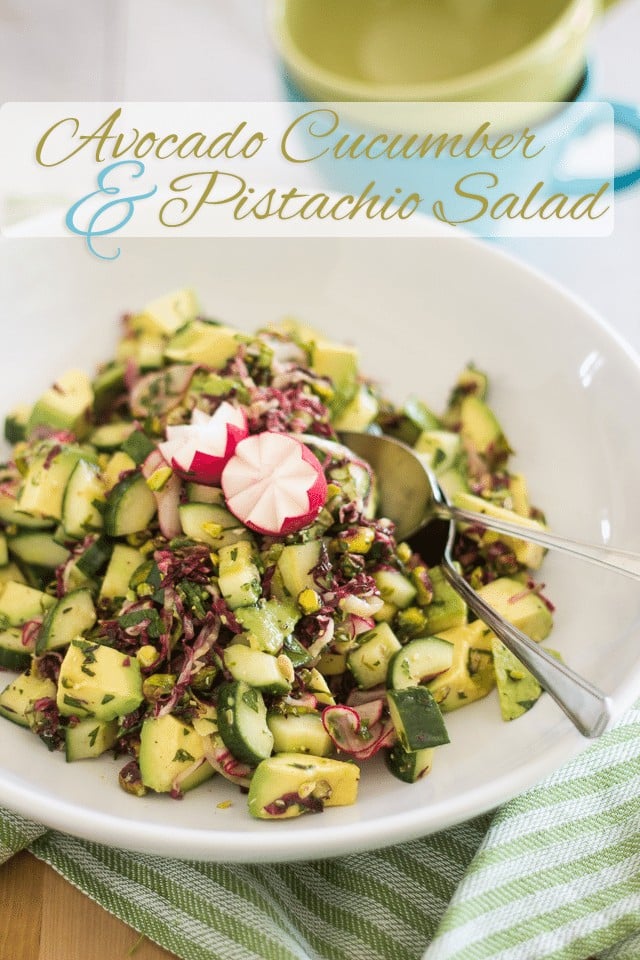 Mind you, the more I study the diet, the more I learn about it, and I find it might not be quite as bad as I thought after all. I'm starting to realize that there is still a pretty good variety of very low carb vegetables that can be consumed in a fairly "generous" amounts without putting a serious dent in one's meager daily carb allowance.
Some of them I happen to enjoy very much, too, like spinach, for instance, or endives, radicchio, broccoli and mushrooms, to only name a few. Oh, and also too, my beloved cabbage and bestest friend cauliflower both made the "under 1.5 grams of net carb per 1/2 cup" list. Oddly enough, though, Brussels Sprouts rank rather high, at 4.7 grams of net carbs per 1/2 cup. Bummer!
Bah, I guess I'm a little bit uninspired at the moment because this is so very new to me. But hey, just give me a couple more weeks to adapt to this new regimen and I bet I'll be able to post all kinds of yummy keto recipes, including some that contain a very decent amount of veggies!
A little bit like this Avocado Cucumber and Pistachio Salad, I guess…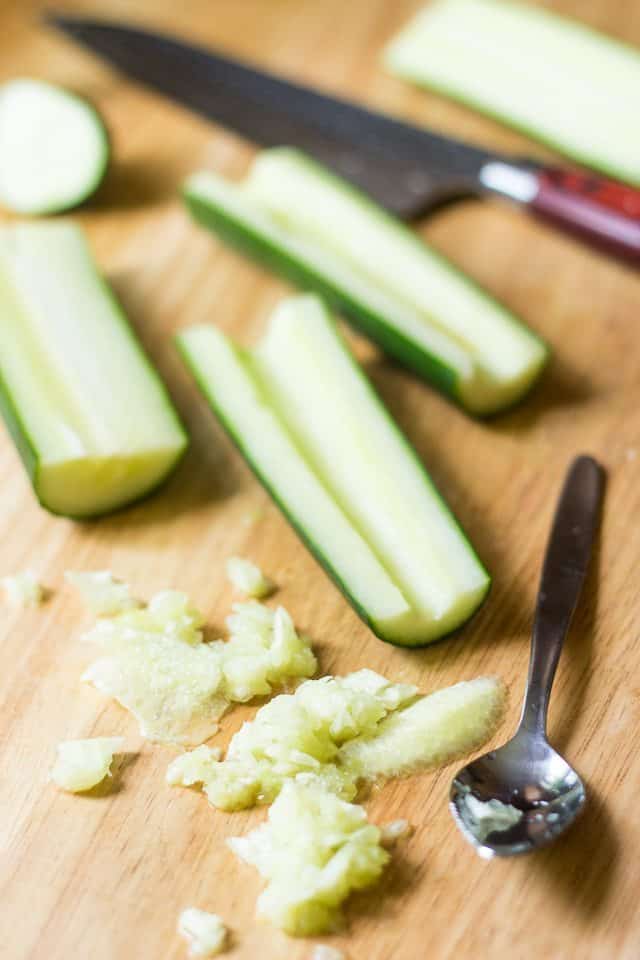 Whenever I use cucumber in a salad that I know is gonna sit for a while, even if it's a very short one, I make sure to remove the seeds from my cucumbers because otherwise, I find they tend to release a lot of water and make the salad wet and mushy… which frankly, I'm really not a big fan of!
Plus, removing the seeds is fairly easy. Simply cut the cucumbers in half lengthwise and scrape the seeds out with a spoon. And here's a tip for you to make this even easier: if you happen to have some of those grapefruit spoons in your kitchen drawers, take one out now! They work perfectly well for this, almost as if they'd been designed specifically for that task!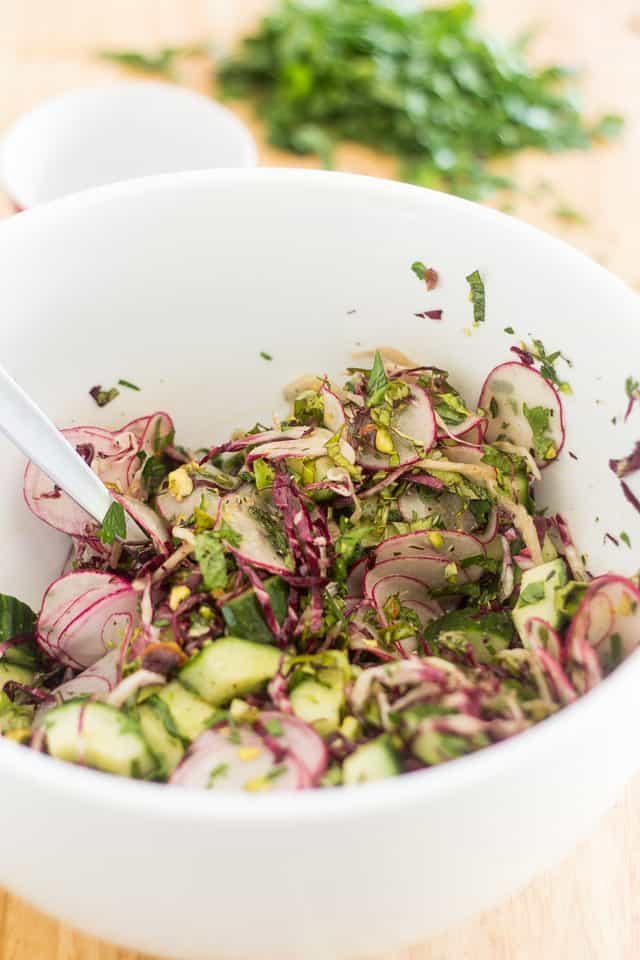 Once your cucumber has been seeded and cut into chunks, add it to a large bowl with the rest of the ingredients (save for the avocado and lemon juice, we need to give these a special treatment as well) and mix until very well combined.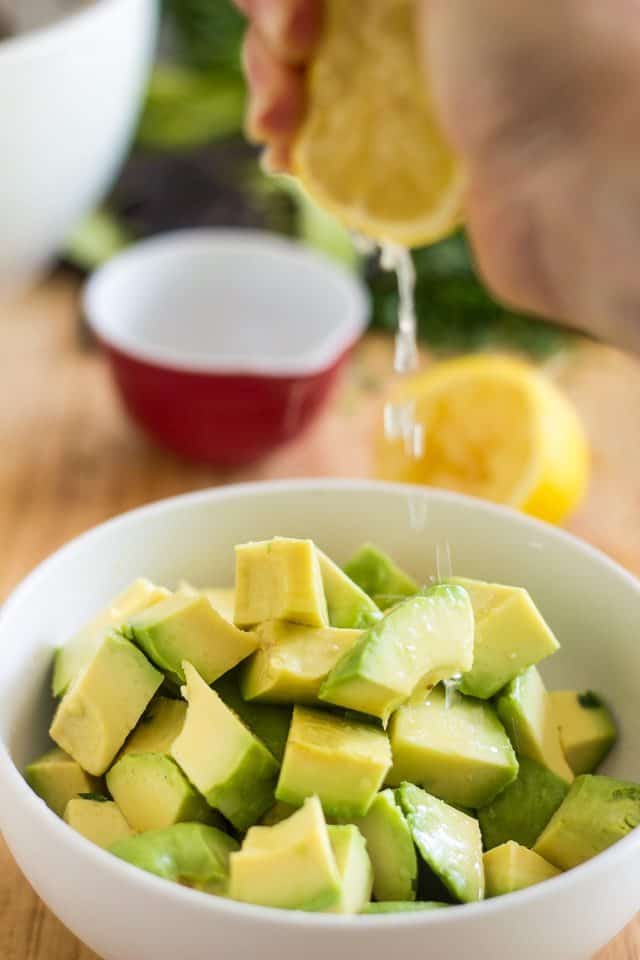 Since we're gonna let that salad sit for a little bit, you'll want to prevent the avocado from going brown on you. Dice it and place it in a separate bowl then squirt it generously with some fresh lemon juice. Toss very delicately to make sure that all the pieces get coated.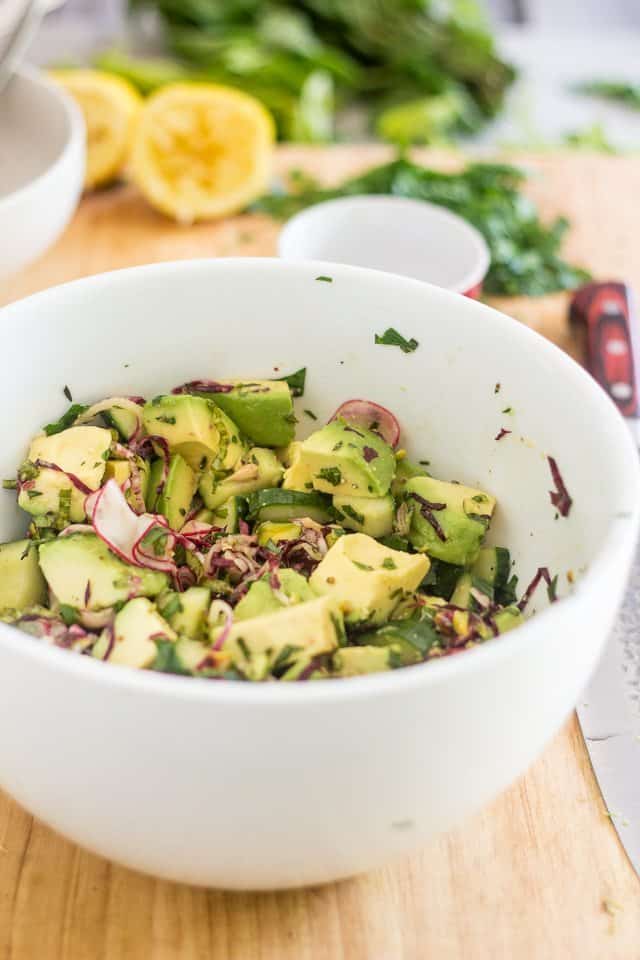 Now add your pieces of avocado to the rest of the salad and very gingerly mix them in.
Ah! With all the extra precautions that we took, we can now afford to let that salad sit in the fridge for a couple of hours and allow the flavors to meld without fearing that the cucumber will release bucketfuls of water and transform it into a soup or that the avocado will turn a totally unappetizing shade of khaki brown on us.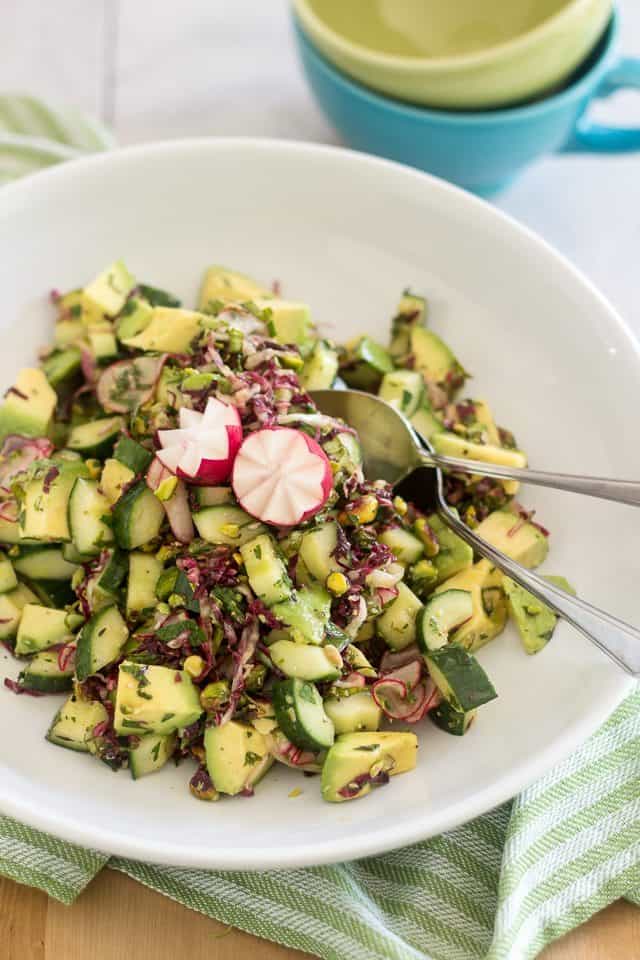 Do I need to tell you just how fresh and tasty this salad is? I think it's fairly easy to tell just by looking at the pictures, but I need to say it anyway. This salad is nothing short of summer in a bowl and it's absolutely fantastic served alongside a beautiful piece of grilled salmon or grilled chicken
You could even make it into a complete meal if you wanted to, by adding some pieces of cooked chicken to it, or a few hard-boiled eggs, or cubes of smoked ham even. Ooooh, I think that cooked shrimp would also work beautifully!
Hey, this keto thing isn't so bad after all… I think I'm getting the hang of it!
Avocado Cucumber and Pistachio Salad
Servings: 4
Ingredients
1 English cucumber, seeded and cut into chunks
2 radishes, sliced paper thin
1/4 cup radicchio, shaved
1/2 cup raw shelled pistachio
2 tbsp fresh parsley, chopped
2 tbsp fresh mint, chopped
2 tbsp fresh thyme, finely chopped
12 basil fresh leaves, chopped
1/4 cup extra-virgin olive oil
1 tbsp white balsamic vinegar
1/2 tsp Himalayan salt
1/2 tsp freshly cracked black pepper
2 ripe avocados, diced
the juice of 1 lemon
Instructions
Add all the ingredients, except for the avocado and lemon juice, to a large mixing bowl and toss delicately to combine.

Add the diced avocado to a seperate bowl and squirt the lemon juice over it. Mix delicately to completey coat all the pieces in lemon juice. This will help keep its beautiful green color.

Now add the avocado to the rest of the salad and gingerly mix it in.

Place the salad in the fridge for an hour or two for the flavors to meld and serve.
If you've tried this recipe, please take a minute to rate the recipe and let me know how things went for you in the comments below. It's always such a pleasure to hear from you!
You can also FOLLOW ME on PINTEREST, FACEBOOK, INSTAGRAM and TWITTER for more delicious, healthy recipes!