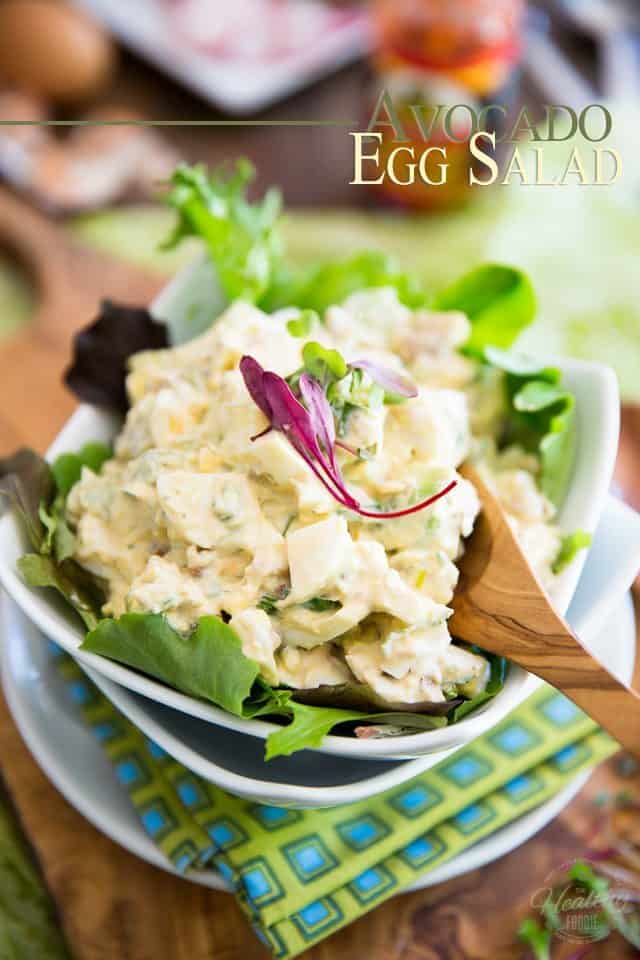 I don't know about your part of the world, but where I live, it's been terribly HOT these past couple of days. Way too hot to cook, almost too hot to eat, and certainly too hot to be asking my brains to concentrate on aligning more than 3 words to form proper sentences. They are totally refusing to focus on the task at hand right now, and I can't say that I totally blame them for that…
Seriously, I'm not one to swim much but let me tell you, if I had a chance to do that right now, I totally would. I'd much rather be in a cold, refreshing swimming pool, or better yet, in the crystal clear, deeply turquoise ocean of my favorite resort over in Cayo Largo. Yeah… I think I'm due for a vacation, too. It's been way too long since I last pulled the plug.
But that's not gonna happen, at least not anytime soon. Best thing I can hope for right now is for some rain to come down, and come down hard!
Until that happens, though, I still have to feed my body, don't I?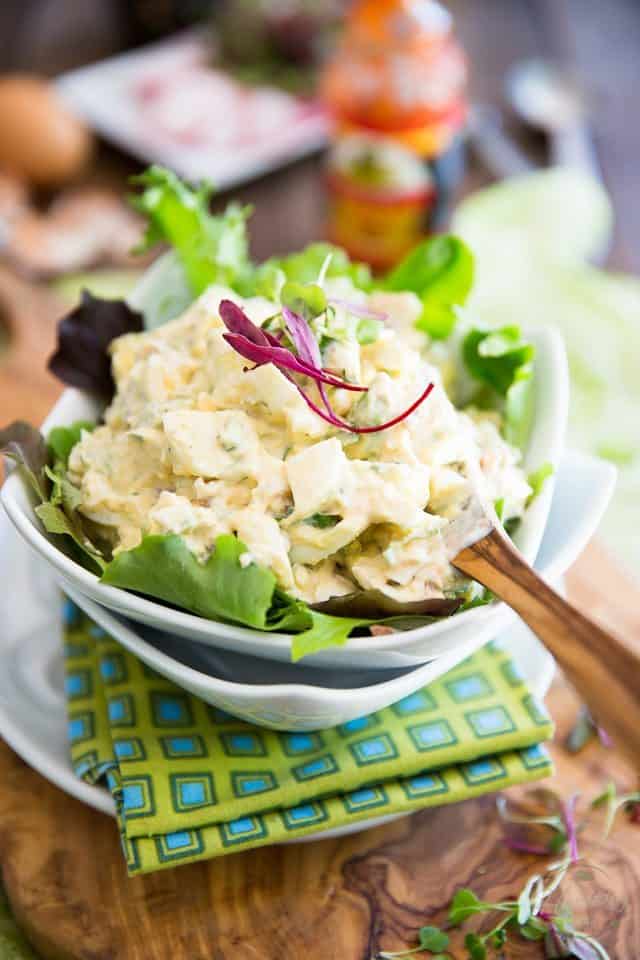 Right now, I'm kind of thinking that I want to live off this Avocado Egg Salad for the next couple of days, or at least until the temperature comes down a couple hundred degrees…
And if you're in that same situation, then this salad may very well become your best friend, too!
It's light, it's refreshing, it's super nutritious and most of all, it's super easy to make. In fact, the trickiest part about making this salad, if there is one, would be peeling the hard-boiled eggs. Other than that, all you need to do is combine all the ingredients in a bowl and give them a gentle toss.
This bowlful of goodness is pretty much like an ordinary egg salad, only it's been kicked up a few thousand notches! You're looking at chopped hard boiled eggs and diced avocado, which I chose to bring together with a generous amount of plain yogurt as well as a little bit of sour cream, for some extra creaminess. These two combined are just as smooth and silky as mayo, only they're much lighter and crazy hot and humid temperature friendly. Plus, they also provide a little boost in the protein department. Can't ever get enough of that now, can you?
Next up are a handful of chopped green onions for some zing, and a dash of piri-piri for some kick!
Oh, and I also chose to throw a scattering of chopped walnuts to the mix, for a bit of an added crunch…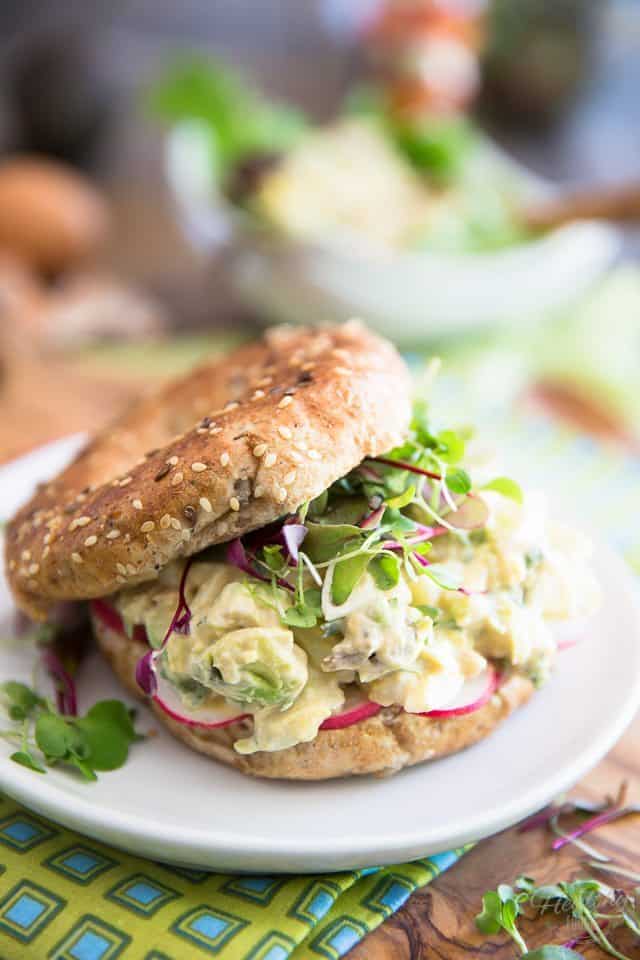 This is an egg salad that's so fully loaded, you can actually serve on its own, over a simple bed of baby leafy greens.
Of course, if you wanted to, you could still choose to serve it over your favorite bread… I chose to have mine over a slightly toasted bagel, garnished it with a few slices of radish and sprouted greens.
Oh, and of course, I also added little bit more hot sauce to my sandwich.
Fight fire with fire, right?
Hmpft… then why it is that I'm still sweating bullets, just sitting here? I think I'll go treat me to a nice cold shower!
See ya guys. Make the salad!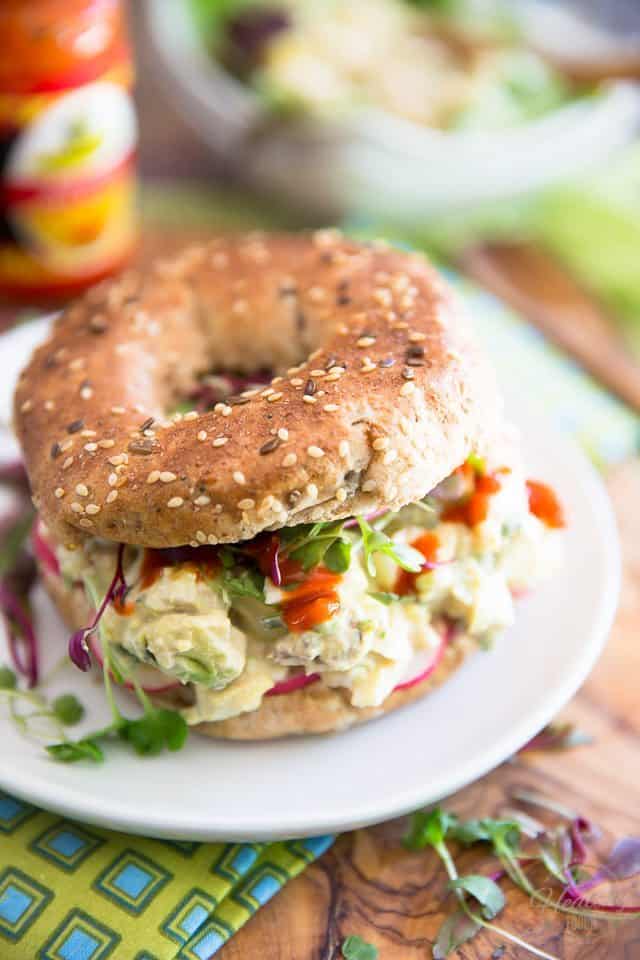 Avocado Egg Salad
Ingredients
4 large hard-boiled eggs, chopped
1 ripe avocado, diced
1 green onion, chopped
¼ cup plain Greek yogurt
2 tbsp sour cream
the juice of ½ a lemon
2 tbsp chopped walnuts
1 tbsp fresh parsley, chopped
1 tsp piri piri hot sauce (or other hot sauce of your choice)
¼ tsp salt (I use Himalayan salt)
¼ tsp ground black pepper
Instructions
Place all the ingredients in a large mixing bowl and toss delicately until well combined.
Serve immediately, over a bed of mixed baby green leaves, or turn it into a delicious and nutritious sandwich!

Nutrition Information
Serving size:
NF based on 1 of 2 servings (not including bagel)