Beef and Green Beans Instant… Stirfry?
Sometimes, less is more.
Such was the case with this dish, I think… So simple, yet it really delivered!
This, you see, was the first "official" meal of my Lent Challenge.
That night, when I came home from work, I felt totally unprepared and no idea what to eat…
Me, the girl who usually plans her meals days, if not weeks or months in advance found herself standing there, staring at the contents of her fridge, feeling helpless and uninspired.
For some reason, I felt completely overwhelmed and seemed to have lost the ability to create… I basically felt like there were no ingredients left in my diet for me to create from.
But hey, I had to eat, didn't I?
So, I started grabbing a couple of things here and there and quickly threw together this… not sure what I should call this?
Stirfry, I guess…
To stay in compliance with my challenge, I couldn't use any of my usual "Asian Inspiration" ingredients.
Soy sauce, which would be my first and most obvious choice of ingredient, was to be left out.  As were sweeteners of any kind. Well, save for fresh fruits, but I don't think fresh fruit would've worked too well in this…
Just to make the task a little bit harder still, I couldn't add anything that belonged to the nuts and seeds family, for I had also ruled them out for the first week of my challenge.
Yikes!
Normally, I would've added something like soy sauce, sesame oil, sambal oelek or sriracha, some kind of nut butter and probably a little bit of honey…
But ALL of these were off limits at the time.
Ugh. I would have to take a different route.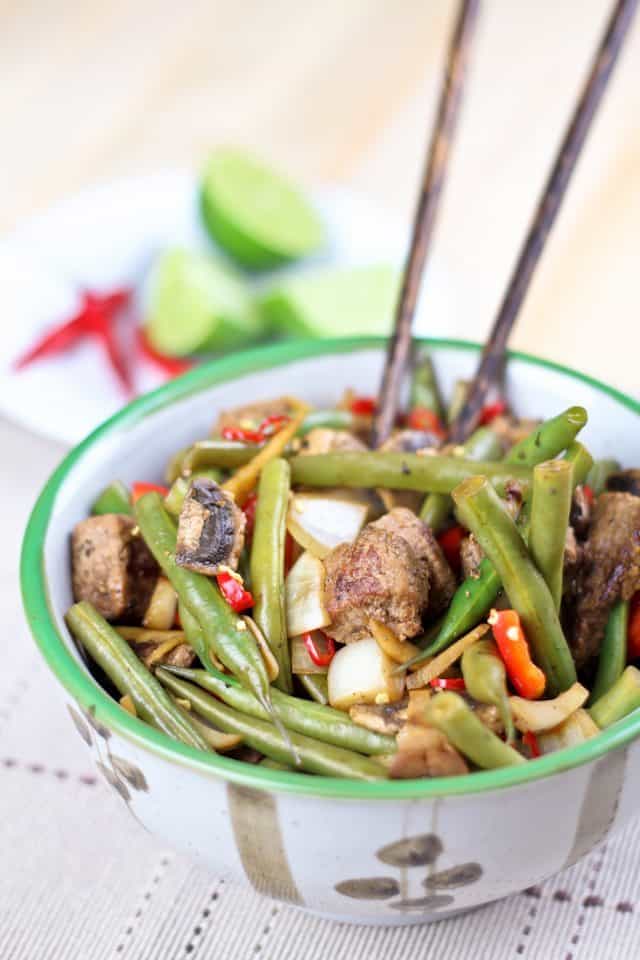 So I turned to rice vinegar and lime juice, as well as garlic, ginger and birds eyes chili peppers to help me build a strong but efficient flavor foundation.
Those few simple ingredients, combined with the flavor I obtained from the caramelization of the meat really got the job done and I have to say that the result was pretty darn tasty.
Now I can't say it had that typical Asian flavor that we are so accustomed to but still, I found it extremely interesting nonetheless and really worthy of getting its own log.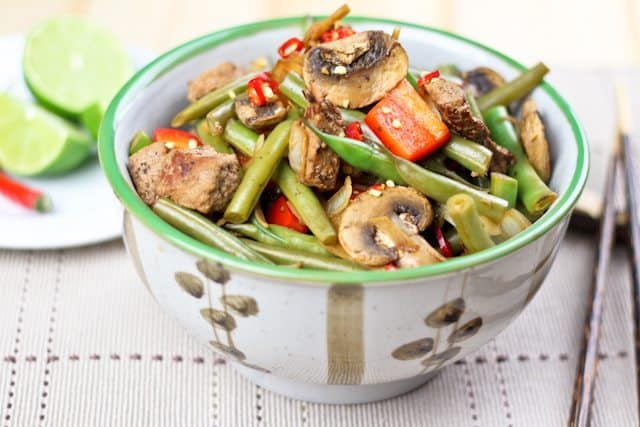 If you're in the mood for something different, something light, something fresh and mostly super quick and satisfying (you should have seen the size of that bowl, it was HUGE!) then you should definitely consider giving this dish a try.
And if you're not doing the Whole30 and aren't under any dietary restrictions, well, by all means, go ahead and play with the flavor base. Add a little bit of soy sauce to it, or a drop of honey perhaps.
But you know what?… I'm not even certain that I would change it if I were to redo this under "normal" circumstances.
Or maybe I would, but now that I have more "experience", I'd stick with the program and add something like coconut cream, or unsweetened orange juice even.
Something tells me I'll be revisiting this one soon…
I'm suddenly getting very inspired! 😉
Beef and Green Beans Instant Stirfry
Servings: 1
Ingredients
175 g beef from the top round, or other similar lean cut
Pinch salt and pepper
100 g mushrooms, sliced
½ red bell pepper, cut into bite size chunks
1 small onion, sliced
200 g whole green beans, cut into 2-3 pieces
3 cloves garlic, finely chopped
2 tsp fresh ginger, grated
1-2 birds eye chilis, finely chopped
2 tbsp rice vinegar
The juice of half a lime
Instructions
Cut the beef into bite size pieces and sprinkle them with salt and pepper

Preaheat a heavy bottomed skillet over medium-high heat. When pan is sizzling hot, add the pieces of beef and sear them quickly, just enough to get them nice and golden brown. Remove from skillet and set aside.

Put the skillet back over the heat source and add the mushrooms. Cook until brown on both sides, then throw in the onions, bell peppers and green beans.

Quickly cook the vegetables until slightly softened, about 2 minutes.

Add the garlic, ginger, chili peppers, rice vinegar and lime juice.

Throw the meat back into the pan and stir to combine. Cook for another minute or two to allow the flavors to combine.

Transfer to a serving dish and serve immediately.
If you've tried this recipe, please take a minute to rate the recipe and let me know how things went for you in the comments below. It's always such a pleasure to hear from you!
You can also FOLLOW ME on PINTEREST, FACEBOOK, INSTAGRAM and TWITTER for more delicious, healthy recipes!