Mushroom Overload Egg White Omelet
I'm usually one to do fruits and dairy in the morning, complete with a big heaping scoop of whey protein powder.
In other words, I tend to do smoothies, parfaits or soft serves.
If not that, then pancakes, breakfast bakes or oatmeal.
I'll even do cake, sometimes…
Bottom  line is, I'm usually in the mood for a good dose of carbs as well as a little bit of sweetness this early in the morning.
But since I started following the Whole30 program, I began to naturally crave completely different things for breakfast, namely thick, meaty, beefy and veggie filled egg white omelets.
Seriously, I get tons of different ideas and always look forward to trying the next one out. So much so, I could easily turn this place into "The Great Egg White Omelet Blog"  but I get the feeling that you guys wouldn't be too impressed if I did that…
Still, I intend to share a few of my favorite ones with you. After all, I think they make for an EXTRAORDINARY breakfast and I can't think of a much better way to start your day.
This particular one I had 2 days in a row.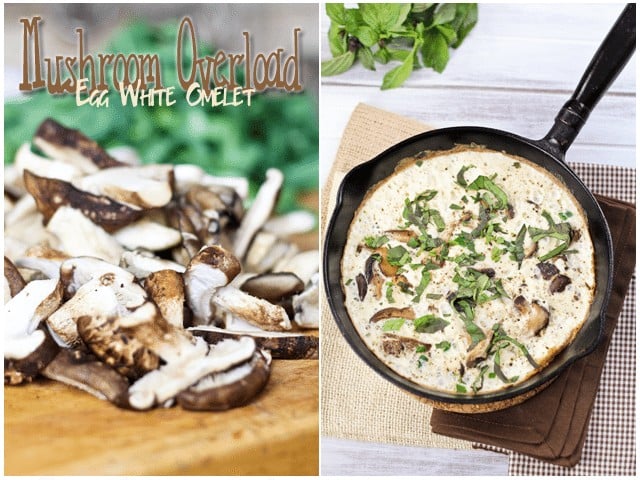 It was actually the first omelet that I truly craved, the one that started it all.
When I initially elected to take the Whole30 challenge, I had decided that I was not going to adhere to the "no SWYPO" rule and that I was still going to enjoy my daily breakfast smoothie, only I would keep the ingredients Whole30 compliant.
But then, something weird happened. I was working out one morning when I got this CRAZY craving for a mushroom loaded egg white omelet, cooked in a cast iron skillet. Don't ask me why or where the idea of the cast iron skillet came from. All I knew is my omelet would HAVE to be cooked in one.
I could barely wait for that workout to be done with so that I could get busy cooking.
That very morning, my omelet turned out absolutely, stunningly GORGEOUS! As in totally FLAWLESS. Sadly, I had to go to work and didn't have time to take pictures, so I decided that I would get the photo set ready that night and repeat the exact same experience the next morning.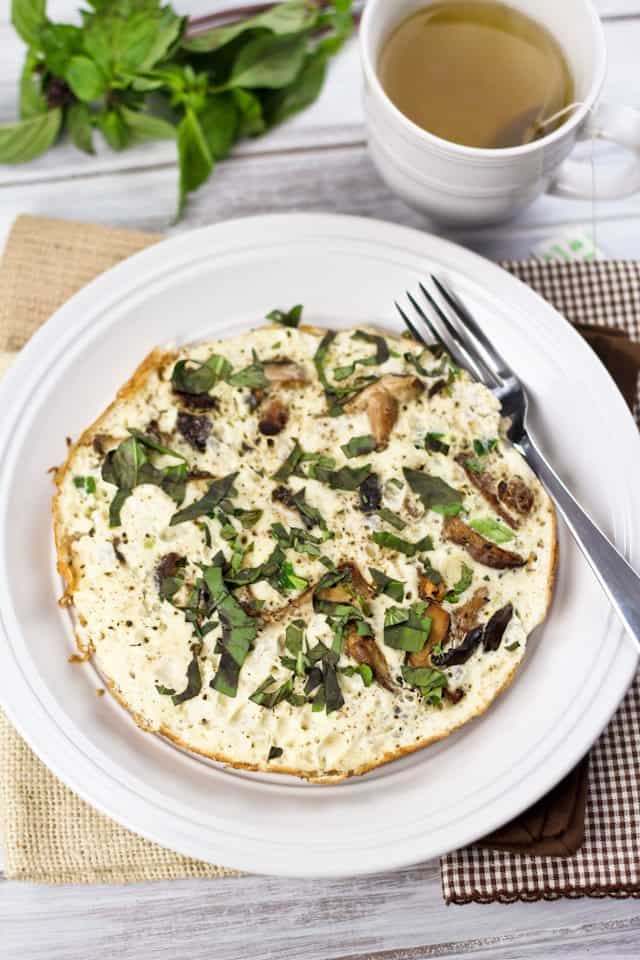 Of course, now that I was ready to take pictures, it didn't turn out half as nice… Looks like the mushrooms all went hiding!
But there WERE loads in there, I swear. And altough it was not quite as pretty, it tasted just as good, I can tell you that!
If like me you are a fan of mushrooms, then this one definitely is for you!
Take my word for it. It has so much mushroom in it, and beefy, chewy mushrooms at that, it almost feels like you're eating steak.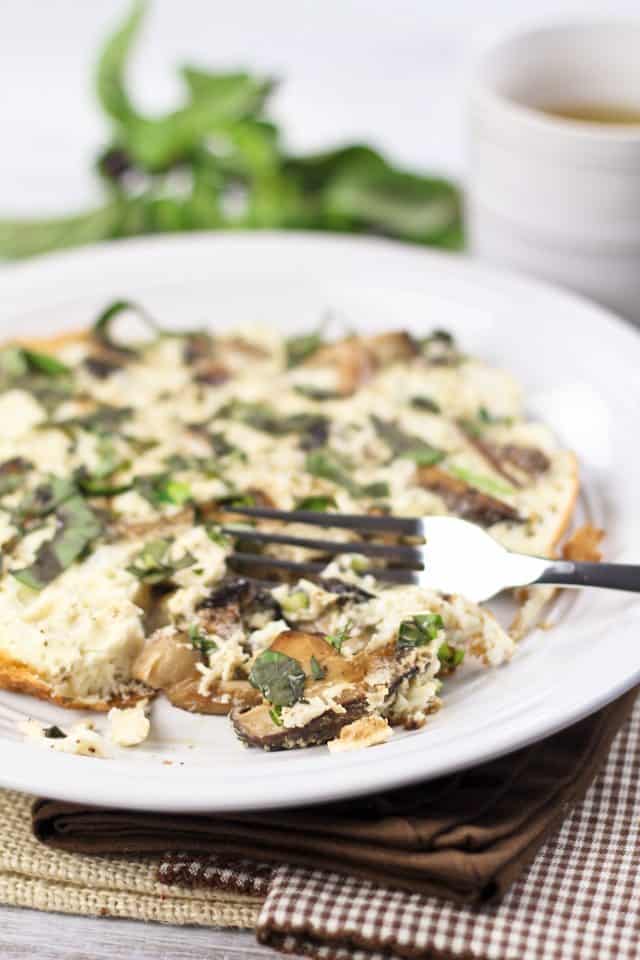 AHAH! See? There's a mushroom!!! Told you there were some in there!
Talk about flavor overload!
Oh, and speaking of flavor… I just discovered the wonders of using coconut oil for cooking and I am entirely sold!
I am TOTALLY in love with the subtly sweet but unbelievably rich flavor that it confers to food.
It's like a thousand times superior to butter in that department, plus, it has a very high smoke point, so you don't have to worry about it burning on you.
Can you say beautiful golden crust? Hello yummy!
Oh, and did I mention it was super healthy?
Oh yeah! I'm so sold!
Mushroom Overload Egg White Omelet
Servings: 1
Ingredients
½ tsp Coconut Oil
150 g fresh Shiitake Mushrooms, sliced
150 g fresh Oyster Mushrooms, sliced
1 green onion, chopped
2 tbsp thai basil
Pinch Himalayan or fine sea salt
¼ tsp black pepper
1 cup egg whites*
Instructions
Add coconut oil to small (8") cast iron skillet or non-stick pan and heat over medium-high heat.

Add the mushrooms, sprinkle with salt and pepper and cook until nice and golden brown on both sides.

Add green onions and cook until fragrant, about 30 seconds. Pour in the egg whites and sprinkle chopped thai basil and freshly cracked black pepper overtop.

Reduce heat, cover loosely (a pizza pan works wonders for this) and cook for about 5 minutes, until the omelette is completely set and opaque throughout.

Delicately slide omelet onto serving plate and serve immediately.
Notes
*That's 8 egg whites total. You could also use a combination of whole eggs and egg whites; I like to do 2 whole eggs and 4 egg whites, or 1 whole egg and 6 egg whites.
If you've tried this recipe, please take a minute to rate the recipe and let me know how things went for you in the comments below. It's always such a pleasure to hear from you!
You can also FOLLOW ME on PINTEREST, FACEBOOK, INSTAGRAM and TWITTER for more delicious, healthy recipes!