My Top 10 – Breakfast Favorites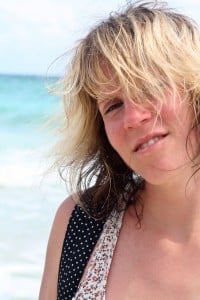 Well, this is it guys.
Tonight is the night.
Soon I will be heading off to the airport to catch my plane and spend a whole week under the beautiful Cuban sun.
While I'm away on vacation, I thought I would share with you some of my favorite recipes of the past 2 years. Some of them you might have seen before, but some you might have missed… Especially the older ones.
So I figured why not bring them back to the top of the pile?
Of course, I HAD to start this little recap exercise with breakfast!
Why?
Because breakfast happens to be the first meal of the day, so that seems logical, but also because it's my favorite!
Without further ado and in no particular order, I give you my 10 ultimate favorite breakfast recipes of the past 2 years.
It sure was hard to choose only ten, let me tell you!
In the Pancakes Category
If you asked me what my ultimate breakfast food was, I would definitely have to say PANCAKES.
There is something about them that I find so comforting, so calming and so… I can't think of the right word here…
Sinful?
They are at their best enjoyed on a lazy Saturday or Sunday morning, right after an intense workout, while reading a magazine (or your favorite blog) and slowly sipping a hot cup of tea.
This just sends me straight to heaven.
ESPECIALLY IN THE WINTER TIME!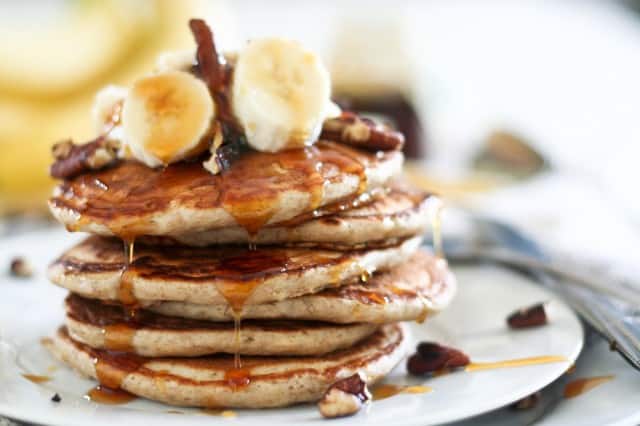 These would be my ultimate favorite pancakes EVER.
In fact, it now is my official go to pancake recipe.
I have made them so often that I know the recipe by heart!  I sometimes like to add blueberries or cacao nibs or carob chips to them, and garnish them with plain yogurt, almond butter or fresh fruits, for a change.
They are definitely sweet and moist and oh so delicious.
If you haven't already, you MUST try them now!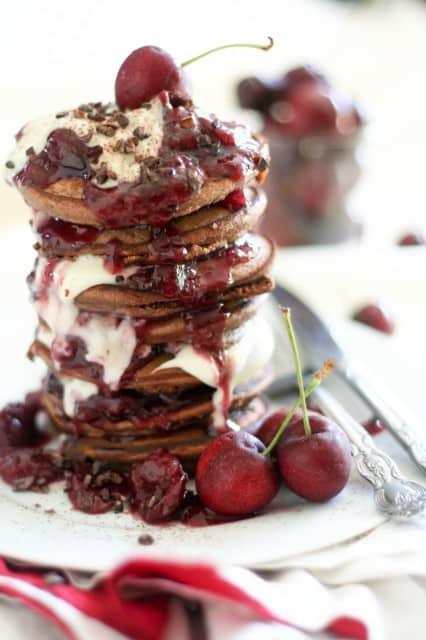 These were definitely absolutely decadent! And talk about eye candy…
Worth making over and over again.
To this day, this would be one of my favorite photo shoots. One of the few of my own photos that will make my mouth water every single time I look at them.
I would almost consider hanging this one on a wall… but then I would crave pancakes all the time! 😉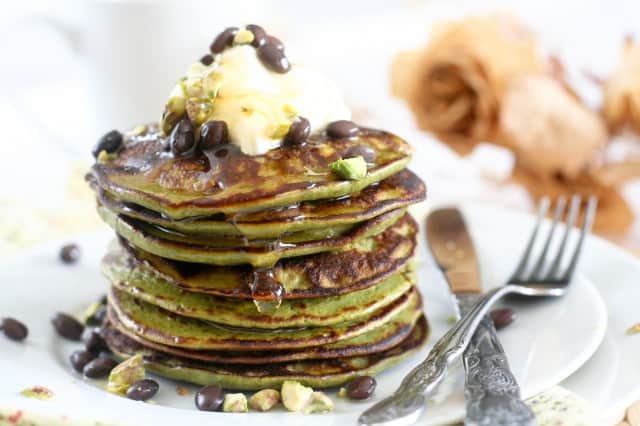 As a lover of everything green tea, of course, I had to include this delicious stack of green tea pancakes to my faves.
Hey, LOVE pancakes, LOVE green tea.
Isn't that like, the ultimate combination?
Oh yeah… these are truly, deliciously wonderful.
In the Instant Bakes Category
Instant Bakes are something that I had never even heard about before I started blogging.
Before I came across one, it would've never occurred to me to bake a cake in a microwave.
NEVER!
I thought for sure it would come out hard as a rock. Plus, I've never been a big fan of microwaves.
But in this case, I have to say… how incredibly brilliant!
I am totally sold!

This is the first instant bake I ever had and it was love at first bite.
To this day, it remains the one that I've enjoyed the most often and I know the recipe to that one by heart also.
Keep it slightly undercooked and you will feel like you're eating the most decadent molten lava chocolate cake ever for breakfast.
That, to me, is heaven on earth!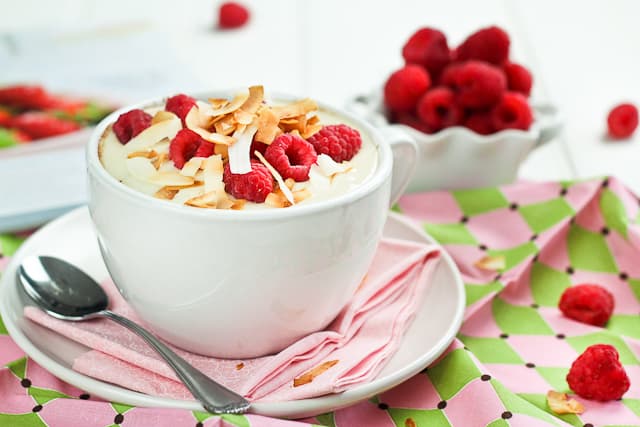 This is a slightly modified version of the above Cherry Breakfast Bake…
It's just as luscious, filling and satisfying.
It also happens to be totally sugar free and a veritable protein bomb!
Totally worthy of being on this list!  
The Breakfast Cereal Category
Overnight Oats is another concept that I have been introduced to shortly after I became active in the blogging world.
For months after I discovered this delicious concoction, that is all I would eat for breakfast.
And I do mean EVERY SINGLE DAY!
I was totally in love!
What's there not to like, though, I ask you? It's incredibly quick and easy to make, oh so convenient and just plain delicious.
Have you tried it yet?

This one I came up with in an effort to satisfy a crazy craving for brown rice pudding that I'd been having for a while.
Much quicker and easier to make, it still hit the spot and gave my tummy entire satisfaction.
It does call for pre-cooked wheat berries, but if you don't have any on hand, feel free to replace them with any other grain you like.
Don't you just love having dessert for breakfast, completely guilt free?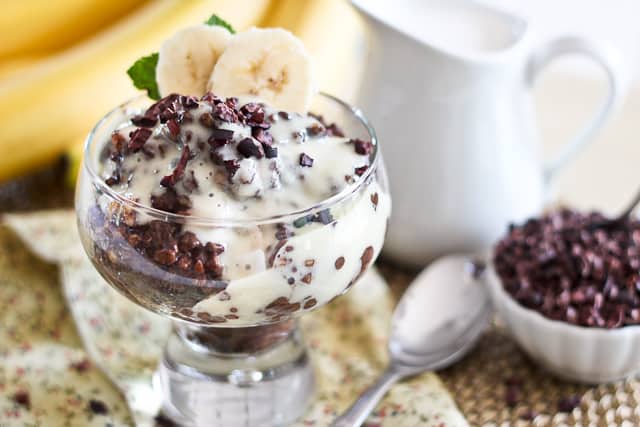 Oh I love my buckwheat. But you already know that, right?
Extremely versatile, it can be used in savory or sweet dishes, cooked or raw, or even popped!
It also makes the most creamy and dreamy warm cereal…
Add a healthy dose of carob and bananas to the equation and you've got yourself a bowl of wholesome goodness that's worthy of the gods.
Don't care for carob? Hey, go for cocoa.
You ain't gonna hurt my feelings!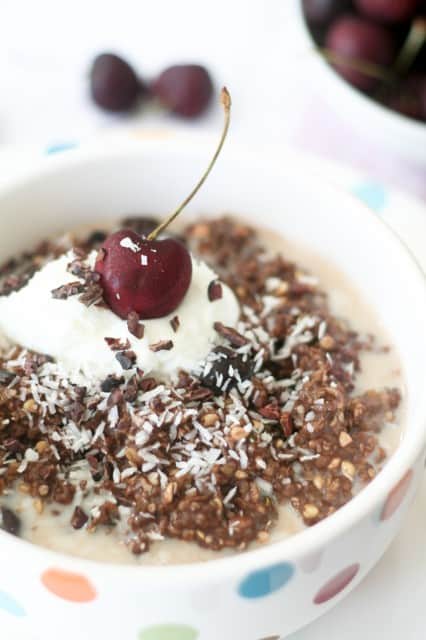 An overload of grains, chocolate and cherries!
That's just my kind of breakfast goodness!
No word of a lie, I must've had that one every day for 2 weeks straight…
I'd say that definitely makes it worthy of this list!
The Savory Breakfasts Category
While I much prefer sweet breakfasts (haven't you noticed?) I sometimes get a craving for something more on the savory side.
Mostly dishes that include eggs.
Eggs and toasts? – BORING! –
Eggs and buckwheat? – NOW YOU'RE TALKING! –
Eggs and quinoa? – HELL YEAH! –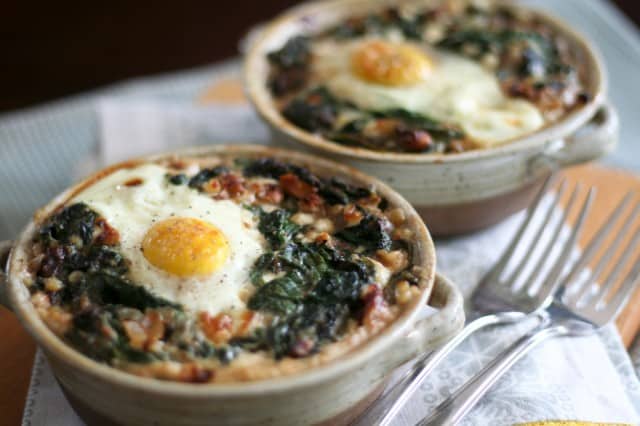 Be them sweet or savory, looks like I need my breakfasts to include some sort of starchy carbs…
Here is one great way to combine starchy carbs, fibrous carbs and a good dose of protein in one super healthy and tasty dish.
One of my favorite creations from my early days.
Of course, you can also serve this for lunch or dinner…
But what a glorious breakfast it makes!

I included this one in the breakfast category, but you might just as well serve this for lunch or even dinner.
The quinoa cakes themselves are un-bah-lee-vably tasty and can be enjoyed in a myriad of different ways…
I've had them in a hamburger, crumbled on top of a salad and even cold, hand held, right out of the fridge as a snack.
They're just grrrrrreat!
This is definitely a recipe you'll want to hang on to…
______________________________________________________________
And that's it for breakfasts guys!
Next time… snacks and smoothies!
What say you?