Venison Burger
For some reason, I've been craving red meat like crazy lately.
I think I've eaten more red meat in the past few months than I have in the last 3 years!
Before that, I used to eat TONS of meat. I was a big time carnivore and I remember saying that I could NEVER EVER be a vegetarian: I loved my meat way too much for that!
Hmptf… People change, I guess!
I have since DRASTICALLY reduced my consumption of meat, especially red meat, mainly for environmental reasons and because I can't stand the way the animals are being treated.
And well, because of health concerns, also.
While red meat is not your optimal choice when it comes to picking a healthy, lean protein, there are a few cuts that remain a very good option, such as beef tenderloin, top sirloin or better yet, the inside round, which is the leanest of them all. It also happens to be one of the most affordable cuts, so no doubt it would be my meat of choice when I get a craving for red meat.
UNLESS…
Unless I would be lucky enough for one of my very good friends to give me a nice chunk of beautiful, oh so lean, ground venison meat!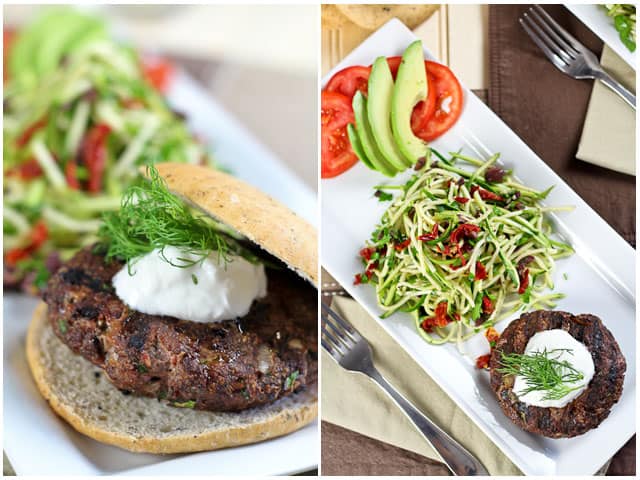 Talk about AWESOME!
Now I have to admit that it was my very first time cooking deer meat, so I wasn't too sure what to expect. The last thing I wanted to do was ruin it or waste it in some unworthy  dish…
I figured hamburgers, served with a very unintrusive zucchini carpaccio, were the best way to let that beautiful meat truly shine and be the star of the show!
I was VERY impressed with how incredibly juicy, tasty and lean this venison meat was!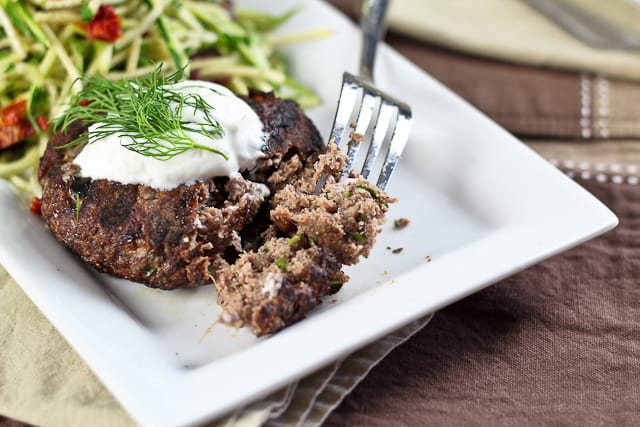 I mean, I always make my own ground beef using inside round so trust me, I know what lean ground meat is all about. But this venison felt even leaner! And it was so much darker too. Even in its raw state, it was super beautiful, that meat.
But after it was cooked?
OMG, it was G.L.O.R.I.O.U.S! Unbelievably tasty! Best burger I've had in a long time! Alright, technically, I hadn't had a burger PERIOD in a very long time but still, this was one of the best I remember ever having.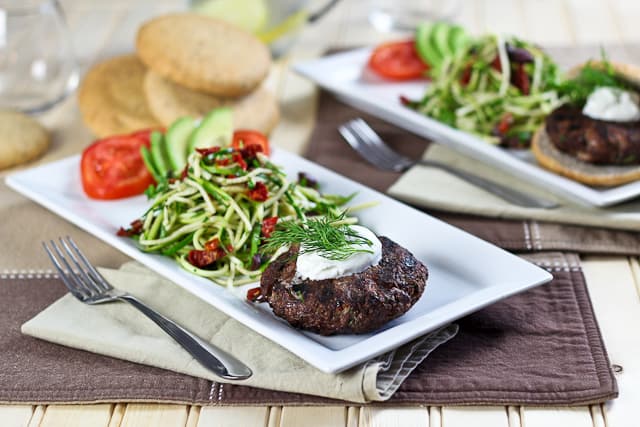 No way I would've put blue cheese on top of that, or even goat cheese, for that matter. I didn't even bother putting my pattie in a bun. I wanted nothing to interfere with the flavor of the meat (plus, well, I thought I could do without the added calories, thank you very much!)
A dollop of plain Greek yogurt and few sprigs of fresh dill is all it took.
I really LOVED that new source of protein and seriously wish I could get my hands on it more often.
Guess I'll have to try and find a source!
Venison Burger
Servings: 4
Ingredients
1 small onion, finely chopped
650 g ground venison meat, or extra lean ground beef
1 tbsp Dijon mustard
½ tsp salt
1 tbsp organic no salt seasoning
1 tsp capers
1 tsp black pepper
½ cup hazelnut meal, or almond meal
¼ cup fresh parsley, finely chopped
1 garlic clove, crushed
1 whole egg, beaten
Instructions
Add all the ingredients to a mixing bowl and mix with clean hands until all the bits and pieces are nice and uniformly distributed.

Divide the meat into 4 servings and shape into patties.

Preheat your outdoor grill to high. Or, if you are making these indoors, preheat a non-stick pan sprayed with olive oil over high heat.

Lower the heat to medium and place the patties on the grill (or in the pan) and cook for about 4-5 minutes per side, or until the patties are cooked through.

Serve immediately, over a bun if desired.
If you've tried this recipe, please take a minute to rate the recipe and let me know how things went for you in the comments below. It's always such a pleasure to hear from you!
You can also FOLLOW ME on PINTEREST, FACEBOOK, INSTAGRAM and TWITTER for more delicious, healthy recipes!
So tell me which would you go for? No bun?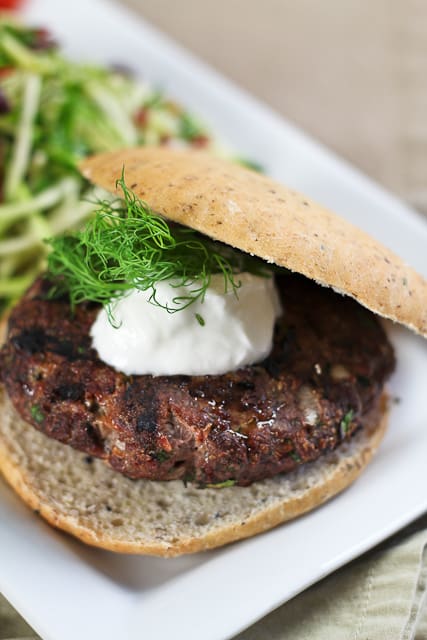 Or would you rather have yours on a bun?