This Can't Be Healthy! Apple Cinnamon Bread Pudding
I'm sorry about the picture overload guys, but I'm just totally, completely, entirely infatuated with this guy…
I took a million photos and had a REALLY hard time deciding which ones would make the cut and which ones would get left behind.
Because, believe it or not, I did leave some VERY good shots behind!
Know this, though. The number of pictures appearing in this post is directly proportional to my level of appreciation for that bread pudding.
So… think I liked it? At least a little bit?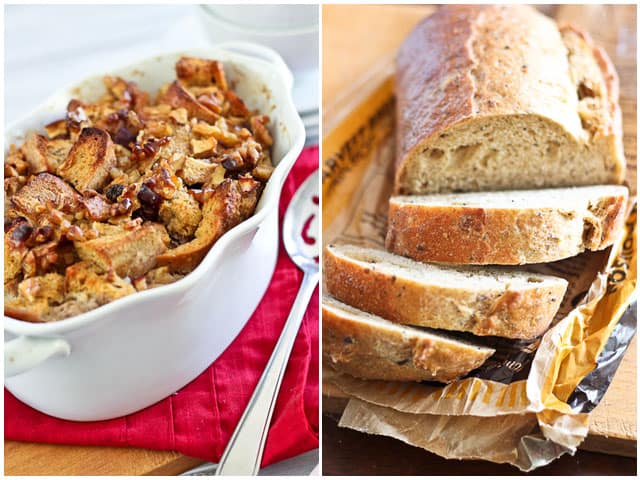 It was, without a doubt, THE best bread pudding I have eaten in my entire life.
And you know what? I enjoyed all four VERY GENEROUS portions for breakfast… all that WHILE being on a weight loss stretch.
You read that one right.
THIS absolutely decadent dessert looking thing is what I am actually eating for breakfast while actively working on shedding some pounds…
And you know what still?
The fat is actually coming right off!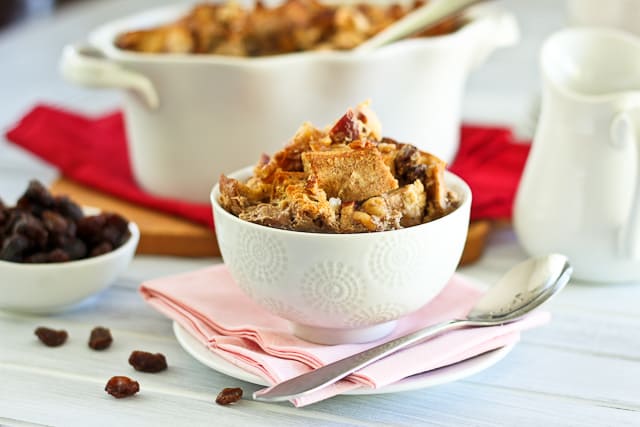 It might be hard to believe by looking at it, but this bread pudding is healthy as can be!
But hey, don't take my word for it. Go ahead and take a look at those nutritional facts… I didn't make them up, you know! 😉
Never in my life did I imagine that I could eat such an amazing and sweet tasting dessert for breakfast and feel so full and supported for so long. I can guarantee that this one will not send you crashing an hour after you're done eating.
I wasn't even in a hurry to have my morning snack after eating this.
In all honesty, I think it could easily serve 6. And if you are going to serve this as a snack or dessert, you can very well make that number an 8.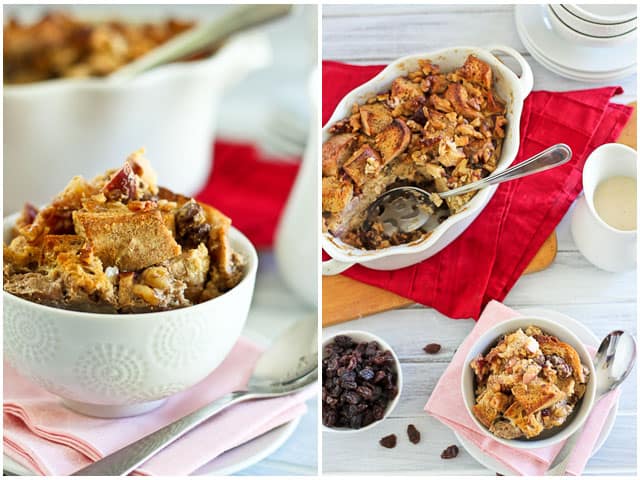 If you are a fan of bread pudding, by all means, give that one a try.
And don't be afraid of serving it to guests, or even kids.
Trust me, no one will care that it was made with whole grain bread.
Heck, they probably won't even notice!
Yeah, really… it's that good!
This Can't Be Healthy! Apple Cinnamon Bread Pudding
Servings: 4
Ingredients
For The Pudding
227 g crusty whole wheat bread, cut into 2 inch squares
1½ cup home made coconut milk, or other milk of your choice
1½ cup unsweetened applesauce
2 whole eggs, lightly beaten
1 tbsp ground cinnamon
1 tsp freshly grated nutmeg
1 Red Delicious apple, peel on, finely diced
½ cup raisins
¼ cup walnuts
For the Sauce
3 scoops vanilla flavored whey protein powder
¼ cup fat free plain Greek yogurt
¼ cup home made coconut milk, or other milk of your choice
Instructions
In a large mixing bowl, add coconut milk, unsweetened applesauce, eggs, cinnamon and nutmeg. Beat ligthly with a whisk until well incorporated.

Fold in bread cubes, walnuts, apple and raisins.

Transfer to oven safe dish, cover and refrigerate for at least an hour. This will allow the bread to soak up the liquid.

Preheat your oven to 350F and bake the bread pudding for 45-50 minutes, until it's set and the top turns nice and golden brown.

Remove from oven and allow to cool until it reaches room temperature, then cover and transfer to refrigerator once again to cool completely. (This pudding is best served cold)

When ready to serve, make the sauce by adding protein powder and yogurt to a mixing bowl and mix with a spoon or whisk until well incorporated. It might look like there is too much powder at first, but it will come together eventually. Same goes for the "lumpy" feeling. Just let the mixture rest for about a minute and give it another quick stir. It will become nice and smooth.

Add milk and stir until nice and creamy looking.

Pour generously over bread pudding.

Both the sauce and bread pudding will keep in the refrigerator for up to 5 days.
If you've tried this recipe, please take a minute to rate the recipe and let me know how things went for you in the comments below. It's always such a pleasure to hear from you!
You can also FOLLOW ME on PINTEREST, FACEBOOK, INSTAGRAM and TWITTER for more delicious, healthy recipes!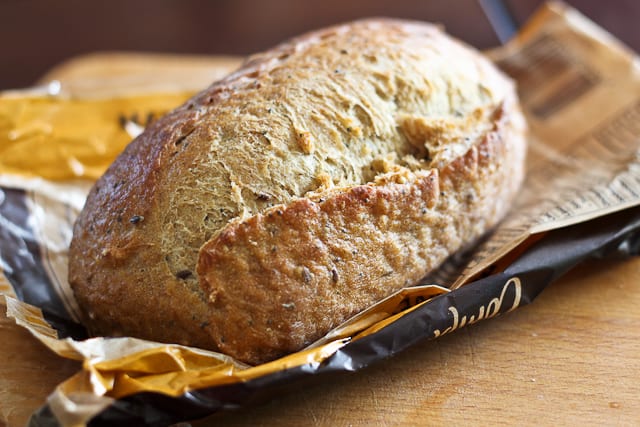 Start with a nice whole wheat / grain crusty bread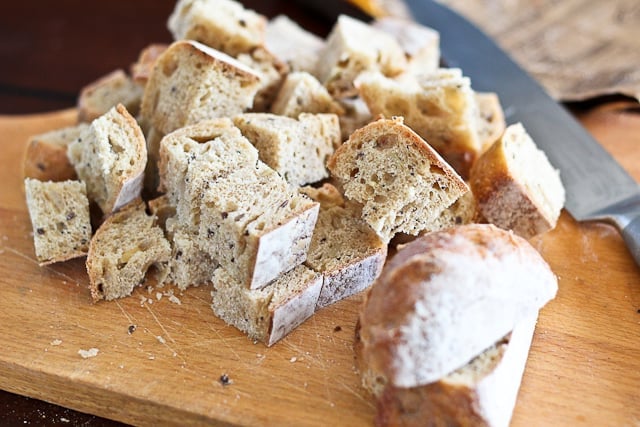 All cut into cubes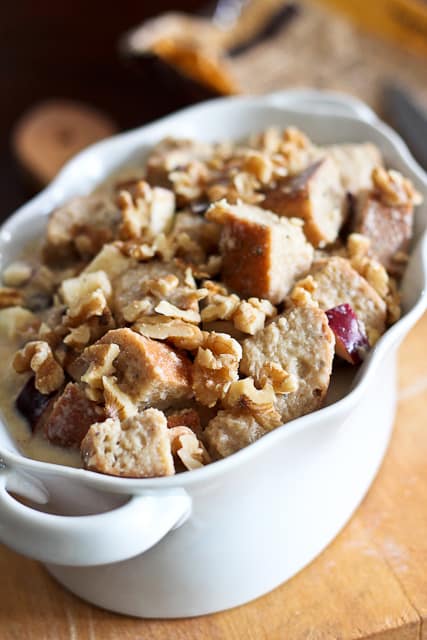 After a nice long bath…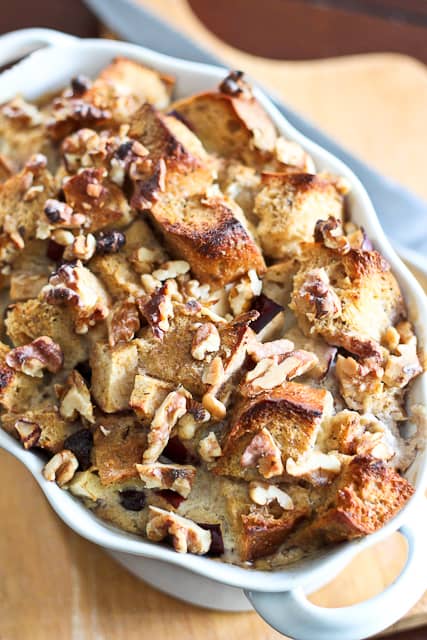 Straight out of the oven…
Oh! I wish you could smell that!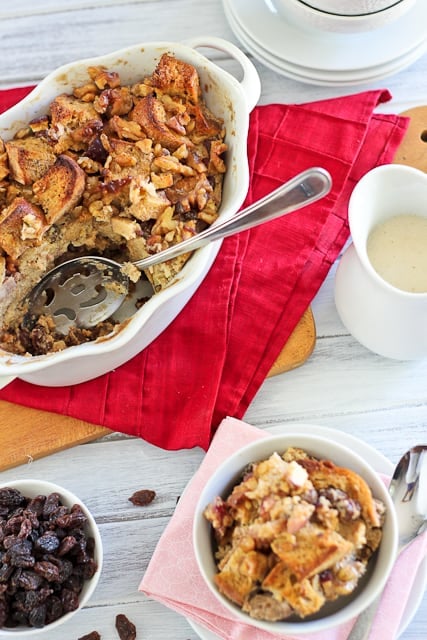 Breakfast is served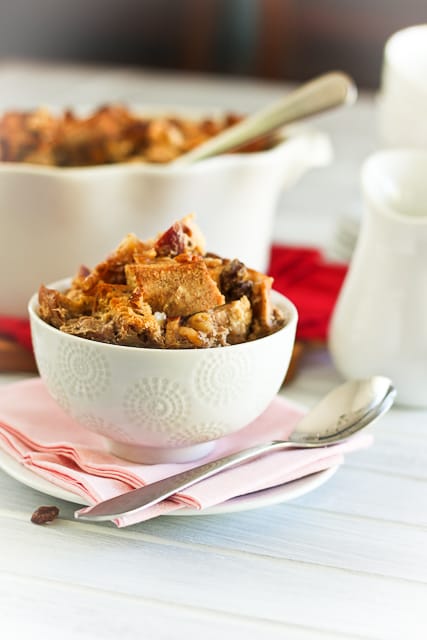 Still undressed and already looking delicious… but wait!
It gets better…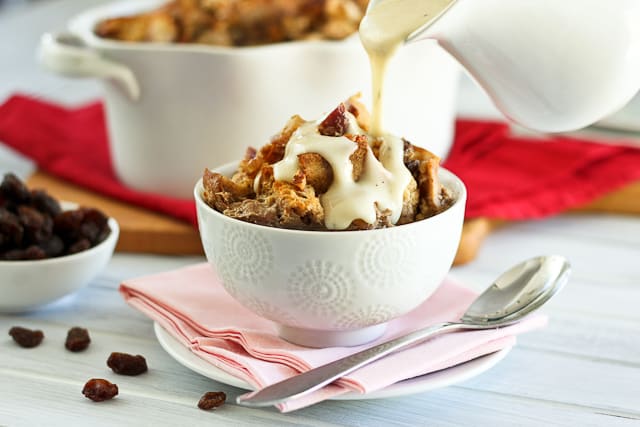 Let's add a little sauce, shall we?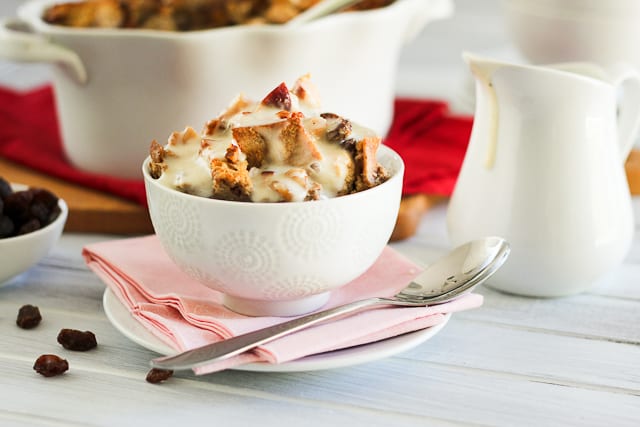 Yum! All good and ready to go…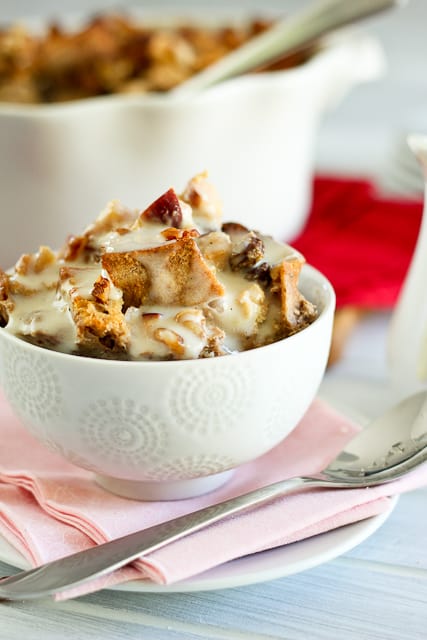 Does that look good or what?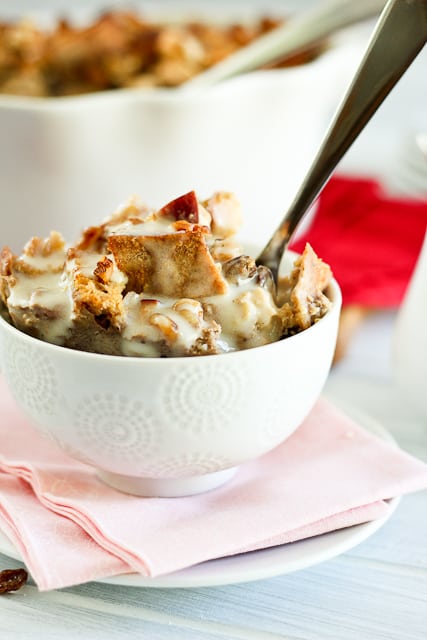 Go ahead, dig in!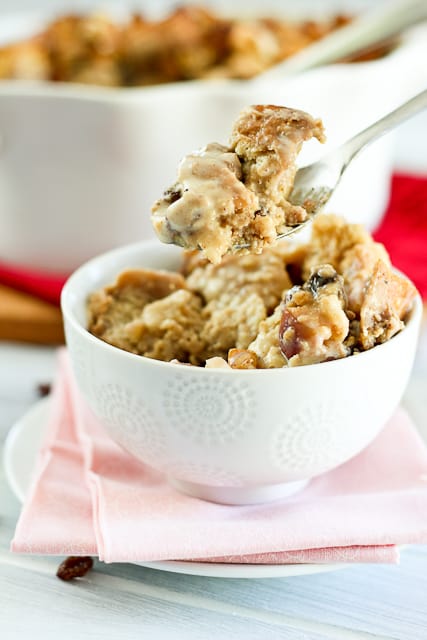 Now for a taste test… Moist enough for you?