The Meat Lover's Ratatouille
I've always been a HUGE fan of ratatouille, and I do mean HUGE!
There's just something about this trio made of zucchini, tomato and aubergine that I simply adore. 
However, I always found that it lacked a little bit of… how could I put it without being disrespectful to this glorious dish?
Substance, I guess.
You know, that keep-me-fuller-longer extra something.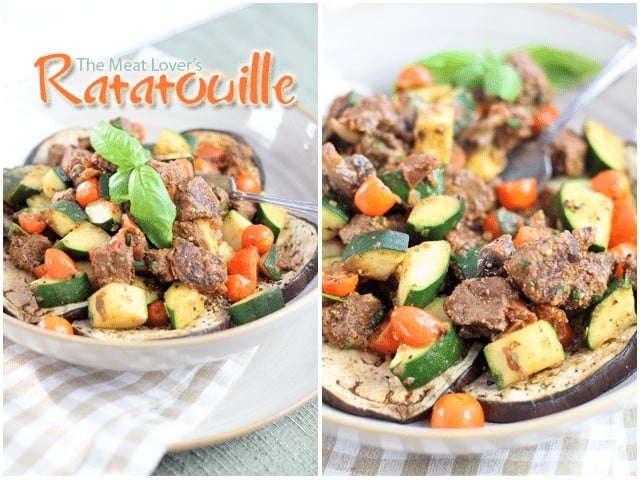 For that reason, I always made all sorts of additions to this great classic combo…
I've successfully added Feta Cheese and Kalamata Olives, turning it into some sort of a warm Greek salad. Yummy!
I've also tried adding chickpeas and serving it over a bed of quinoa. That too, was pretty spectacular!
I even managed to put it right on top of a pizza. Talk about glorious AND delicious.
But it never dawned on me before now that I could plain and simply add a generous portion of good, lean MEAT!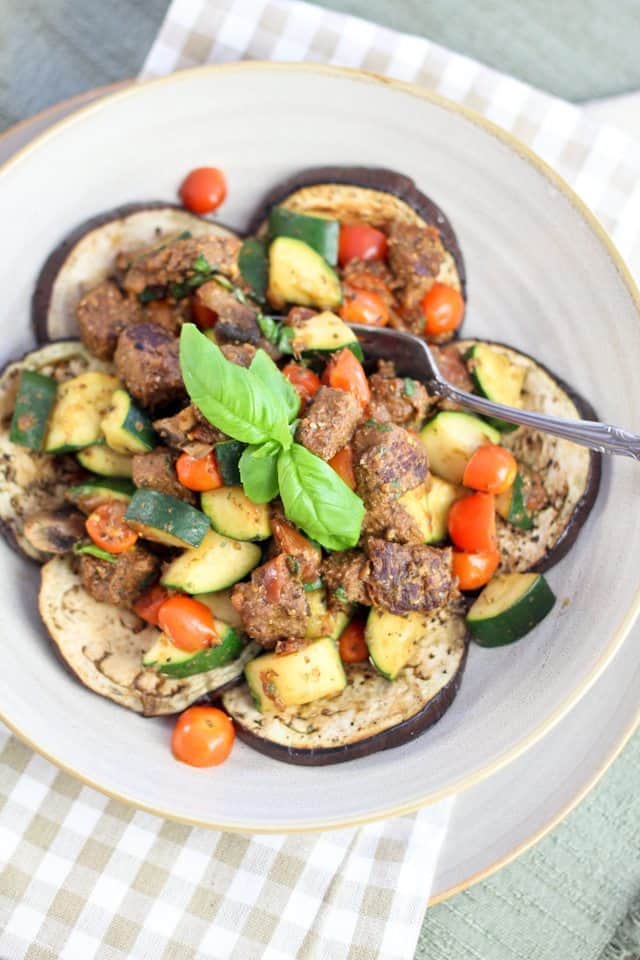 I guess that in my mind, Ratatouille was a vegetarian dish and had to remain that way. Almost as if it had been sacred.
Well, not anymore, let me tell you.
Now that I've tasted this, I can guarantee you that meat will regularly get added to this girl's ratatouille.
For THIS might very well be my favorite addition so far.
Something definitely has to be said for the great contrasts that this dish has to offer: the tender, hearty and slow simmering beef combined with the crisp, barely cooked and super refreshing vegetables.
Your mouth will adore!
And I bet it will totally agree with the flavor combination, too!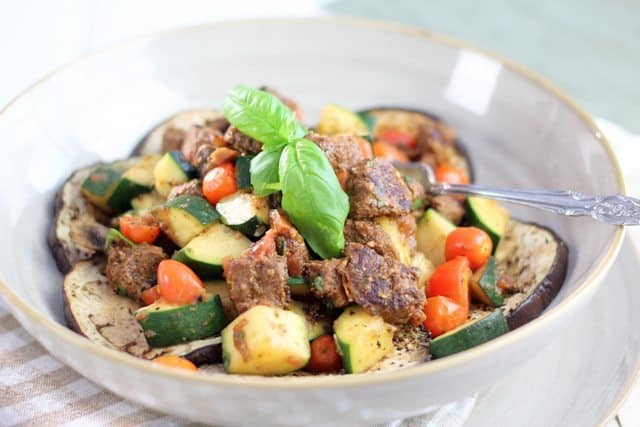 This might very well be my new favorite way of enjoying ratatouille, even though it makes me feel like I'm committing some kind of a sacrilege with this latest addition…
Truth is I'm also planning on testing chicken, and probably even lamb!
Oh, lamb has got to be THE BOMB in this dish. I can already imagine what it'll taste like. It'll be grand, GRAND I tell you!
But it feels so wrong, still!
Oh well… I guess I'll just have to name it differently!
'Cuz this is so happening! 😉
The Meat Lover's Ratatouille
Servings: 2
Ingredients
425 g beef from top round, cut into bite size chunks
1 large onion, finely chopped
2 cloves garlic, finely chopped
¼ tsp Himalayan or fine sea salt
¾ tsp freshly cracked black pepper
1 tbsp ground mustard seeds, or dry mustard
2 tbsp dried fine herbs
1 + 1 cup water
2 tbsp white wine vinegar
1 large ripe tomato
2 zucchinis, cut into large chunks
2 cups cherry or grape tomatoes, cut in half
100 g mushrooms, sliced
1 medium eggplant, cut into 10-12 thick slices
1/8 tsp Himalayan or fine sea salt
¾ tsp freshly cracked black pepper
Loads of fresh basil, finely chopped
Instructions
Heat a little bit of coconut or olive oil in a large saucepan over high heat; when pan is sizzling hot, add and sear the pieces of meat until they are nice and golden on all sides.

Add onions, garlic, salt and pepper; lower heat to medium and continue cooking until the onions are softened.

Add ground mustard seeds (or dry mustard), dried herbs, white wine vinegar,1 cup of water and chopped tomato. Stir until well combined.

Cover loosely, lower heat and simmer, stirring from time to time, until the liquid is almost completely evaporated; add another cup of water and repeat the process until you're left with very tender pieces of beef and close to no liquid at the bottom of the saucepan. Turn off the heat and reserve.

Preheat a large non-stick skillet over medium-high heat and add the aubergine slices in a single layer. Sprinkle with salt and pepper and cook until tender, flipping once, about 2 minutes per side. You might have to cook them in 2 or 3 batches, depending on the size of your skillet. Remove aubergine slices from pan and keep warm while you continue working on the rest of the vegetables.

Put skillet back over the heat source and add zucchinis and mushrooms; cook for a one or two minutes, just to soften them up a little bit.

Add reserved meat mixture, tomatoes and fresh basil and stir delicately until all is well combined.

Divide the aubergine slices between 2 serving plates and arrange them in a circular fashion.

Top with meat mixture, garnish with a few additional basil leaves and serve immediately.
If you've tried this recipe, please take a minute to rate the recipe and let me know how things went for you in the comments below. It's always such a pleasure to hear from you!
You can also FOLLOW ME on PINTEREST, FACEBOOK, INSTAGRAM and TWITTER for more delicious, healthy recipes!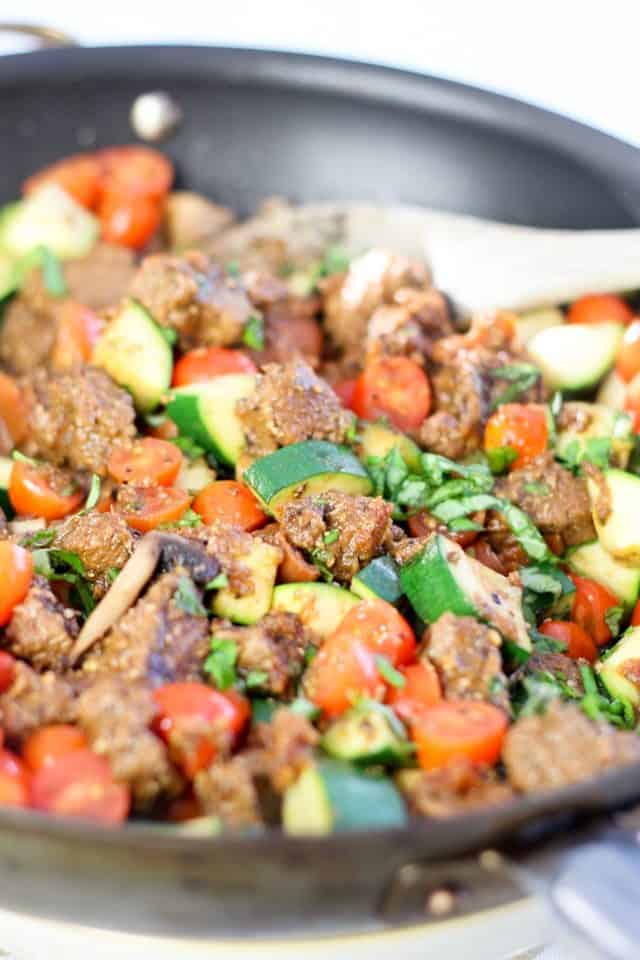 In the pan and ready to serve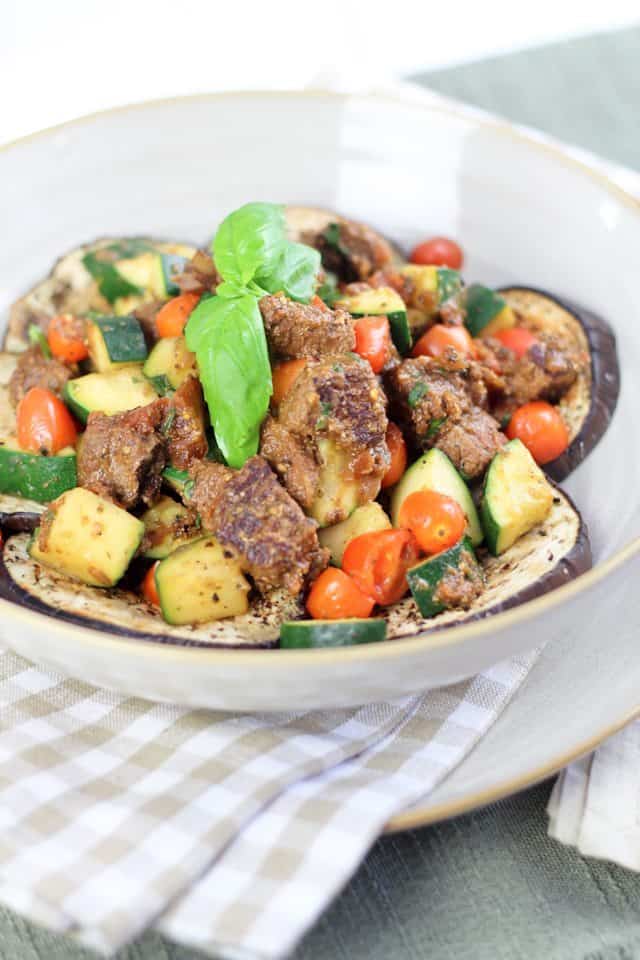 Does that look good or what?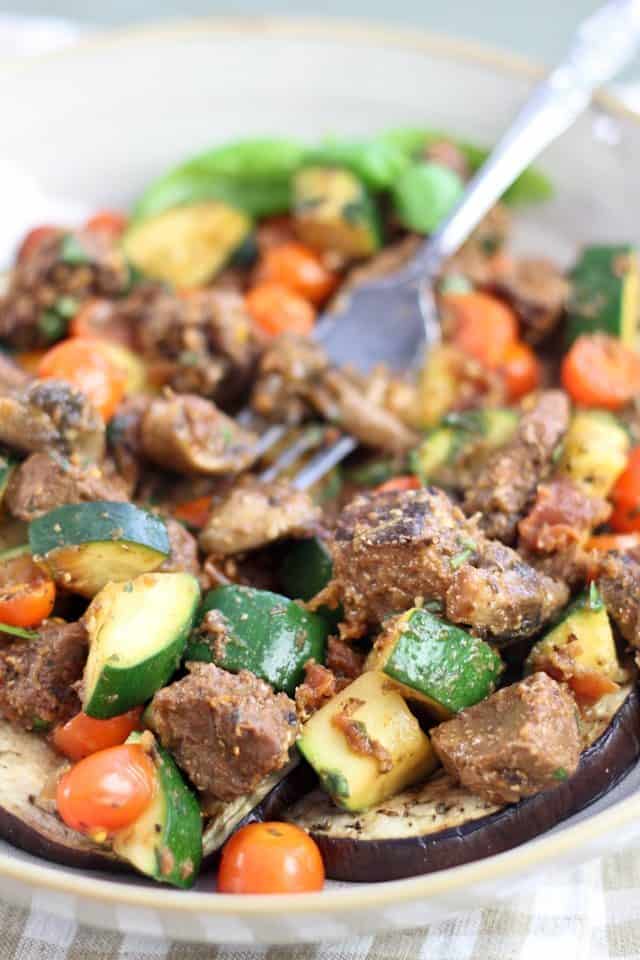 Super filling and satisfying? You bet!