Tomato Olive Braised Beef with Rustic Cauliflower Turnip Mash
It had been YEARS since I'd last bitten into a piece of delicious, slowly braised beef blade roast.
Oh, I almost cried… it was so good.
I had almost forgotten how moist and tender and juicy and flavorful that cut of meat truly is.
To me, that such an inexpensive piece of meat can lead one to achieve such great levels of culinary ecstasy is down right astonishing.
Oh, the moment of pure bliss that was brought to me with each and every bite that got carried to my lips.
I can't even begin to explain!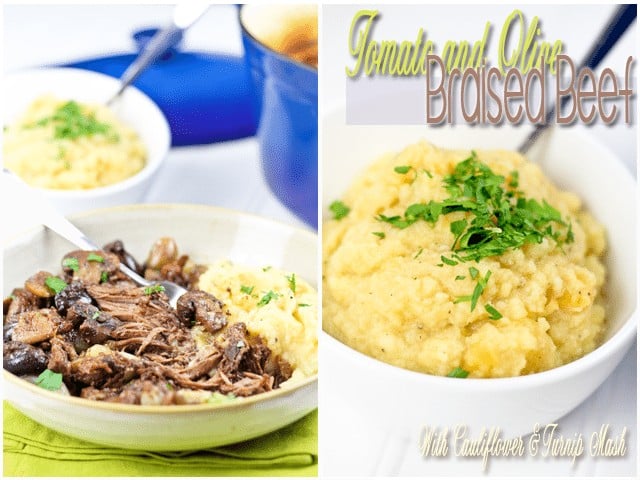 And I am really sorry that, once again, my pictures simply do not do justice to a meal that, in my opinion, was truly worthy of the best recipe books ever published by some of the best chefs the world has to offer.
I might sound like I'm tooting my own horn here, and maybe it's the long years of "deprivation" speaking, but I am telling you, this dish, I am certain of it, made the angels sing.
And if the angels didn't actually sing, I can guarantee you that my tummy did.
And lucky for him, I made a HUGE batch and ate the whole thing by myself… save for one serving which I brought to one of my co-workers for him to sample.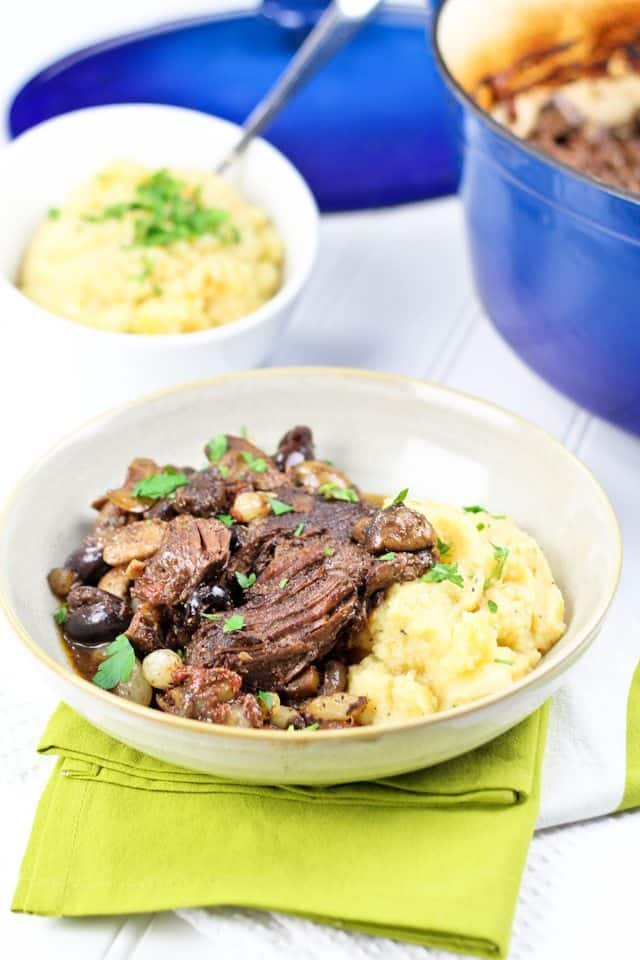 Needless to say I was extremely nervous while I awaited his verdict… which took 2 long days to come!
Thank goodness, it came out positive! I think he liked it almost as much as I did.
One thing's for sure, he wanted to get his hands on the recipe. That of the beef, as well as that of the side dish I had made.
So there you have it. Just for you, Pierre, I'm also including the recipe for the Rustic Cauliflower and Turnip Mash that I elected to serve along with the beef.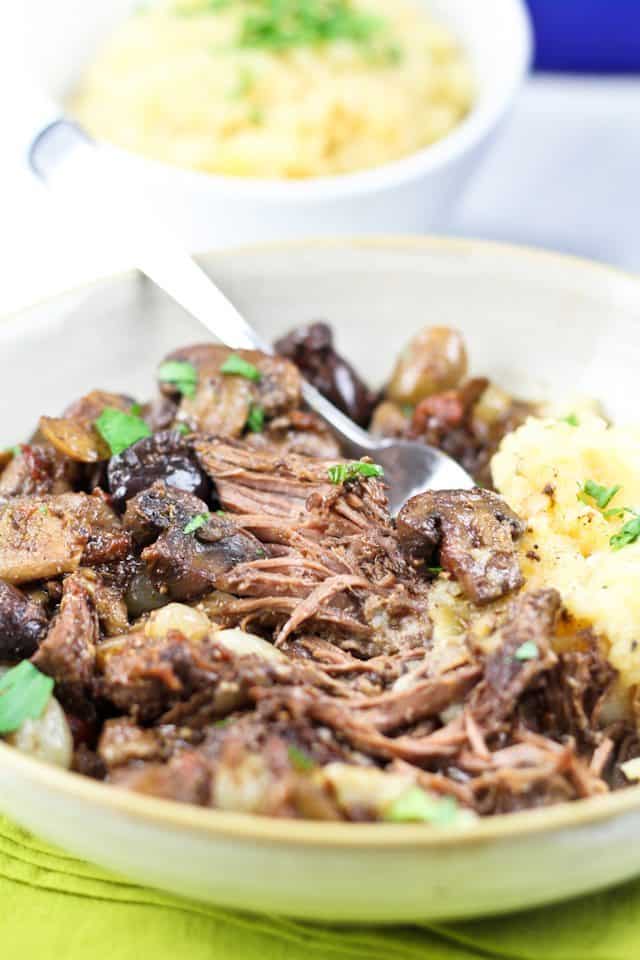 Quite frankly, I think it was the perfect choice of side to complement this dish.
The fluffiness of the mash as well as the slightly tangy flavor of the cauliflower and turnip go magically well with the bold and agreeably salty flavor of the beef and olives.
Oh, and whatever you do, don't skip the little pearl onions. They add such an exquisite touch of sweetness to the whole experience, you wouldn't want to miss on that!
I am telling you, this was the Best Braised Beef Blade Roast I have had in my entire life.
I am definitely adding this one back to my regular menu.
It will NOT be years before I get to enjoy it again, I can guarantee that!
Tomato and Olive Braised Beef
Servings: 6
Ingredients
2 kg boneless blade roast, trimmed of all visible fat
2 large onions, chopped
8 cloves garlic, smashed
454 g mushrooms, sliced or cut in half
24 large each kalamata and green olives, pitted and cut in half lenghtwise
¼ cup Pommery meaux mustard*
¼ cup cider vinegar
1 cup water
1 large can diced tomatoes
250 g frozen pearl onions
Instructions
Preheat oven to 350F

Grind all the spices together in a coffee grinder or mortar and pestle.

Rub spice mix all over your piece of meat, making sure to coat it well on all sides. Really "massage" the spices into the meat.

Wrap the roast in a plastic film and leave it to rest while you prep your vegetables.

Preheat about 1 tablespoon of coconut oil in a large heavy skillet over high heat. When pan is sizzling hot, add the meat and do not move it until it has formed a nice dark crust, about 5 minutes. Flip the piece of meat and sear the other side until it too, forms a nice golden crust.

Transfer meat to a large Dutch oven.

Add mushrooms, onions, and garlic to the pan and cook for one or two minutes, just enough for the vegetables to grab a hold of all the delicious flavours that are attached to the bottom of the pan. Put that in the Dutch oven with the meat.

Add water, mustard and cider vinegar to the cooking pan to finish deglazing it then pour that liquid over the reserved meat and veggies.

Add the tomatoes and olives, put the lid on and place that in the oven for about 4 hours, or until the meat detaches very easily when pulled with a fork.

You might want to check from time to time just to make sure you still have enough cooking liquid. If it appears to have gone down too much, add a little bit more water.

When the meat is cooked, add the pearl onions and continue cooking for another 15-20 minutes, just to heat the onions through.

Serve piping hot with a side of mashed cauliflower and turnip.
Notes
*You can also use Dijon, Whole Grain or any other type of mustard, just make sure it's sugar, alcohol and sulfite free if you want to stay Whole30 compliant.
If you've tried this recipe, please take a minute to rate the recipe and let me know how things went for you in the comments below. It's always such a pleasure to hear from you!
You can also FOLLOW ME on PINTEREST, FACEBOOK, INSTAGRAM and TWITTER for more delicious, healthy recipes!
Rustic Cauliflower Turnip Mash
Servings: 6
Ingredients
600 g cauliflower, cut into florets
600 g turnip, peeled and cut into roughly 1" cubes
¼ tsp Himalayan or fine sea salt
½ tsp freshly cracked black pepper
Freshly grated nutmeg to taste
Instructions
Place the vegetables in a steaming basket, sprinkle with salt, cover and steam over a few cups of boiling water until fork tender.

Transfer the veggies to the bowl of your food processor, add pepper and nutmeg and process until desired consistency is achieved.
If you've tried this recipe, please take a minute to rate the recipe and let me know how things went for you in the comments below. It's always such a pleasure to hear from you!
You can also FOLLOW ME on PINTEREST, FACEBOOK, INSTAGRAM and TWITTER for more delicious, healthy recipes!
Make sure you remove all of this visible fat, then coat your piece of meat nice and good with the spice rub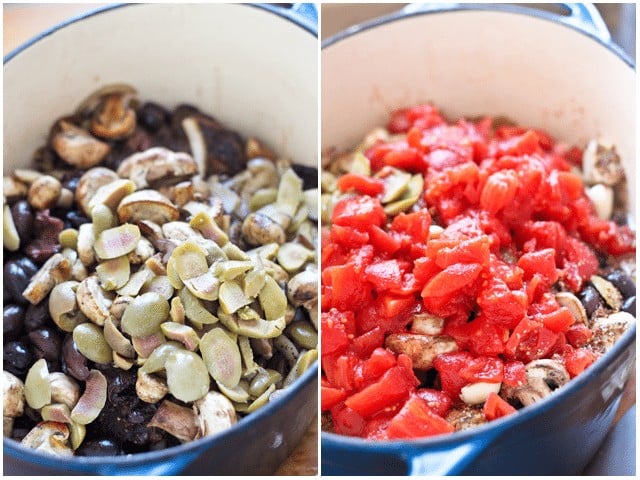 Add veggies, olives and tomatoes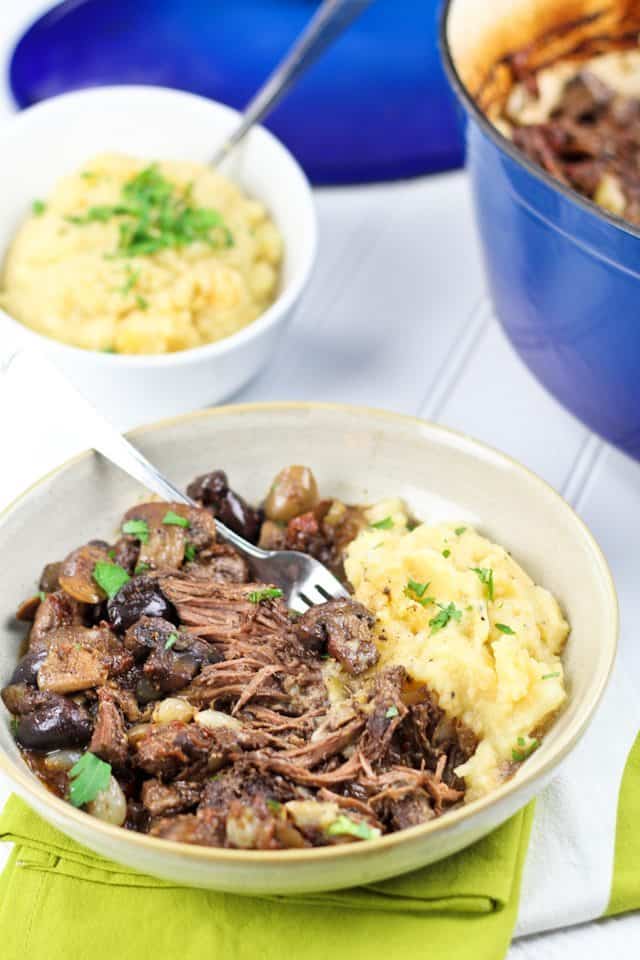 Cook for a very looooong time
It's a food of love thing!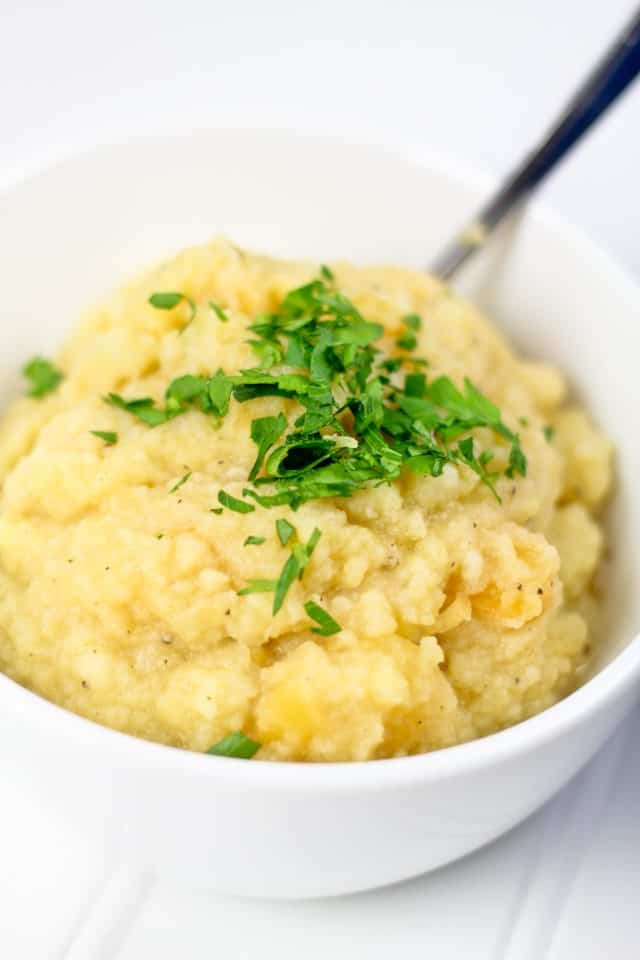 Serve with a side of Rustic Cauliflower and Turnip Mash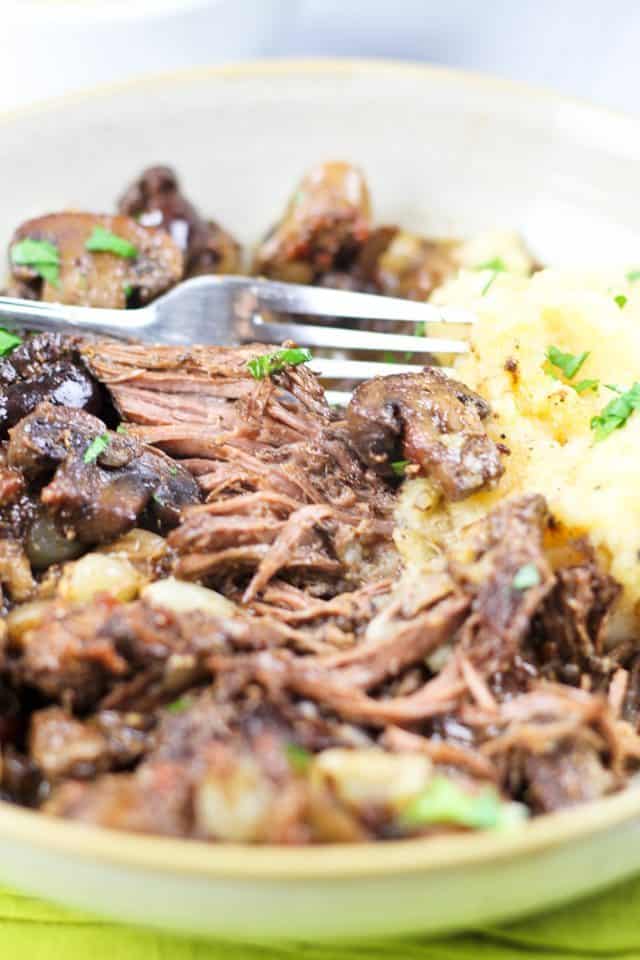 Come closer and smell this… 
Can you see how nice and moist this is?