A WHOLE LOT OF LOVE! Raw Cashew Butter Love!
Technically, today marks the final day of my Whole30!
WOOHOO!
I did it, YAY ME! 😀
Soooo, technically, I should now be moving on to phase II, which, according to the plan, implies that I should start reintroducing dairy, then get to phase III, which would have me progressively reintroduce grains…
I say technically, because you see, I am loving this Whole30 thing so much that I decided to extend the experience for the entire duration of Lent, and I'm even contemplating making this a permanent lifestyle once Lent is over (although it won't be SO strict and restrictive all the time. Treats will be allowed once in a while, as will SWYPO!)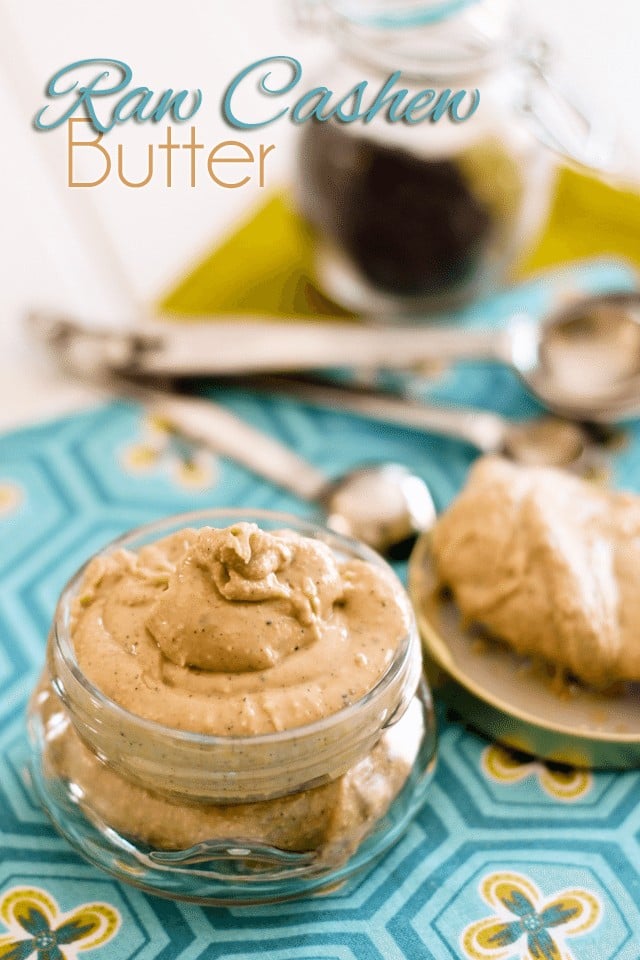 I don't know exactly where this will take me and I don't really want to think long term for now, all I know is, for the time being, I am feeling absolutely fantastic and I am LOVIN' IT so much, I just don't want it to end!
You know what else I'm really lovin' lately?
All the amazing colors that are all over the place in every store I go!
Spring clothes collections are coming out and have super pretty colors like light coral pinks, purples and turquoise… all colors I adore!
And what of kitchen accessories!
OH.MY.LORD! Just you look at THAT!!!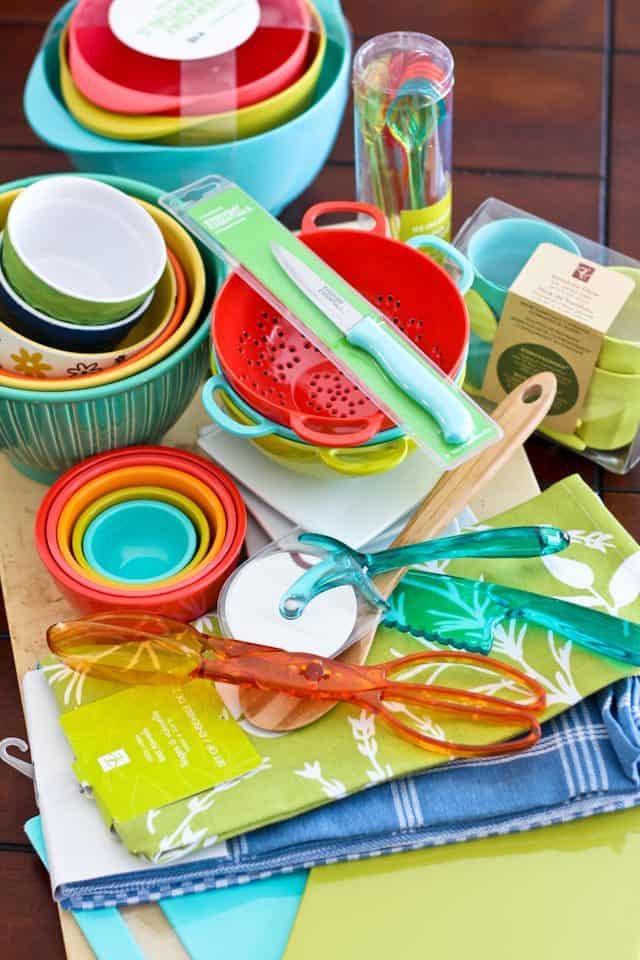 I don't know how or when it happened, but it seems all of a sudden kitchen gear comes in all sorts of super vibrant colors and is like all over the place these days.
Get a load of these… I got all that over the course of… err… one day!?
Colorful enough for you? Oh, I feel TONS of pretty, color filled pictures are coming this way!
(Oh, Leanne, one word of warning for you my dear: DO NOT, I repeat: DO NOT set foot in a Maxi & Co or Loblaws for at least 6 months… just sayin'… it's risky!)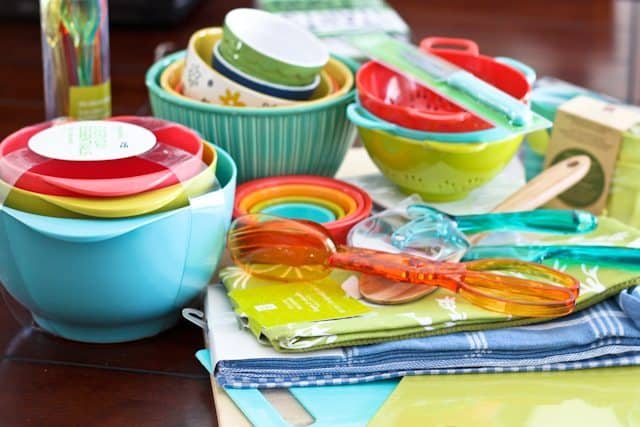 Another thing that I am really, but I mean really lovin' lately is raw cashews.
For some reason, I'd never been compelled to trying them until now. I think I was rather put off by their very pale, boring, and odd looking color. Their whiteness makes them look rather bland and tasteless.
I thought for sure they would be lacking a little bit of that "taste bud excitement capability" factor.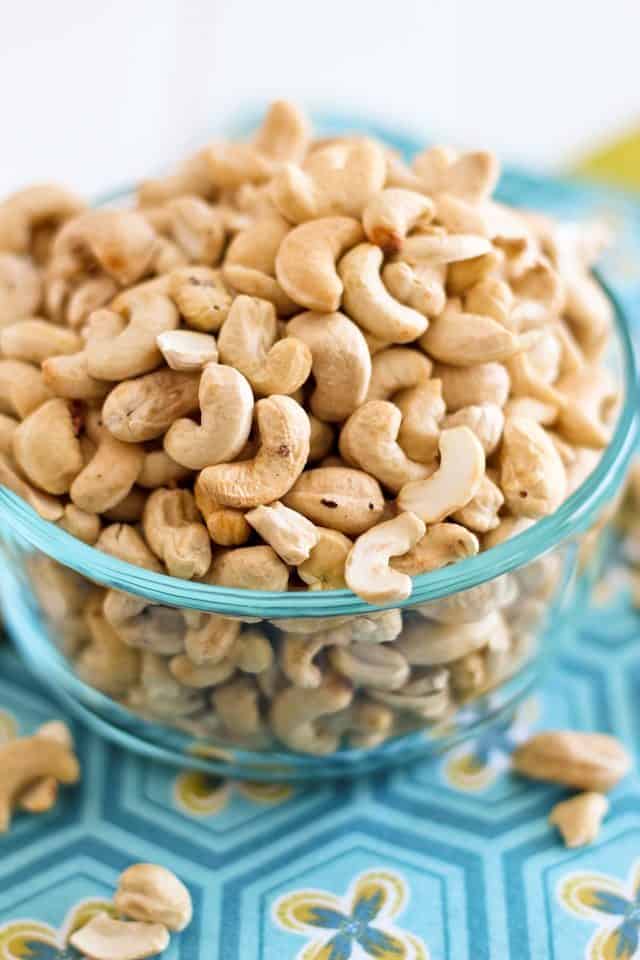 BOY WAS I WRONG!
Raw cashews are incredibly creamy and sweet! In fact, I find they're even better than the roasted variety. I wonder why they started roasting them in the first place!
Seeing as how I got so infatuated with them, I wondered if I could turn them into a beautiful, creamy, dreamy butter (you know me and nut butter!)
I first tested with a very small batch and was so incredibly happy with the result, I immediately decided I HAD to share with you.
Guys, you HAVE to try this.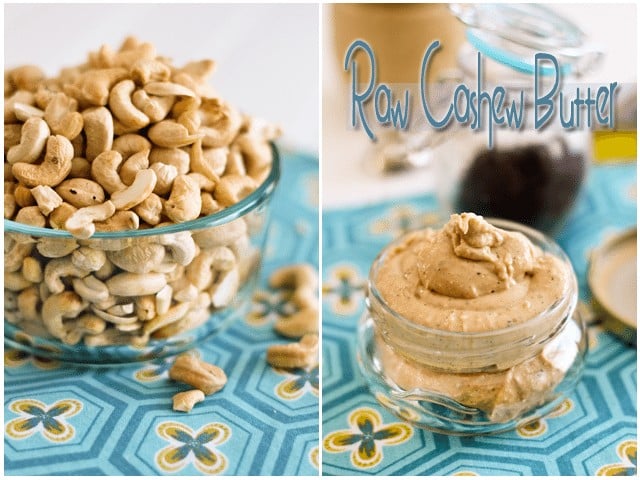 This, is not nut butter.
This is icing in a jar. I swear. It's that smooth and thick and creamy and SWEET! I wouldn't even hesitate one second to use this as is, in its natural form, to frost cute little cupcakes.
One word of warning though. You do need a good, powerful food processor.
And a whole lot of patience.
Oh, and a whole lot of faith. In me.
But I'm going to show you, step by step, what you can expect, so you know I'm not lying to you. Although it will take some time and you might think that there's no way your nuts are EVER going to turn into butter, trust me, the miracle will happen.
Ready?
Let's do this.
First, you need a whole bunch of raw cashews. I used 500g (that's a little more than a pound).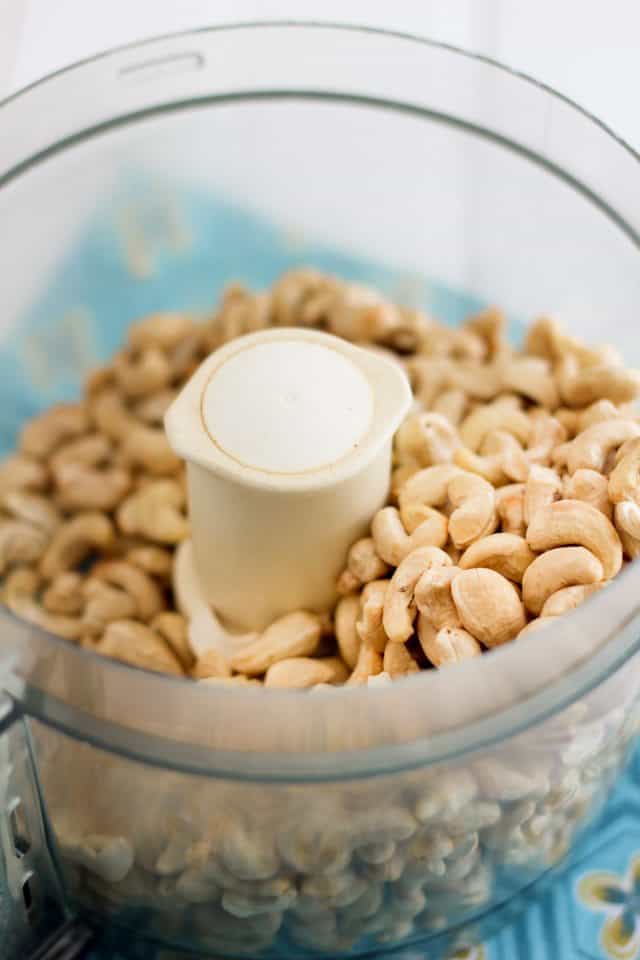 At the beginning, things go rather quickly…
In no time, you'll go from whole cashews to this…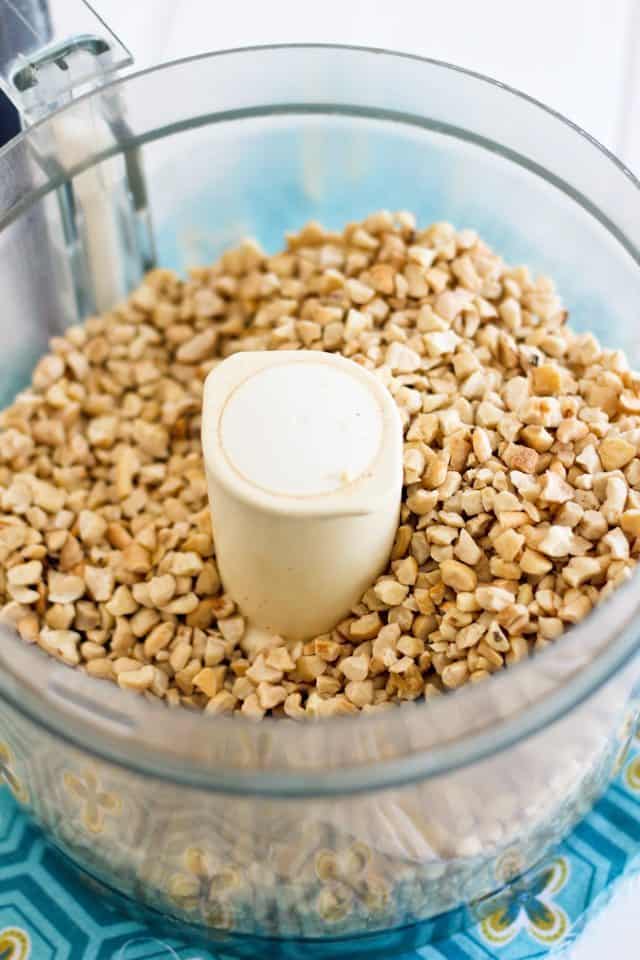 Of course, you could also start with cashew pieces, if you can find them. They should save you a couple of bucks, which is always a good thing!
Spin a little more, like a minute or so, and you get some sort of coarse flour, like so…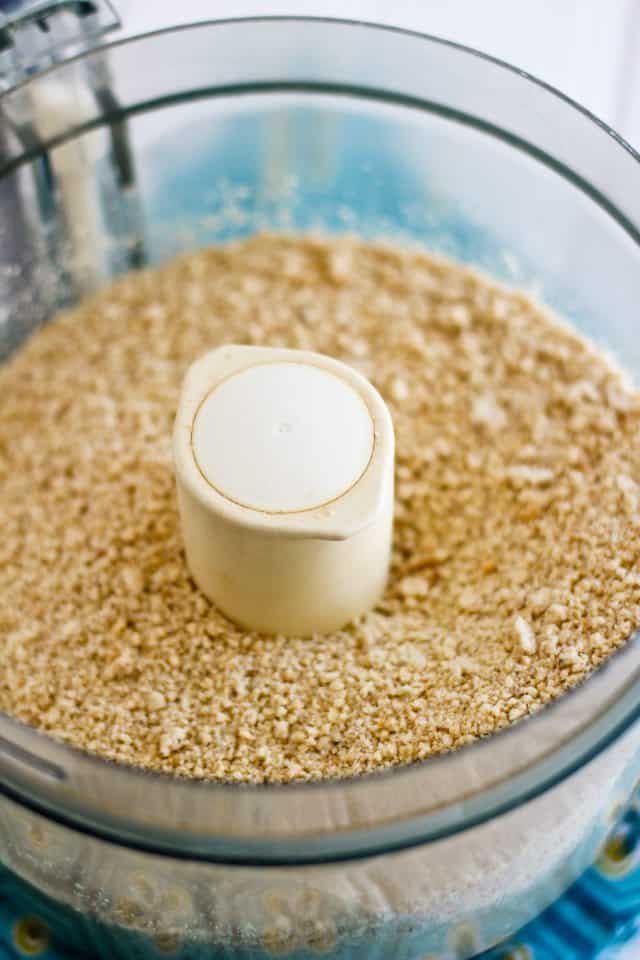 But flour is not what we're after here, is it?
Nooooo… we want dreamy creaminess!
Lusciousness!
Goodness that knows no boundaries!
So let's keep them blades spinning, shall we?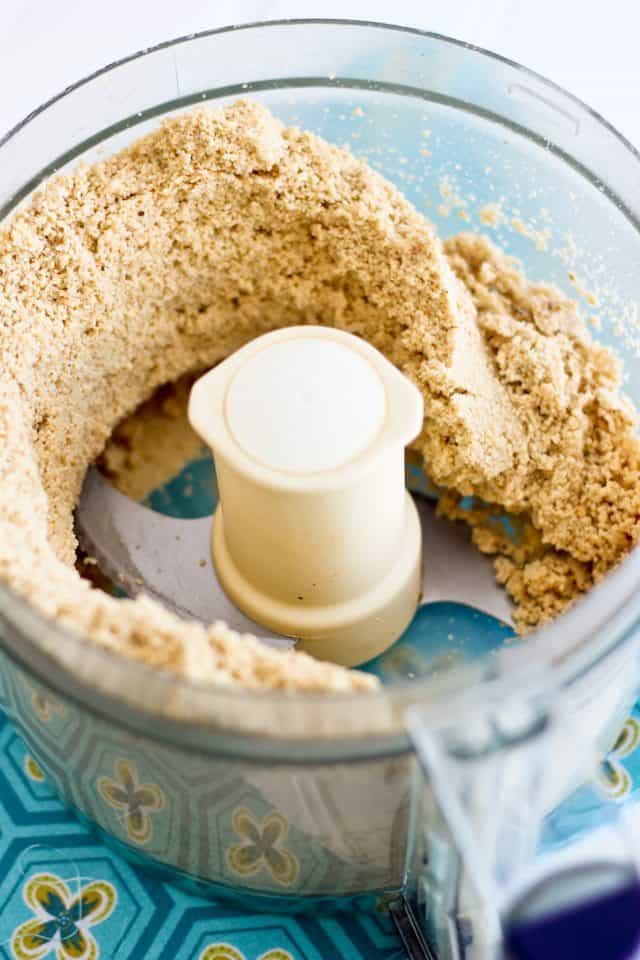 After oh, say 4-5 minutes, you should be at this stage.
What you are looking at is a thick paste and it just wants to climb to the sides of the bowl all the time.
Your blade is spinning in vain, or so it seems. At this point, it's a game of stop and go.
Scrape the sides, go, stop, scrapes the sides, go, stop, scrape the sides, go, stop… you get the idea, don't you?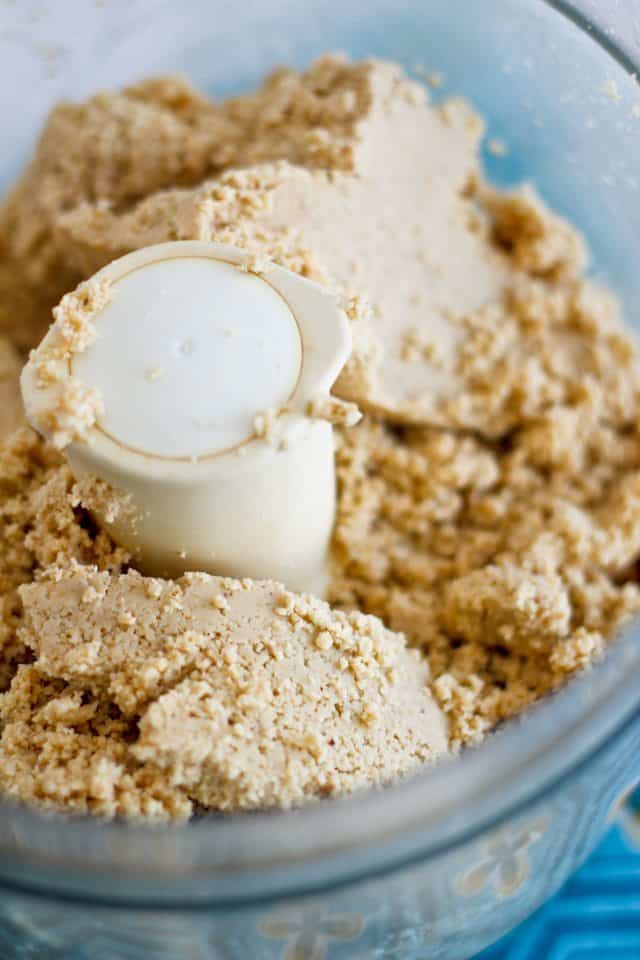 Eventually, like a few minutes later, the paste gets really, really thick.
And dry.
And crumbly
You're thinking this is NEVER going to work.
You might start to curse me a little.
And you're probably contemplating adding some kind of liquid to this…
By all means, DON'T. Resist the urge!  And whatever happens, don't EVER, EVER add water. Water and oil do not mix, always remember that!
Let's keep going…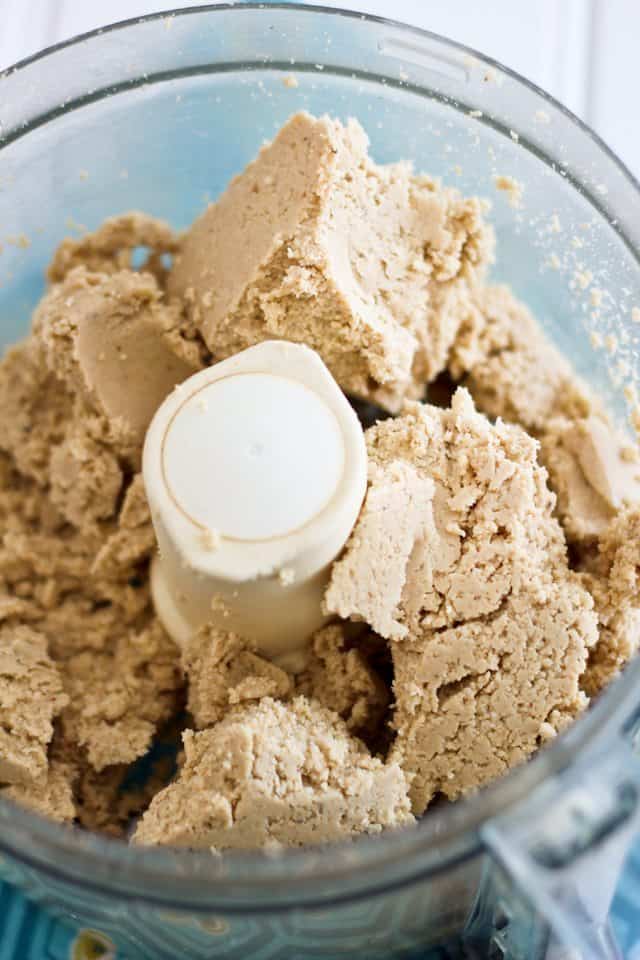 Few minutes later… things get even WORSE!
That paste gets thicker, dryer, grainier still!
Now you're thinking OMG, this was all a huge mistake.
That darn Healthy Foodie just had me ruin a whole batch of perfectly good nuts.
And if I don't give my food processor a break, I will have ruined a food processor too.
Right. You've probably been at this for close to 10 minutes now. It would be a good idea to give your food processor a 2-3 minute break, just to be on the safe side!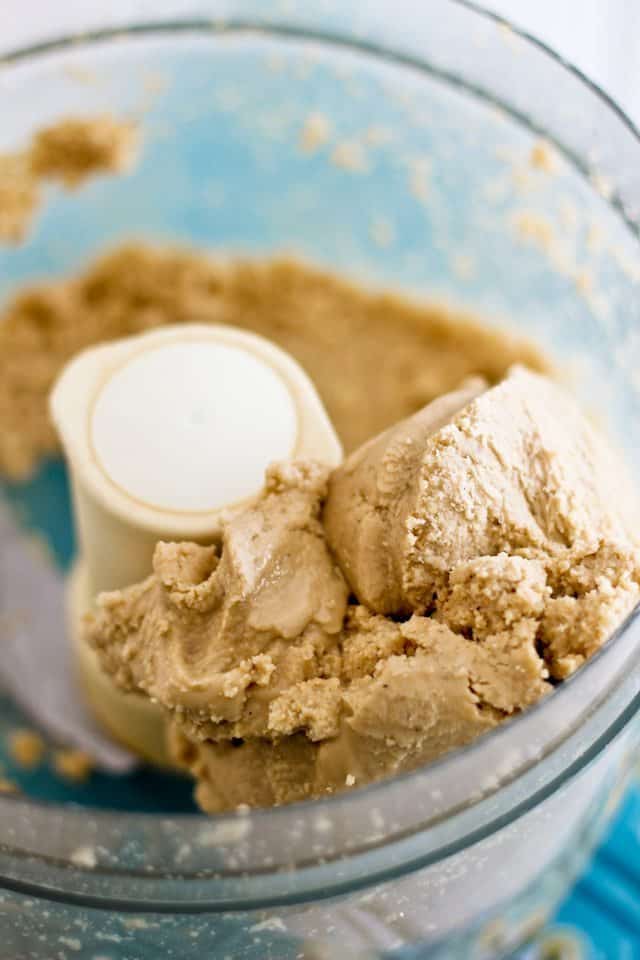 After your food processor is well rested,  put it to work again.
Within a few minutes, you should be getting your first glimmer of hope!
Finally, this is starting to sort of want to look like it's going to turn into nut butter.
See that little hint of creaminess? Oh it's getting there.
So let's keep going!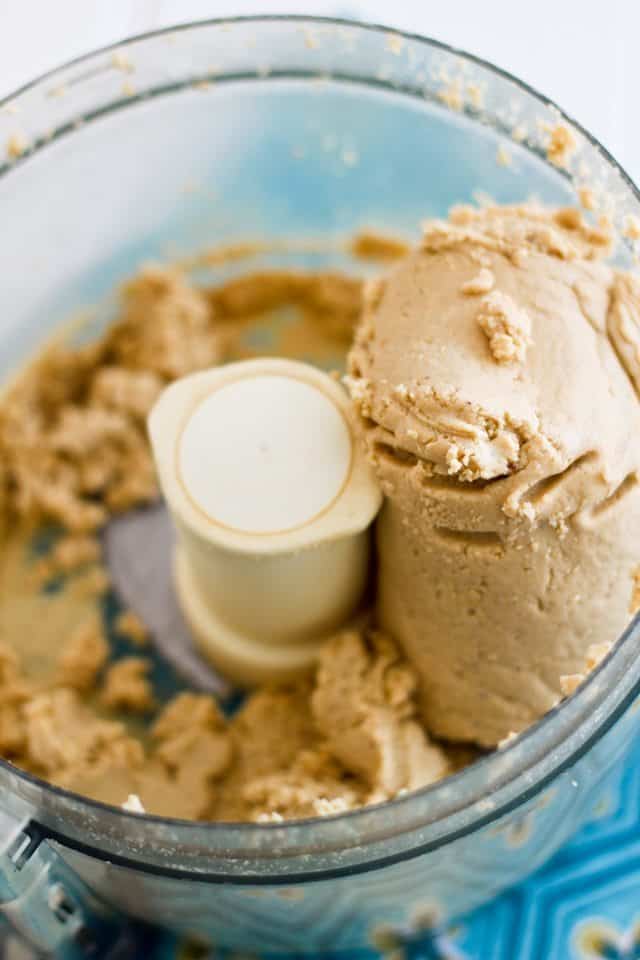 Another few minutes in, you get this kind of a doughy ball of cashews that's  just whirling around in the bowl.
Don't worry, this is not a bad sign, you haven't done anything wrong… just keep going! (although you might want to give your food processor another little break. It IS working very hard, after all)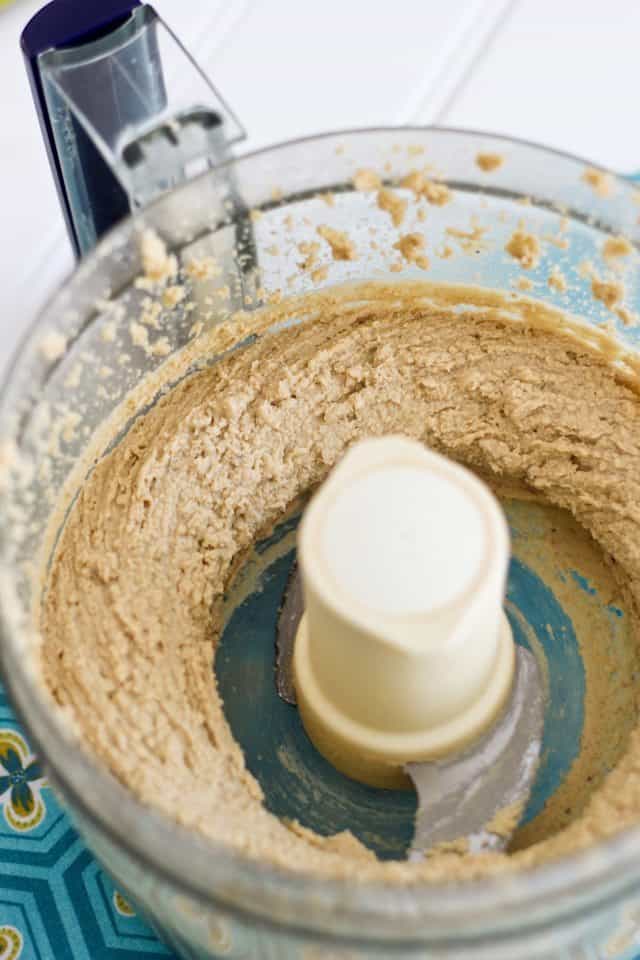 SEE? SEE?
It eventually does happen!
The nuts are finally starting to release their oils and to become all loose and comfortable in there…
And very VERY warm too… I'd even say pretty darn hot! Almost as if you'd been cooking your nuts. Really. That hot!
We finally have butter, but it's fairly crumbly and somewhat dry at this point, but still, it's NUT BUTTER!
We must keep going.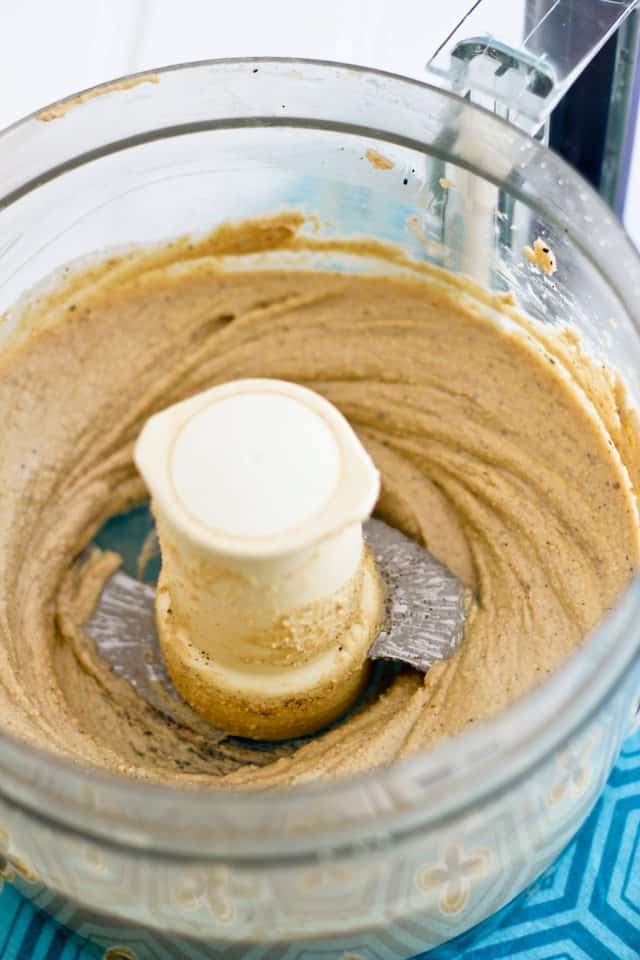 And going, and going, and going…
I would say a good 8 to 10 minutes after you get to the butter stage.
Make sure you give your food processor a little break from time to time…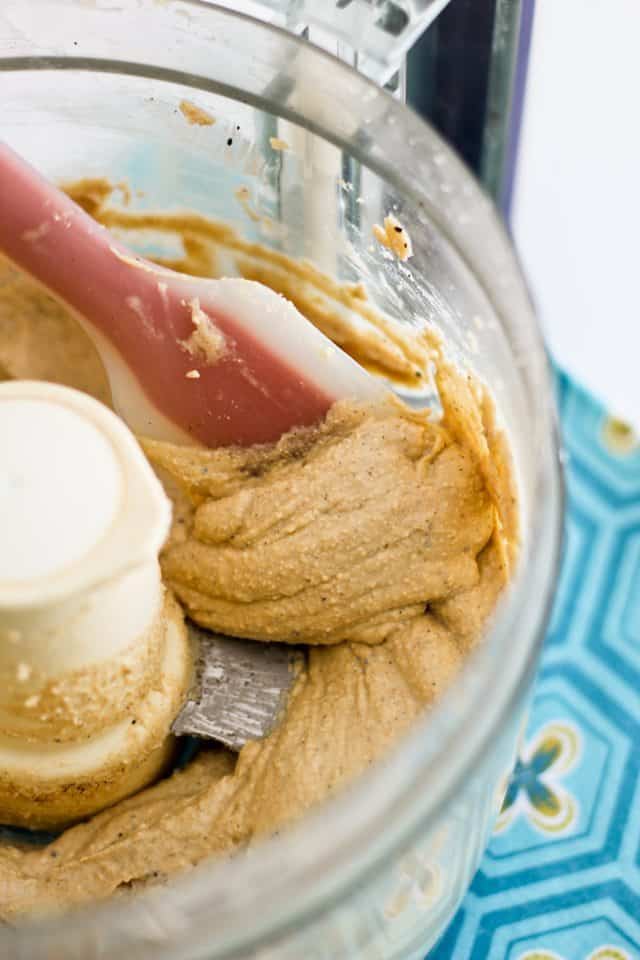 Be patient, have faith… and eventually, you will get to this point.
And from this point on, what you will be needing is a whole lot of SELF CONTROL!
Warm, fresh out of the food processor raw cashew butter is VERY hard to resist.
Consider yourselves warned!
See, beautiful and creamy and THICK, oh so thick! This is pure heaven, I tell you.
It finally did happen and no liquid was ever added.
Aren't you glad you trusted me?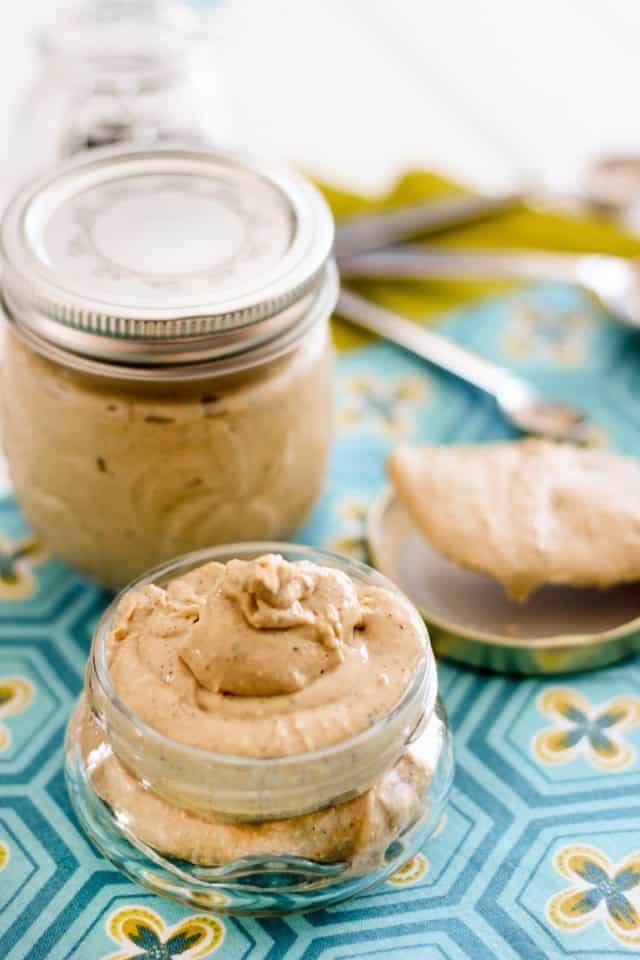 Time to transfer your heavenly treasure to pretty little jars and put it away in the cupboard as far back as you possibly can.
And hide the spoons.
ALL the spoons.
Raw Cashew Butter
Servings: 32 ±2 cups.
Instructions
Add all ingredients to the bowl of your food processor and process for a very long time, until nice and smooth.

At some point, you will have to scrape the sides fairly often, and your nuts will turn into a very thick and crumbly paste before eventually starting to release their oils and turn into nut butter.

Be patient and resist the urge to add any form of liquid. Just keep going, it will eventually happen.

From beginning to end, this might take a good 25 minutes of active processing, so it is a good idea to give your food processor a few minutes break from time to time.

Keep your nut butter in Mason type glass jars or other air tight containers
Notes
To make the vanilla powder, what I do is I keep all my scraped vanilla beans and leave them to out to dry. When I have about a dozen or so, I grind them in my coffee grinder along with 2 or 3 whole vanilla beans and turn that into a vanilla powder.
If you've tried this recipe, please take a minute to rate the recipe and let me know how things went for you in the comments below. It's always such a pleasure to hear from you!
You can also FOLLOW ME on PINTEREST, FACEBOOK, INSTAGRAM and TWITTER for more delicious, healthy recipes!
More free porn…
Just because…
Enjoy!
(oh, and, erm… you have a little bit of drool, there… yes, that's it, right there… you might want to wipe that off…)