Collard Wraps & Satay Style Dipping Sauce
I can't believe that I had never had collard wraps before now.
In fact, I never even knew of their existence and probably would still be living in total oblivion had I not stumbled upon this superb post by the equally superb Angela over at Eat Spin Run Repeat.
My oh my have I ever been missing out all these years!
And if you've never tried collard wraps either, I urge you to run out your front door right now, head to the nearest store and buy the biggest collards you can find.
Then get busy prepping some "stuffers"…
LOTS of stuffers… because unlike lettuce wraps, collard wraps can handle a serious, and I do mean a SERIOUS load!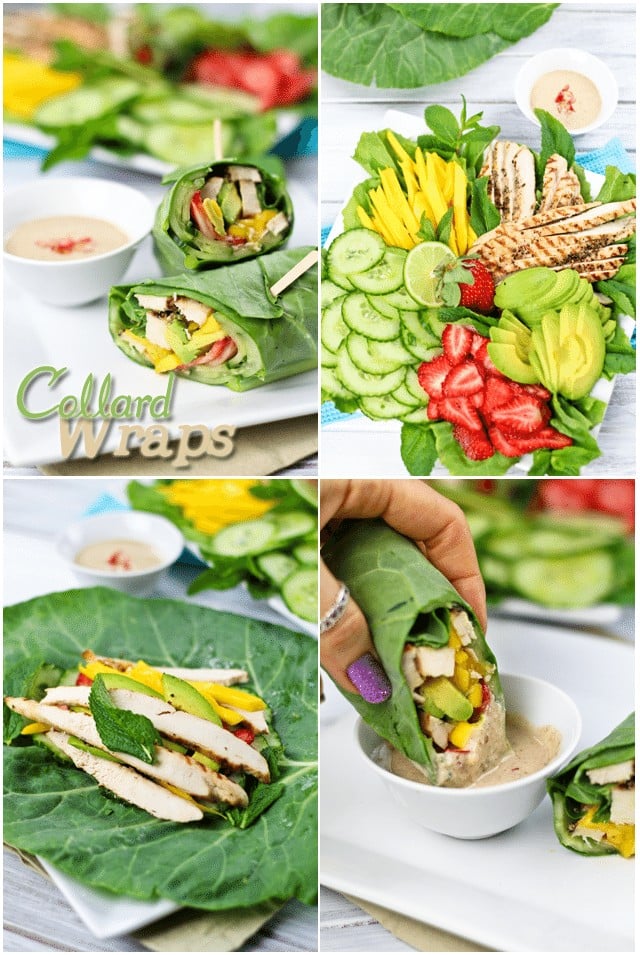 Look at that! Isn't it absolutely beautiful? That, to me, is a vision of pure health, right there.
Health and deliciousness!
You know what's absolutely super cool about collard wraps? You can turn them into a super fun and interactive experience!
All you need to do is lay all the garnish on a plate (or several if you have a lot of guests!) and put that in the middle of the table. Pile a bunch of collard leaves on a separate plate and put some dipping sauces in little individual bowls.
Then give each of your guests a serving plate and let them make their own rolls. Everyone gets to pick and choose what they want to garnish their rolls with.
Talk about cool! It's almost as exciting as having fondue! 
Oh, I am loving this: a collard wrap n' roll party!
My own party was kind of modest, seeing as how it was only my daughter and I eating that night…
Still, it was an extremely pleasant experience.
In our plate of "stuffers" were: Strawberries, Avocado, Cucumber, Mango, Grilled Chicken and Fresh Mint Leaves.
It was a definite winning combo! Of course, you can go with whatever combination of fruit, veggies, protein and fresh herbs that tickle your fancy.
Same goes for the dipping sauces. Sky is the limit!
Don't be afraid to have some fun and improvise with this!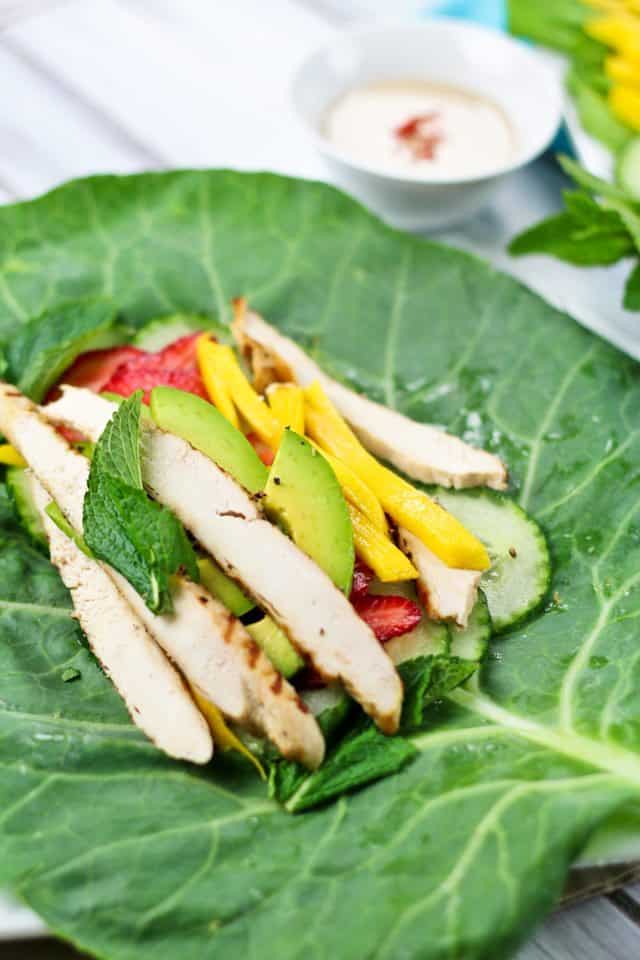 These wraps most certainly won't leave you feeling hungry! Given the gargantuan size of the leaves, you can really cram a lot of goodies in there.
You're looking at half a chicken breast, one quarter of an avocado, one eight of an English cucumber, one quarter of a mango, close to 2 strawberries and a handful of mint leaves.
All that in ONE SINGLE ROLL!
And seeing as how collard leaves also happen to be very sturdy, you can make your wraps nice and tight without fearing that the whole thing will just rip and fall to pieces on you.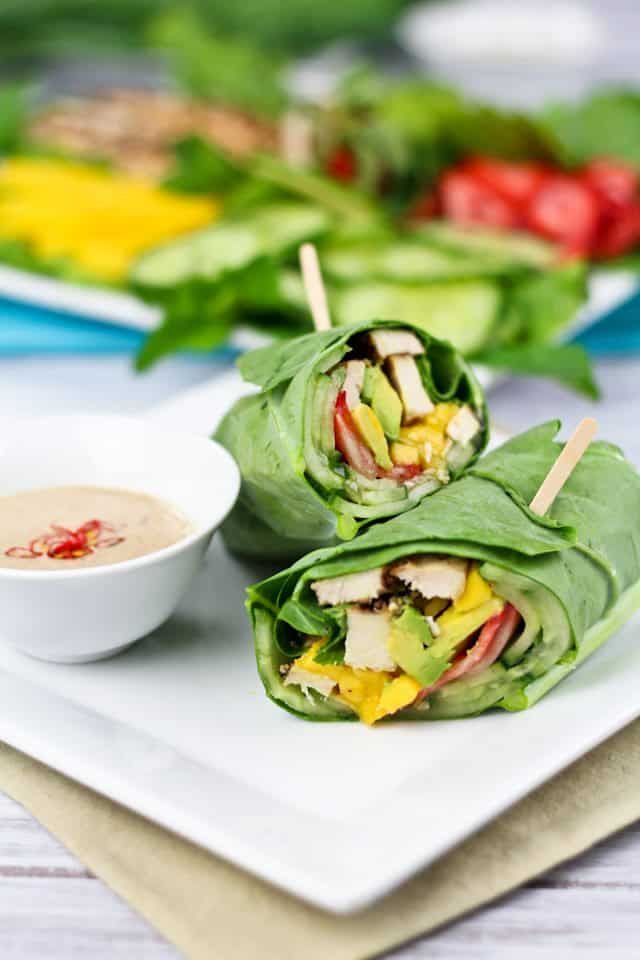 See? Perfect [not so] little roll.
And for the record, I really s*ck at making rolls. And I do mean, REALLY! I couldn't do a real nice one if my life depended on it…
So chances are, yours will be much prettier than that, and probably much tighter too!
No wrap is ever complete without some kind of a dipping sauce, right?
I chose to make a Non-Peanut Satay Style dipping sauce that night because I was in the mood for a little bit of an Asian kick, but I think a Coco-Curry would've been fantastic with that particular combo as well! 
Again, feel free to go with whatever sauce tickles your fancy.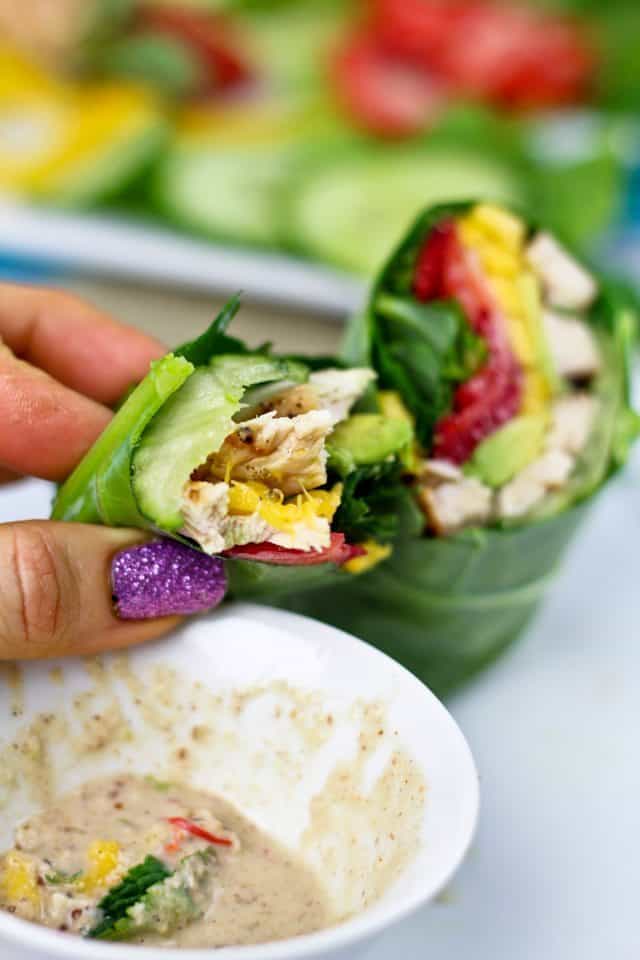 Crisp, crunchy, fresh, creamy, sweet, spicy, pretty… AND FUN!
I say a collard wrap is a party in itself!
Speaking of party… apparently, or so I've been told, I NEED to try kale chips.
Do I? Really?
Or… should I?
I get the feeling this could be dangerous! 😉 
What do you think?
Collard Wraps & Satay Style Dipping Sauce
Servings: 2 makes 4 wraps total
Ingredients
Wraps
2 chicken breasts, grilled and cut into strips (200g each)
6 large strawberries, thinly sliced
1 ataulfo mango, peeled and cut into thin strips
½ english cucumber, peel on, thinly sliced
1 medium avocado, sliced
24 mint leaves
4 large collard leaves, stems removed
Instructions
For the wraps
Prep all the veggies and divide them equally between 4 large collard leaves.

Fold the bottom edge over the filling, followed by both sides, then roll as tightly as you can (be gentle still, it is a lettuce leaf, after all!) until you get to the end of the leaf.

Hold in place with toothpicks and cut in half on a bit of an angle.
For the sauce
Add all the ingredients to your small blender or food processor and process until smooth and well combined.

Divide between 2 little bowls and serve with the wraps.
Notes
The above Nutritional Information is based on 1 serving including 2 wraps and half the dipping sauce.
This recipe was inspired by Angela at Eat, Spin, Run, Repeat
If you've tried this recipe, please take a minute to rate the recipe and let me know how things went for you in the comments below. It's always such a pleasure to hear from you!
You can also FOLLOW ME on PINTEREST, FACEBOOK, INSTAGRAM and TWITTER for more delicious, healthy recipes!
More delicious freshness… just because it's nice to look at! 
Sure makes my mouth water, hope it does yours too!