All Natural Homemade Roasted Cashew Butter
I remember reading once that making Nut Butter out of Roasted Cashews was pretty much a waste of money since the end product more or less tasted like "ordinary" peanut butter. At that rate, one was better off using the cheaper Roasted Peanuts to make nut butter and keep the fancier, more expensive Roasted Cashews intact and appreciate them in their delicious, unaltered state.
I never really questioned that fact and, up until now, had always been making my Cashew Butter using raw nuts. Seeing as how it was one of my faves anyway, I never really felt the need to go at it any differently.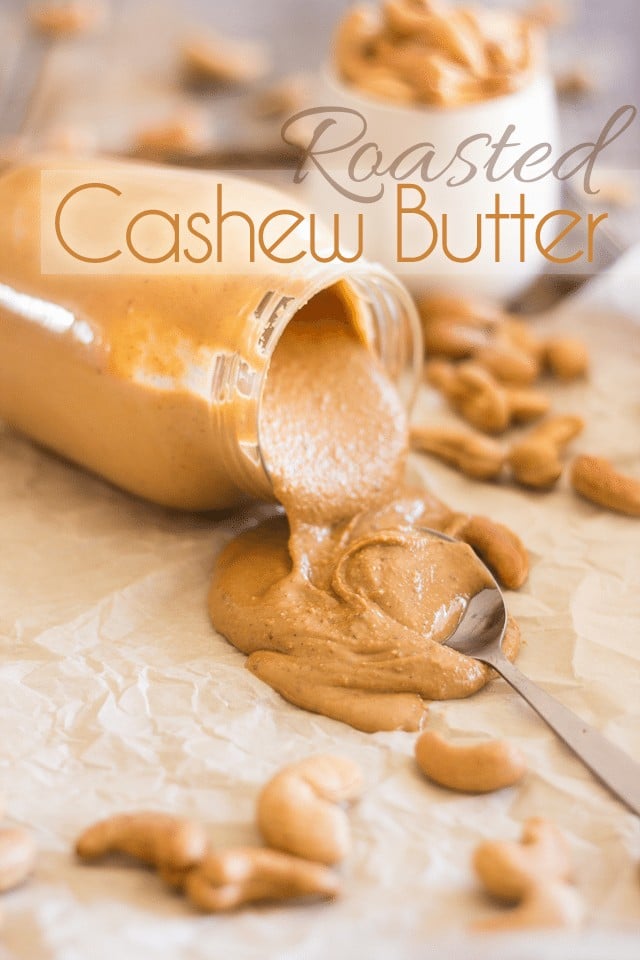 But then I woke up one morning and started wondering: what if I roasted the cashews in ghee and added a little bit of salt to them before turning them into butter? Surely the taste would be magical! I just can't believe that the resulting nut butter would taste anything like "regular" peanut butter.
So I went right ahead and tried it. I've but one thing to say now…
O.M.G.
Whoever said that Roasted Cashew Nut Butter tasted just like regular Peanut Butter must've had a serious issue with their taste buds and needs to have them examined at once! This stuff is the bomb! I honestly had to give it away because I couldn't stop eating it… and I've had to battle with my brains every single day since NOT to whip up another batch.
Sadly, I think I'm about to lose the battle, and I may very well have to abdicate once I'm done making this batch with you guys…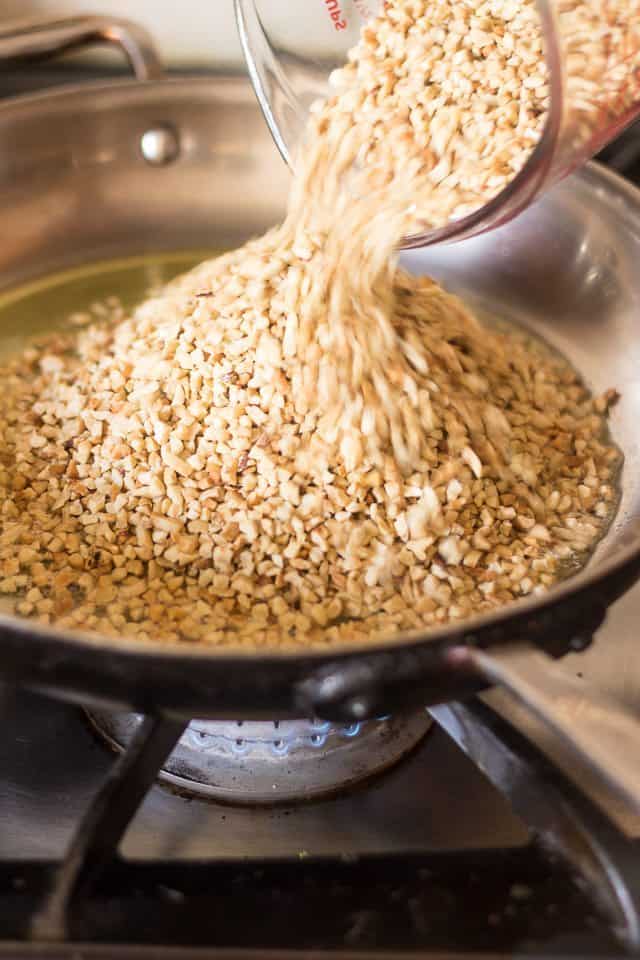 First things first, we need to roast the nuts. No use going for whole cashews here, we're going to be pulverizing them anyway, so save yourself some money and buy pieces instead.
Melt some ghee along with a little bit of salt in a large skillet set over medium heat. Add the cashew pieces and roast stirring almost constantly until the cashews turn golden and become intoxicatingly fragrant, about 5 minutes total.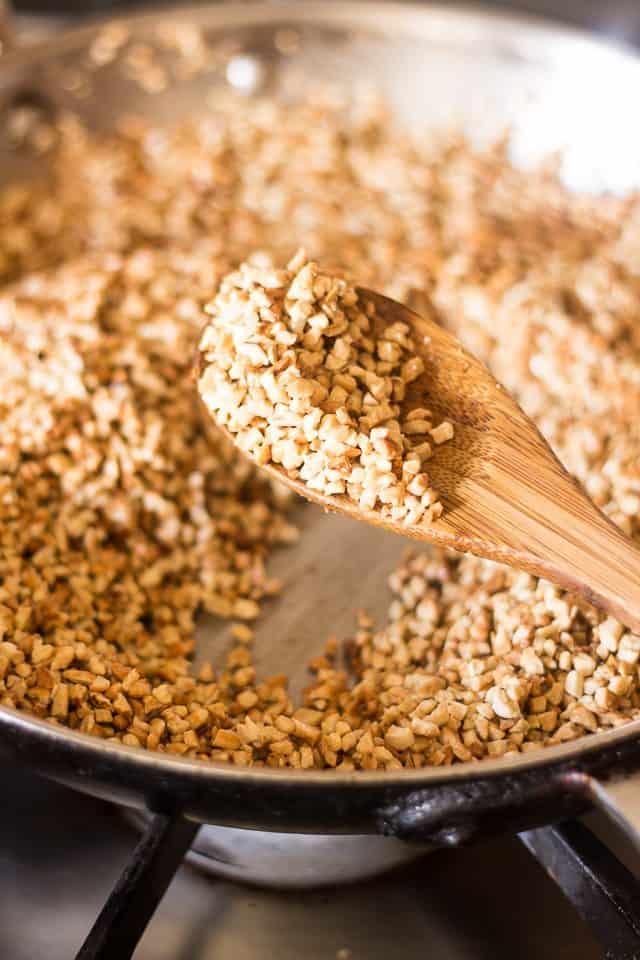 Kill the heat and let the nuts cool for 10-15 minutes or until they can safely be placed in the bowl of your food processor.
Nuts can become quite hot during the roasting process, hot enough to melt plastic… keep that in mind!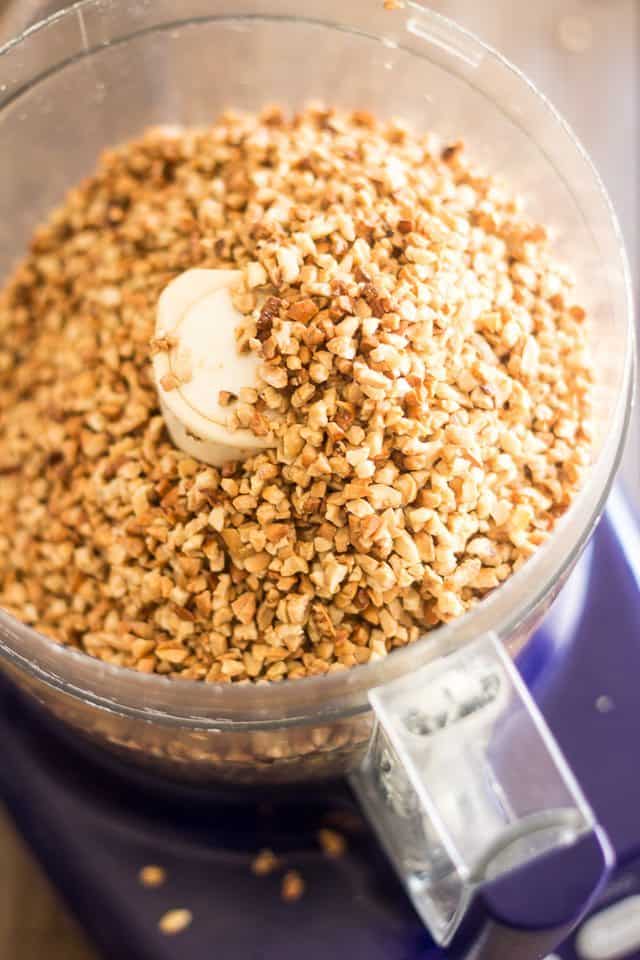 Once your nuts have cooled enough to be safely handled, add them to the bowl of your food processor and get that motor running.
As you can see, that bowl is quite full. I find it much easier to turn nuts into butter when using a large amount, otherwise all you end up doing is send them flying and spinning all over the place, which gets annoyingly frustrating…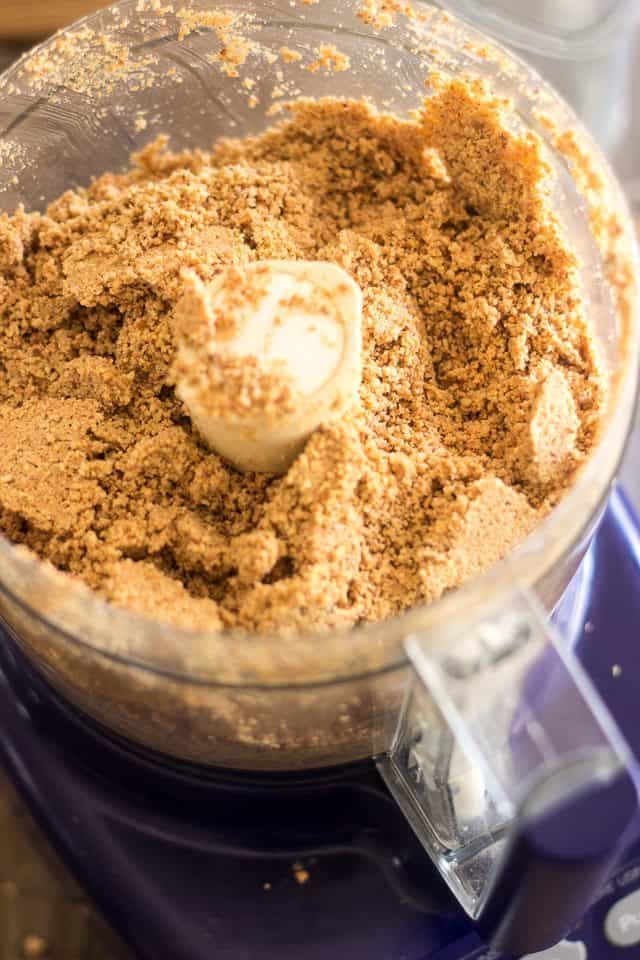 Towards the beginning of the process, you will have to stop the motor to scrape the sides and break down the lumps fairly often. Like about every 15 to 30 seconds or so…
I know, it can be a real pain, but trust me, it won't last all that long, and it'll be worth it in the end!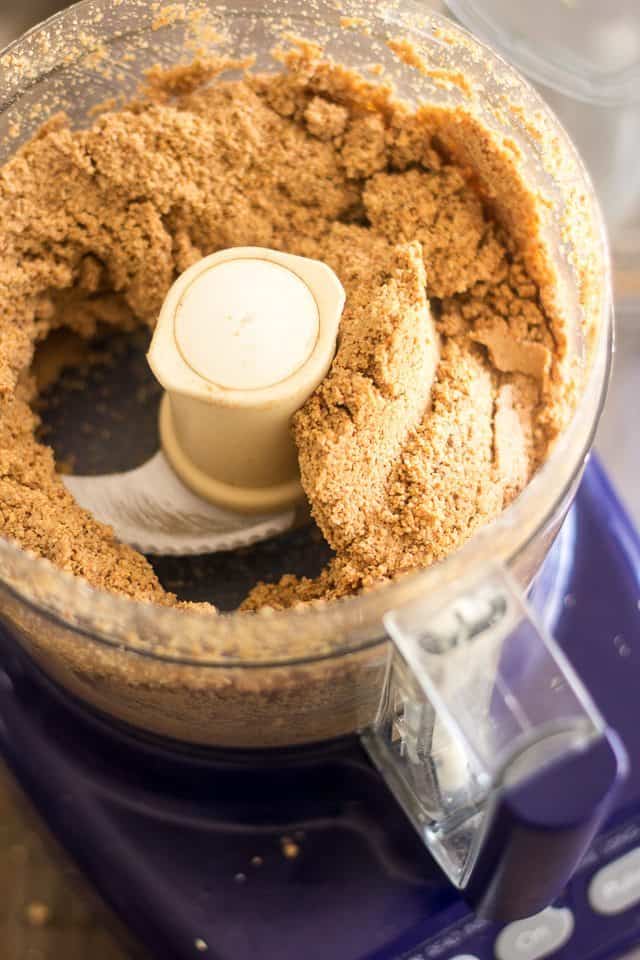 It takes a little while for the nuts to start releasing some of their oil, and until that happens, it'll feel like all you're getting is some kind of nut concrete. Indeed, these nuts can pack up into pretty solid clumps and get you to thinking that there's no way in hell they're ever going to relax and turn into that deliciously creamy butter you're so desperately after.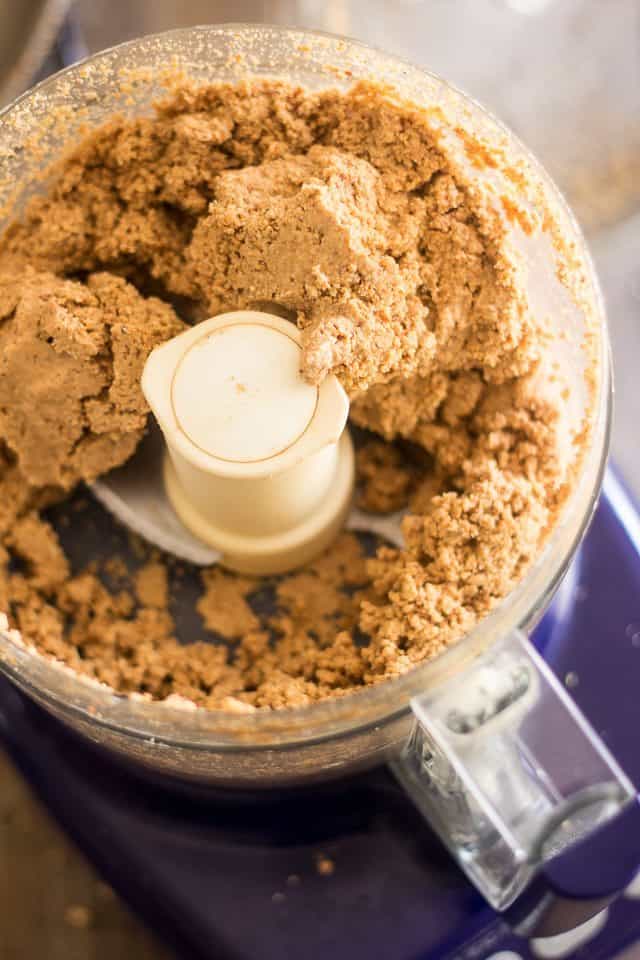 The worst part is that… it gets even worse, before it gets better!
And when I say solid clumps, I do mean SOLID! At this stage, which is probably 5 or 6 minutes into the process, we have what looks like half-set cement!
Ugh! And THIS is supposed to eventually turn into a creamy, dreamy concoction? Yeah right… 
Trust me… it'll happen. Just keep breaking down the lumps and scraping the sides. Have faith, we're almost there!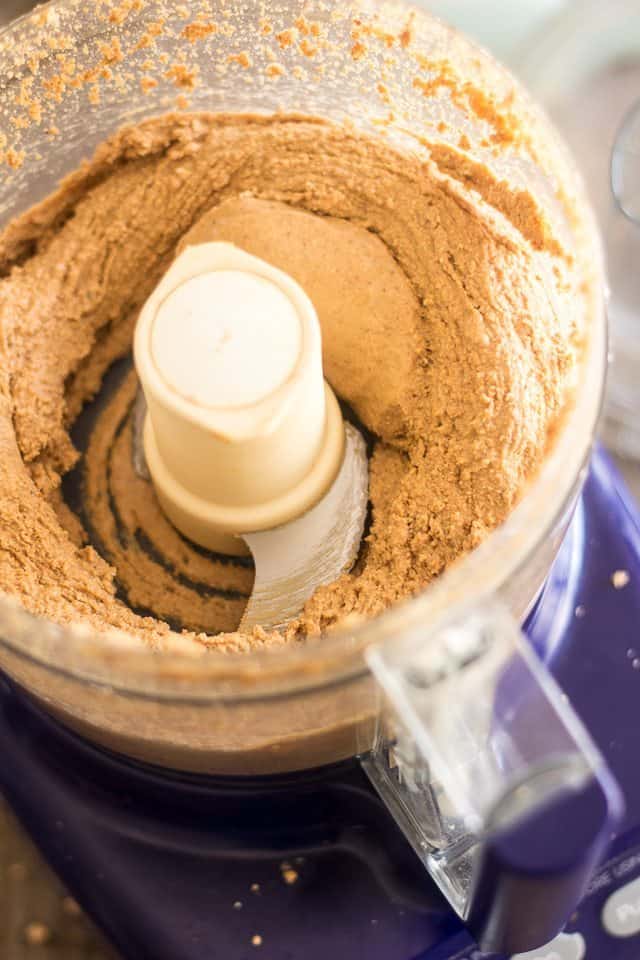 FINALLY! After a couple more minutes of stop and go, the nuts are starting to relax and let go of some of their oil! That'll help tremendously. From this point on, things will get a lot smoother!
Now your butter won't be climbing up the walls or constantly aggregating into solid chunks. You can just let that motor rip, stopping every once in a while just to scrape down the sides a bit, or to give your food processor a rest if you feel it might benefit from it…
Until finally, you open that lid and are faced with the creamiest, most fragrant and delicious looking concoction. You can now add the vanilla seeds and give this one final spin…
Your Cashew Butter is finally ready to be jarred!
Jarred, I said. NOT eaten.
While technically you *could* eat this now, I always find nut butters taste much better after they've had a day or so to recuperate… so just pour the result of all your hard labor into a clean glass jar and place it in the cupboards to rest until the next day.
I know, easier said than done, but trust me, it's worth the wait.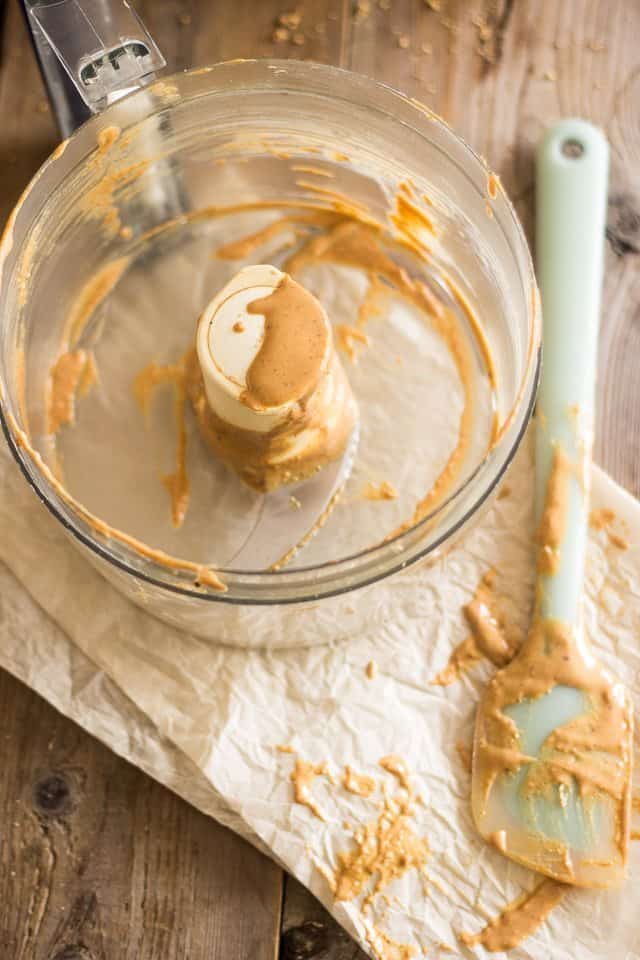 In the meantime, you still have a bowl and spatula that may require a bit of licking action.
And you could cheat a little if you wanted to and not clean them quite so well during the transfer, you know. Just leave a tad more in there, no one will know…
The next day, your Cashew Butter will have come back to room temperature and the flavors will have had a little bit of time to meld and "mature". A day might not seem like much, but believe me, it does make a difference!
Now, you can grab that spoon and go nuts as much as you want!
Although, you may not want to follow in my path… I might have gotten a little carried away. What can I say… I love my nut butters. It's an addiction, I think.
Now if you'll please excuse me, I, erm, have some very important business to attend to…  
Roasted Cashew Butter
Servings: 32 ±2 cups
Instructions
In a large skillet set over medium heat, melt ghee and salt then add cashew pieces and roast stirring almost constantly until cashews turn golden and become highly fragrant, about 5 minutes total.

Turn off the heat and let the nuts cool for 10-15 minutes or until they can safely be placed in the bowl of your

food processor

.

Process for a total of 10 to 15 minutes, stopping to break the lumps and scrape the sides as necessary. You will need to stop a lot more often in the beginning, but as the nuts begin to release their oil, the butter will become a lot looser and scraping won't be needed quite as frequently.

When the nut butter has reached the desired consistency, add vanilla seeds and process for an additional 30 seconds.

Transfer to a clean glass jar and store in the cupboards, where this will keep for several weeks, if it even lasts that long, that is!
If you've tried this recipe, please take a minute to rate the recipe and let me know how things went for you in the comments below. It's always such a pleasure to hear from you!
You can also FOLLOW ME on PINTEREST, FACEBOOK, INSTAGRAM and TWITTER for more delicious, healthy recipes!