Seafood Florentine Casserole
You guys, as I write these words, I am in a state of complete shock.
Totally, completely shocked. Traumatized, even…
You see, my daughter, my beloved daughter, my good pal, my best friend, flesh of my flesh, blood of my blood, my bestest favoritest daughter in the whole wide world, well it looks like she just decided to make me a grand-mother. Just like that. A GRAND-MOTHER!!!
I can't believe it. No matter how often I turn the news in my mind, it just sounds surreal. .
A GRANDMA! ME!  – Seriously, do I look like a grandma to you?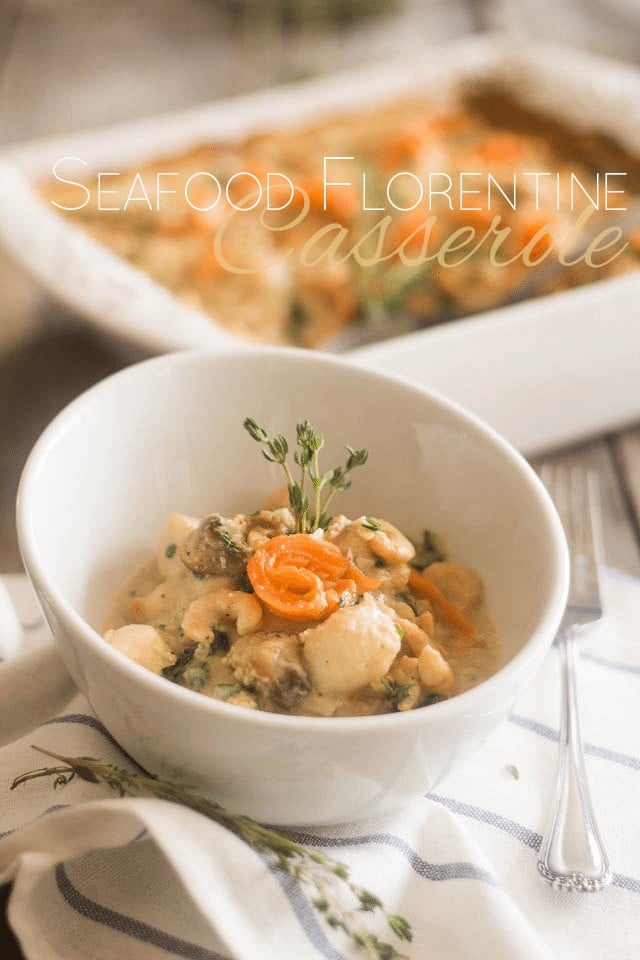 Okay, I mean, I probably asked for it, seeing as how I chose to start young in life and all, but still. I was simply not prepared for this.
Every time I dare actually speak the word out loud, I cringe! I am seriously traumatized.
Don't get me wrong, now. I am extremely happy for her, thrilled, ecstatic even at the idea of her having a baby. And I just can't wait to see and hold hat little bundle of joy in my arms and shower him or her with love and kisses. I only wish that his or her arrival didn't have to, by definition, change my status to that of GRANDMA!
MOM was ample good and very much okay with me. I could've lived with that for a very long time still.
Hmpft. Granny Sonia. Guess I'm gonna have to get used to that; I still have a few months ahead of me to get this to sink in! Hopefully it will…
In the meantime, I'll have to concentrate on food, instead. Hey, maybe I need to come up with paleo baby food recipes! Now here's something to think about. But for now, I think I better get back to this seafood casserole…
If like me you're a big time seafood aficionado, then you NEED this Seafood Florentine Casserole in your life, 'cuz let me tell ya, this seriously delivers! 
We need to start by making my favorite Faux-Béchamel sauce. Basically, we're talking cauliflower (with a little bit of onion and garlic) cooked in a good quality broth or stock.
I chose to use chicken stock this time because that's what I had on hand, but for this casserole, you could very well use bone broth, vegetable stock or even better yet, a good fish stock!
Whatever you do, make sure that you also hold on to all the liquid that comes out of your seafood as it drains and throw it in that pot, as this will add TONS of flavor to your Béchamel.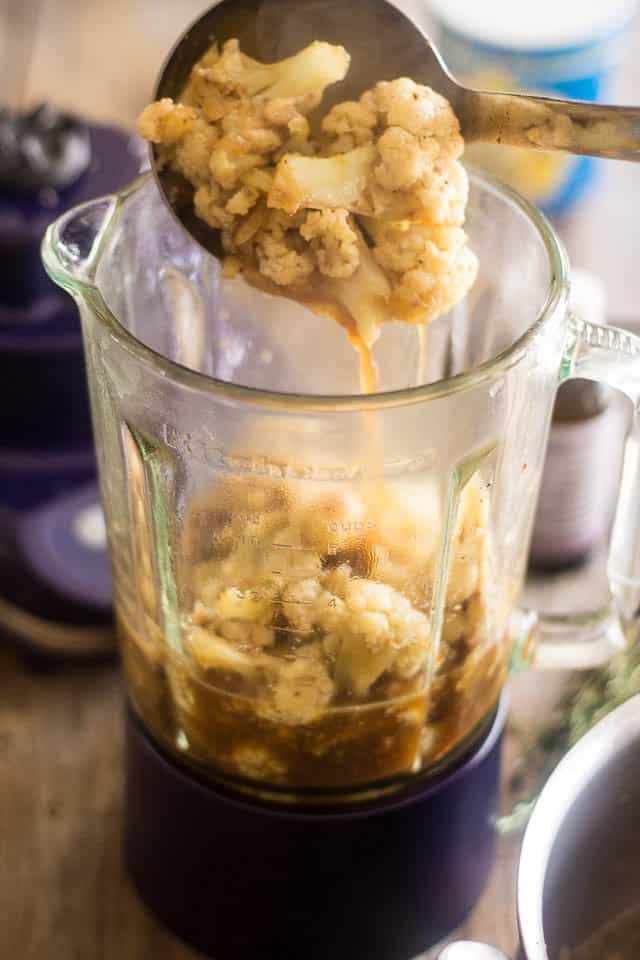 Once your cauliflower is really good and tender, ladle it right into your blender, along with all the cooking liquid, of course!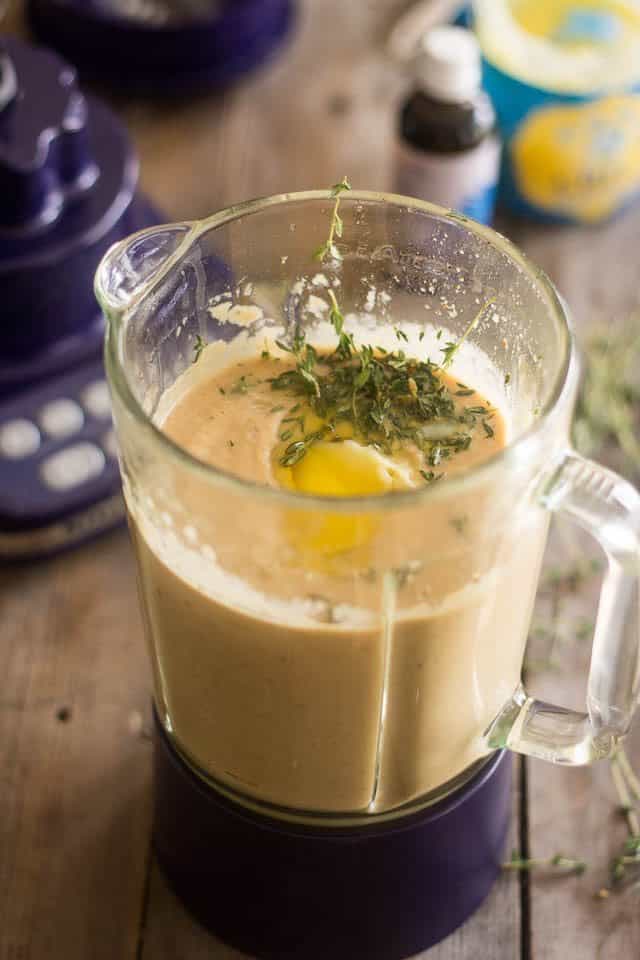 Give that a good spin until it's reduced to a creamy puree, then add ghee, fresh thyme and anise essential oil and process again on high speed until super smooth and silky in consistency. Set that aside for the moment.
Now,while the star anise is entirely optional, I would strongly suggest that you do add it, unless you absolutely despise black licorice. The depth of flavor that it confers to the dish is simply astonishing. It really is surprising what a few little drops can do.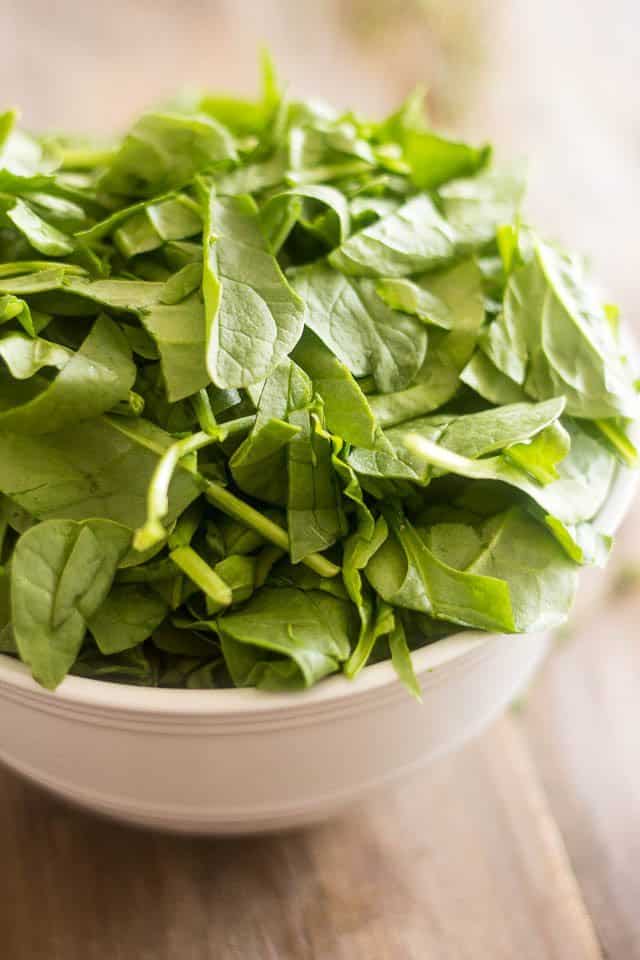 Time to work on the spinach. I find the quickest and most convenient way to cook spinach is in the microwave. Simply place your chopped spinach in a large bowl and throw it in the microwave for 1 or 2 minutes or until it's just wilted.
Then, give it a few minutes to cool  and squeeze out the excess water. And I mean really. Squeeze it ALL out. You do NOT want to introduce all that excess moisture into your sauce. That or the intense green color, for that matter… it might look very nice on its own, but I suspect it would make your sauce turn some shade of khaki on top of making it watery. Ugh! Not what I would call appetizing.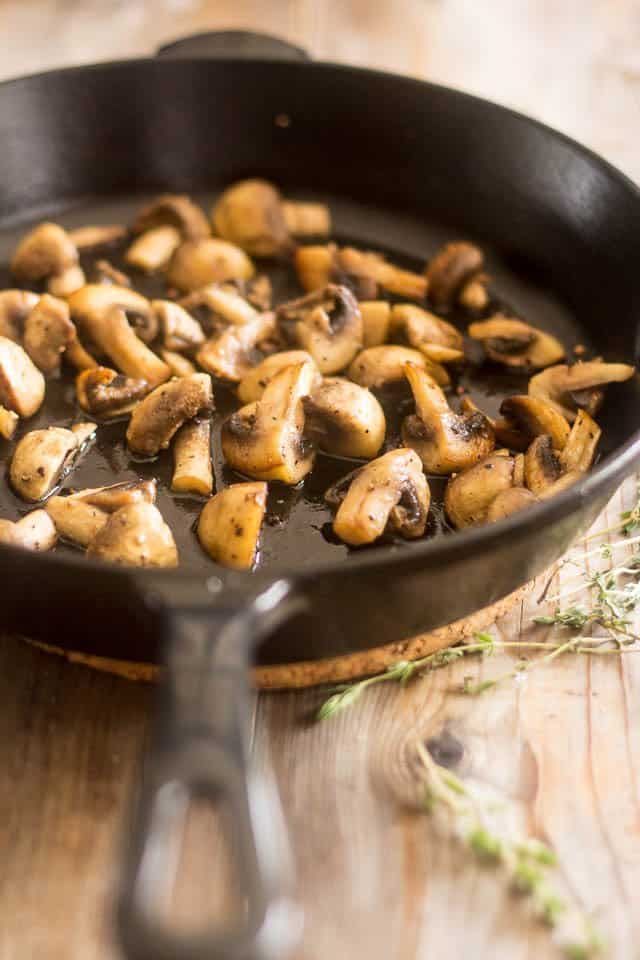 While your spinach is cooling, add a generous amount of cooking fat (such as ghee or lard or coconut oil) to a heavy skillet set over high heat and cook your mushrooms, which you will have lovingly sprinkled with salt and pepper, until they get nice and golden brown on all sides.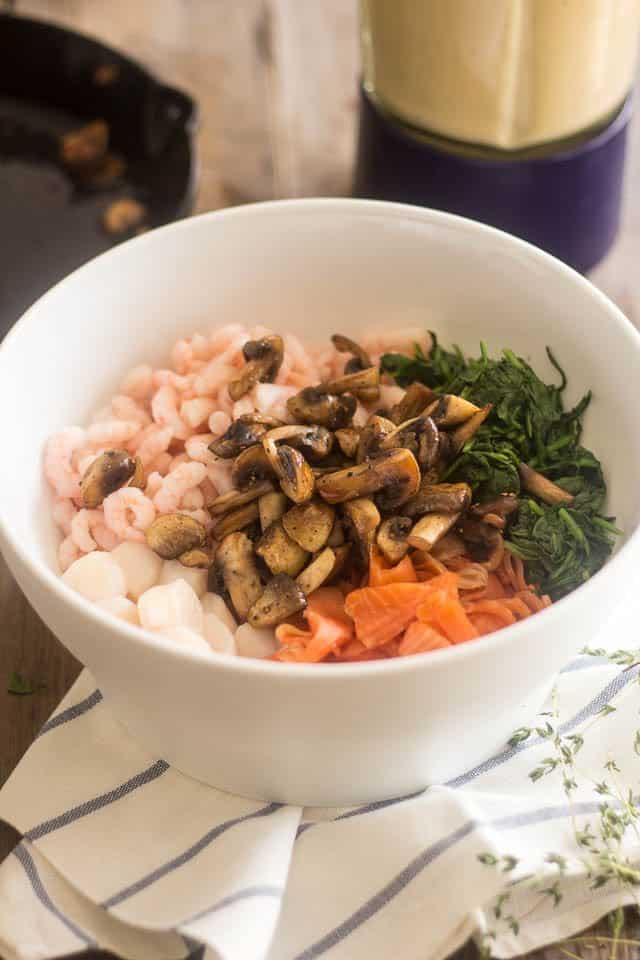 Add the cooked shrimp, raw scallops, chopped smoked salmon, wrung spinach and cooked mushrooms to large mixing bowl.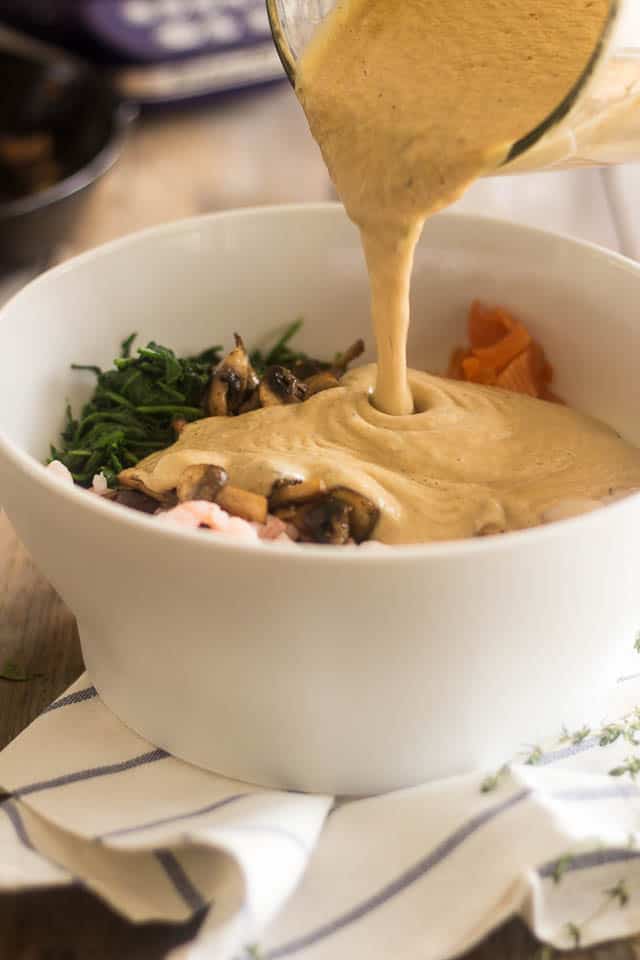 Pour the "Béchamel" sauce all over top and mix delicately until all the ingredients are evenly combined.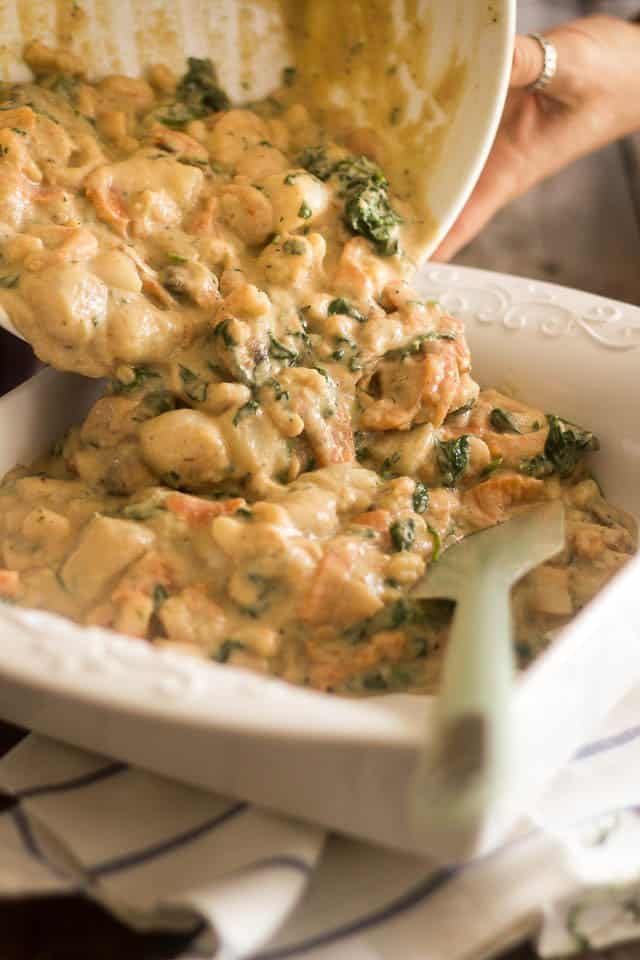 Transfer this mixture to an oven safe baking dish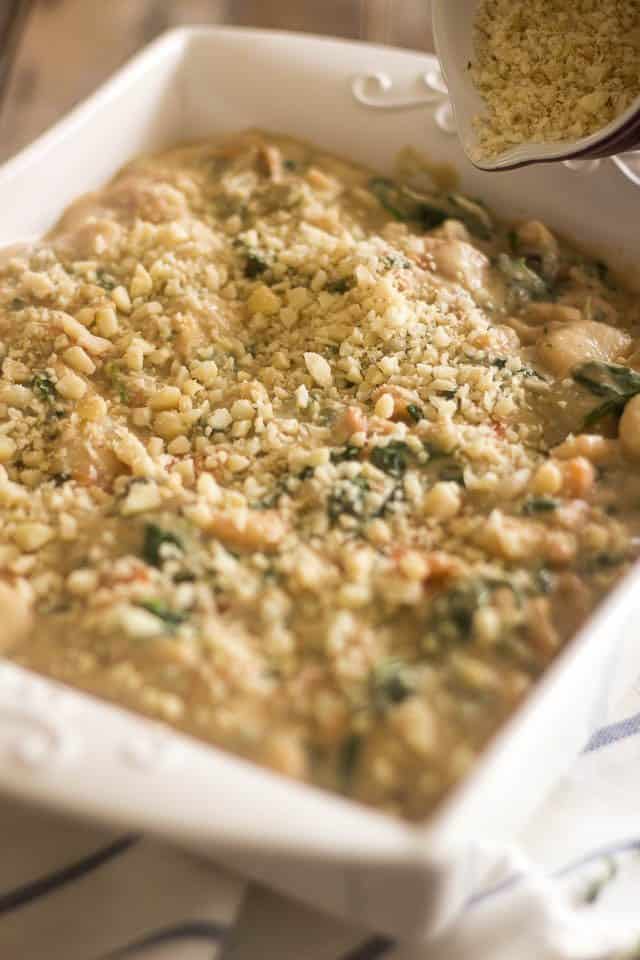 And sprinkle the chopped macadamia nuts all over the top.
I really like macadamia nuts here because of their intense crunchiness and very subtle flavor, but if you do not have them on hand, you could very well use some other kind of nut. I think Brazil nuts would be an exceptional replacement choice, but pine nuts would be also work superbly well. Almonds or walnuts would also make very decent substitutes!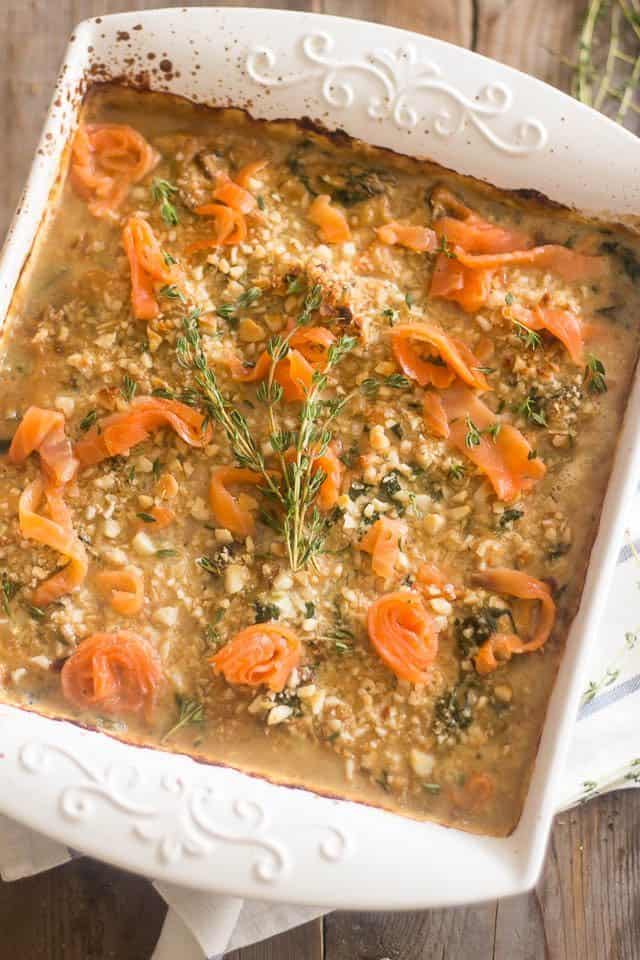 Bake your casserole in the oven for 25 minutes; after that time set the oven to broil for 2-3 minutes or until the nuts take a nice golden coloration.
Garnish with reserved smoked salmon and fresh thyme.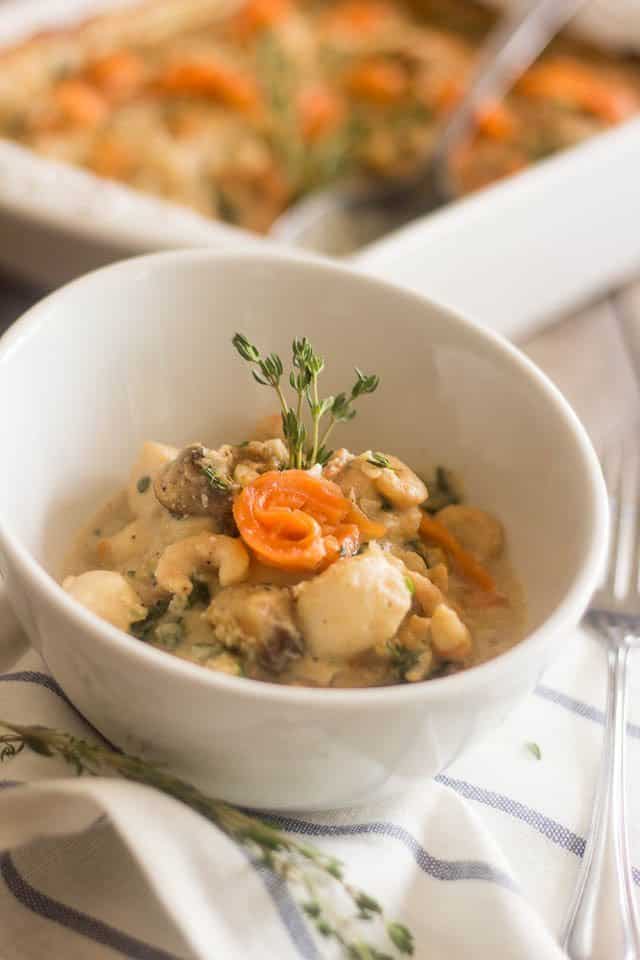 Now allow this to rest for 15-20 minutes before serving.
I know, this is pure torture: I bet it smells sooooo good right now and your tummy is probably grumbling and protesting loudly, but trust me, you WANT to let this rest. If you don't, you'll only end up serving a soupy, watery mess. That sauce needs a little bit of time to set, so let it!
Go outside, take a walk or something! Set the table. Dust the living room. Meditate… I'm sure you can think of something to keep you occupied!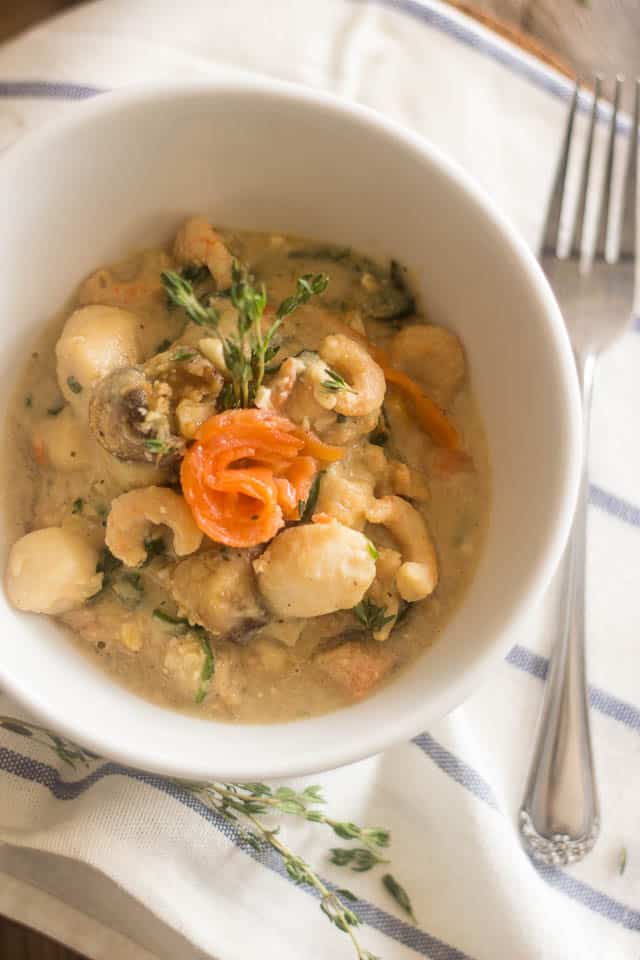 Has it been 15 minutes already? This wasn't so bad, was it?
Time to sit yourself down with a bowl of this heavenly seafood concoction. Prepare to be thrown, too! This isn't your typical seafood casserole where each bite comprises of mostly chunks of white potatoes, pieces of mushrooms and, if you're lucky, one measly little shrimp or canned clam. No way, Jose! This dish is a veritable deluge of soft and chewy shrimp, scallops and smoked salmon, among which the presence of spinach and mushrooms shines agreeably but subtly enough, while the crunchiness of the macadamia nuts offers a hint of additional character to every bite.
For real, this one will now be part of my regular rotation, that's for sure. It'll even get added to my list of "fit for entertaining" dishes.
Although I'm not sure it would be suitable for a baby shower…
Seafood Florentine Casserole
Servings: 4
Ingredients
454 g 1lb raw sea scallops, drained
454 g 1lb cooked Nordic shrimp, drained
250 g 1/2 pound smoked salmon, chopped (save about 50g to garnish)
250 g 1/2 pound spinach, roughly chopped
227 g 1/2 pound mushrooms, sliced
1/2 cup macadamia nuts, finely chopped
For The "Bechamel"
1 small onion, chopped
2 cloves garlic, minced
½ teaspoon Himalayan salt
½ teaspoon freshly cracked black pepper
1 large head cauliflower, roughly chopped
1½ cup light chicken stock
Draining liquid from scallops and shrimp
¼ cup ghee
1 teaspoon fresh thyme
3-5 drops star anise essential oil
Instructions
Preheat the oven to 375F and set the shrimp and scallops to drain in a fine mesh sieve placed over a bowl to collect the juices.

Add onion, garlic, salt and pepper to a medium saucepan. Cook over medium heat for one or two minutes, until fragrant and slightly softened.

Throw the cauliflower florets in and continue cooking for a minute or two.

Add chicken stock and liquid obtained from draining the seafood, cover and bring to the boil; lower heat and continue cooking until the cauliflower is tender, about 5-7 minutes.

Ladle the cauliflower mixture into your

blender

; add ghee, fresh thyme and anise essential oil and process on high speed until super smooth and silky in consistency. Set aside.

Place the spinach in the microwave for 1 or 2 minutes or until just wilted, allow to cool slightly then squeeze out excess water. Set aside.

Add a liberal amount of cooking fat in a heavy skillet set over high heat. Add the mushrooms, sprinkle with salt and pepper and cook until nice and golden brown on all sides.

Add seafood, spinach and mushrooms to large mixing bowl. Pour bechamel over top and mix until evenly combined.

Transfer this mixture to an oven safe baking dish and sprinkle with the chopped macadamia nuts.

Bake in the oven for 25 minutes; after that time set the oven to broil for 2-3 minutes or until the macadamia nuts take a nice golden coloration.

Allow to rest for 15-20 minutes before serving.

Garnish with reserved smoked salmon and a little bit of fresh thyme
If you've tried this recipe, please take a minute to rate the recipe and let me know how things went for you in the comments below. It's always such a pleasure to hear from you!
You can also FOLLOW ME on PINTEREST, FACEBOOK, INSTAGRAM and TWITTER for more delicious, healthy recipes!