Sauteed Zucchini and Mushrooms
Sometimes, all you're in the mood for, or all you have time for, is a quick and easy meal. Something simple, no fuss, no mess, no fancy shmancy business.
Something like meat with a side of veggies, say…
Sauteed Zucchini and Mushrooms? Would that sound good to you?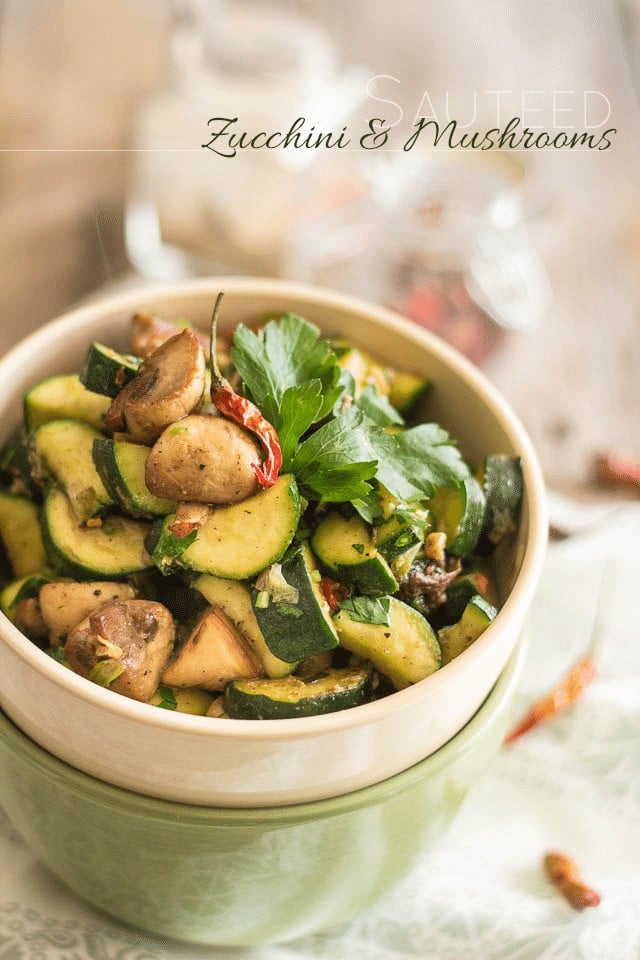 This is so easy to make and comes together so quickly, I'm not even sure that giving you step-by-step instructions / illustrations is all that relevant, or necessary. In fact, it'll probably take you longer to read this entire post and check the pictures out than it would take you to whip up the actual dish.
But hey. If like me you're highly visual, I think that you will appreciate them still.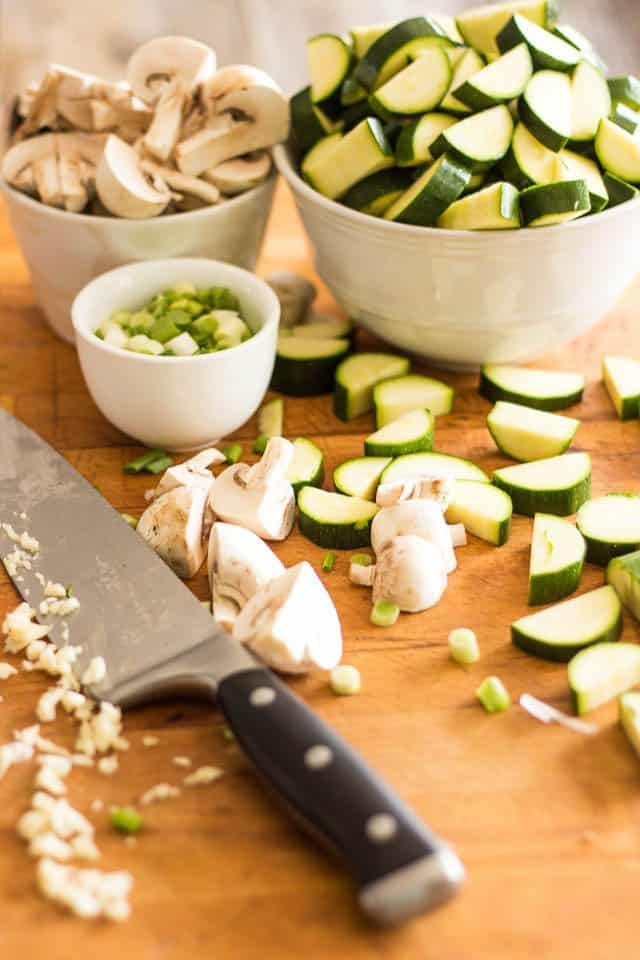 Plus, I don't know about you, but I'm fairly positive that I could very well follow a recipe simply by looking at pictures, even if there was not a single word to describe the steps… I'll have to try that someday!
But this time, I'll still use a few words if you don't mind. Well, as few as I know how to use, that is. 'Cuz you know me and words, right? Why use only 3 when you can use 55?
Alright… Let's do this thing!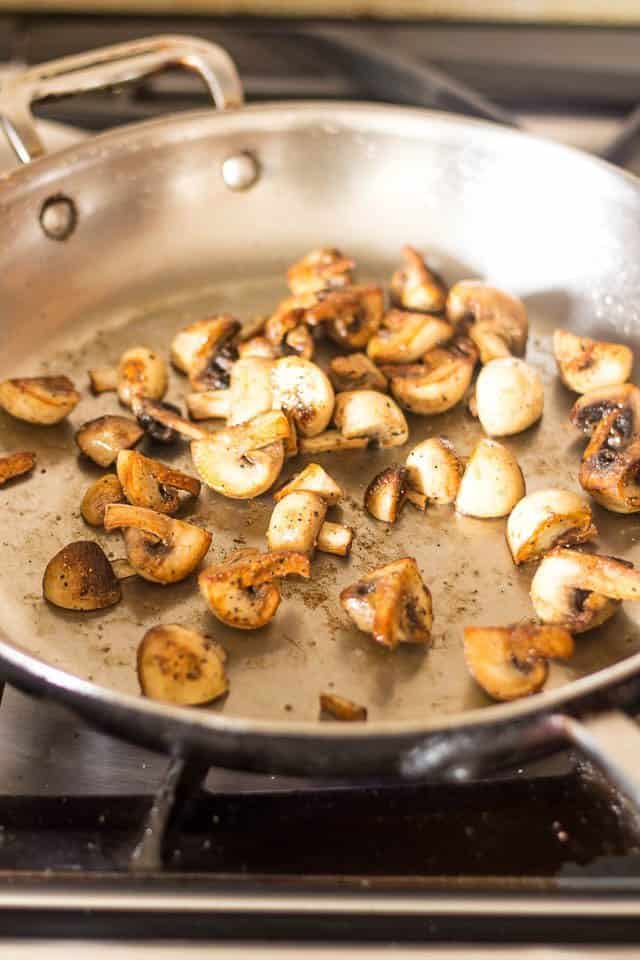 First, you need to brown your mushrooms in a heavy skillet set over fairly high heat. Use plenty of fat, sprinkle generously with salt and pepper and make sure not to overcrowd the pan. That's the key to beautifully browned and crusted mushrooms. Put too many 'shrooms in there and they will boil as opposed to roast.
Also, this is the step that will take the longest time, so if you really are in a pinch, what you can do is get your mushrooms going and prep the rest of your veggies while they are roasting away. This will also keep your hands busy, so you won't feel tempted to constantly move your mushrooms around, which will help them get the nice golden crust that we're positively seeking.  Color here equals MAJOR flavor.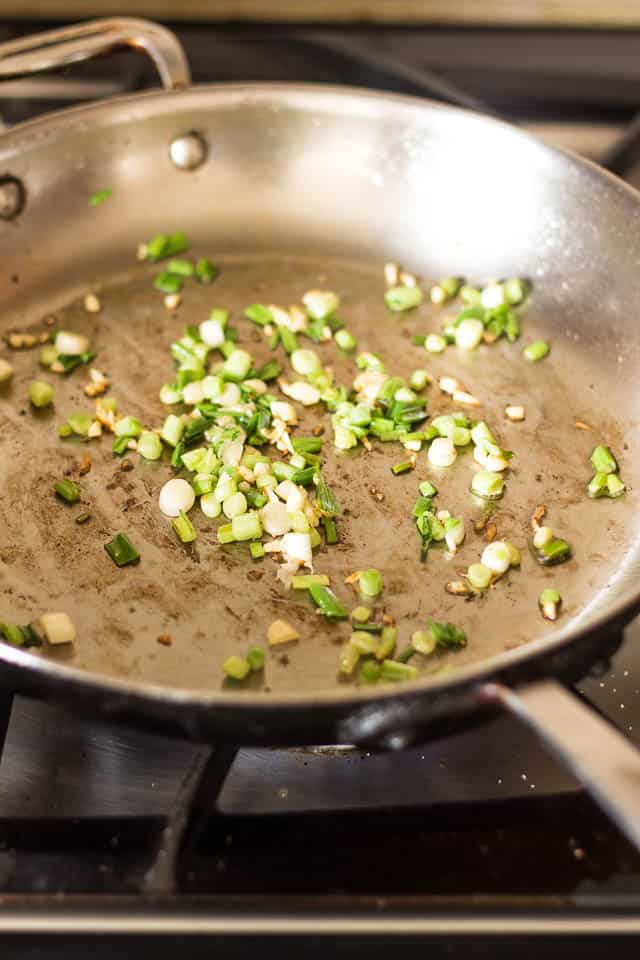 Once your mushrooms are done cooking, reserve them to a bowl, turn the heat down and add the green onions and garlic to your skillet. Toss that around for a few seconds, just until they become fragrant and slightly softened.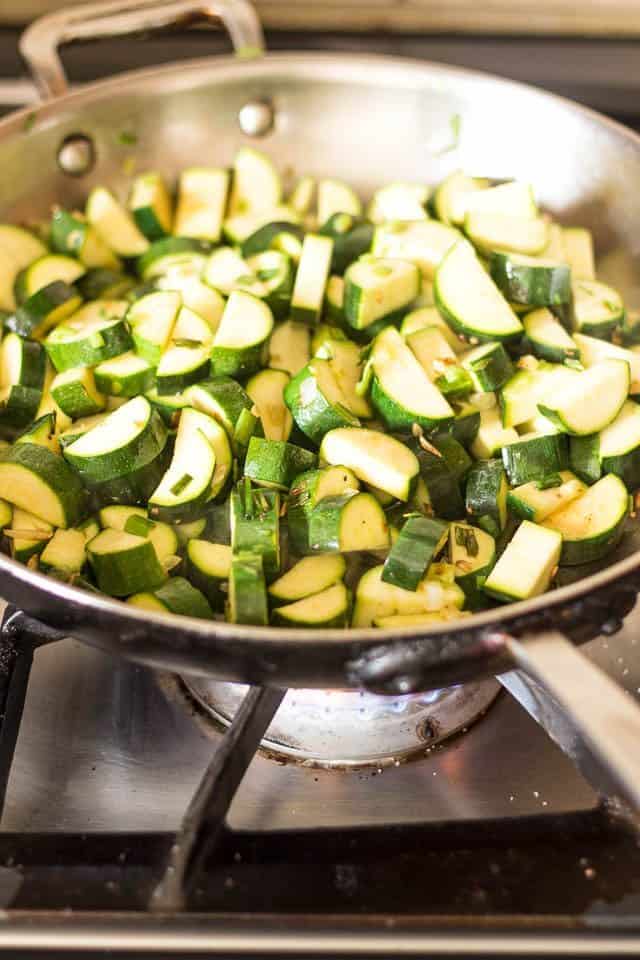 Now throw in your zucchinis and sauté / toss them around for a minute or two, until they are just softened. Zukes are BIG softies really and cook EXTREMELY rapidly so keep a close eye on them. Whatever you do, don't let them turn to mush!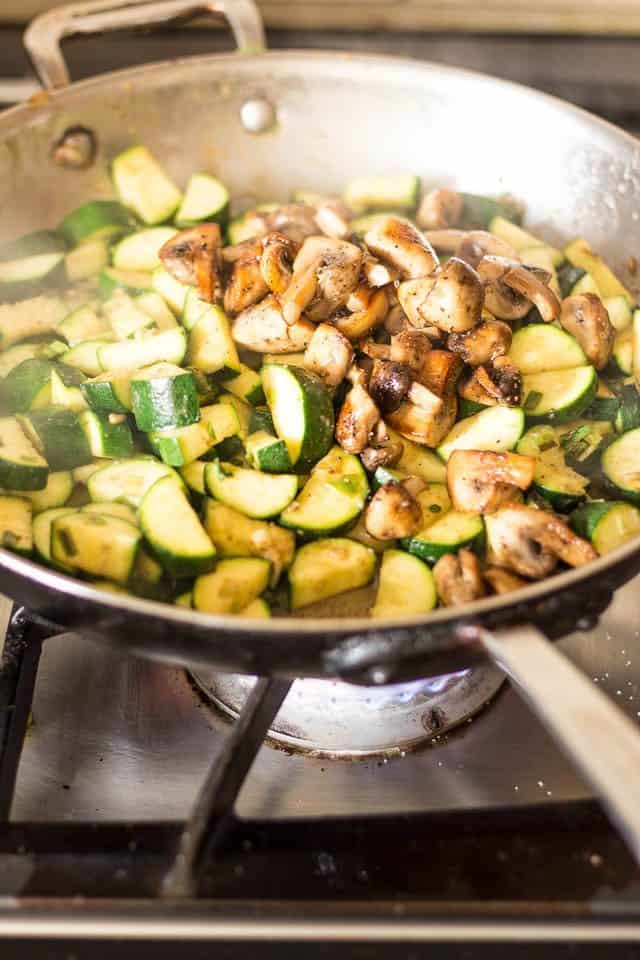 When your zucchinis have softened to your liking, send the pile of mushrooms right back in…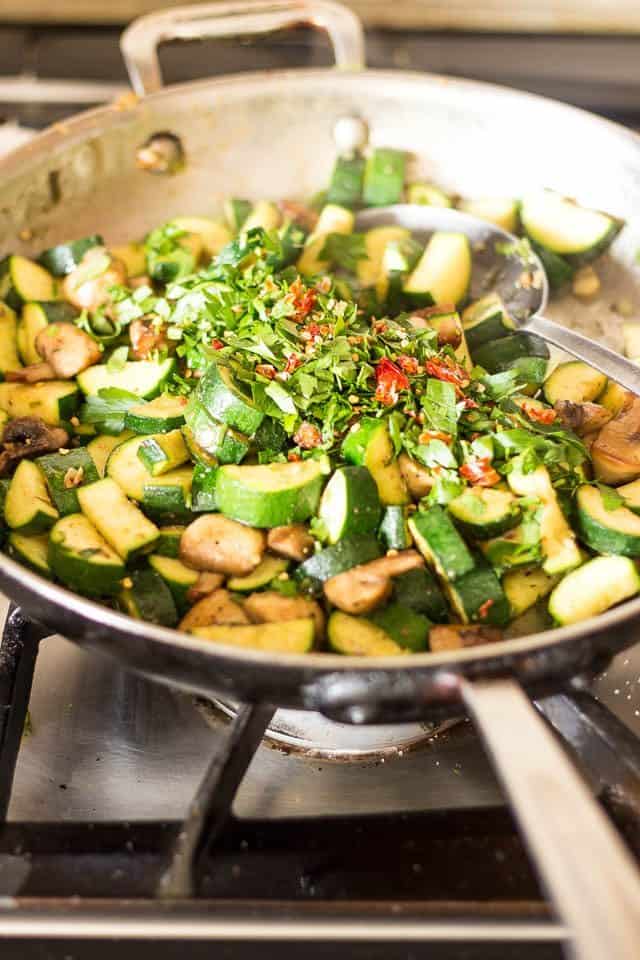 Immediately followed by fresh parsley, crushed birds eye chili peppers and Magic Mushroom Powder.
If you don't have any such powder on hand, I strongly suggest that you make some! But if there's no time for that, simply add more salt, pepper and dried oregano, plus a splash of fish sauce. That will most definitely do the trick!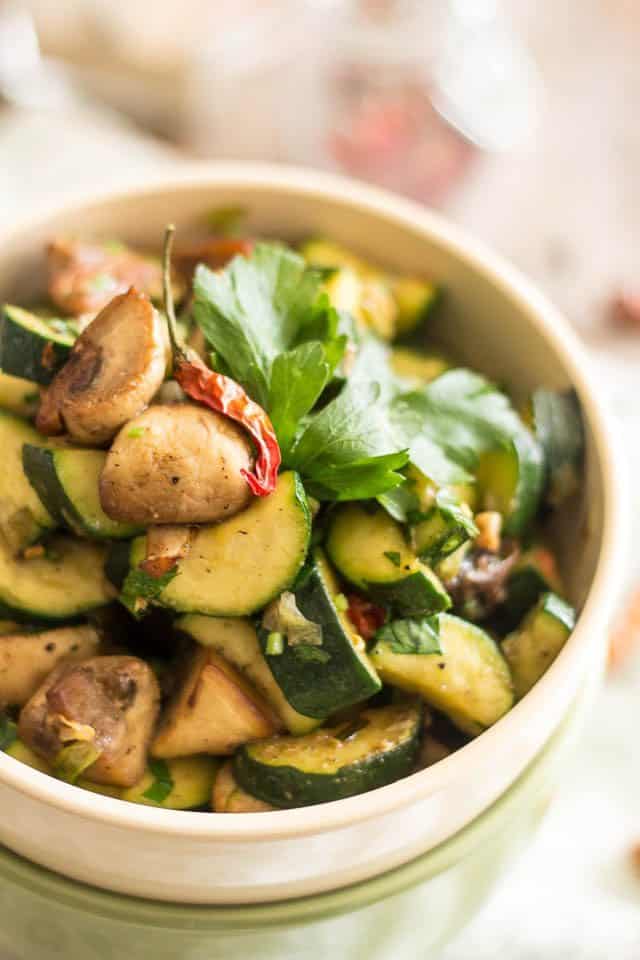 Give all that a good stir and transfer to a bowl, plate, or whatever dish you choose to use to serve your sauteed veggies. Just please, don't go eat them all straight out of the pan!
The beauty of these sauteed veggies is that they go good with just about anything! Chicken, beef, lamb, fish, seafood and even eggs. Plus, they're not even fussy about the way the meat's been cooked either: poached, roasted, grilled, pan fried, raw, you decide.
I'm telling you, these veggies seem to magically adapt to just about anything you throw at them.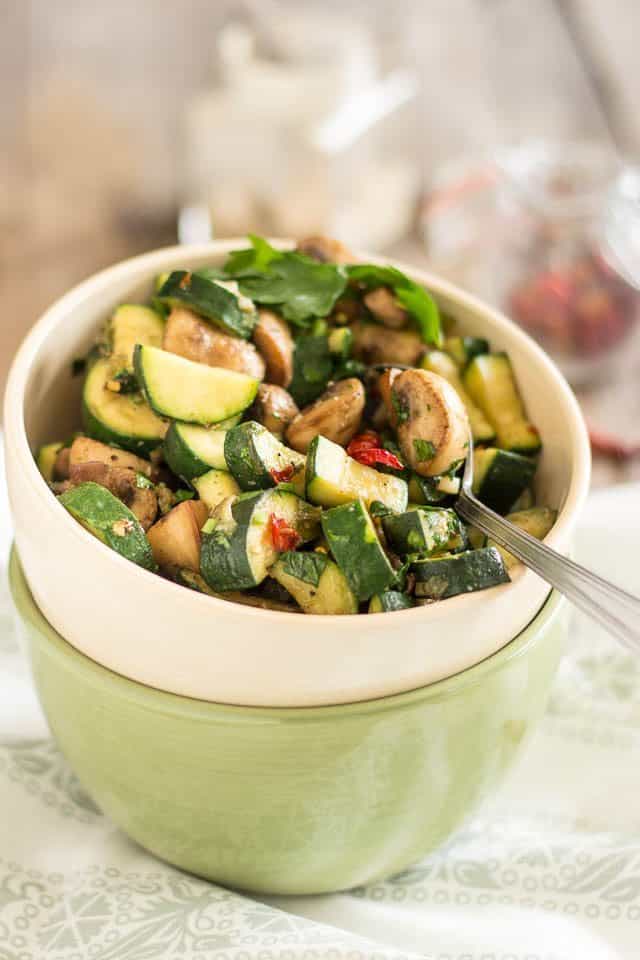 Heck, you could even throw some leftover cooked meat right in with the veggies as you sauté them and you'd have a complete meal right there!
Or… whisk a half dozen eggs, dump them right in that skillet, throw that in the oven and you've just made a glorious frittata.
And did I tell you just how well and easily this reheats? Seriously, I think I'm in love with this side dish.
In love!
Sauteed Zucchini and Mushrooms
Servings: 6
Ingredients
3-4 tablespoons ghee
227 g 1/2lb mushrooms, quartered
1/2 teaspoon Himalayan salt
1 teaspoon freshly cracked pepper
4 green onions, chopped
3 garlic cloves, minced
900 g 2lb zucchinis (about 5-6), cut in half-moons
1 tbsp magic mushroom powder
1/4 cup fresh parsley, chopped
3 dried birds eye chili peppers
Instructions
Melt the ghee in a heavy skillet set over high heat. Add the mushrooms, sprinkle with salt and pepper and cook until nice and golden brown on all sides.

Remove to a bowl, lower heat to medium, add the green onions and garlic and cook for about 1 minute or until slightly browned and softened.

Add zucchinis and mushroom powder and continue cooking until just softened, about 2-3 minutes

Return mushrooms to the skillet, add parsley and birds eye peppers, stir to combine and serve. `
If you've tried this recipe, please take a minute to rate the recipe and let me know how things went for you in the comments below. It's always such a pleasure to hear from you!
You can also FOLLOW ME on PINTEREST, FACEBOOK, INSTAGRAM and TWITTER for more delicious, healthy recipes!