Braised Cabbage – with Apple, Hazelnut and Smokey Bacon
Cabbage is the one vegetable that you could ALWAYS be sure to find in my fridge, were you to open it at any given time.
I don't think that a day ever goes by without me eating cabbage in one form or another. My two ultimate favorites are sauerkraut, which is pretty much always on the menu for breakfast, and coleslaw, which often accompanies my second meal of the day.
Sometimes, I'll even include more than one form of cabbage in a single meal, especially if I happen to have some kind of Roasted Brussels Sprouts on hand. Okay, technically, the little guys aren't exactly cabbage, but they're a member of the same family, right?
Close enough!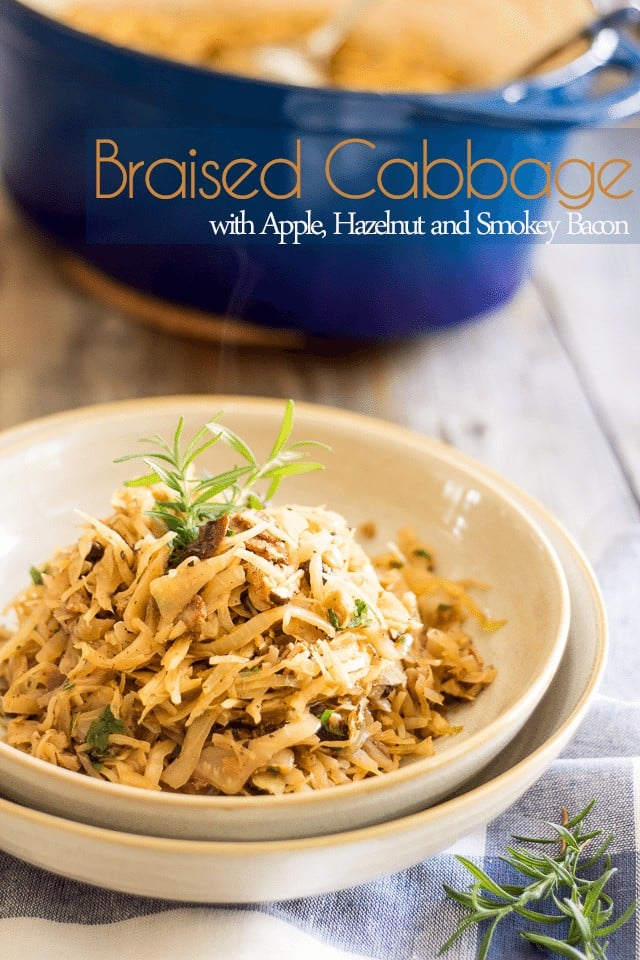 This Braised Cabbage recipe I came up with one day after I'd corned a gargantuan beef brisket and thought I would need a whole lot of cabbage to go with it. Hey, you can't have Corned Beef and not have cabbage with it now, can you? Cabbage, or pickles, for that matter!
Then, I don't know what came into me, but I also decided to make a huge batch of coleslaw on the exact same day. And I do mean HUGE! As in: I used the entire head of cabbage and added turnips and carrots, too…
Honestly, I don't know what I was thinking. There's only one of me in this household, remember? That was a heck of a lot of cabbage for one person to eat over the course of one week. Luckily, I managed to give some of it away, but still… my veggie intake pretty much consisted of cabbage for days on end.
It kinda goes without saying that I skipped the sauerkraut that week!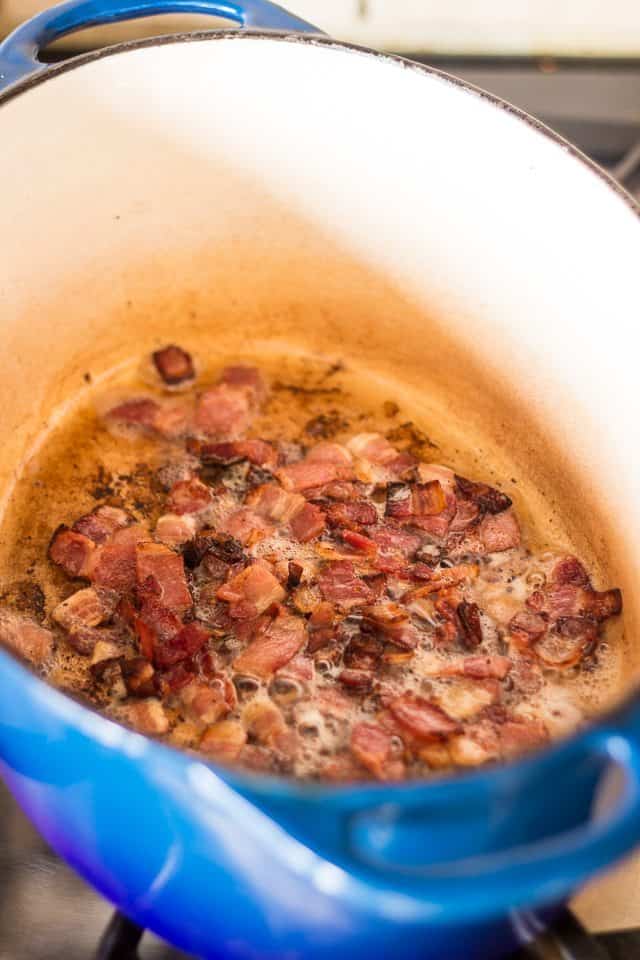 I believe that bacon is at the very foundation of any good braised cabbage recipe, and I certainly hope that you will agree with me on that one! It provides ample amounts of cooking fat and imparts SO MUCH flavor to the dish, it's not even funny.
So let's do what must be done and cook us some bacon until it's all nice and crispy. Ah, nothing like bacon to make the house smell good!
Once cooked, our bacon gets removed to a plate while the fat gets to stay right in that Dutch oven. We'll use it to caramelize our onions.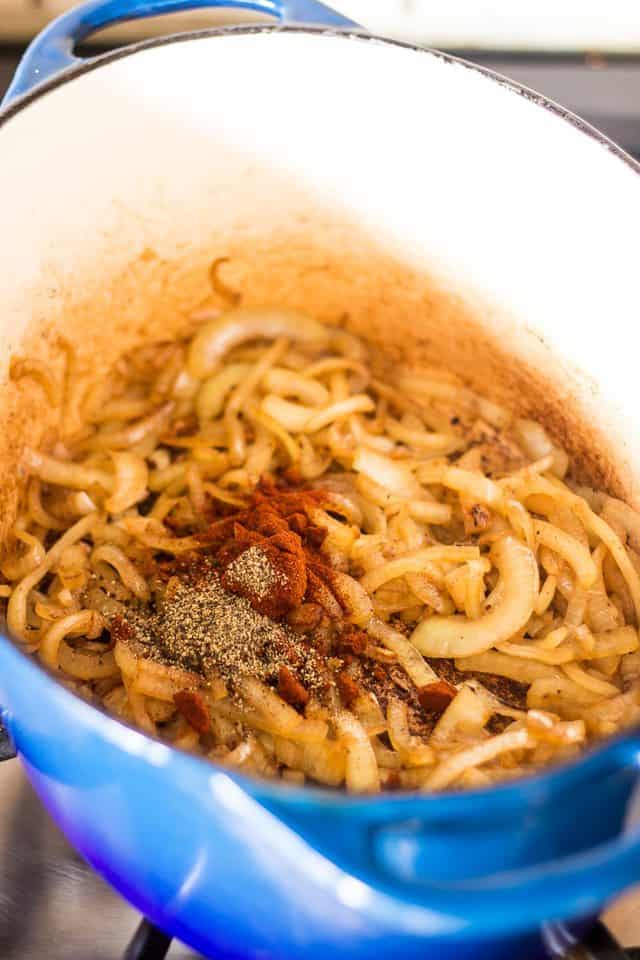 'Cuz yeah. Caramelized onions are another must in Braised Cabbage, if you ask me. They add another delightful and agreeable layer of deliciousness.
These will need to caramelize for about 15 to 20 minutes, long enough for them to get a nice golden coloration and for their fragrance to become one with that of the bacon and make the house smell even better.
Then a few spices need make their appearance… so let's throw them in.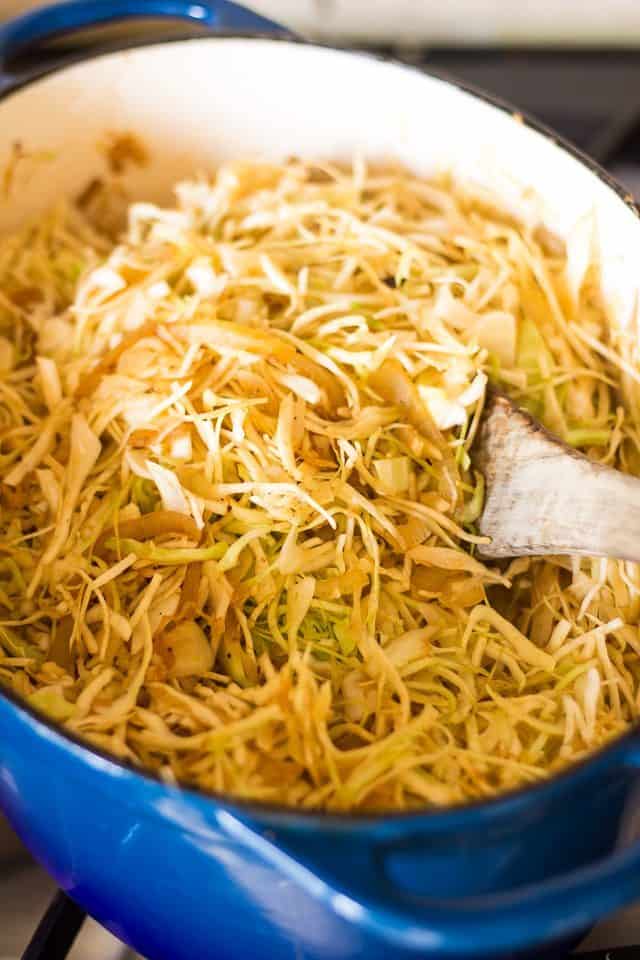 Ah, now time for our pièce de résistance. Surely, you can't make Braised Cabbage without adding cabbage now, can you? .
So our main star goes in and is being tossed around to mingle and make friends with all those that have already made it to the party.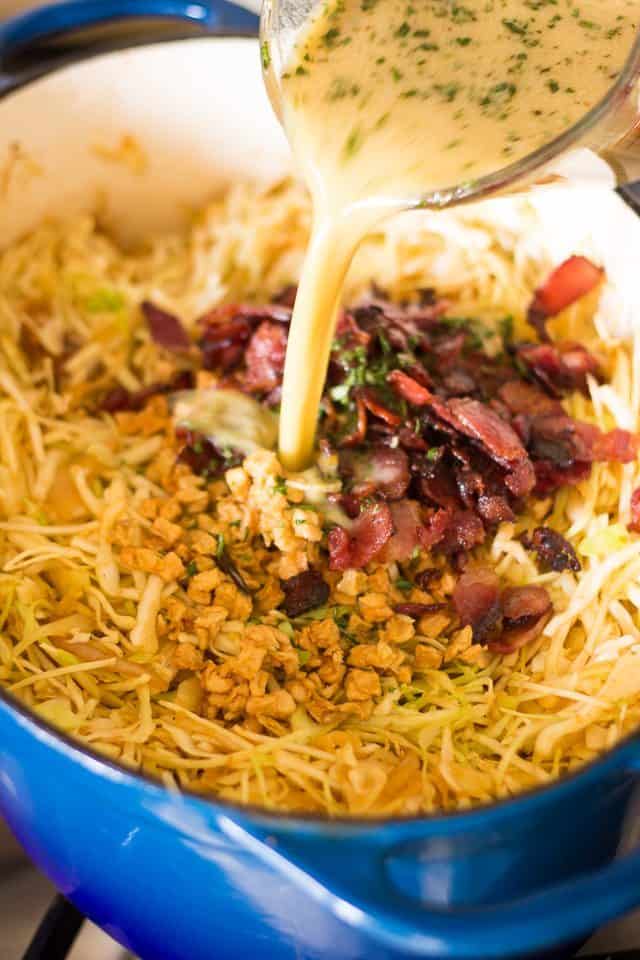 Bacon now needs to go back in, along with dried apples and a whole bunch of aromatics…
A note on the dried apples: while I haven't tried it, I figure you could very well use a finely diced fresh apple here, if you didn't have any of the dried stuff on hand. I used dry because I was all out of fresh but really wanted the taste of apple in that dish.
So don't go running to the store and make a special trip if all you have is fresh apples. I'm sure they will fit right in with the rest of the crew!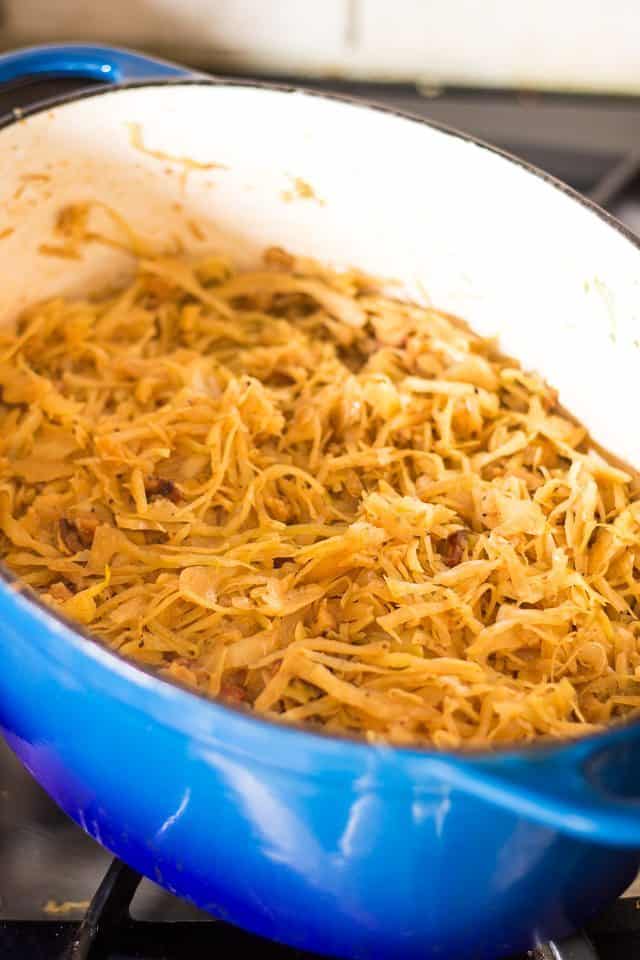 All this lovely bunch now needs to cook for another 15 minutes or so, or until all that liquid we've just added is pretty much completely evaporated, leaving nothing but concentrated flavor behind.
Notice how the cabbage has shrunk quite a bit, too!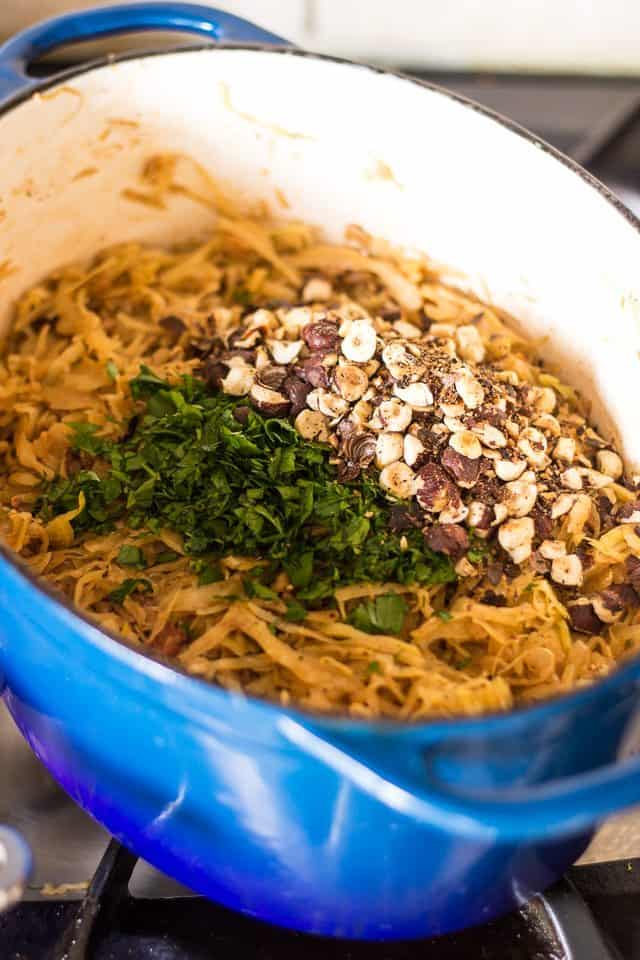 A few more select guest ingredients need to join the fiesta: hazelnuts and parsley get tossed in at the very last minute…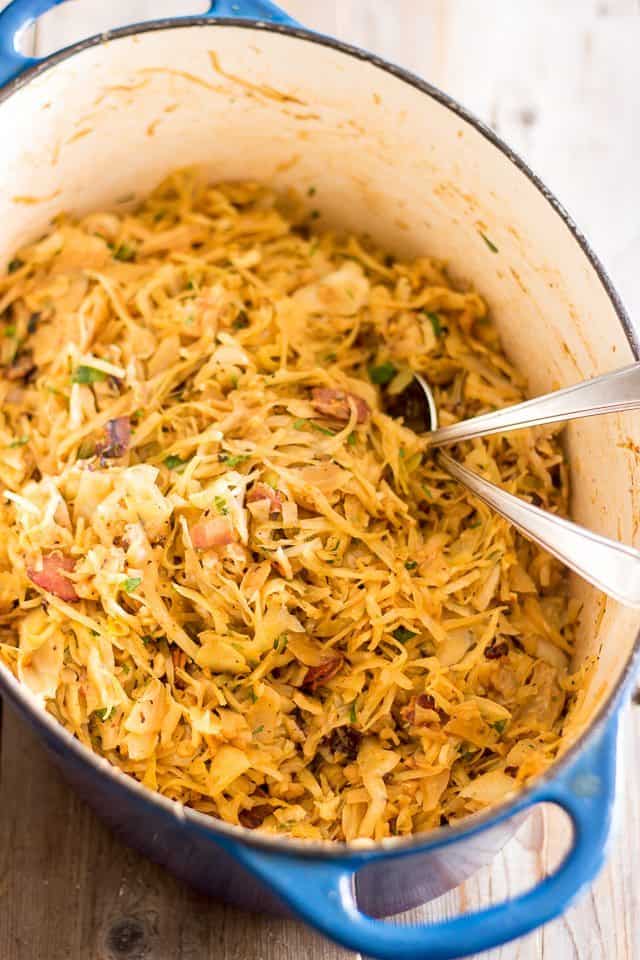 And we are pretty much done, although it may be a good idea to let this cool down for a few minutes. Chances are it's a little hot right now and you wouldn't want to burn your tongue like I did!
Plus, food, when it's too hot never tastes quite as good…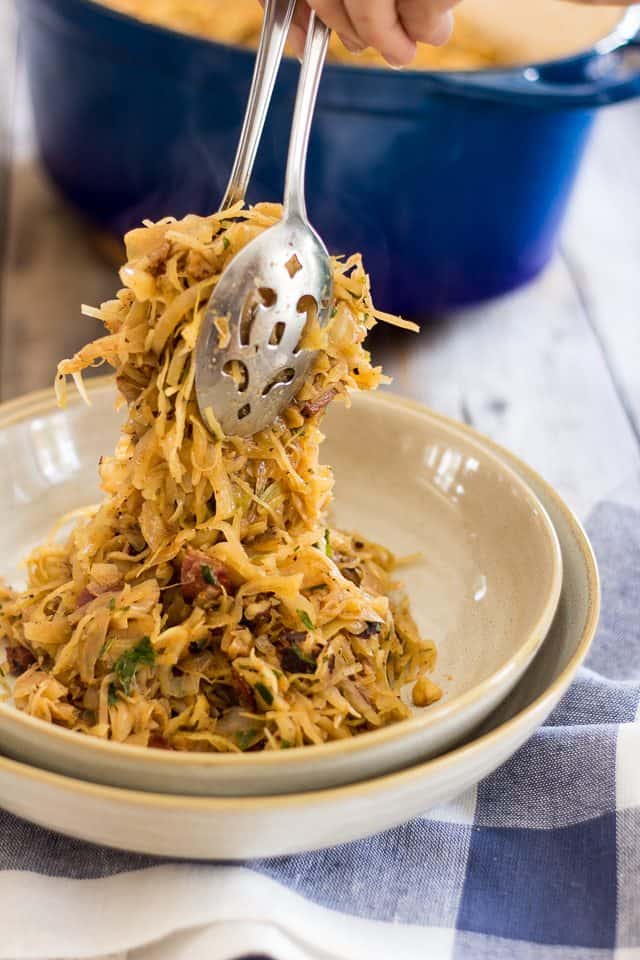 Once it's been given a few minutes to rest, the whole dish gets a final toss and we are ready to serve!
Oh yum! Does that look good or what? No wonder I like cabbage so much. I wish I'd frozen some of that… that way, I'd still have some for tonight.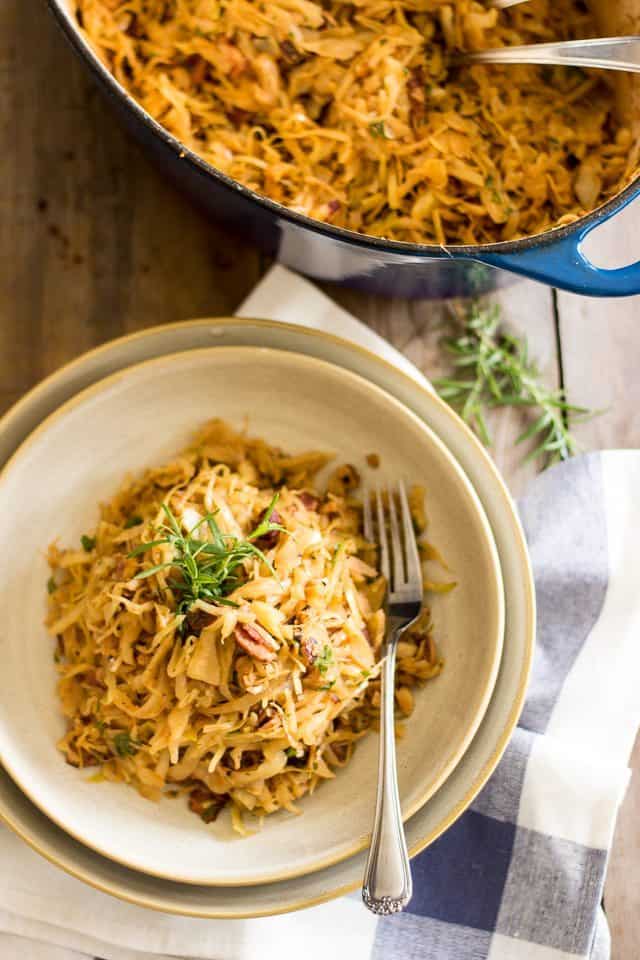 Luckily, I have some coleslaw in the fridge… that'll have to do.
Hey, told you I liked my cabbage!
And if you're not a fan, I urge you to try this recipe. It's so bold and generous and has so much to offer in the flavor department, you might very well have a change of heart!
Braised Cabbage – with Apple, Hazelnut and Smokey Bacon
Servings: 8
Ingredients
8 strips pastured bacon, cut crosswise into 1/2" pieces
3 medium onions, thinly sliced
1-2 teaspoons Himalayan salt, depending on how salty your stock is
1 tablespoon freshly cracked black pepper
1 tablespoon smoked paprika
1 medium head green cabbage, shredded (about 12 cups)
1 cup dried apple dice
2 cups chicken stock
¼ cup apple cider vinegar
2 tbsp Dijon mustard
1 teaspoon onion powder
1/2 teaspoon garlic powder
1/2 teaspoon ground coriander
1/2 teaspoon freshly grated nutmeg
1/4 teaspoon cardamom
1/4 teaspoon ground white pepper
2-3 sprigs fresh rosemary, finely chopped
2-3 tbsp fresh parsley, finely chopped
1/2 cup toasted hazelnuts
Instructions
Cut the bacon slices crosswise into 1/2" wide pieces.

In a large

Dutch oven

set over medium heat, cook the bacon until nice and crispy. Remove to a plate with a slotted spoon and set aside.

Add the onions and salt to the

Dutch oven

and cook, stirring often, until caramelized - about 15-20 minutes. Add paprika and black pepper and stir until well combined.

Add shredded cabbage and cook, stirring, for a few minutes until all the ingredients are evenly distributed, then throw in apple dice and cooked bacon.

In a large measuring cup, mix the chicken stock, apple cider vinegar, Dijon mustard, spices and chopped rosemary together with a whisk. Pour that over the cabbage and stir to combine, then cook over medium heat for about 15 minutes, until the cabbage is softened and the liquid is almost completely evaporated.

Add the toasted hazelnuts and fresh parsley, mix them in let this rest for 10 to 15 minutes, then give one final toss and serve.

This will keep for up to 5 days in the refrigerator and actually tastes better after it's had a chance to sit for a day or two.
If you've tried this recipe, please take a minute to rate the recipe and let me know how things went for you in the comments below. It's always such a pleasure to hear from you!
You can also FOLLOW ME on PINTEREST, FACEBOOK, INSTAGRAM and TWITTER for more delicious, healthy recipes!