Cooked Chicken, Broccoli and Apple Salad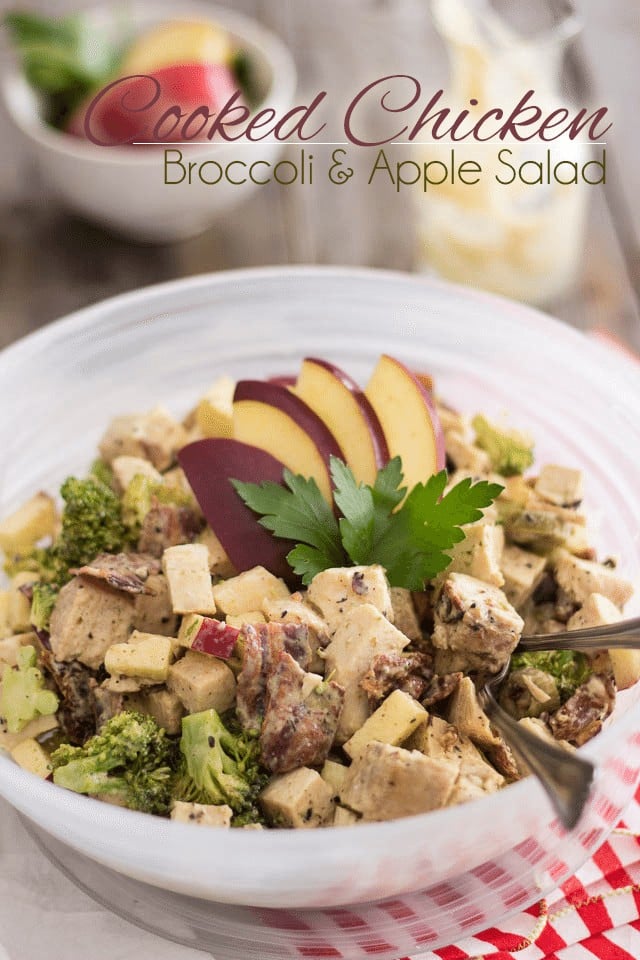 Remember how, when I shared the recipe for my Cold Nordic Shrimp Salad, I said that I had to come up with more similar salads so I could take them to the box as post workout meals on those days when I work out late and can't get back home on time to eat within my feeding window?
Well, this Cooked Chicken Salad is definitely one of them!
And just like the aforementioned salad, this one too will be added to my regular rotation! For seriously, as far as salads go, they don't get much more filling and satisfying than this one!
Or tasty, for that matter!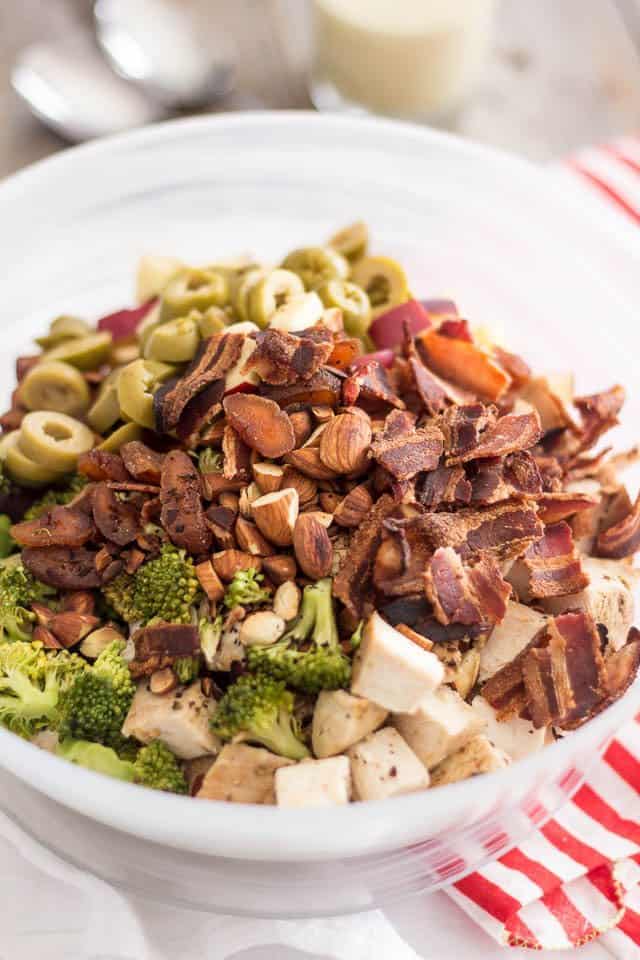 It's loaded, but I do mean LOADED with pieces of soft, juicy, tender cooked chicken, which are agreeably accompanied by refreshing pieces of cooked broccoli, crisp red apple, sweet dried apricots, salty olives, crunchy, nutty almonds and crispy, smokey BACON!. All these lovely ingredients are then brought together with a slightly sweet, tangy, zesty and creamy vinaigrette.
I mean, the amount of action that's taking place in your mouth with every single bite is pretty astonishing. Yet, every flavor and every texture just complements the next to the absolute perfection.
This, is definitely a keeper.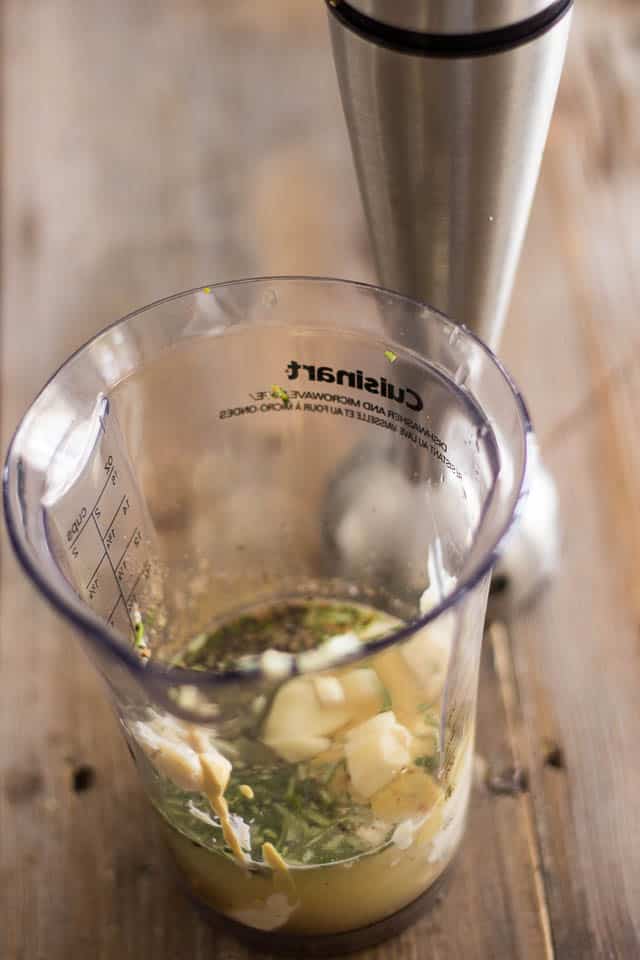 In fact, it's exactly the kind of dish that I enjoy eating as a post workout meal away from home.
You know, when you don't have access to a microwave, a cold dish is always ideal…
Plus, not having to sit yourself down at a table and use a proper set of utensils to eat is pretty much the way to go when eating at the gym! That's the kind of place where one tends to eat standing, sitting on a lifting bench, a step, or even directly on the floor.
Definitely not the place to get fancy shmancy about food. A fork and the plastic container in which it was transported is all that's required to enjoy this delicious salad!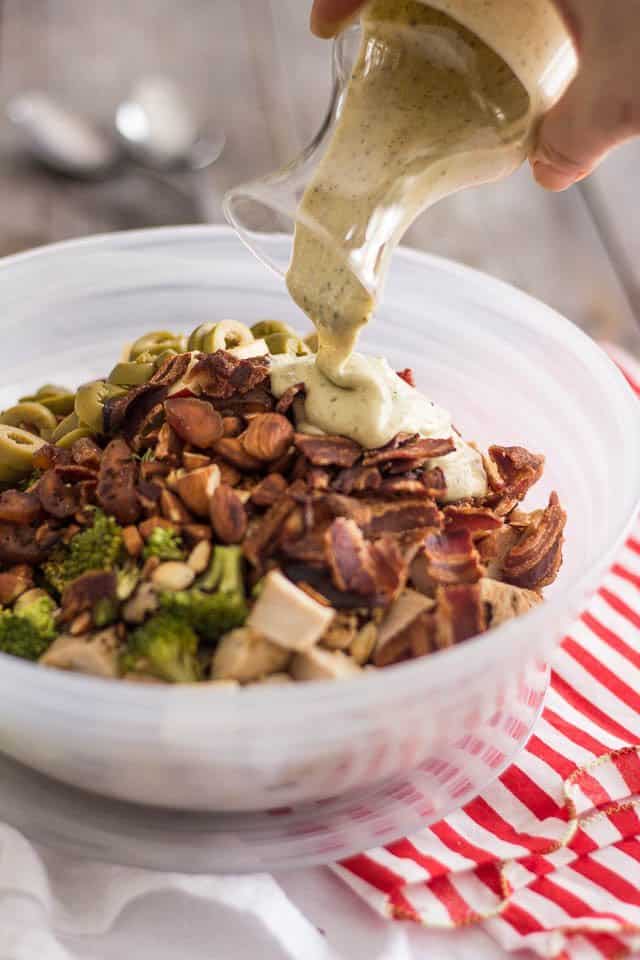 That's also the kind of food that I really like to take with me if I'm going to be spending the entire day away from home. Since I know I just can't rely on restaurants and food joints anymore, I always carry my own food. I either keep it in a cooler in the car if it's going to sit there for a fairly long time, or just plain shove it in my purse if my next planned meal isn't too far away.
And if I still had to actually leave my house to go to work every day, this would definitely be on my list of favorite lunches to bring, too!
You know what else this would be great for? Potluck dinners! Oh yeah! Put this on a buffet table and it'll disappear before you even know it!
Portable, convenient, tasty, super nutritious and real complete, what's there not to like about this salad?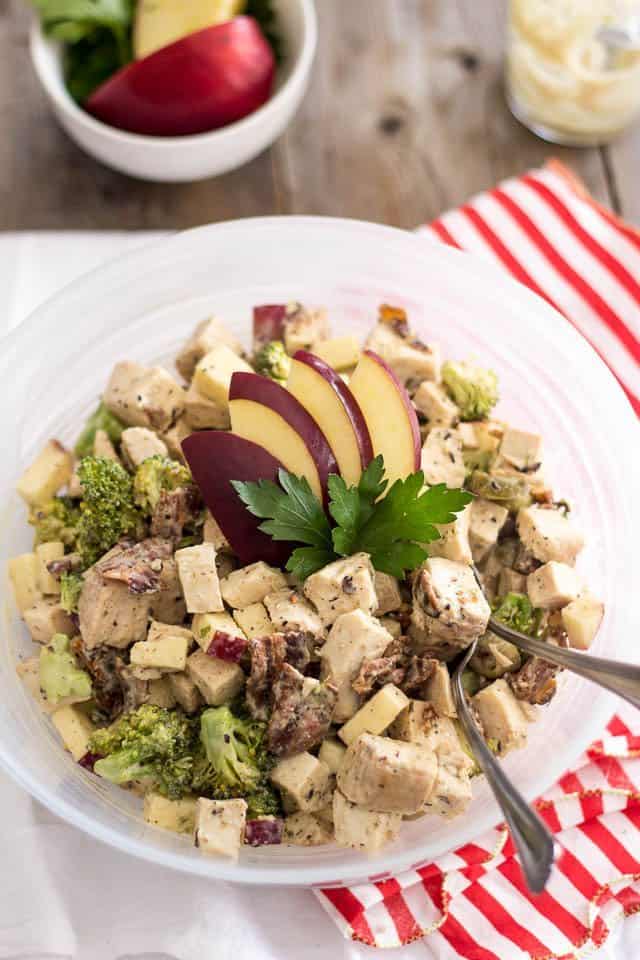 I still need to come up with more similar protein loaded cold salads, because frankly, I ADORE them. However, I find that the options for protein that can be included in cold salads are quite limited. Apart from shrimp, chicken, canned tuna, salmon and hard boiled eggs, I really don't see what else would work well.
Pork, perhaps? Yeah, maybe pork would work well. Leftover pork roast. There's something I need to try!
Now I need to make pork roast just so I can generate leftovers. Oh, what a shame…
Maybe I should make two! 
Cooked Chicken, Broccoli and Apple Salad
Servings: 4
Ingredients
450 g 1lb cooked chicken, diced
1/2 large Red Delicious apple, diced
1-1/2 cup broccoli florets, cooked and cooled
1/4 cup raw almonds, chopped and toasted
1/2 cup sliced green olives
1/4 cup organic dried apricots, chopped
4 slices crispy bacon, crumbled
Instructions
In a large mixing bowl, add cooked chicken, diced apple, cooled broccoli, toasted almonds, green olives, dried apricots, crispy bacon and vinaigrette and mix until thoroughly combined.

Place the salad in the fridge for a few hours before serving to allow flavors to fully develop. This salad will keep in the fridge for 2 to 3 days in an airtight container.
If you've tried this recipe, please take a minute to rate the recipe and let me know how things went for you in the comments below. It's always such a pleasure to hear from you!
You can also FOLLOW ME on PINTEREST, FACEBOOK, INSTAGRAM and TWITTER for more delicious, healthy recipes!