Cold Nordic Shrimp Salad
I don't often discuss my eating habits on here, other than by sharing recipes of the actual food that I eat, that is, but I sorta feel I need to touch base on the subject with this post.
At the beginning of the year, after I learned that I was going to be a full-time blogger, I decided to give Intermittent Fasting (IF) a shot. I'd been curious about the practice for a while and figured that, if I was gonna be at home all the time, it would probably be a good thing for me to have some kind of a pre-established window during which I would allow myself to eat.
Being constantly so close to the fridge and pantries, from early morning to bedtime, could have very disastrous consequences for me if I didn't give my brains a set of hard rules to live by.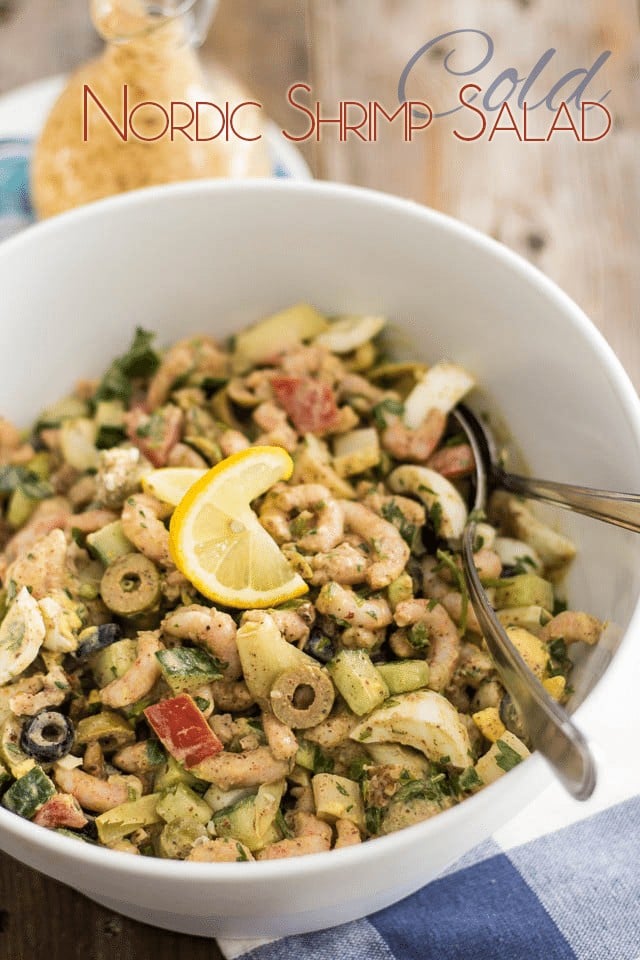 So I've now been practicing IF since January, and I must say that to this day, despite finding it *somewhat* restrictive at times, this is my most favorite way of feeding my body, ever.
Like it's a natural fit.
By the time I get to eat in the morning, I'm really hungry, for REAL food. Like meat and veggies. Like eggs, Italian Sausage and Sauerkraut. I don't have to bargain with my brains and convince them that they need to eat, settling for Chocolate Puddings, Stacks of Paleo Pancakes or Banana Muffins, which is pretty much all they seem to be naturally interested in eating early in the morning. Carbs of the sweet kind. Not ideal!
I'll usually sit myself down to 2 large and satisfying meals per day, and will only eat between the hours of 11am and 7pm, 7 days a week. Of course, I'll also snack on this and munch on that… a little bit too much. But at least, I will not put any food in my mouth before 11am, or after 7pm. That much really is saving my butt, me thinks. Big time!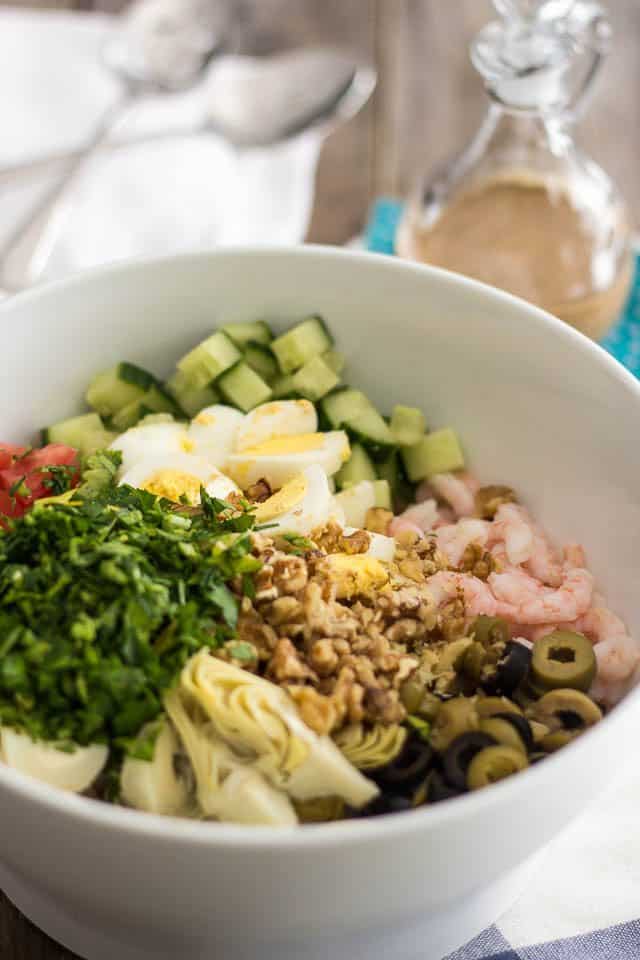 Seriously, IF has been working incredibly well for me. I'm not sure that it would've worked so great with my former schedule, but with my current situation, it's absolutely ideal. Gone are the days when I'd have to train at 5 in the morning, eyes still half shut. Not eating until 11am would've been pushing it… I now hit the box, or basement, at 9am, still train in a fasted state (which has always worked best for me) and get to eat in the hour that follows.
The only exception to that rule would be Fridays, where I work out at 5:30 pm.
Since I work out so late on those days, I don't have much of a choice but to eat immediately after. There's simply no way for me to get back home in time, so my only option is to bring food with me and eat it on the spot, sitting right there on the floor, among the enticing aromas of concrete, rubber, metal and sweat.
Call me crazy, but there is something that I absolutely adore about that set-up! Could be the ambiance… or the company!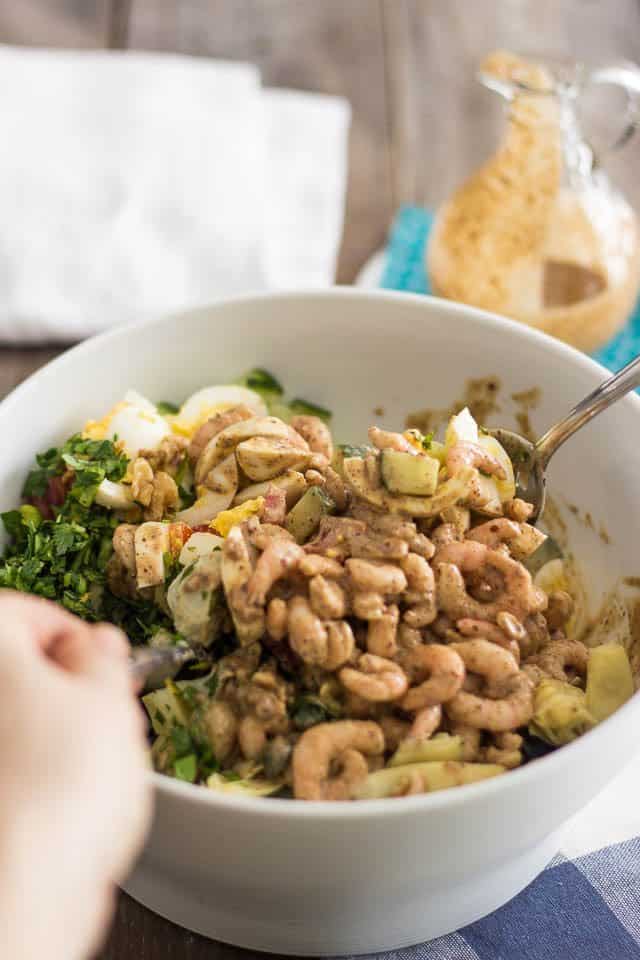 For these kinds of situations, my usual go-to dish has always been my beloved Tuna Avocado Salad, although I now tend to make it with salmon instead of tuna. More Omega-3s!
But, even though I'm the kind of person who doesn't mind eating the same thing for days on end, I like to vary sometimes. And no matter how much I LOVE that tuna salad, eating the exact same thing every Friday night post WOD doesn't sound all that appealing to me.
Looks like I'll need to come up with some sort of a rotation…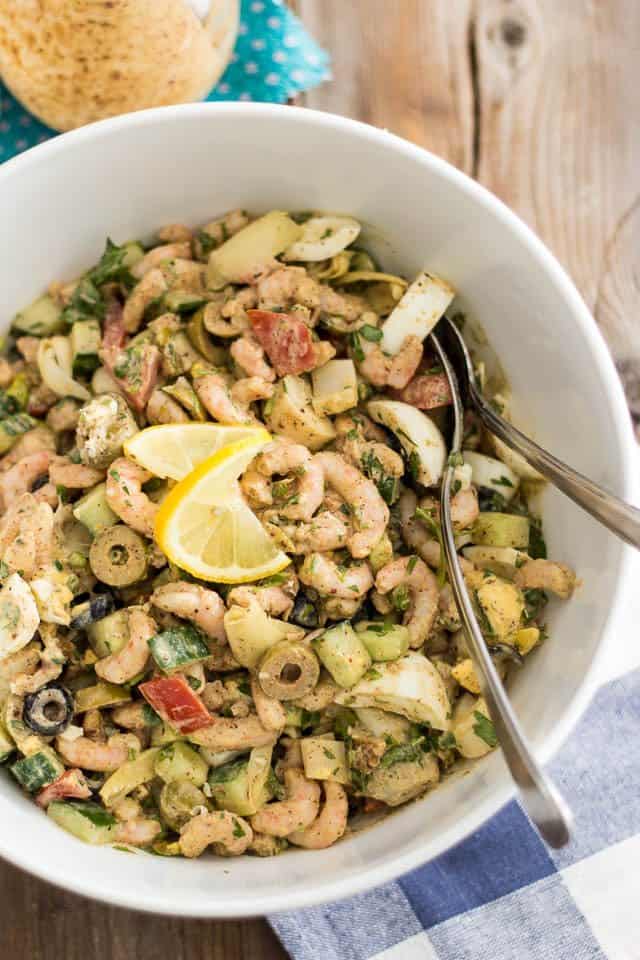 This Cold Nordic Shrimp Salad will definitely be a part of it. I love that it comes together in no time at all and can be made a few hours in advance, so I can whip it up in the morning or afternoon, before I hit the box.
The only thing that you need to do ahead of time is hard-boiling the eggs. But if you're like me, you probably have some in your fridge at pretty much any given time.
Now, I used wild-caught Nordic shrimp, which is widely available in my part of the world, but if you're not so lucky as to have such easy access to it, feel free to substitute any other kind of cooked shrimp.
Hey, even canned could very well do the job, if you're in a pinch. 
Just make sure they are sustainably sourced! 
Cold Nordic Shrimp Salad
Servings: 3
Instructions
Rinse the shrimp under cold water, drain and pat them dry. Add them to a large mixing bowl, along with the sliced hard-boiled eggs, hearts of palm, artichoke hearts, tomatoes, cucumbers, walnuts, olives and parsley.

Pour the vinaigrette over the salad and mix delicately until all the ingredients are well combined.

This salad can be served immediately or made a couple of hours in advance. It will keep in the fridge for up to 24 hours.
If you've tried this recipe, please take a minute to rate the recipe and let me know how things went for you in the comments below. It's always such a pleasure to hear from you!
You can also FOLLOW ME on PINTEREST, FACEBOOK, INSTAGRAM and TWITTER for more delicious, healthy recipes!
Oh, and a quick reminder before you go…
Next time you visit, there's a very good chance that this place will be looking entirely different! THF's brand new look will be going live sometime tomorrow, which means that my next post to you will be published on the new theme!
I'm so excited and can't wait to hear what you all think!