Quick Coconut & Chia Seed Pudding
As I am writing these words, I am a complete, total bundle of nerves: in a few hours only, after many months of hard work, THF's new look will be going live.
Theoretically, by the time you guys get to read these lines, everything will be said and done, the operation will have been a complete success (hopefully!) and Betty Crocker will have been sent away for a well-deserved, permanent vacation!
I really, truly hope that you like the new décor and can't wait to hear what you all think!!!
Of course, as is always the case with any website launch, a few hick-ups and road bumps are to be expected… It's very likely that not every functionality will be working perfectly, and it goes without saying that the operator (aka yours truly) will have to learn the ropes of her new dashboard.
So things may look a tad funny for a wee bit. Please bear with me, this transition really shouldn't take too long and we'll be up and running in no time at all.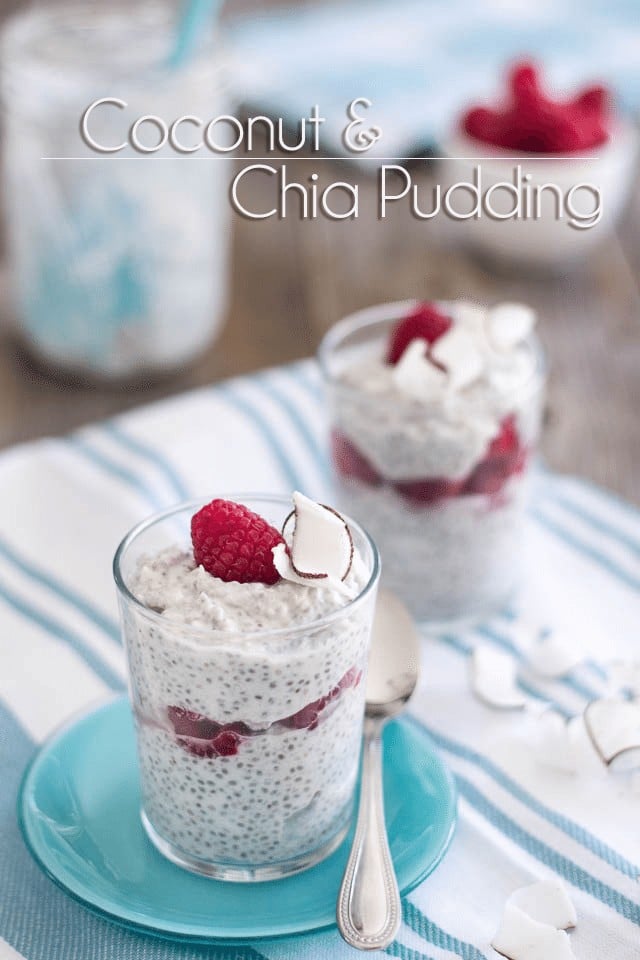 Since, as you can very well imagine, this has been a fairly nutsy day for me, I figured I would share a super quick and easy recipe, one that you can make on ANY given day, even the craziest, busiest and frenziest of days: a Chia Seed Pudding!
Heck, this thing is so easy and quick to make, even a VERY young child could do it. In fact, it could be a very fun and healthy project for them to tackle!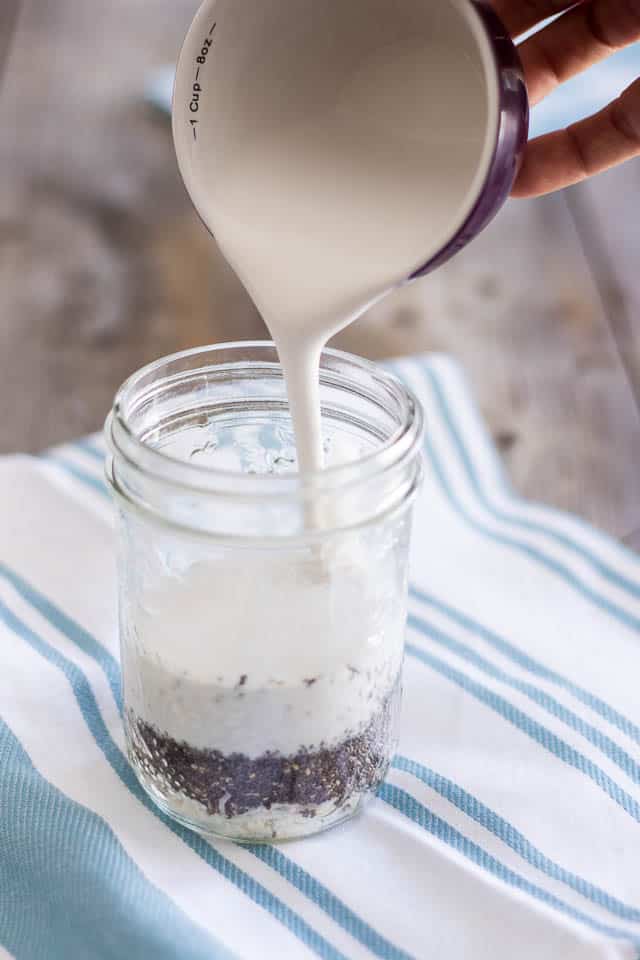 Simply add some unsweetened shredded coconut, black chia seeds, a pinch of salt and about 3/4 of a cup of full fat coconut milk to a small mixing bowl or half-pint Mason type glass jar.
I know, I know, my measuring cup indicates 1 cup. I just didn't fill it all the way to the top. You see, this is one of those recipes that doesn't even call for exact measurements… bonus points if you're gonna have your favorite kiddo handle this!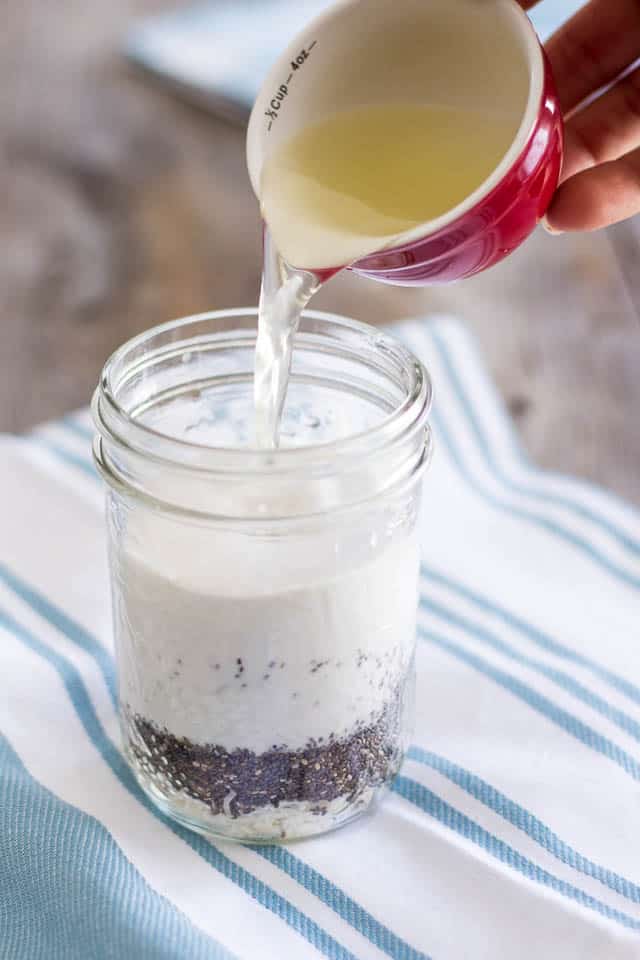 Pour in a half cup of coconut water. Don't have any of that on hand? No biggie. You could very well improvise and use unsweetened apple juice instead, or freshly squeezed orange juice, or pineapple juice for a bit of a tropical twist, why not? (oooh, I like, I think I'll have to give that one a try!)
Even plain water would do the trick, if no other option was available, or if you wanted to keep the carb count in check. Don't worry about your dessert lacking flavor: the coconut milk alone, even if diluted, will provide AMPLE satisfaction in that department.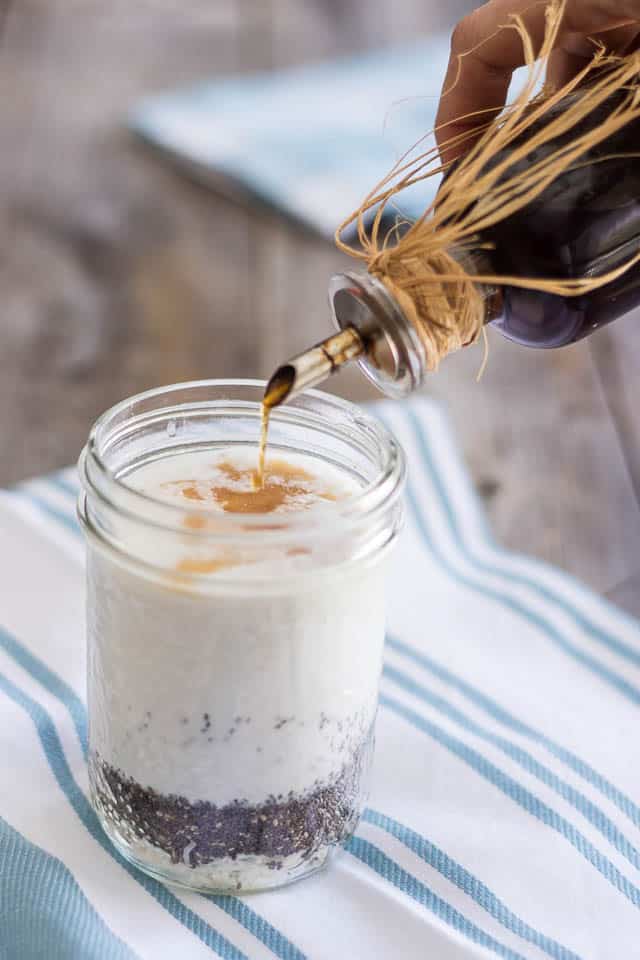 Now throw in a little splash of pure vanilla extract. Just because. Vanilla makes everything taste so much better!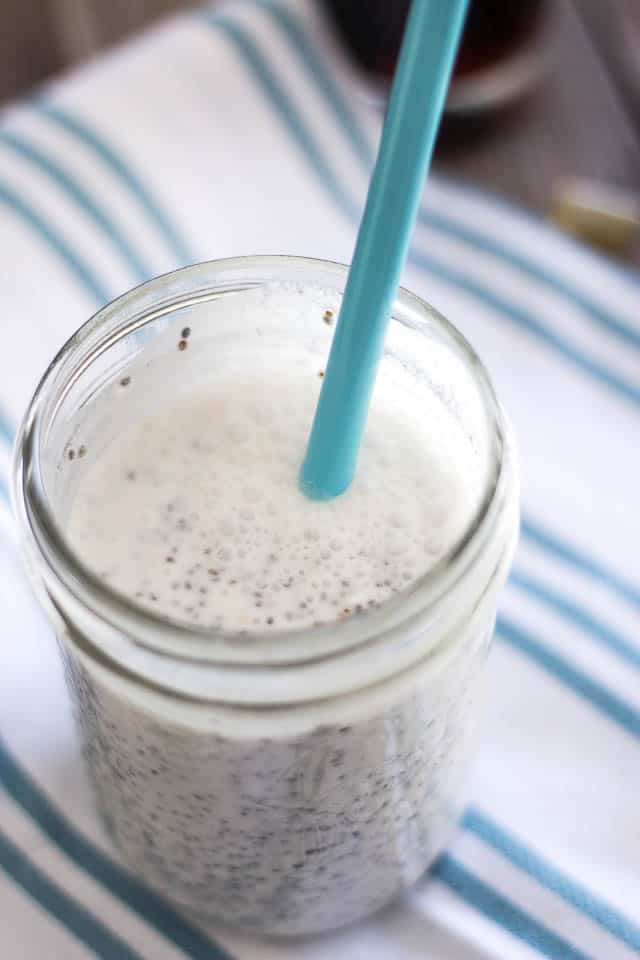 Give that a very quick stir, until everything is well combined. No need to get fancy about it. Just use a good 'ole spoon and move everything around slowly
I say this is already looking pretty darn good, wouldn't you agree?
Now put the lid on, or cover your bowl with plastic wrap or something, and throw that in the fridge to rest for at least 2 hours. Your chia seeds need time to expand and soften up and do what it is that only chia seeds know how to do: produce that gel-like coating that we all dig so much. (of course, chia seeds will do way much more than just that for ya! You can read all about their multiple health benefits in this brilliant article)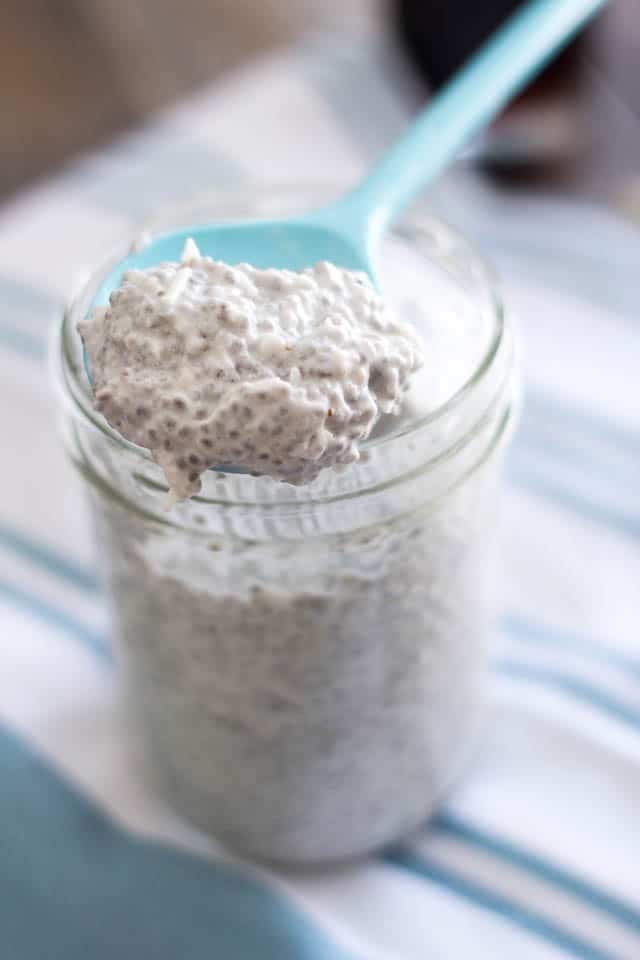 After a few hours in the fridge, your pudding will be lusciously nice and thick and ready to be enjoyed.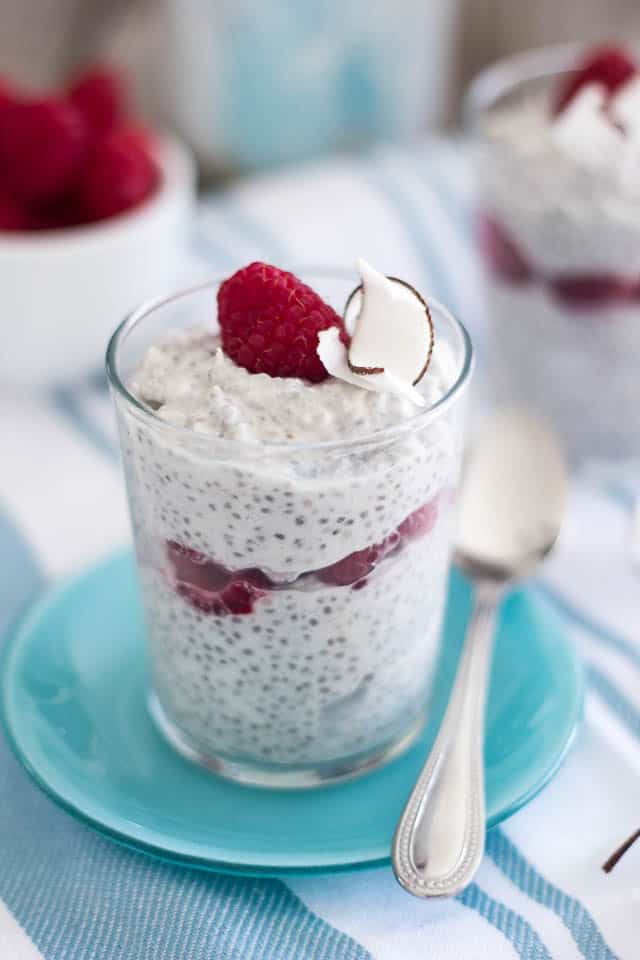 Divide your pudding between two serving bowls (or glasses) and add a layer of fresh fruit right in the middle, if desired.
While this is entirely optional, I strongly recommend adding the fruit. They do add an entirely new dimension to this creamy dessert. I chose to use raspberries, but of course, any other berry would work superbly well here. Stone fruits, such as peaches or plums, would also be wonderful or even citrus supremes, like oranges or pink grapefruit.
Chunks of pineapple would certainly be magical, too! Hmmm! And here I go again with that tropical twist… I'll definitely need to give that "Piña Colada" version a try!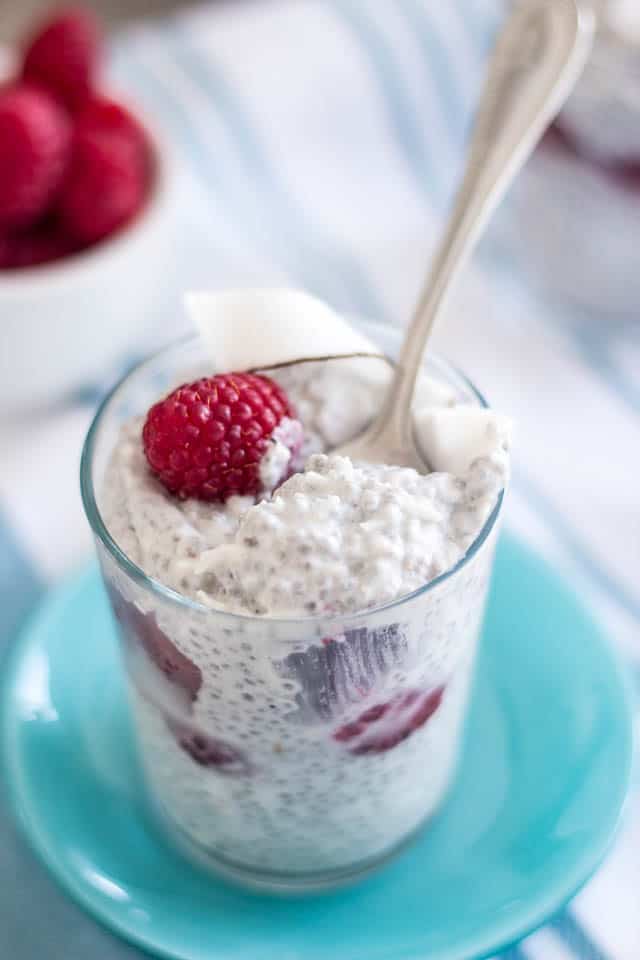 Oh, one last thing.
I chose not to add any sweetener to this because I find coconut to be sweet enough as it is. I thought the final product was just perfect: creamy, light and super refreshing. I say this is bound to become a big favorite this summer!
If you, however, happen to have a bit more of a sweet tooth, feel free to add a little bit of honey or maple syrup to this.
Hey, you're not gonna hurt my feelings!
Quick Coconut & Chia Seed Pudding
Servings: 2
Instructions
In a small bowl or half pint Mason type glass jar, add coconut, chia seeds, coconut milk, coconut water, vanilla and salt and mix until very well combined.

Place in the refrigerator and allow to rest for at least 2 hours

Serve with fresh rapsberries or other fruit of your choice
If you've tried this recipe, please take a minute to rate the recipe and let me know how things went for you in the comments below. It's always such a pleasure to hear from you!
You can also FOLLOW ME on PINTEREST, FACEBOOK, INSTAGRAM and TWITTER for more delicious, healthy recipes!