Slow Cooker Pork Stew with Oyster Mushrooms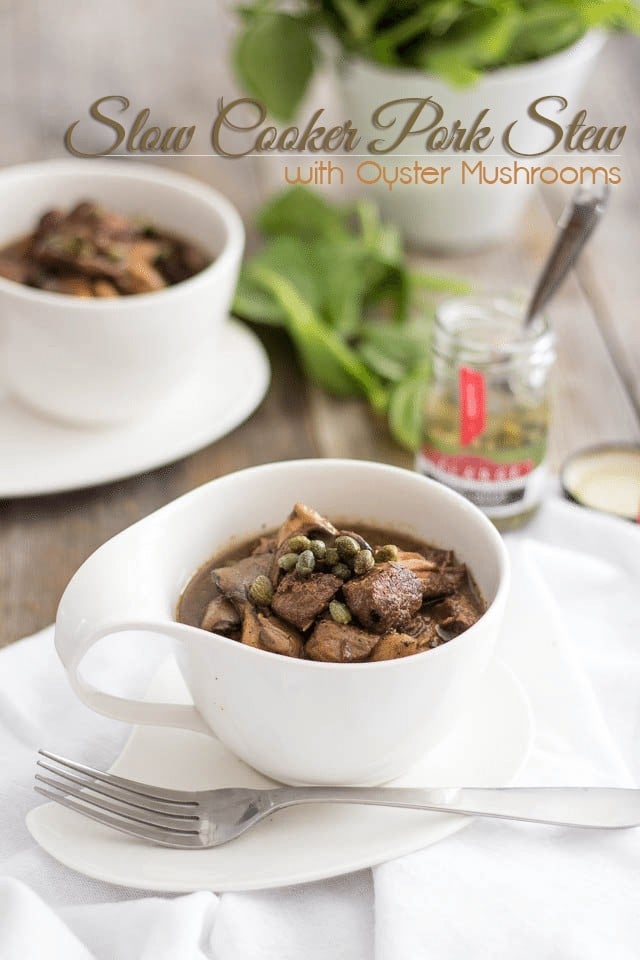 Sadly, this is probably one of the last Slow Cooker recipes that I will share with you for a wee while. Indeed, I think Crock-Pot season is pretty much coming to an end and will soon be giving way to grilling season. Ah, but I'm not one to complain, really… If it was only for me, I would be grilling year 'round!
I mean don't get me wrong, I adore me some tender morsels of meat that get to cook ever so slowly in a fragrant broth, which eventually transforms into a luxurious, silky sauce.
But to me, there's nothing quite like grilled meat and veggies. Must be because I associate them so intimately with the warm, sunny days of summer, which I truly live for! Needless to say I'm really looking forward to firing up that BBQ for the first time of the season.
Until that finally happens, let us enjoy the [most probably] last Slow Cooker stew of the season…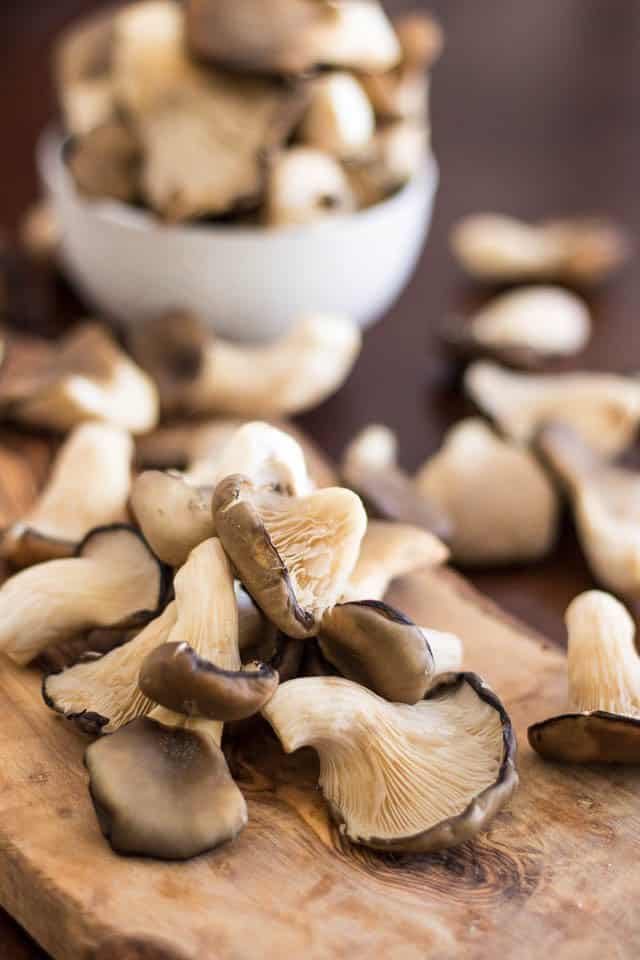 Not long ago, I paid a visit to my favorite Asian market with the sole intention of stocking up on green tea and coconut milk. I was gonna be a good girl and get nothing but that.
But, if you're anything like me, then you know just how pretty darn near impossible it is to set foot in any kind of food market without coming across some irresistible deal which forces you to make additional, spontaneous purchases.
That day, Oyster mushrooms happened to be on sale. And I do mean ON SALE! So I bought a bunch. Okay. I got a bit carried away. I bought a whole load!
But, I happen to have a real soft spot for Oyster mushrooms and I knew right then and there EXACTLY how I would use them up: the tasty, chewy fungi would reign as king in a slowly cooked, bone warming, soul soothing stew.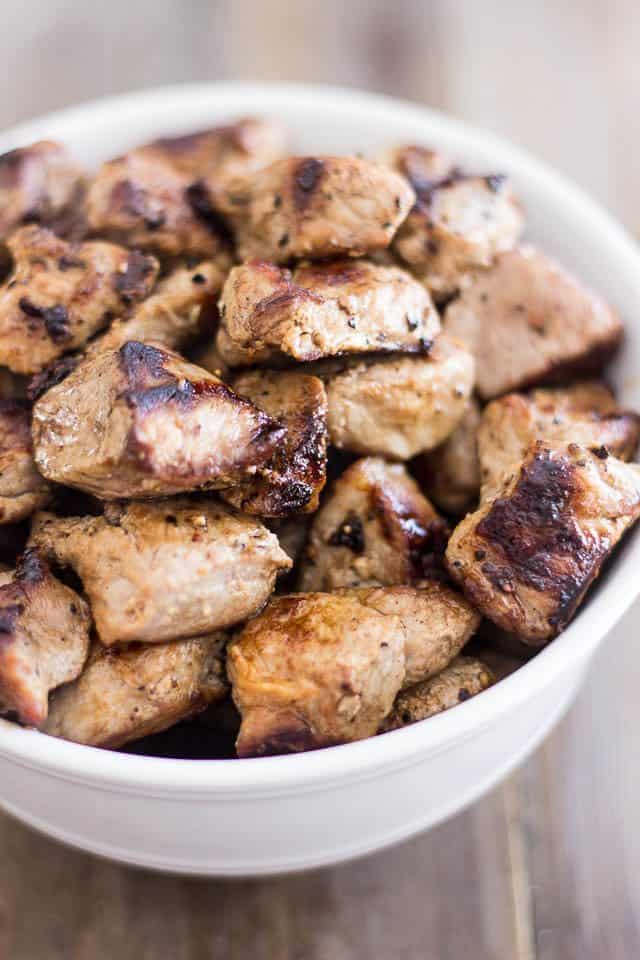 Since I find pork and mushrooms go so incredibly well together, I didn't even think twice when it came to selecting the perfect right hand man for my fungus king.
In order to do its job right, that pork first needs to be browned real good. You know the drill, don't you? Sear on all sides in a scorching hot skillet, use plenty of fat, don't overcrowd the pan, allow air to circulate around the meat and work in batches if you have to (which you probably will, unless you have a skillet designed for a giant!) and remove meat to a bowl to collect all the juices.
Alright! I'll let you get busy and do just that then.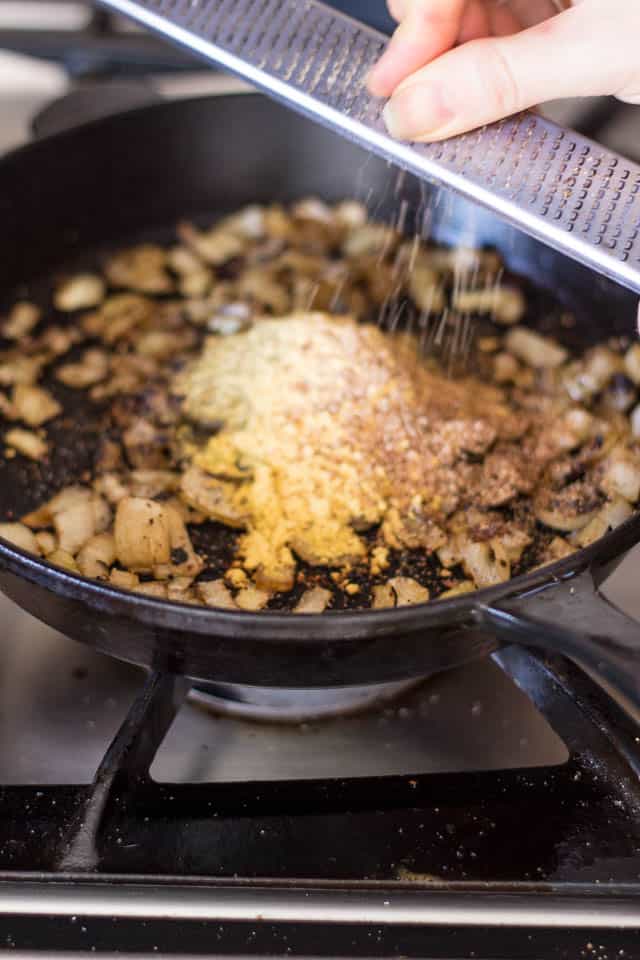 Once all the meat has been browned and removed to a bowl, add onions, garlic and spices to the skillet and cook until fragrant, which shouldn't take more than a few minutes.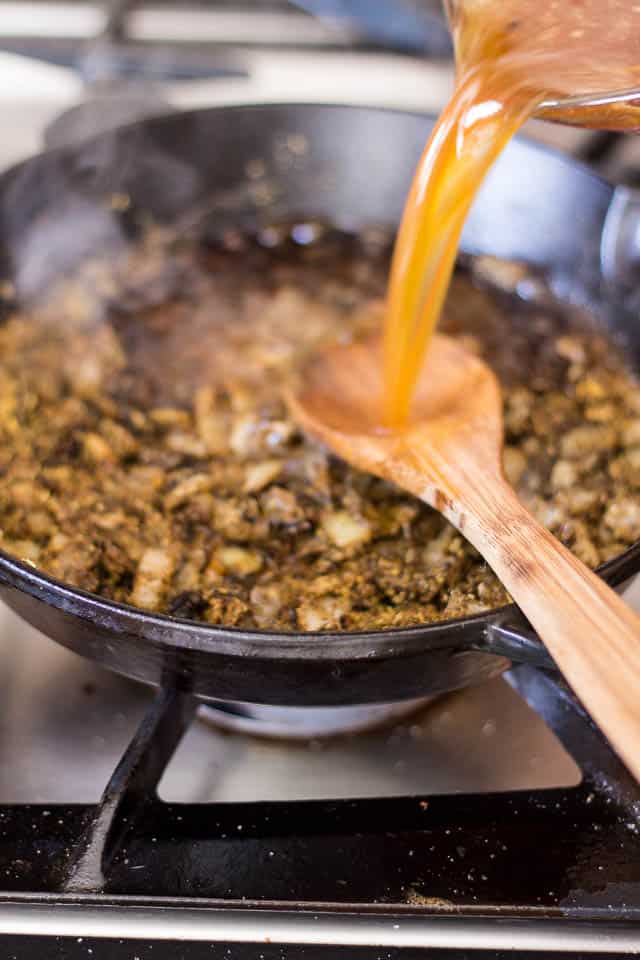 Pour in your stock or broth… I used bone broth, but you could very well use any kind of stock that you have on hand, chicken, beef, vegetable… or even just plain water if that's all that was available!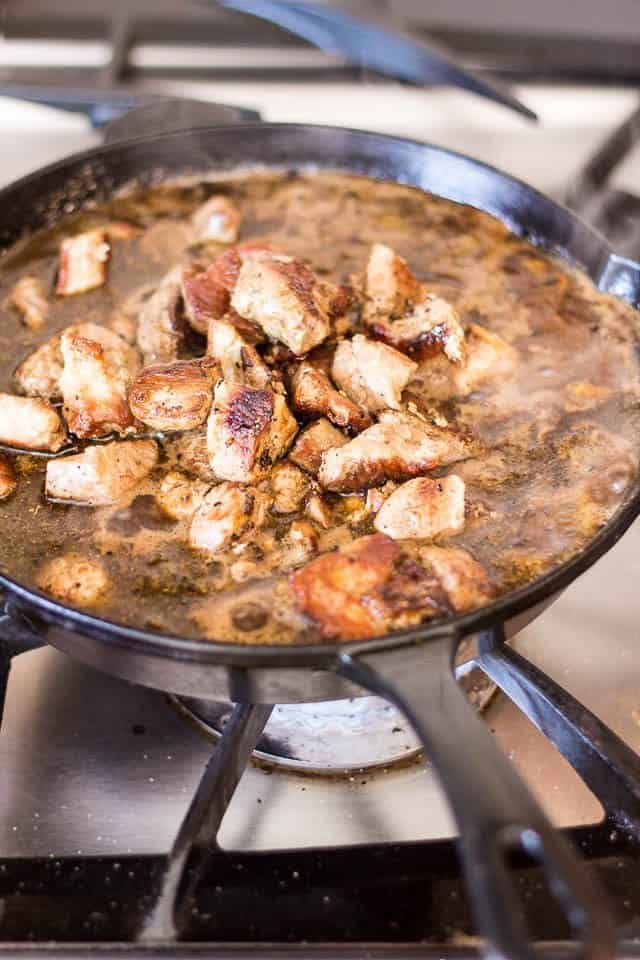 Add your meat (and meat juices) back in and bring to a simmer. This then goes into the slow cooker where it will cook for 4 to 6 hours, depending on which setting you choose.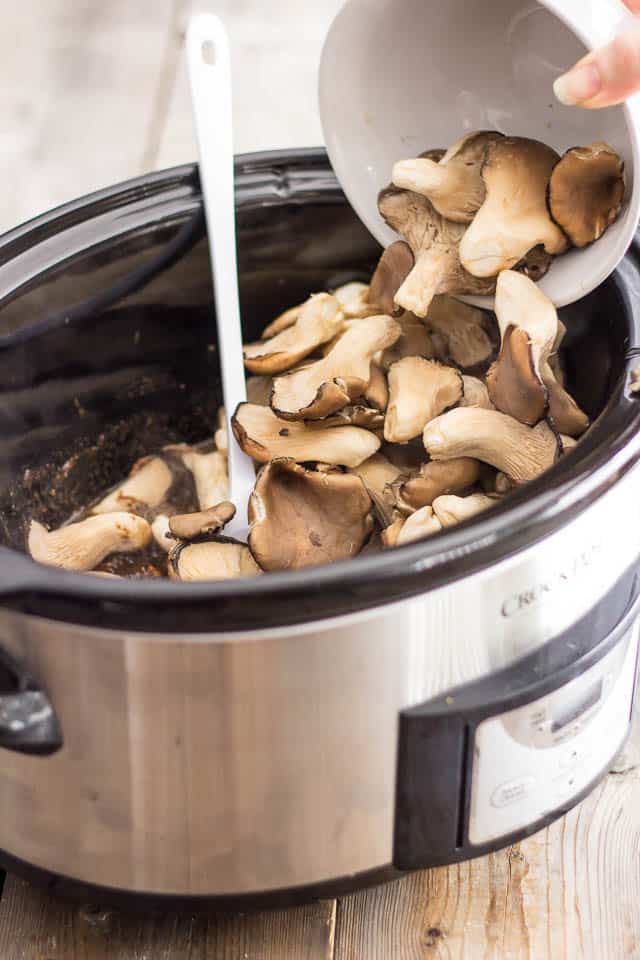 When the meat is almost completely cooked, the mushrooms then get added and cooking resumes for another hour or two.
Oh yeah! You want to leave them whole. Tiny little pieces of mushrooms is NOT what we're after, here. We want our mushrooms to really let it be known that they are king of this stew.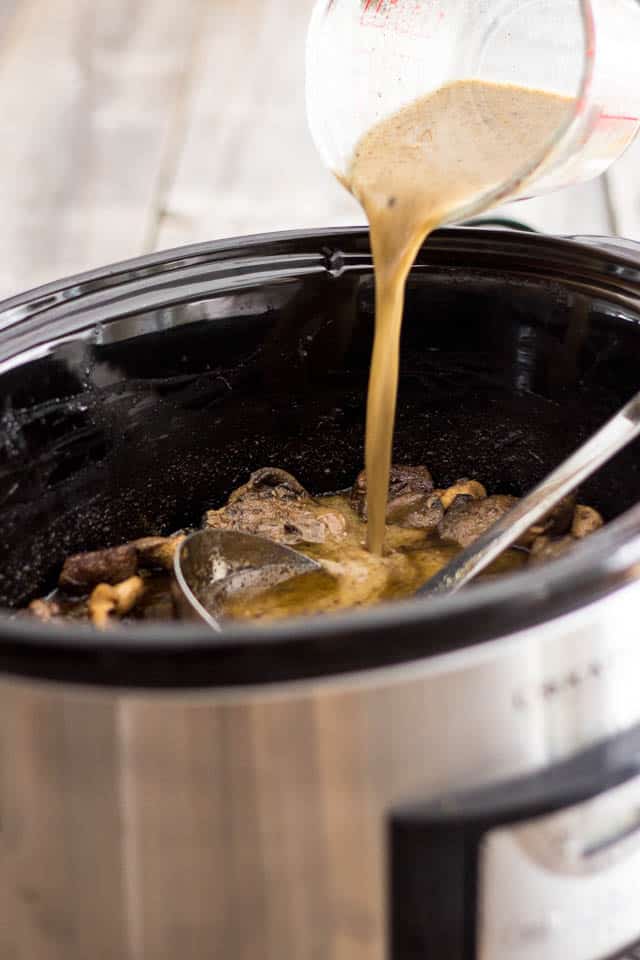 When your stew is done cooking, ladle a little bit of the cooking liquid into a measuring cup – whisk in the coconut milk and ghee and return that to the slow cooker. Stir well and set the table: dinner is ready!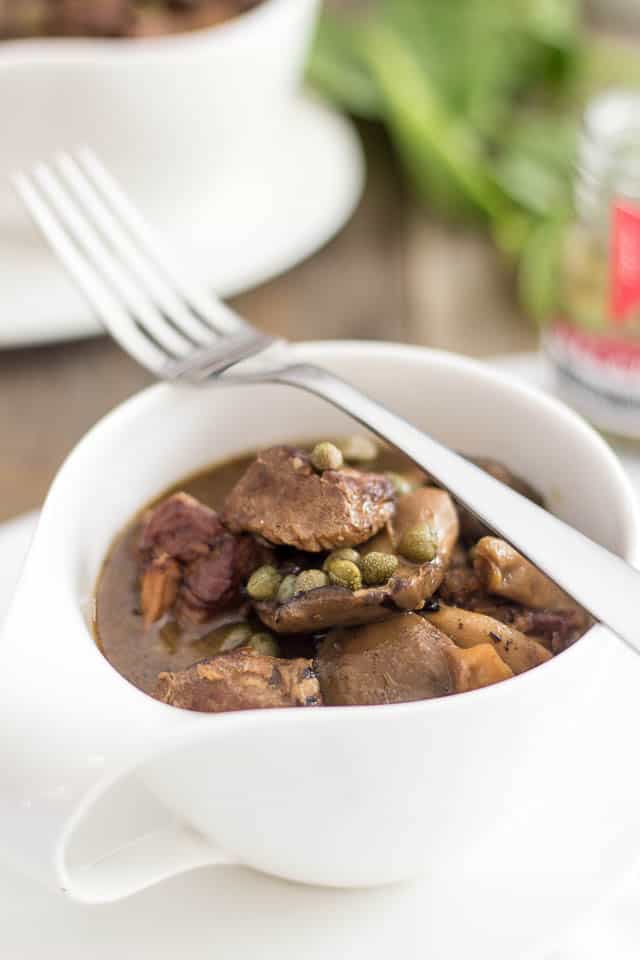 I find this stew really shines through its sheer simplicity. There isn't much to it, really. Pork and oyster mushrooms, brought together by a tasty, silky gravy.
And it couldn't be easier to make, too! Yet, it has so much to offer in the flavor and texture department, it'll knock you right off your feet.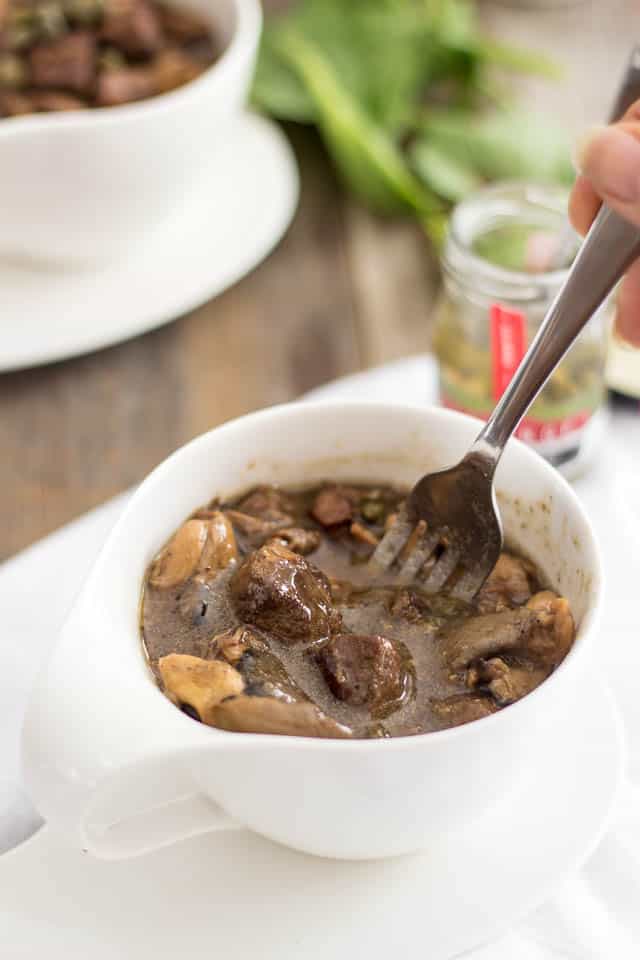 I think you should really hurry and make this scrumptious Pork Stew quickly, before summer really is upon us.
It might not be quite as comforting and soul warming if you eat it sitting by a bonfire…
Slow Cooker Pork Stew with Oyster Mushrooms
Oyster Mushrooms really reign as king in this simple yet luxurious, hearty and comforting stew.
Servings: 4
Instructions
Melt the lard or coconut oil in a heavy skillet set over high heat.

Add the meat in a single layer, making sure that the pieces do not touch, and cook until brown on all sides. Work in several batches if you have to so you don't overcrowd the pan. Remove the cooked pieces of meat to a bowl to collect the juices.

Once all the meat has been cooked and set aside, lower the heat to medium, add a little more fat to the pan if necessary then throw in the onion and garlic and cook, stirring often, until the onion is fragrant and becomes translucent.

Add oregano, mustard, ground nutmeg, stir to coat then add broth and white wine vinegar.

Add meat and juices back into the pan, bring to a simmer then transfer to slow cooker and cook on low for 6 hours or high for 4 hours

Add mushrooms and an extra cup of water and continue cooking for 1 hour on high or 2 hours on low

Ladle a little bit of the cooking liquid into a measuring cup - whisk in coconut milk and ghee then return to slow cooker; add capers, mix one final time and serve.
Nutrition
Calories: 611kcal, Carbohydrates: 20g, Protein: 63g, Fat: 33g, Saturated Fat: 19g, Cholesterol: 172mg, Sodium: 660mg, Potassium: 1929mg, Fiber: 7g, Sugar: 4g, Vitamin A: 151IU, Vitamin C: 3mg, Calcium: 79mg, Iron: 6mg
If you've tried this recipe, please take a minute to rate the recipe and let me know how things went for you in the comments below. It's always such a pleasure to hear from you!
You can also FOLLOW ME on PINTEREST, FACEBOOK, INSTAGRAM and TWITTER for more delicious, healthy recipes!