Plantain & Coconut Pancakes
Strange…  You see these, guys? They are called pancakes.
PANCAKES!
Delicious, moist, sweet, tasty, fluffy and crazy satisfying pancakes. The very kind of pancakes that I've been so badly craving for the entire duration of my recent Whole30.
Yet, I find myself sitting here, staring at the screen, totally uninspired. Like I have absolutely nothing to say about them.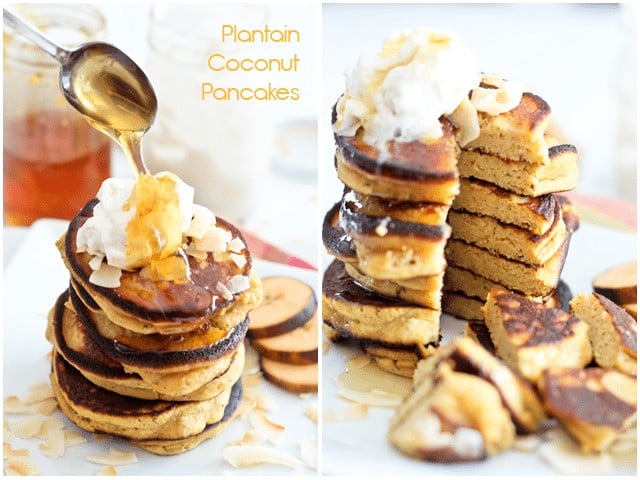 Should I be telling you about how they are super nutritious, completely grain free, gluten free, dairy free AND refined sugar free?
Nah… That's just boring stuff anyway.
And of course, you don't need to hear about how, despite them being made from nothing but really nutritious ingredients, they still don't constitute your ultimate choice for a meal and should be enjoyed only occasionally.
Because you already know that, don't you? 😉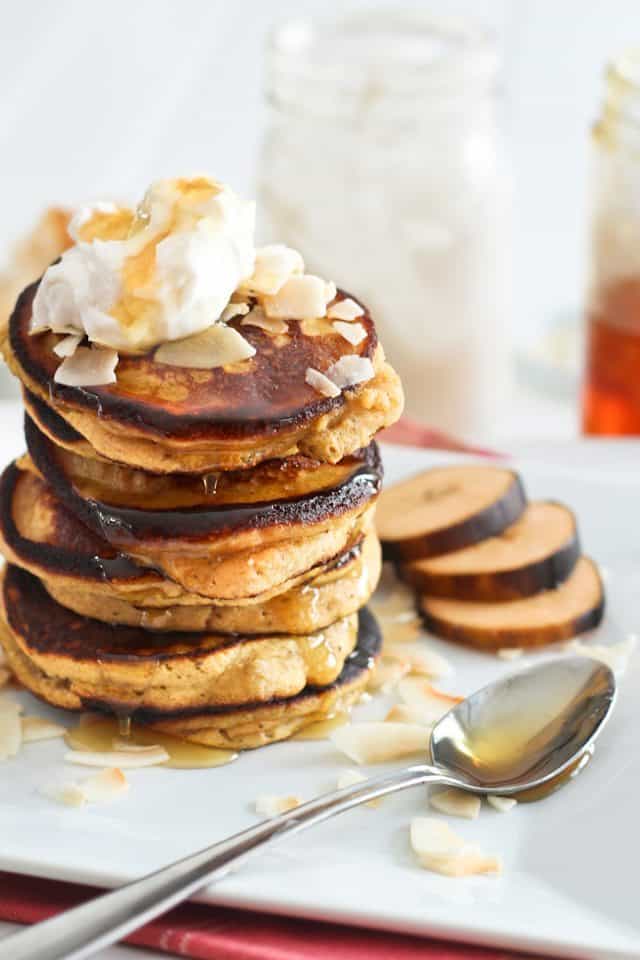 And, well, I don't think I need to tell you just how amazingly good they actually taste either.
I mean, they're PANCAKES, for crying out loud.
Pancakes, by definition, are yummy. You don't *need* anybody TELLING you that they are. You already KNOW that!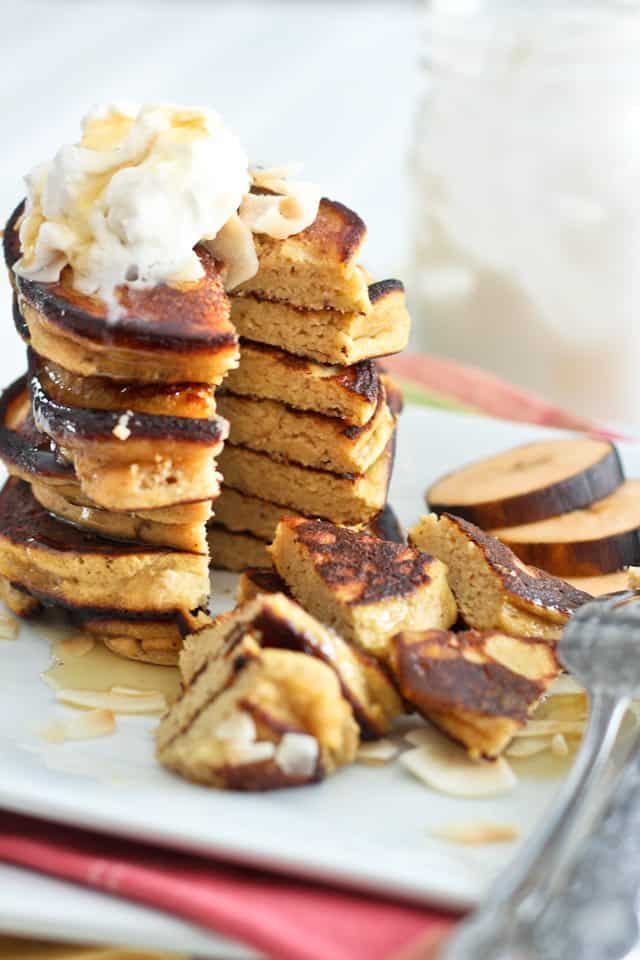 Perhaps I could apologize for having cooked them a tad too much? Perhaps you like your pancakes to be a little bit on the lighter side?
Right… I admit. They did come out a little bit darker than expected.  But they still tasted AMAZING! And to be honest, I think that their darker color contributed to making them even tastier. So still not a valid argument.
Wait! Wait! I know!
I guess I should tell you about how delicate these little pancakes are. And how they do not behave like "regular" pancakes.
You see, they do not become filled with the tiny little bubbles and holes that usually let you know when to flip them over. Noooo. These guys, they will simply turn a little more opaque or take some sort of a dull appearance. And be warned: even when ready to flip, they still remain extremely delicate and fragile, so you want to proceed very carefully.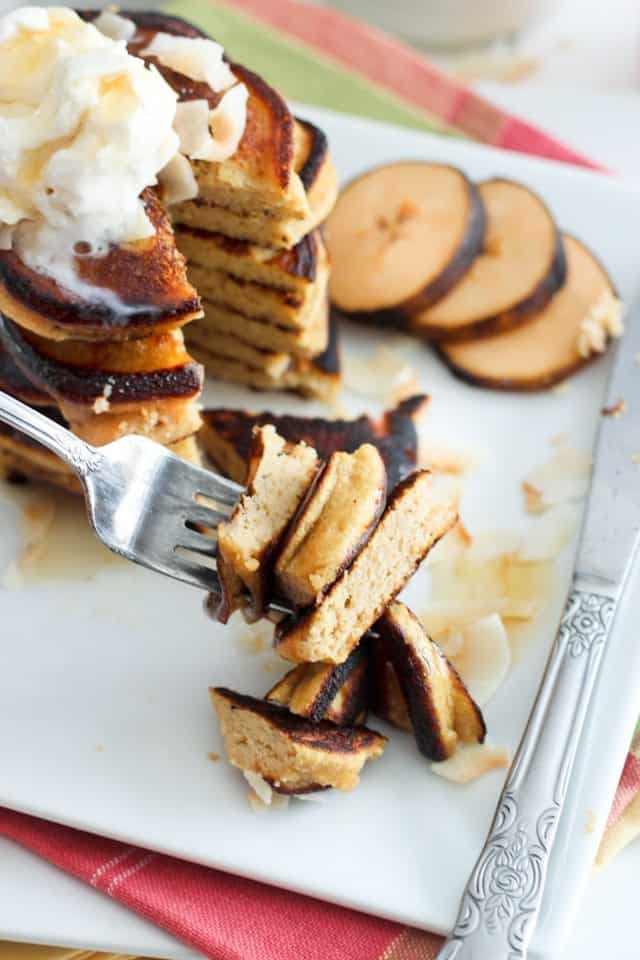 Oh, and hey, you might want to keep your pancakes on the small side, too.
That way, you can flip them more easily…
And smaller pancakes means more pancakes, so you get to pile them up high!
REAL HIGH!
Plantain & Coconut Pancakes
Servings: 1
Instructions
Combine all ingredients in a small food processor and blend until very well combined.

Let the batter sit for a few minutes to give the coconut flour a chance to thicken.

Meawhile, add some coconut oil to a large skillet and heat over medium-high heat.

When pan is hot enough, slowly pour about ¼ of a cup of batter per pancake and cook until tops become sort of matte and dull looking and edges appear cooked.

Very delicately flip the pancakes and continue cooking until golden.

Place the cooked pancakes in a very low temp oven to keep them warm while you cook the remaining pancakes.

Garnish with coconut milk, a drizzle of honey and sprinkle with toasted coconut shavings, if desired.
If you've tried this recipe, please take a minute to rate the recipe and let me know how things went for you in the comments below. It's always such a pleasure to hear from you!
You can also FOLLOW ME on PINTEREST, FACEBOOK, INSTAGRAM and TWITTER for more delicious, healthy recipes!