Healthy Cranberry Orange Yule Log
Well this is it. Here we are. Christmas is finally upon us.
So first and foremost, let me wish each and every one of you a very Merry Christmas. I hope this day is filled with joy and warmth, smiles, love and laughter for each and every one of you.
Christmas hasn't been real easy for me this year, because, you know, Christmas without my daddy really isn't Christmas at all, and I never really succeeded at getting into the Holiday spirit. As a result, I didn't come up with much decent healthy Christmas recipes, but I still managed to create this great recipe for a healthy yet traditional Yule Log.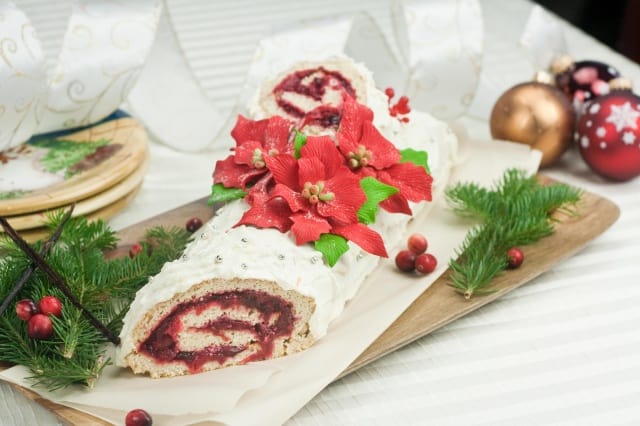 In all humility, I think it's my greatest dessert success so far.
First off, you're looking at a cake that's incredibly moist and tender. Then you get so many different textures from the various components, it's almost like there's an expedition going on in your mouth. You get the slight crunch from the almonds, the chewiness of the cranberries, the smooth creaminess of the icing and the final little bit of a bite from the coconut.
All the different flavors mingling in your mouth is also quite the adventure. You get a little bit of sweetness from the honey and a little bit of tartness from the oranges and cranberries, all so delicately held together by the subtle taste of the almonds and coconut.
And that cream cheese frosting? Oh my, am I on to something here! It's just that close from becoming my perfect pipeable icing!
Now I really want to thank Erin, over at Texanerin Baking for that one, as the whole inspiration came to me after reading her recipe for a delicious honey sweetened, orange cranberry sauce.
I know, it's a bit too late for you to go and whip this baby up now, especially since it's fairly time consuming to put together, but hey, no one says you absolutely have to make this exclusively on Christmas day.
New Year's could also work! 😉
Plus, no one says you even have to make that one into a log. It could very easily be made into a traditional round or square cake.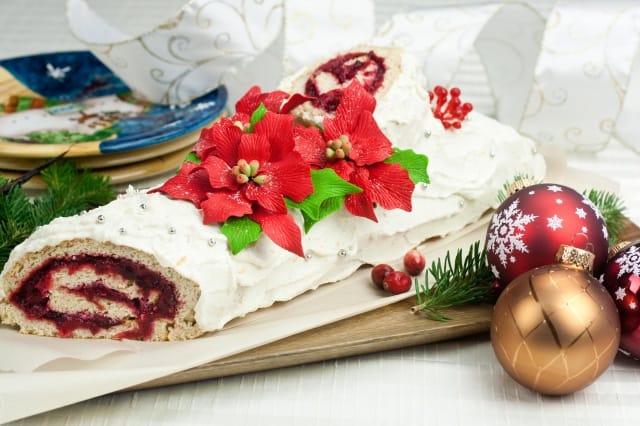 For as far as I can remember, I've always had the same thing for breakfast on Christmas morning: a giant, and I do mean GIANT piece of cake.
To me, this is like some sort of a tradition. One that I simply cannot break that easily. It's always been the ONLY day of the year when I would allow myself to do something like that.
And I am proud to say that, this year was no exception.
The only difference is that, this time, having had cake for breakfast will actually help me get through this day, and NOT knock me down to the floor right before the day has even started.
Too good to be true, you say?
Not at all. Take a look at the ingredient list for that one. It's got almonds, eggs, cranberries, oranges, cheese, yogurt, all sorts of things that are good for you.
No unhealthy fats, no refined sugar. Nothing but good things.
In fact, this was probably the healthiest part of our Christmas Eve dinner, last night. And probably the tastiest too!
And by far, my favorite!
HEALTHY CRANBERRY ORANGE YULE LOG
INGREDIENTS
(Serves 12-14)
For the cake
225g almond meal
40g spelt flour
3 whole eggs, beaten
1½ cup unsweetened apple sauce
¼ tsp almond extract
¼ tsp salt
1 tsp pure vanilla extract
¾ cup (6) egg whites
For the cranberry sauce
(Adapted from Texanerin Baking)
1 cup freshly squeezed orange juice (4 should do the trick)
Zest of 4 oranges
½ cup unpasteurized honey
1 12-ounce package (340 grams) of cranberries
For the icing
 1 cup 0% fat plain Greek yogurt
1 8oz package low fat cream cheese
¼ cup unpasteurized honey
1/3 cup coconut butter, softened
1 vanilla pod
zest of 1 orange, very finely chopped
INSTRUCTIONS
For the cranberry sauce (make ahead of time, as this needs to chill)
Zest the oranges first, then extract the juice out of them. Add one cup of orange juice, the zest and the honey to a sauce pan and cook over medium heat until the honey has dissolved.
Add the cranberries and cook until most of them have popped. It takes about 10 – 15 minutes. You don't even have to stir them, but I'm sure you won't be able to resist the urge to do that from time to time.
Let the sauce cool down a little then transfer it to the fridge to completely cool, at least 4 hours, preferably overnight. The sauce will be much thicker when cold.
For the cake
Preheat the oven to 375F and spray a 12 x 18 baking sheet with cooking spray, then line with parchment paper. (The cooking spray will help the parchment paper adhere to the baking sheet, which is really important, so you don't want to skip this step. If you don't have cooking spray, brush very lightly with oil.)
Add the almond meal and spelt flour to a large mixing bowls and whisk until well combined. Set aside.
In a separate bowl, add the eggs, applesauce, almond extract, salt and vanilla. Whisk until well incorporated.  Set aside.
Using a stand or electric mixer, beat the egg whites until firm.
Add liquid mixture to dry mixture and mix until well incoporated.
Very delicately, fold in the egg whites with a whisk or rubber spatula.
Spread that cake batter as evenly as possible onto the baking sheet and cook in a 375F oven for 23-25 minutes, or until top is nice and golden.
Take out of the oven and allow to cool for 2-3 minutes, then flip sheet cake over a clean tea towel. Do not remove parchment paper at this point. Allow to cool completely.
For the icing
Using a stand or electric mixer, beat cream cheese until nice and fluffy.
Add honey and mix until well incorporated, then incorporate yogurt.
Cut the vanilla pod in 2 lengthwise and scrape the seeds with the back of a paring knife. Add that to the cream cheese mixture, as well as the orange zest. Mix on high speed until vanilla seeds and zest are well dispersed.
Add softened coconut butter and mix on high speed until icing is nice, firm and fluffy in texture. (To soften coconut butter, either process it in a mini food processor for about a minute, or microwave for a few seconds.)
Assembly
Remove the parchment paper from the cake sheet but do not discard.
Spread cranberry sauce evenly over the entire surface of the cake sheet.
Using the tea towel as support, start rolling the longest side of the cake onto itself. Keep rolling, very delicately, until you end up with a nice long log. Position the seam underneath the log and place parchment paper on top. Wrap tea towel around the log and tighten it some to help the log keep its cylindrical shape.
Transfer the cake to the baking sheet again and chill for at least 4 hours before icing it.
When cake is completely cooled and feels firm to the touch, take it out of the fridge and remove towel from around it.
Cut both ends on a diagonal. Make sure you keep at least one (you can eat the other, it's allowed!)
Transfer log to serving plate and spread icing evenly, leaving both ends open. Make sure to keep some of that icing for the knot.
Grab one of the two ends that you previously removed and position it on the top of your log, slightly off-centered, to create a "knot".
Spread icing evenly around that know, again, leaving the end open.
Decorate with poinsettia flowers, or whatever other Christmas ornaments that you may like.