Creamy Plantain and Coconut Chicken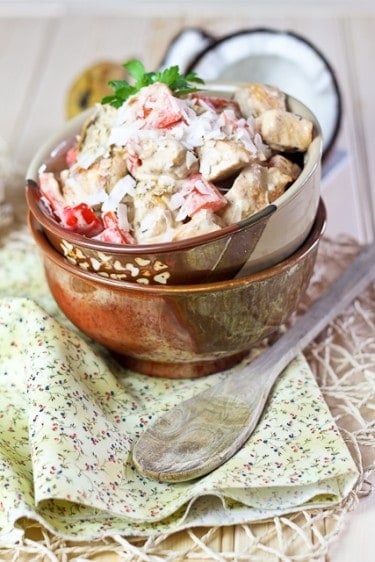 Life is about to get in the way for this foodie.
Oh, don't be alarmed, it's nothing serious…
Only, I won't be around this week-end, or at least, I won't be around MUCH…
I will be… well… doing stuff, can you believe this? I'll be engaging in social activities that involve real people and that have nothing to do with fitness, food, or even blogging.
I know… crazy concept!
Who'd ever think this were even possible?
Tomorrow, I will be watching my first ever "live" car race, as NASCAR hits Montreal and I was kindly offered two very good tickets on a silver platter. It was an offer I just couldn't refuse!
Well, almost…
Can you believe that I honestly hesitated before accepting the tickets because I figured if I went, I wouldn't be able to go for my usual Saturday morning bike ride for the second week in a row, and that really bothered me.
Doc, tell me, am I normal?
Then, on Sunday, I'm off to the amusement park for a little bit of chills and thrills. Oh, how I looooove rides! I'm so excited, I just can't wait. What a great week-end this will be!
However, this means that I won't be around to take care of my "virtual world"… no time to answer comments and emails, no time to write new material, no time to create new recipes and photograph the outcome… not even time for a bike ride!
Hope Vince won't resent me too much…
While we're on the subject of life getting in the way, I'm also planning on going to Cuba at the end of September. Exact same place I went last year.
I get the feeling that it'll be A LOT harder for me this year to completely disconnect and not interact with you guys for a full week. Blogging is now such an important part of my life.
Still… I've got Cuba on my mind A LOT lately.
And this is precisely what inspired this dish.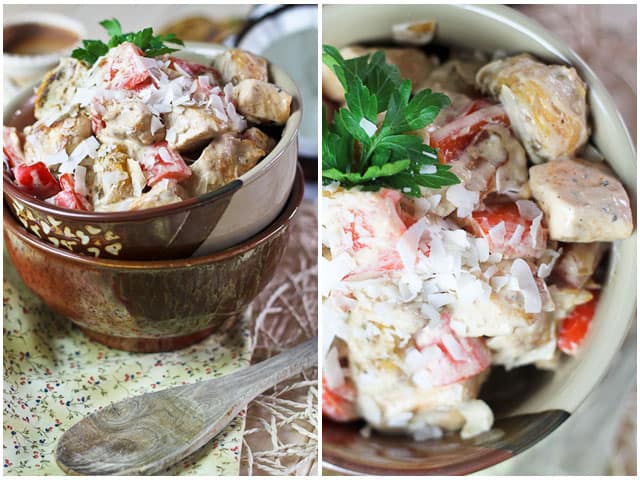 When we were there last year, they would regularly have this "plantain and red bell pepper" dish on the menu. Now, I didn't eat so much of it, for I wasn't too big on plantain back then. I've since acquired quite a liking for them though, and often find myself craving that exact flavor combination.
I tried to recreate it here, but also chose to add chicken and a creamy coconut sauce to the whole deal.
My, oh my did it take me back. It sure did the trick. This is even better than what I had over there. A thousand times better.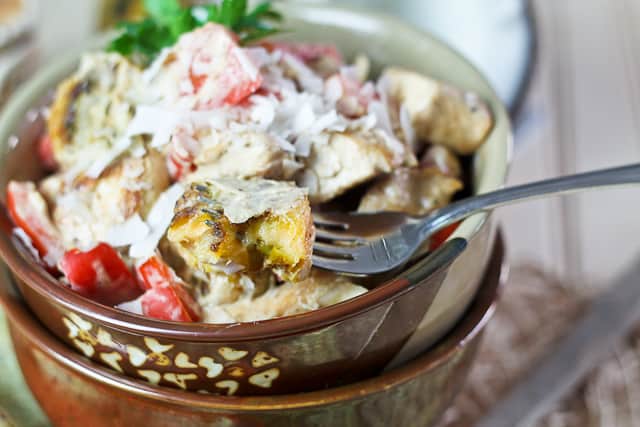 And probably a lot healthier too, since their version was deep fried. Well, at least the plantain was.
Of course, there is none of that going on here… Still, this is not exactly what I would call a low cal dish, I mean, coconut and plantain are both rather calorie dense, but I can guarantee you it's worth every single calorie it contains.
Hey, I still enjoyed it while being on a weight loss "program", only I kept the portions small…
And if you really have to, you can always serve this with a nice side of salad, or even brown rice, why not?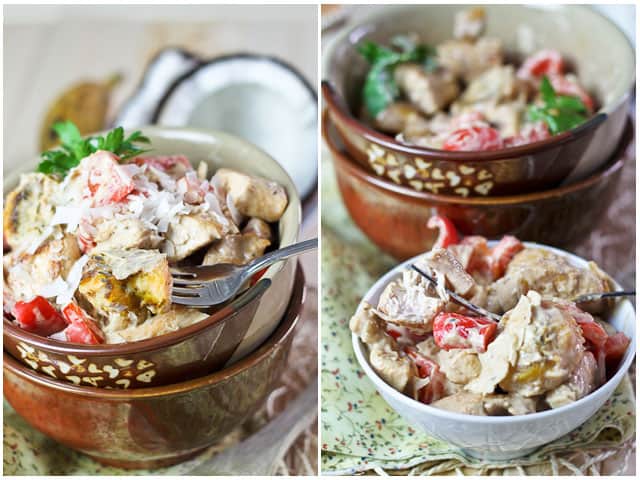 But really, this dish is so filling, you really don't need to eat much to feel nicely full and satisfied for a long time.
Plantain has now officially become a favorite of mine.
Bet I'll be enjoying a whole lot more of it this time around when I'm in Cuba…
Creamy Plantain and Coconut Chicken
Servings: 2
Ingredients
400 g chicken breast, cut into 1" chunks
¼ tsp Himalayan salt
½ tsp freshly cracked black pepper
1 ripe plantain, cut into 1" chunks
1 red bell pepper, cut into 1" chunks
1 onion, cut into 1" chunks
90 g coconut cream
½ cup fat free plain Greek yogurt
30 g unsweetened dried coconut shavings
pinch cumin
pinch freshly grated nutmeg
Instructions
Spray olive oil onto a large non stick skillet and heat over medium-high heat. When pan is hot, add plantain, cook for 2-3 minutes until golden, then turn each piece to brown the other side. Remove from skillet and reserve.

Now add chicken to the pan in a single layer, sprinkle with salt and pepper and cook for about 5 minutes, then turn each piece to cook the other side until nice and golden brown. Add onion and red pepper, stir and cook for 2-3 minutes until fragrant.

Kill the heat, add the coconut cream, greek yogurt, coconut shavings, cumin and nutmeg and stir until all the ingredients are nicely incoporated.

Delicately toss in reserved plantain and stir to coat.

Serve immediately.
Nutrition
Calories: 590kcal
If you've tried this recipe, please take a minute to rate the recipe and let me know how things went for you in the comments below. It's always such a pleasure to hear from you!
You can also FOLLOW ME on PINTEREST, FACEBOOK, INSTAGRAM and TWITTER for more delicious, healthy recipes!