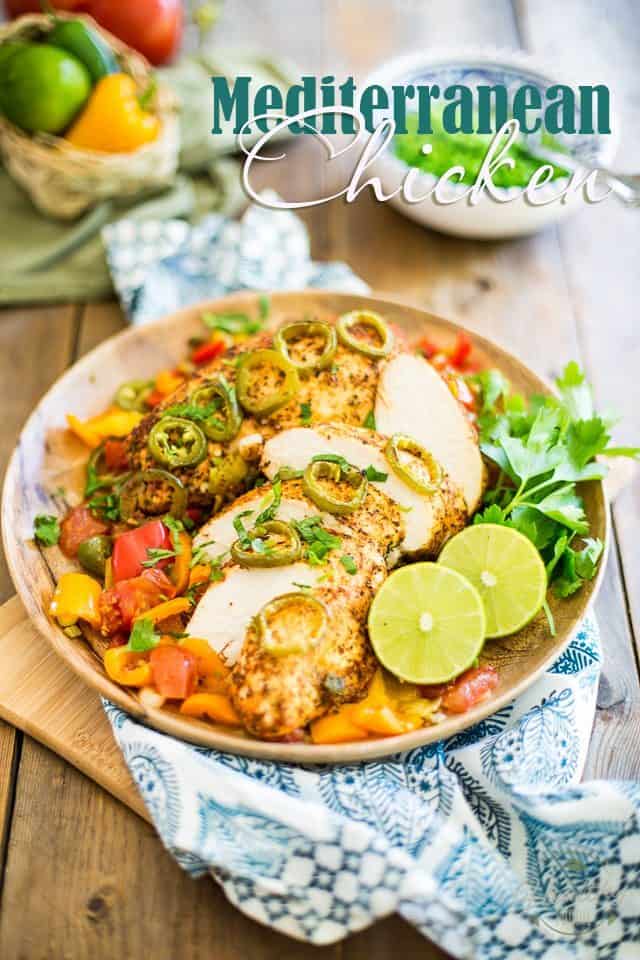 Here's a dish that I wouldn't necessarily qualify as "quick", but that definitely falls in the "easy" category.
Indeed, this simple yet tasty Mediterranean Chicken pretty much makes itself. All it asks of you is that you gather a few ingredients, prep them up quick quick and then throw the whole lot in a baking dish. Next, you need only move this lovely company to the oven and wait, or get busy working on something else until TADA: dinner is ready!
Okay, perhaps you're gonna want to make some kind of a side dish to go with this… so yeah, you *may* have a little bit of extra work to do, but with a main dish so good, you won't have to put so much thought, or effort into that, trust me. A simple side of steamed, grilled or baked vegetables, some good old plain jasmine rice, or a few chunks of quickly pan-fried leftover baked sweet potatoes will more than amply do the trick.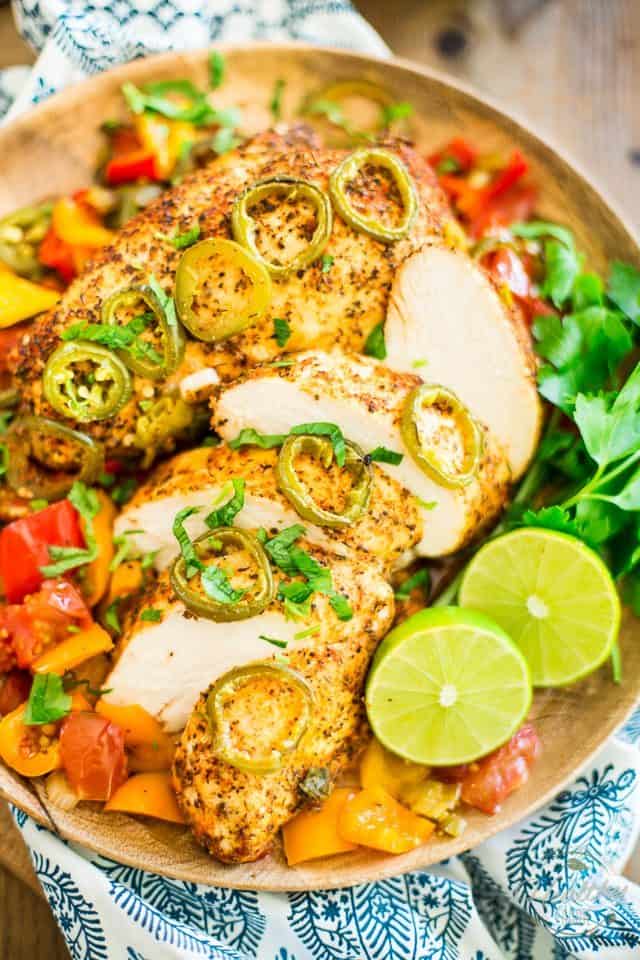 You're not gonna believe the amount of flavor that this dish has under its hood. IT'S INSANE! I'm telling you, this Mediterranean Chicken is so simple, yet so perfectly moist and juicy and craaaaazy tasty, you're gonna want to make it time and time again.
In fact, it tastes just like you're on a dream vacation… Except you won't have to leave the comfort of your home to enjoy it and it won't take you long to get there at all, or make such a big hole in your wallet…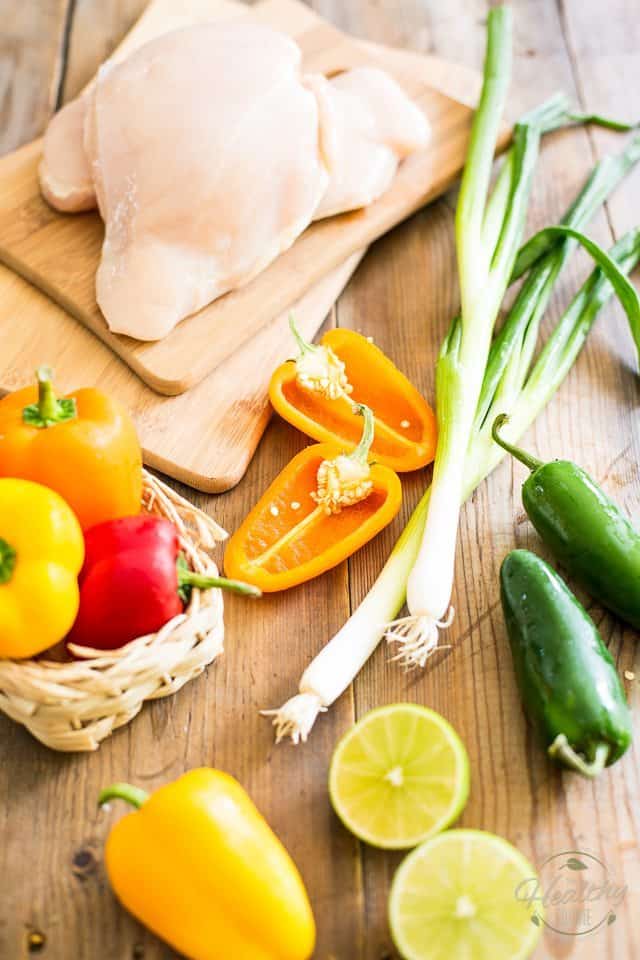 Like the title says, this Easy Mediterranean Chicken is super easy to put together. Start by gathering a few simple ingredients: 2 really large boneless, skinless, chicken breasts, a handful of mini sweet peppers, a few green onions, jalapeño peppers, a fresh lime and a couple of plump, ripe tomatoes.
Wait? Where are my tomatoes? Please, tell me that I have tomatoes in the house!
Be right back… don't you go anywhere, we're not quite done yet.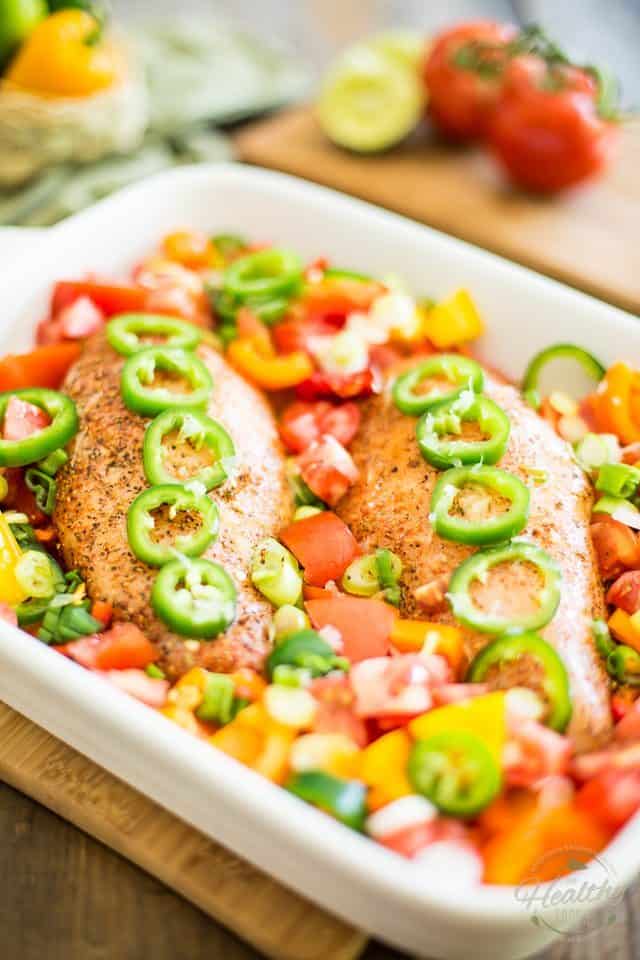 Phew! Got the tomatoes. Looks like I had simply forgotten them on the counter. Good thing I didn't have to go all the way to the market to get some!
While I went and looked for my tomatoes, I took the opportunity to turn the oven knob all the way up to 450°F. I suggest you do the same. Then, take 5 minutes to chop and prep all those lovely veggies. Don't bother putting them in bowls or anything, just leave them right there on the cutting board: we'll be using them in a minute…
Just enough time for you to mix some dried oregano, smoked paprika, salt and pepper and then coat your beautiful chicken breasts with this spice mix.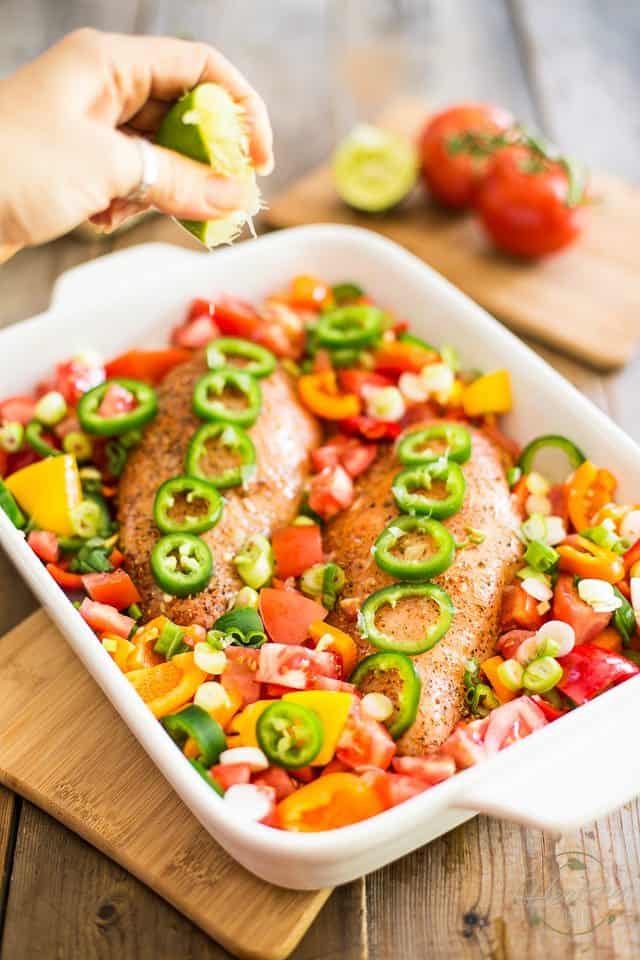 Now place the chicken breasts in a 9 x 13 baking dish and arrange the vegetables around them.
If you want to be fancy, save a few slices of jalapeño and align them neatly on each of the chicken breasts.
Squeeze the juice out of the lime directly over the entire dish. Cover with aluminum foil and bake in the preheated oven for 35 minutes.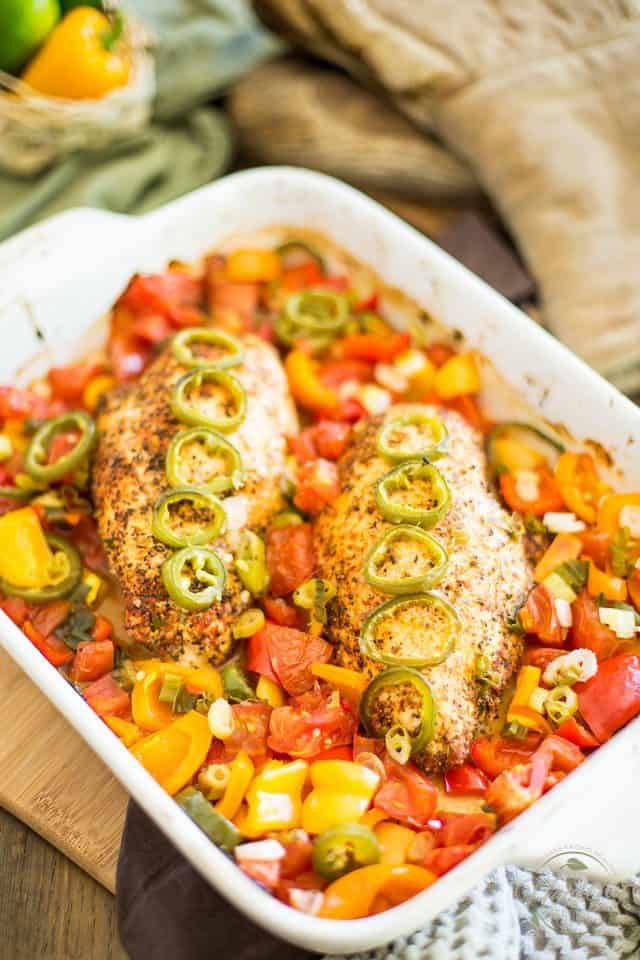 After that time, set the oven to broil, remove the foil and place the dish directly under the broiler for about 5 minutes, or until the chicken becomes nice and golden.
Then, remove the dish from the oven and slice the chicken breasts on a diagonal (you may want to give them a few minutes to cool, just so you don't burn your fingers, you know) and then serve, topped with the vegetables and your choice of side!
As you can see, I kept things real simple and went with a beautiful bowl of green peas.
Sometimes, simple is the best way to go…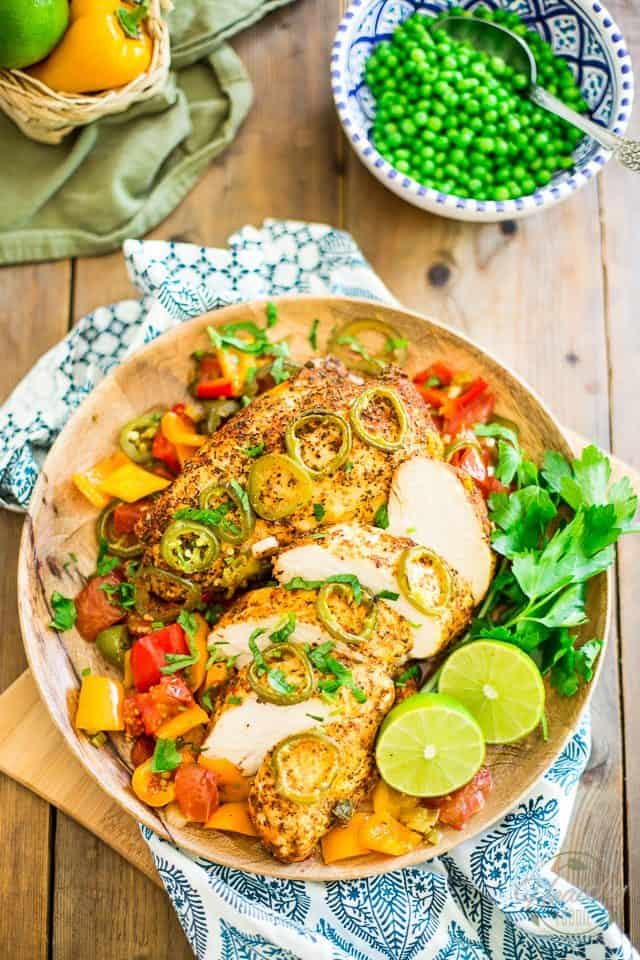 Mediterranean Chicken
Ingredients
2 large boneless, skinless chicken breasts (about 400g/14oz each)
1 tbsp dried oregano
1 tsp smoked paprika
1 tsp Himalayan salt
1 tsp freshly ground black pepper
6 mini bell peppers of assorted colors, seeded and chopped
2 medium tomatoes, diced
2 jalapeño peppers, seeded and sliced
2 green onions, sliced
The juice of 1 lime
Instructions
Preheat your oven to 450°F.
Mix all the spices in a small bowl and then sprinkle the chicken breasts generously on both sides with the spice mix.
Place the chicken breasts in a baking dish and arrange the vegetables around them.
Cover with aluminum foil and bake for 35 minutes.
Set the oven to broil, remove the foil and cook under the broiler about 5 minutes, or until the chicken becomes nice and golden.
Slice the chicken breasts on a diagonal and serve, topped witht the vegetables.

Nutrition Information
Serving size:
NF based on 1 of 4 servings