Paleo Home Cooking – The Great KitchenAid Food Processor Giveaway!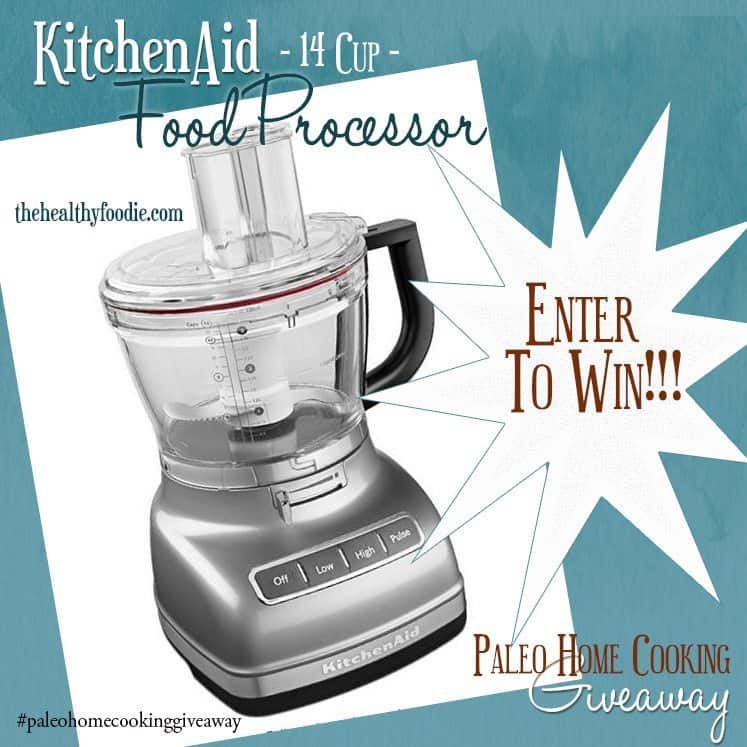 You guys I am so excited!!! Remember how I said that I would have real great goodies coming your way to celebrate the release of Paleo Home Cooking?
Well… I'm super stoked to be giving you, my loyal followers, the opportunity to win one of my most treasured (and used) kitchen items! That's right! In celebration of my new cookbook, I am giving away a brand spanking new 14 cup KitchenAid Food Processor!
If you've been reading me a while, you know just how much I ADORE my KitchenAid Food Processor, to the point that I simply couldn't live without it.
This baby has been serving me well for close to 15 years now, and to this day, it remains and by a great big margin, my favorite kitchen tool. It cuts, shreds, purees, slices, dices and grates in the blink of an eye! I use it to make all kinds of things, from soups to sauces to salads and slaws, healthy treats, cookies and cakes, but especially, NUT BUTTERS!!!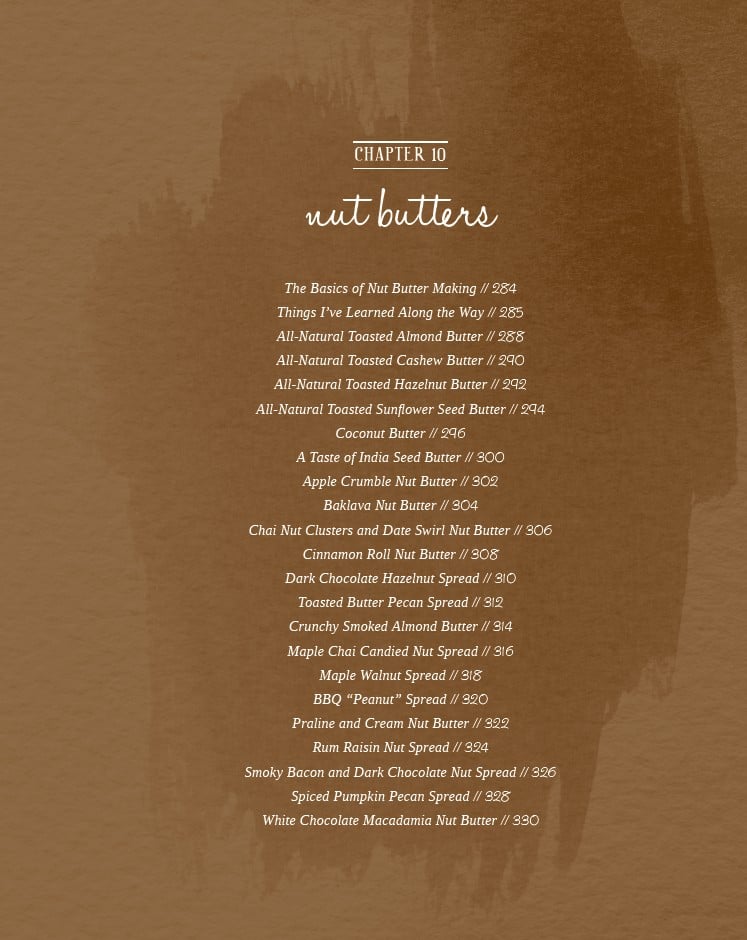 Aaaaah, nut butter! That would be the other big love of my life. Well, one of the, anyway…
But seriously, you know just how much I love making home made nut butters and constantly come up with all kinds of fancy, original flavor combinations. In fact, I love them so much that I dedicated an entire chapter of my book to them. Indeed, you will find over 20 recipes to make your very own homemade nut butters.
Just take a look at that list. I say a brand spanking new, heavy-duty Kitchenaid Food Processor would come in real handy if you're going to try them all!
Did you happen to spot the Dark Chocolate Hazelnut Spread when you checked out that list? This would be it right here, pictured exactly as it appears in Paleo Home Cooking.
Gorgeous, isn't it?
Oh yeah! A good food processor will do that for you. And that recipe will be available for you in Paleo Home Cooking… BUT WAIT! Make sure you continue to watch this space very closely, because this particular recipe which some people like to call affectionately Homemade Nutella, I will be sharing with you next week right here on THF, so you can put your shiny new toy to the test, you know! 😉
Erm… do you need a napkin or something? I think I can see a little bit of drool right there, at the corner of your lips…
Alright, that's enough teasing for now. There's some great prize to be won here.
Will you be the lucky winner? There's only one way this can happen, and that would be by entering the contest! The more entries you earn, the better your chances of winning!
Take another good long look at this beautiful machine. Wouldn't it be grand if it it were yours? Surely it would look super good on your kitchen counter! And just think of all the amazing dishes you'll get to whip up together. Oh! Hours and hours of pure pleasure. I can guarantee that this machine will serve you well, for MANY years to come.
Oh, and by the way, this baby comes in many colors. If you win, you'll get to choose your favorite, based upon availability, of course.
So will it be white, black, silver, or red?
I'm definitely an Empire Red kinda girl!
WAYS TO ENTER
1. Pre-order a copy of my new cookbook, Paleo Home Cooking – This will earn you 5 entries! 
Order via Amazon | Order via Barnes & Noble | Order via Books A Million | Order via Indie Bound | Order via Simon & Schuster 
Canadian residents can order through Amazon Canada, Archambault, Renaud-Bray, Simon and Schuster Canada and Chapters Indigo
IMPORTANT: For your order to count towards this sweepstakes, you must provide your confirmation number in the rafflecopter field below. Or course, any copies purchased prior to this contest are also eligible to win.
2. Get social! Talk about the contest on Facebook, Twitter and Instagram – This will earn you 1 entry per platform! 
What's best: you can share every day for an extra entry – which means you can earn up to 3 additional entries per day!
Use hashtag #paleohomecookinggiveaway and don't forget to encourage sharing!
Make sure to include a direct link to your post in the rafflecopter field below.