Grain Free Banana Muffins
I'm officially hooked, and I definitely plan on making this on a regular basis. As in every week.
This basically means that I will be turning into a real "almond meal from milk" manufacture. So expect quite a few recipes using just that…
That leaves me wondering, though… how much almonds is too much? If I'll be using 2 cups of almonds every week to make my milk and consume all that meal, that means I would in fact be ingesting 2 cups of almonds per week.
Now that's A LOT!
I mean, sure, I could put it in the oven to dry, but then I'll be accumulating humongous quantities of the stuff. And THEN what? Maybe I can make pillows out of it! 😉
Anyways, live and tell, I guess. For the time being, it looks like I'm very comfortable with using the stuff right out of the blender. 
For starters this week, I made these unbelieveably good grain free banana muffins, which were inspired by this fabulous, absolutely mouth watering, drool-all-over-your-keyboard Grain-free Banana Bread Protein Cake that Leanne at Healthful Pursuit came up with this week. As soon as I saw it, I knew I had to put one in my belly. It was a necessity. No, scratch that. It was an emergency.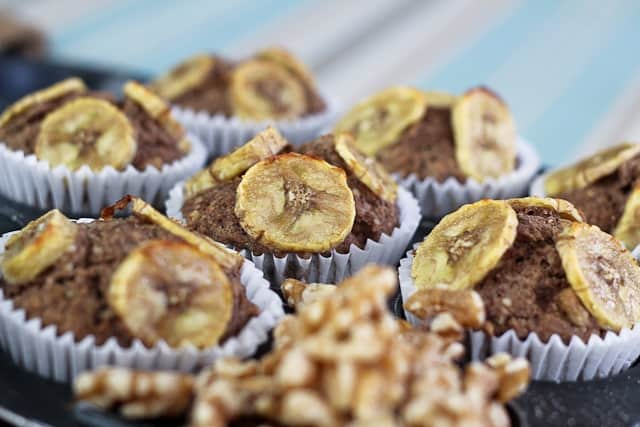 Of course, I was unable to follow her recipe. Why is it that I simply can't seem to be able to follow and replicate a simple recipe? No matter how hard I try, I just can't. I always end up improvising. In this case, to my defense, I did have to use up that almond meal. So I HAD to adapt it some. Lots.
OK, hey, I did put banana slices on top. And I used walnuts. And egg whites! That qualifies as somewhat following the recipe. Right, Leanne? Right? You're not insulted, are you? I knew you'd forgive me…  😀
Of course, being such a huge fan of buckwheat, I chose to add a fair amount to these muffins. Its flavor just goes so well with that of the bananas! Add to that about a teaspoon of all natural peanut butter, smeared right on top of your muffin, and you've got yourself a snack worthy of the angels. So dense and chewy, so goeey, and tasty too… but mostly… so decadently healthy!
I know I felt like I was in heaven every single time I ate one!  There's something about buckwheat and peanut butter together that is purely magical. The way their flavors blend is just plain out of this world.
It just blows my mind, to put it mildly…
I just can't get enough of it.
BUCKWHEAT & ALMOND BANANA MUFFINS
[Grain Free, Gluten Free, No Sugar Added]
Inspired by Grain-free Banana Bread Protein Cake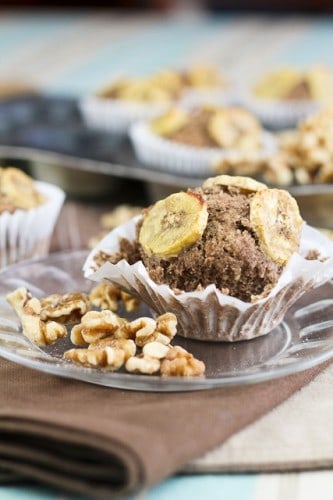 INGREDIENTS
(Makes 10 muffins)
2½ + 1½ ripe bananas
1 cup almond meal (I used leftover from milk)
½ cup (4) egg whites
½ cup buttermilk
1 cup buckwheat flour
½ cup flax seed meal
¼ cup unsweetened shredded coconut
1 tbsp ground cinnamon
½ tsp baking soda
1 tsp cream of tartar
¼ tsp salt
½ cup chopped walnuts
¼ cup hemp seeds
DIRECTIONS
Preheat oven to 375F and line muffin pan with 10 large paper cups.
In a large mixing bowl, mash 2½ bananas with a fork and whisk until slightly frothy in consistency. Add almond meal, egg whites and buttermilk and mix until well combined. Set aside.
In a separate bowl, whisk buckwheat flour, flax seed meal, shredded coconut, cinnamon, baking soda, cream of tartar and salt until well incorporated. Mix in walnuts and hemp seeds.
Add banana mixture and mix delicately with a wooden spoon or rubber spatula until well combined, no more. Do not over mix the batter.
Divide between prepared muffin cups. Slice remaining 1½ banana and place 3 slices on top of each muffin.
Bake in the oven for about 25 minutes, or until a toothpick inserted in the center of a muffin comes out clean.