High Protein – Whole Grain Date and Walnut Bread… and when dinner becomes breakfast
I ALMOST ran into a major problem last week. You see, after my brain went totally berzerk on me and craved nothing but fat and sugar for an entire week-end, come Monday, it decided to completely shut down on me.
It did not have any interest in food. At all. The problem was, I had an entire week of meals to plan! Kinda hard to do that when, to every suggestion that you make, your brain just goes nay…
I opened my planning spreadsheet anyway, clicked in the "Monday night" cell and placed my fingers on the keyboard: my mind went totally blank.
Looks like it had decided that I wasn't going to force this on it.
At that very moment, right in my inbox came the post that would save my life… well, ok, maybe not my life, but my entire week, for sure! Seeing Nora's delicious apple bake instantly made me want food. I wanted to eat THAT particular cake right then and there!  I was SOOO going to have that for dinner that night!
That's when the solution came to me! Since breakfast inspired me so much, I decided that I would simply switch things around for a while and have breakfast for dinner until my appetite came back to normal…
I started looking through my "Must Try List" for recipes that would inspire me and soon became over inspired!
I did so many recipes this week… that sure kept my mind busy, and my tummy happy!
Here's a sneak peak at what's been going on in my kitchen this week. Of course, the recipes will follow!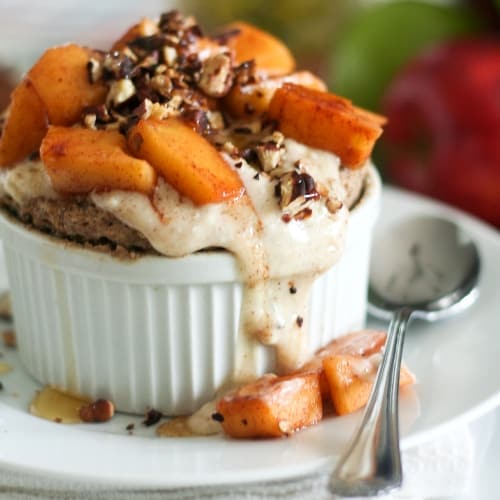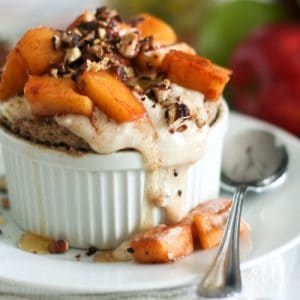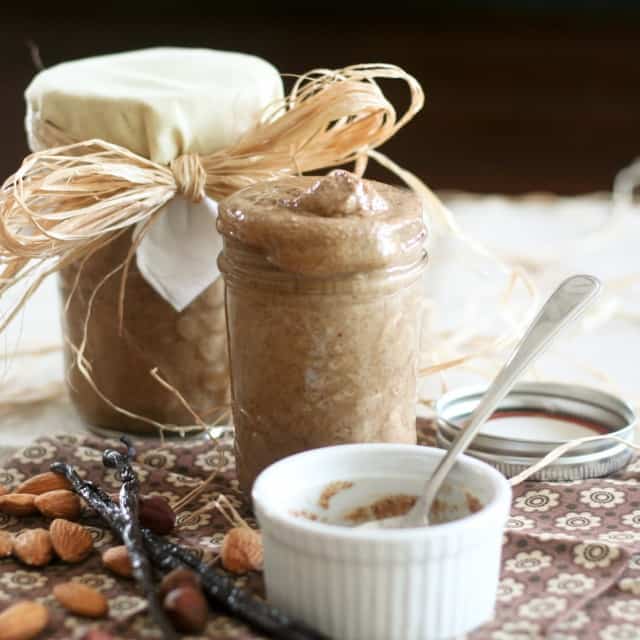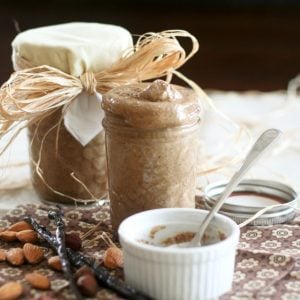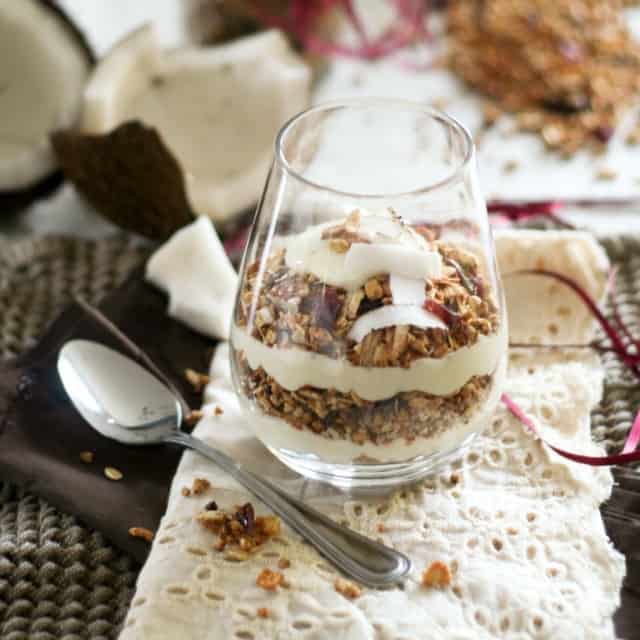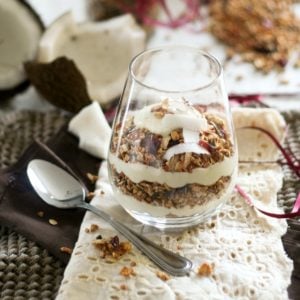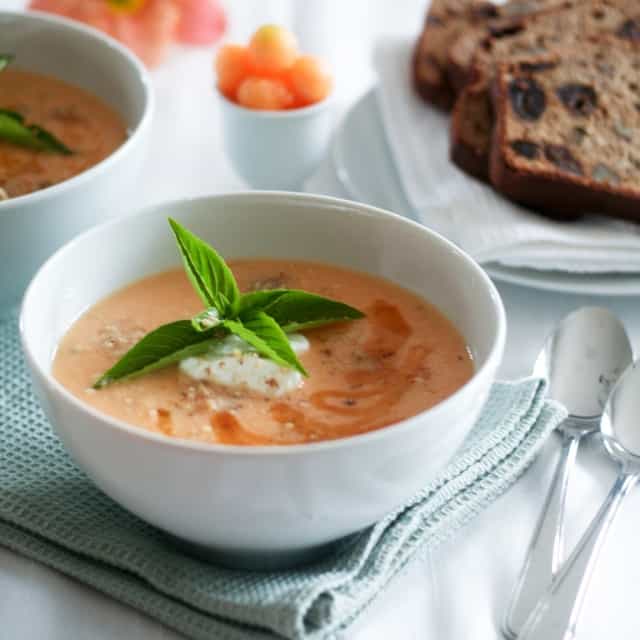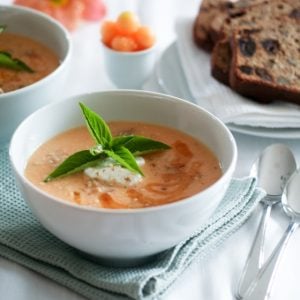 And, last but not least, inspired by Cathy at What Would Cathy Eat, this super yummy, dense, chewy and filling High Protein, Whole Grain Date and Walnut Bread.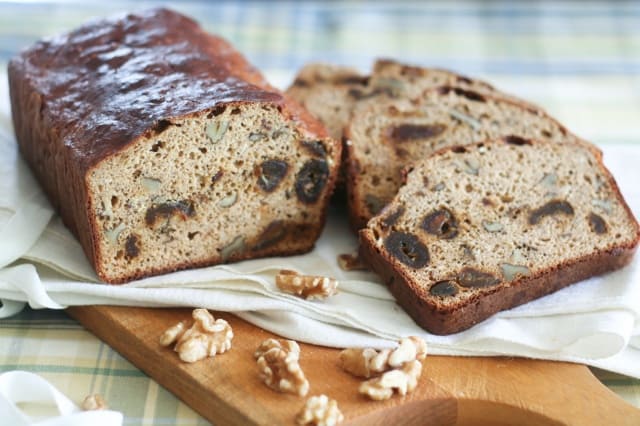 Can you guess which recipe you are getting today? ;)
The thing is, I did A LOT of mixing and matching… so I'm a bit confused as to how to go about presenting all this to you… I'm so excited about them all that I could easily do a 5 mile long post that would contain ALL the recipes, but I don't think doing this would come in very handy for future reference… Plus, I think you guys would fall asleep before the end of the post and miss out on many a great recipe. 😉
So I guess I'll start with this one, why not?
Let me tell you, if you have to bake only one fruity bread for the rest of your life, let it be this one. It's just perfect in every single way. It's dense and heavy but tender and moist, it's sweet but not overly so and it's got a great crunch from the walnuts. The addition of whey powder makes it a very good source of protein, too. If you cut this loaf into 16 slices, you're looking at about 10g of protein per slice, for about 150 calories and 4g of fat.
This makes it an ideal breakfast, or snack, or, if your brain is acting funny like mine, this also makes for a great dinner, on its own or topped with some all natural nut butter and a few slices of banana, maybe…
Oh, and if you slice it extra thin and toast it, you get the most delicious sweet crackers ever!
Bet they would be fantastic with goat cheese!
High Protein Whole Grain Date and Walnut Bread
Servings: 12
Ingredients
Dry
1½ cups whole wheat pastry flour
½ cup oat flour, or old-fashioned oats, ground in a food processor
3 scoops vanilla flavoured whey protein powder
2 tablespoons ground flax
2 teaspoons baking powder
½ teaspoon baking soda
¼ teaspoon salt
½ teaspoon cinnamon
Instructions
Preheat the oven to 350F.

Combine the dates and boiling water in a small bowl and let stand for 15 minutes.

Meanwhile, combine the dry ingredients in a separate mixing bowl.

Add remaining wet ingredients to the date mixture and add that to dry ingredients.

Stir just to combine and fold in the walnuts.

Pour into a non-stick 9 x 5-inch loaf pan coated with cooking spray (or lined with parchment paper) and bake for 40-45 minutes, until a toothpick inserted in the center comes out clean.

Let cool completely on a cooling rack before slicing.
If you've tried this recipe, please take a minute to rate the recipe and let me know how things went for you in the comments below. It's always such a pleasure to hear from you!
You can also FOLLOW ME on PINTEREST, FACEBOOK, INSTAGRAM and TWITTER for more delicious, healthy recipes!