Holiday Gift Guide for the Foodie in Your Life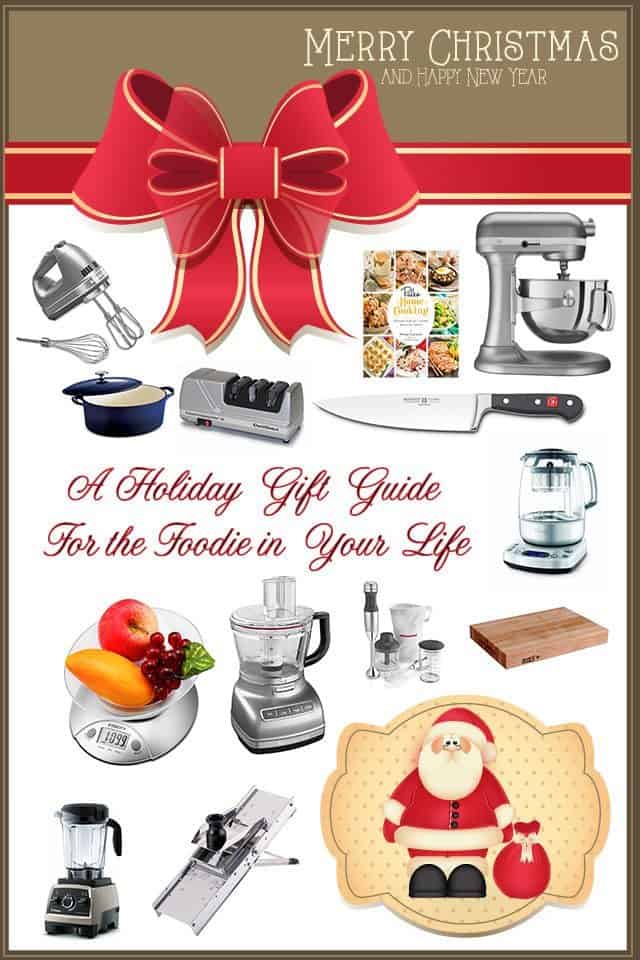 Where are you at with your Holiday shopping? I am pretty close to being done, thank you very much!
That would be a first for me, though. I'm usually still scratching my head as to what to buy for those special people in my life up until the very last minute. In fact, I can usually be spotted in nearby stores on the morning of the day before Christmas.
This year, to help those of you who are a bit like me, I figured I'd put together a little Holiday Gift Guide to help you find the perfect present for the foodie (or foodies) in your life. I made a list of my favorite kitchen tools, some of which I happen to have received as Christmas presents myself (presents which I was extremely happy with, obviously!)
Whether you're looking to surprise someone who's just starting out in life and doesn't yet own much kitchen gear, or you are wanting to please the hard core foodie who already has everything, I'm positive that you'll find something on this list.
Who knows, maybe you'll even find a little something for yourself!

I HAD to start with this one, because frankly, my KitchenAid Food Processor is the one piece of equipment that I could never, ever be without. I use it to make just about anything, from soups to batters to pie dough, and especially nut butters!
I was lucky enough to be offered this particular model as a Christmas present many many years ago and it served me very well all this time. In fact, I just recently gave it to my daughter when I upgraded to the Pro Line series, and I just know that it will last her a very long time, too!
This is one sturdy piece of machinery and couldn't recommend it enough. If a Food Processor is on your list this year, this is definitely the one to get!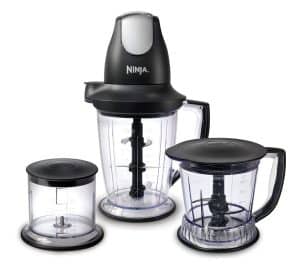 Now here's a toy that's very handy to have if you're going to process/puree smaller quantities of food and don't want to take out the heavy artillery.
I use mine all the time to make high protein fro-yo, to quickly whip up egg, tuna or chicken salads, or to quickly and easily chop nuts and dried fruits.
This blender may be small, but it is equipped with a very strong motor, which can be used interchangeably with either container. And those containers are all dishwasher safe, which makes this convenient tool super easy to clean, too!


Anyone who enjoys cooking deserves to get their hands on a good quality blade, for this is where all good meals truly begin.
Indeed, one wouldn't be able to do much in a kitchen without a good knife… and cutting board!  No need to invest in a full block of knives, though. In fact, you're better off investing more money on fewer but better quality blades, like this sturdy 8" Wüsthof Chef Knife.
Forged in high-carbon stainless steel, hand-honed for razor-like sharpness, and triple riveted for strength and permanence, this is a blade that will give you years of cutting edge satisfaction! 

No matter how fantastic the blade you own, nothing will ruin it faster than marble, stone or glass, so stay away from those types of cutting boards.
The best possible choice you could make to preserve your blade's edge is wood. Contrary to popular belief, wood will not harbor more bacteria than plastic, probably even less so, and truly is your knives' best companion.
Oh, and one more thing. Don't be afraid to go big. Choose a board that will give you ample room to work efficiently. After all, it's destined to be your knife's best friend for years to come! 

Always keep in mind that a sharp blade is much safer to use than a dull blade so you'll want to keep your knives nice and sharp. The best tool for the job is a whetstone and honing steel, but if like me you aren't too confident in your knife honing skills, there are several decent electric knife sharpeners available out there.
This Professional Sharpening Station by Chef's Choice is the one I've been using for years now and I'm extremely happy with it. I use it once a week and it keeps my blades nice and sharp, in just a few minutes!

Kitchen scales can be had for such a small price nowadays; I think they are very well worth the investment, especially for those who tend to do a lot baking. Oftentimes, in baking, quantities need to be extremely accurate otherwise, delicious baking experiments may easily turn into total disasters. The only way to insure that you get it right is by weighing your ingredients.
Likewise, if you're wanting to track your food intake, calories and macros, there's only one way to go about it: you need to weigh what goes into your belly! And for that, you need a kitchen scale.
Once you start using this tool, you'll never be able to be without it ever again.

A must in the kitchen, if only to make homemade mayonnaise and salad dressings.
The stick blender is also the perfect tool to blend, crush, chop, puree and whisk. It allows you to make soups and purees directly in the pot, froth milk in mere seconds and blends just about anything to smooth perfection.
This particular model comes with a handy attachment that allows you to chop vegetables, hard cheeses and nuts, or crush ice quickly and easily, as well as a whisk to help you make fluffy meringues effortlessly.

When it comes to mixers, it doesn't get much better than this top-of-the-line, heavy-duty KitchenAid Stand Mixer. This is one solid and well constructed piece of equipment. It's is perfect for mixing heavy, dense mixtures, and the flat metal beater, spiral dough hook and whisk will help you mix, knead and whip ingredients into culinary masterpieces quickly and easily.
For even more versatility, the power hub fits optional attachments from meat grinders to pasta makers, ice cream churners and more.
The bowl-lift design provides sturdy bowl support for stability when mixing heavy ingredients or large batches. The lever smoothly raises the mixing bowl into position for efficient beater-to-bowl contact.
Another undeniable advantage of the stand mixer is that it doesn't need you to hold it, so you can get busy doing other things while it does the work for you!
Here's a gift that will be remembered, appreciated, and used, for years to come!

While much more affordable than its standing counterpart, the hand held mixer isn't nearly as powerful and doesn't offer as quite many possibilities.
However, it's still a pretty useful and handy tool to have in the kitchen. Ideal for mixing light batters, creaming butter, whipping cream or turning egg whites into fluffy meringue, chances are very good that this tool will end up being used on a very regular basis.
Also comes in handy when you don't feel like taking out the heavy artillery…

This is the ultimate personal blender for any shake / smoothie enthusiast out there.
I use mine practically every day to make the fluffiest, dreamiest post workout shakes. Its powerful 1000 watt motor is able to take practically everything that you throw at it, be it ice cubes or rock solid frozen fruits. Even whole frozen strawberries are no challenge for this compact but mighty blender.
A compact beast that's really hard at work.

My ultimate favorite tool to slowly roast and braise meats to perfection as well as make delicious hearty stews.
Ideal for searing, cooking at a high temperature and then finishing slowly in the oven with the cover on, this piece of cookware is well known and loved for its durability, amazing heat retention and sophisticated style.
A gift that will last a lifetime!

The ultimate kitchen toy!
The Vitamix High Speed Blender can pretty much do it all. It can make velvety soups, silky sauces, creamy nut butters and even frozen desserts, all at the touch of a button.
The ten variable speeds allow you to refine every texture with culinary precision, from the smoothest purées to the heartiest soups. Plus, you won't find a better tool to grind coffee beans, coarse salt, or make your own flour from whole nuts.
This will probably become the most used tool in the kitchen, after your pots and pans…

Anyone who's seriously into tea knows that brewing the perfect cup requires meticulous calculations: not only must the water temperature be bang on but the brewing time must be precisely respected, all that depending on the kind of leaves you are actually infusing.
Well, fuss no more!
This slick looking, state-of-the-art automatic tea brewer does all the work for you! You tell it what kind of tea you're brewing and when the water reaches the appropriate temperature, the tea basket automatically moves down and up to gently agitate the leaves and infuse them for the required amount of time, allowing their aromas to develop to their optimal potential.
Here's one gift that's guaranteed to impress the serious tea lover in your life!

If you want to make paper thin slices, very thin julienne, or evenly sized matchsticks, this is the tool that you need. While I don't use mine every day, I absolutely could not part with it.
I say this is a great specialty tool that's definitely worth the investment!

Slow Cooker
Perfect for those times when you can't be there to attend to your meals, or for making meals that demand a very long, slow cooking time (bone broth comes to mind…)
Just set it, and forget it!

Now this is one COOL kitchen gadget.
You can use it to make long noodle-like strands out of all kinds of vegetables, such as zucchini, carrots, turnips, cucumber, parsnip, butternut squash…
Then, you can use those "noodles" as a replacement for pasta in your favorite recipes, or get creative and make delicious salads and sides.
You'll soon find yourself wanting to spiralize every vegetable in sight!

HA! I'm sure you won't resent me for shamelessly plugging my very own cookbook here now, will you?
After all, with over 150 gluten and dairy free recipes, including an entire chapter dedicated to the art of making delicious nut butters at home, it would make for an EXCELLENT Christmas present or hostess gift.
Hey, you could even get a copy for yourself while you're at it and whip up some of my excellent Christmas specific recipes, like my French Canadian Meat Pie or Port Walnut Cranberry Sauce…
And did you know that Paleo Home Cooking is now available at all COSTCO locations across the United States? That's right! You can check it out and flip through the pages before pick up your copy next time you visit your local warehouse!