Vegetable Overload Individual Meatloaves – Another great classic made healthy
I think I went a little overboard with the vegetables when I created these…
So much so, I really doubted myself for a little while.
I mean seriously, I think there's as much veggies as there is meat in these little cuties.
And the only thing that's keeping the meat and veggies together is… 2 eggs! Nothing more.
No flour, no breadcrumbs, no starch, not even flaxseed meal.
2 measly little eggs.
Well, alright… I used extra-large eggs, but still… 😉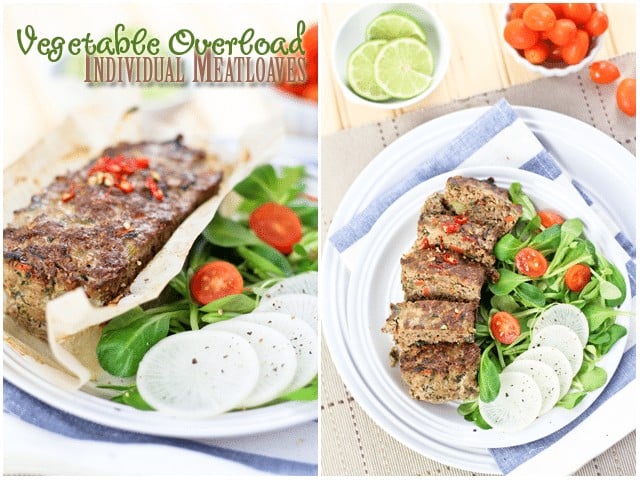 I thought for sure that they would simply fall apart, crumble in shame as soon as I would take them out of the mold and that I would be forced to turn them into a spaghetti sauce or something…
But much to my surprise, not only did the loaves hold their shape, they were also very, very dense, yet super moist and juicy.
They stood there, all nice and firm, as if they'd been super proud to be proving me wrong.
I had no problem slicing them either, not even when they were still nice and warm.
I say "even" because I have to confess to eating at least half of them cold. Yes, you read that right: I ate them cold, as in straight out of the fridge.
Why?
Well, I had most of them at work for lunch and I just didn't feel like walking all the way across the building carrying my little meatloaf around.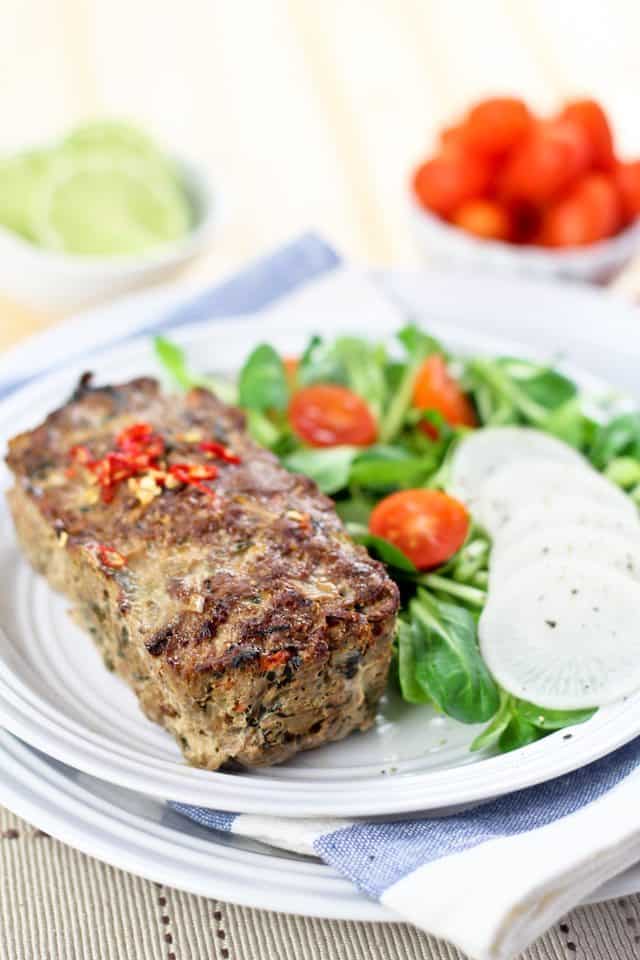 The thing is I always eat at my desk, you see… so it meant walking all the way to the other side of the building and back with my little meatloaf in a plate. Oh, it's not the walking that bothered me, it's the "exposing my lunch" to everyone and forcing its smell, no matter how exquisite, onto all those people.
But you know what? I didn't even mind eating them like that. They had so much flavor  to them that even in their cold state, they were incredibly tasty!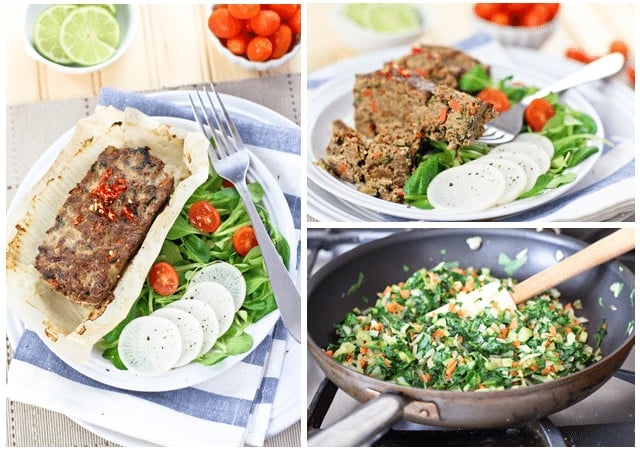 And with that many vegetables in them, you don't need much of anything else… a single loaf is almost a meal in itself.
Just a little bit of greens on the side and you're all set!
This one is definitely getting added to my list of "lunch regulars". If you're like me and tend to make your lunches for the entire week on the Sunday, these little guys are absolutely perfect. You get one for each day of the week, plus a bonus that you can have for dinner, fresh out of the oven.
They are highly portable, especially if you line your pans with parchment paper
They also reheat very well in the microwave, although that step is entirely optional… 😉
Of course, you could also share with your family and only keep the leftovers for lunch.
That's IF there are any…
Vegetable Overload Individual Meatloaves
Servings: 6 mini loaves
Ingredients
The Veggies
1 medium onion, finely chopped
1 celery stalk, finely chopped
1 carrot, peel on, finely chopped
1 zucchini, peel on, finely chopped
4 cups baby spinach leaves, chopped
½ tsp Himalayan or fine sea salt
1 tsp freshly cracked black pepper
The meat mixture
850 g top round beef, cut into roughly 1" chunks
½ cup sundried tomatoes
2 heaping tablespoons Pommery Meaux Mustard*
2 tbsp ground mustard seeds
2 tbsp dried oregano
2 tbsp paprika
1 tbsp ground coriander seeds
2 tsp garam masala
1 tsp ground cumin
2 whole eggs
Instructions
Preheat the oven to 375F. Brush 6 non-stick mini loaf pans with olive oil or line them with parchment paper. Set aside.

In a large non-stick pan, add the onion, celery and carrot, salt and pepper and cook over medium heat until the veggies are softened. Add zucchini and spinach and continue cooking for about a minute, until just wilted. Turn off the heat and reserve.

Cut the beef into 1" cubes and place them in the bowl of your food processor. Process on pulse until the meat reaches the right consistency. You might have to work in 2 or 3 batches, depending on the size of your food processor.

Transfer the ground beef to a large mixing bowl. Add the rest of the ingredients, including the reserved vegetables and mix delicately until very well combined.

Divide that mixture between the reserved loaf pans and bake in the oven for about 30 minutes, until the top is nice and golden brown. Note that if you choose to do a single loaf instead, it might require a little longer cooking time.

Remove meat loaves from oven and set to cool on a cooling rack for about 5 minutes before removing them from the pans.

Serve warm (or cold!) with a side of salad.
Notes
*You can also use Dijon, Whole Grain or any other type of mustard, just make sure it's sugar, alcohol and sulfite free if you want to stay Whole30 compliant.
If you've tried this recipe, please take a minute to rate the recipe and let me know how things went for you in the comments below. It's always such a pleasure to hear from you!
You can also FOLLOW ME on PINTEREST, FACEBOOK, INSTAGRAM and TWITTER for more delicious, healthy recipes!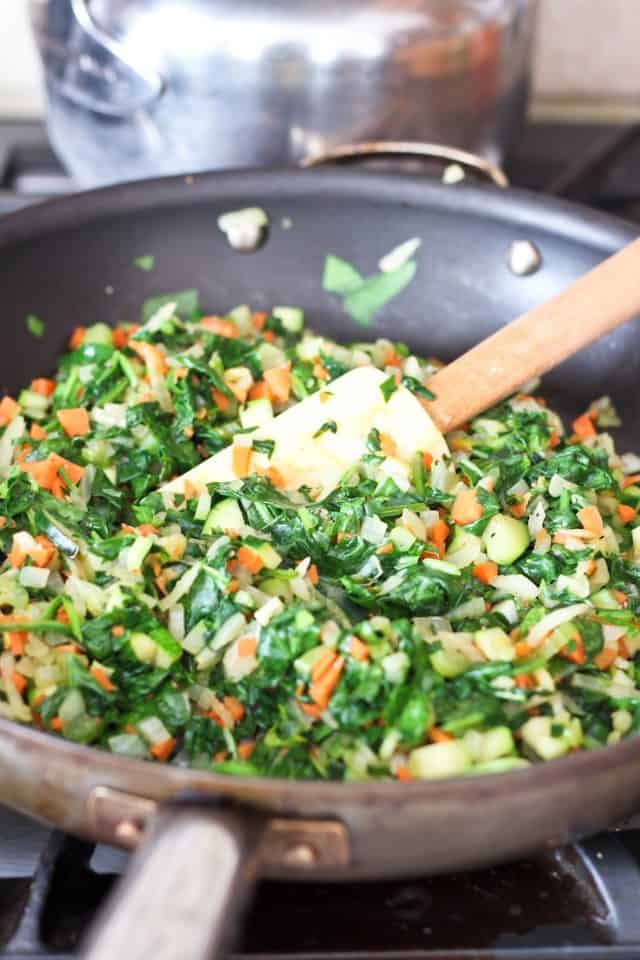 Enough veggies for you?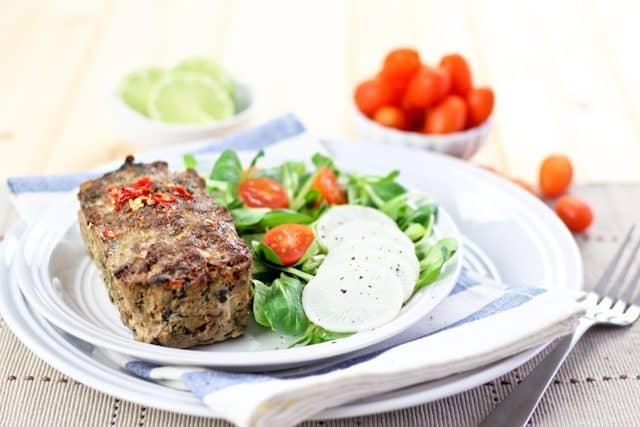 See how well they hold their shape?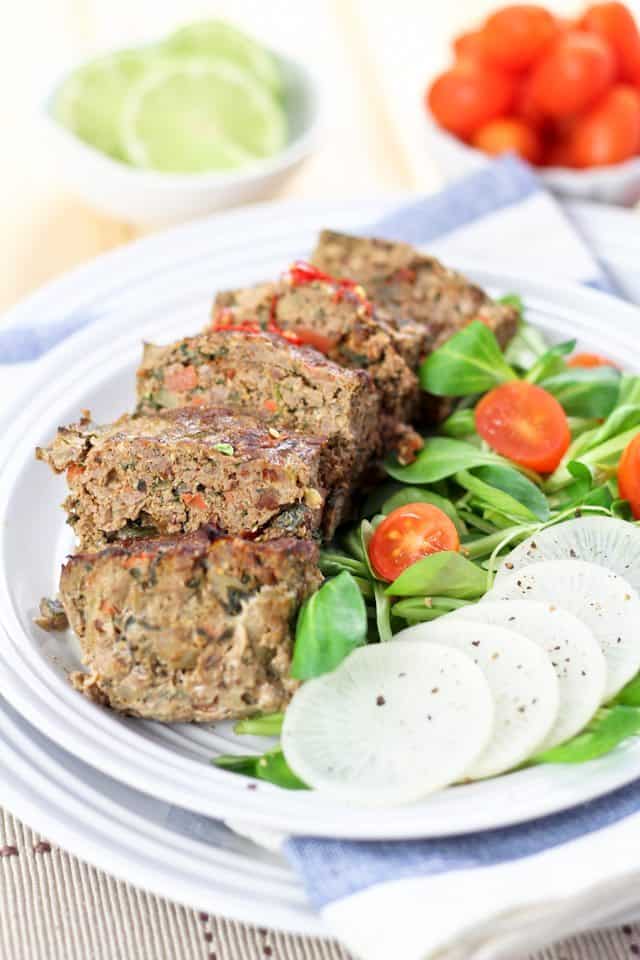 Even when they're all sliced up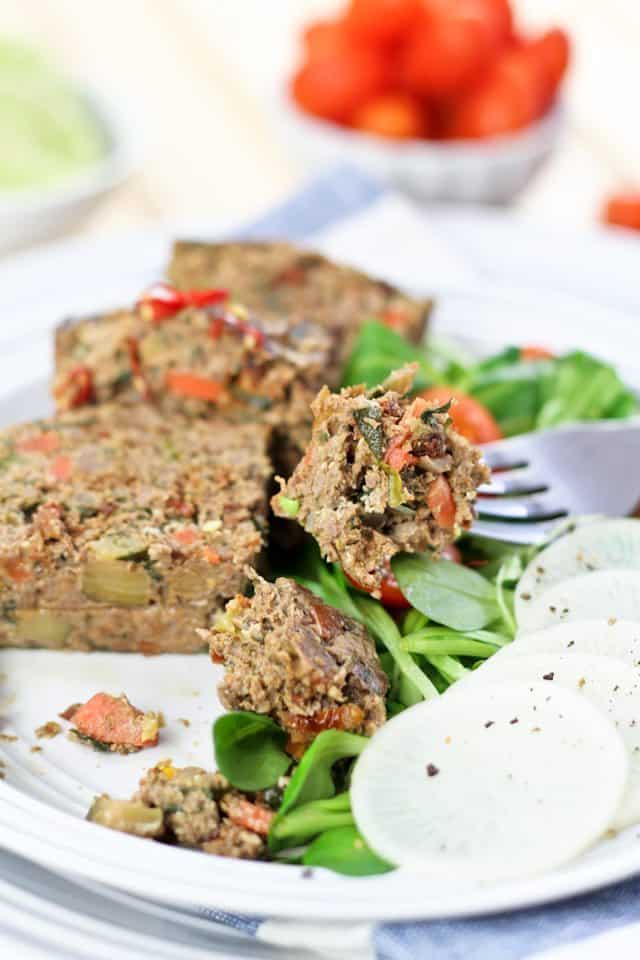 What do you think? Flavor overload?