Let's face it, canned tuna is probably the most boring food there is out there.
I mean, who hasn't been there: you're pressed for time, or lacking inspiration, so you end up cracking open a can of tuna and basically throwing it right on top of a boring pile of salad (read: shredded iceberg lettuce)…
I most certainly have, and I'm sure you can totally relate.
Well, next time you feel tempted to do this, consider making tuna fish patties instead.
Seriously, your taste buds and your tummy will thank you for it.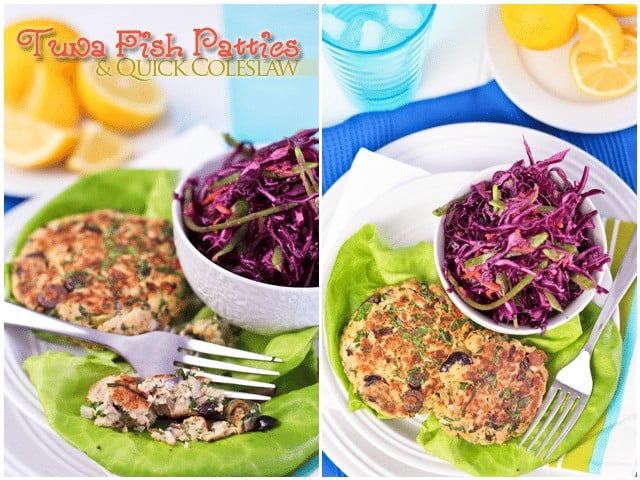 I think they are my ultimate favorite thing to do with canned tuna. And they don't take much time at all to make either. Or cooking skills, for that matter.
There isn't much more to them than opening up the can of tuna and mixing it in with a bunch of leafy greens…
Plus, you can make them ahead of time and eat them cold, break them into pieces to garnish your salad, or reheat them in the microwave and enjoy them with a side of slaw for a tasty lunch!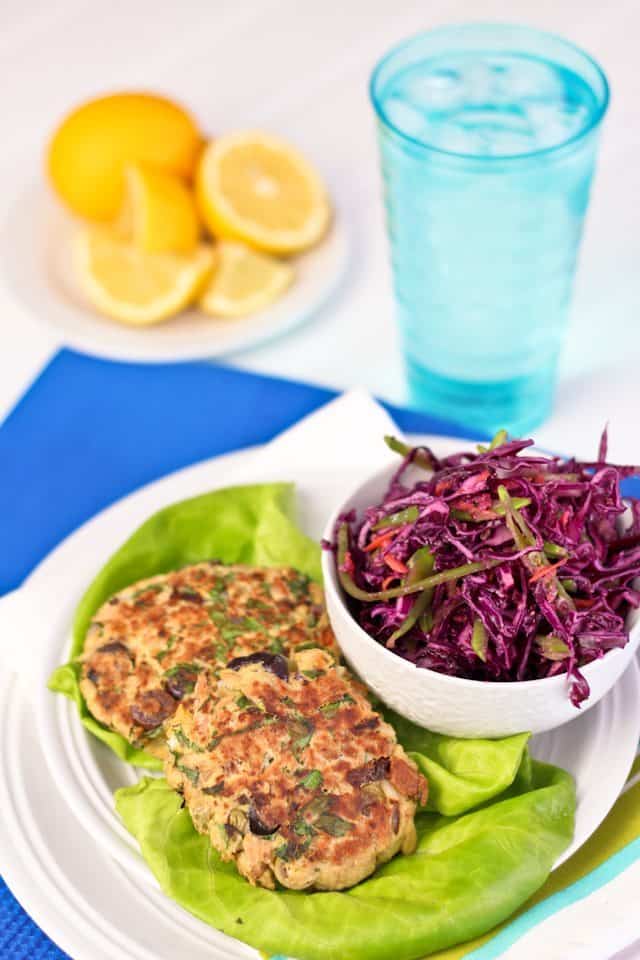 Truly, they are a quick and easy meal that you can have any time of day, be it breakfast, lunch or dinner.
Oh yeah, they do make for a fantastic breakfast. Only, if I were to have them first thing in the morning, I might go with a different choice of side… I guess I'd lean more towards grilled sweet potato wedges or a few slices of crunchy green apple or fresh, crisp cucumber Oh YUM! I know what I'm having for breakfast tomorrow!
But if you're gonna have this for lunch or dinner, a side of salad, or coleslaw, works fantastically well.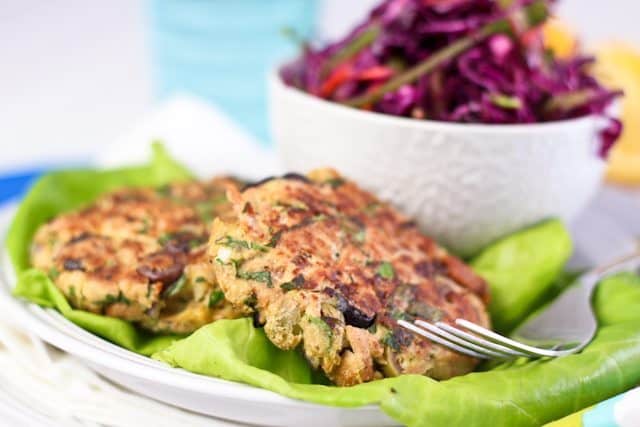 Now, to keep my patties Whole30 compliant (as well as paleo friendly), I used coconut flour as a binding agent. I have to admit that I was a bit skeptical at first.
Honestly, I was afraid that they would taste like coconut. I mean don't get me wrong, I do LOVE my coconut, but with tuna? Not so much…
Fortunately, it really wasn't the case. No coconut taste. At all.
The texture however! WOW! That flour adds so much density to the patties. And you know just how much I love DENSE, don't you?
I am completely sold and I don't think I'll ever go back to using anything else in my tuna fish patties.
And now I can't wait to start experimenting with coconut flour in all sorts of things! 
Will you dare give it a try?
Tuna Fish Patties
Ingredients
1 can yellow fin tuna in water, drained
1 large egg
1 tbsp sliced kalamata olives
1 tbsp sliced green olives
2 tbsp fresh parsley, finely chopped
2 tbsp red onion, finely chopped
1 tbsp coconut flour
pinch Himalayan or fine sea salt
pinch freshly cracked black pepper
1 birds eye chilli, finely chopped
Instructions
In a mixing bowl, combine all the ingredients together.
Form into 2 patties; Add a little bit of coconut or olive oil to a medium non-stick skillet and heat over medium-high heat. Add the patties and cook until the bottoms are a beautiful golden brown the patties hold their shape well enough to be flipped, about 3 to 4 minutes.
Carefully flip the patties with a spatula and cook the second sides for 2-3 minutes, or until golden.
Serve immediately.

Nutrition Information
Serving size:
Nutritional Information based on 1 serving
Quick Coleslaw
Ingredients
400g red cabbage, shredded
1 carrot, peel on, grated
20 snowpeas, julienned
2 celery stalks, thinly sliced
Dressing
2 cloves garlic, crushed
2 tbsp Pommery Meaux mustard*
2 tbsp unsweetened applesauce
¼ cup pasteurized egg whites
2 tbsp fresh ginger, grated
¼ cup coconut water
3 tbsp white wine vinegar
½ tsp Himalayan or fine sea salt
¾ tsp freshly cracked black pepper
juice of 1 lime
pinch cayenne pepper
Instructions
Add all the veggies to a large mixing bowl and set aside.
In a small food processor, add all the ingredients for the vinaigrette and pour that slowly over the reserved salad. Delicately mix it in until well combined.
You can serve this salad immediately or leave it in the refrigerator for a few hours to allow for vegetables to soften a little bit and flavors to fully develop.

Notes
*You can also use Dijon, Whole Grain or any other type of mustard, just make sure it's sugar, alcohol and sulfite free if you want to stay Whole30 compliant.
Nutrition Information
Serving size:
Nutritional Information based on 1 of 4 servings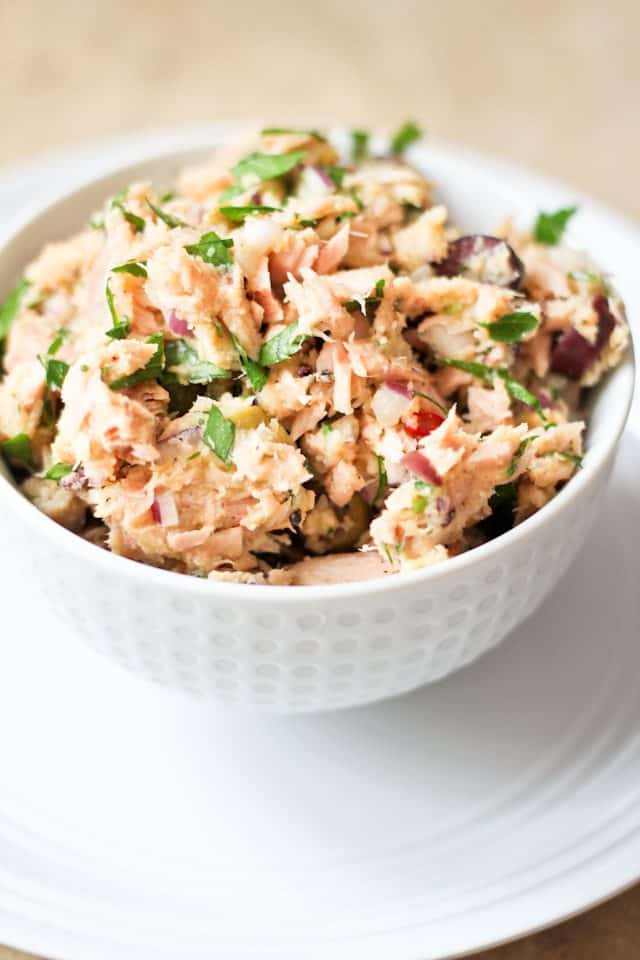 The tuna fish mixture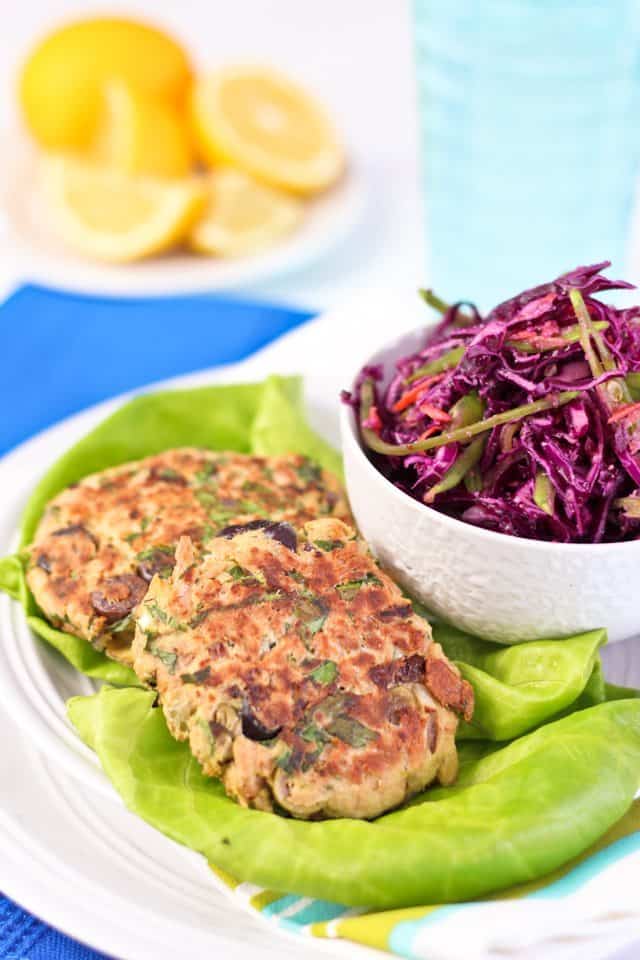 Made into patties!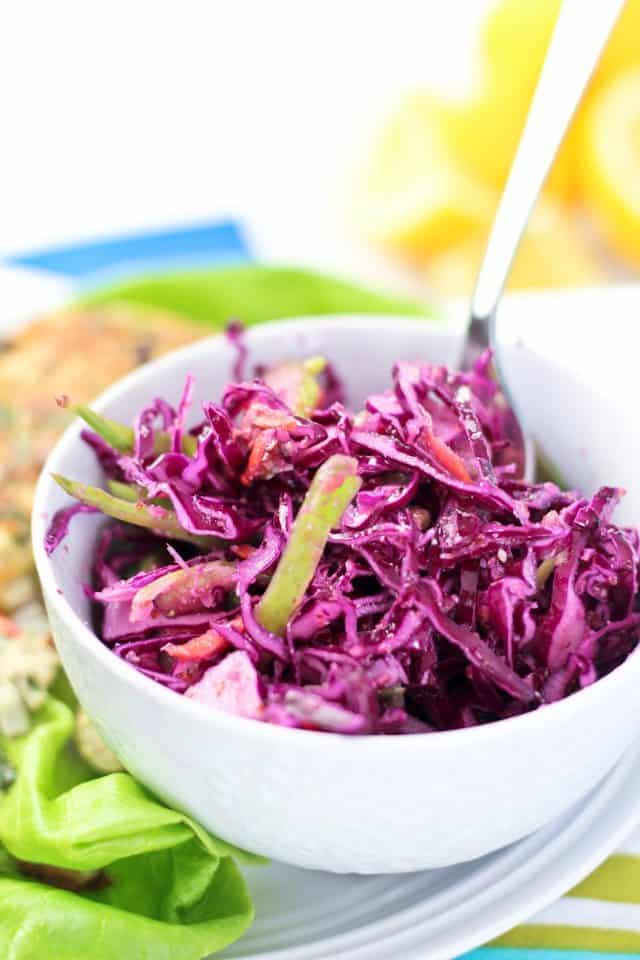 Vibrant coleslaw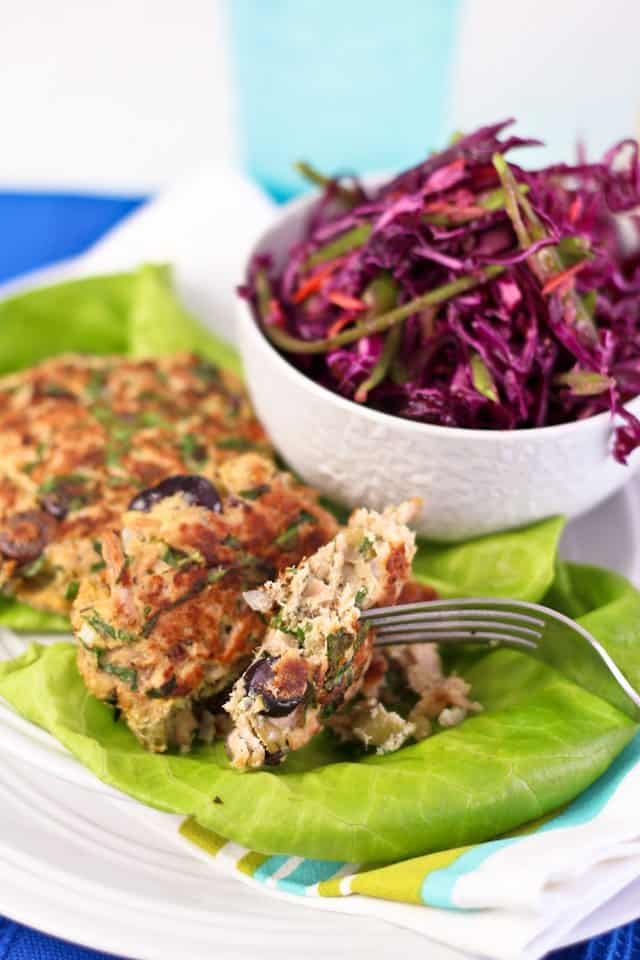 Look how dense!