Pork Loin, Sweet Potato and Brussels Sprouts Casserole
Picture this:
I'm sitting at the dining room table, enjoying this wonderful hearty meal you see pictured below, slowly savoring each bite, letting its spicy aroma and rich flavor transport me to a distant, much warmer and sunnier place, basically enjoying a moment of pure bliss…
…at 7 in the morning!
Cue my daughter, entering the room with a puzzled look on her face: – "Does this new challenge of yours also involve eating steak this early in the morning"
Me –"It's not steak… it's pork"
Her – "So now you're supposed to eat pork for breakfast?"
Me – making a face "Not required to, but for some reason, I just want to. I was really CRAVING this today! Really. Craving.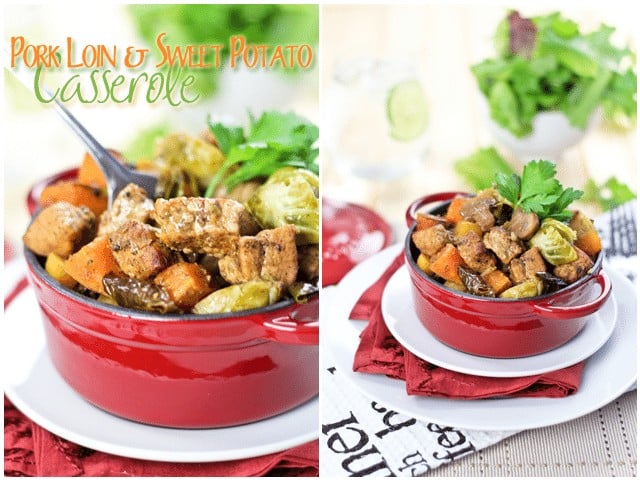 I know, weird, right?
I have to admit that, if there is one thing this Whole30 challenge has really changed for me, it's the way I do breakfast.
It used to be that I could only eat sweet stuff in the morning. I think it's mainly because I wasn't really hungry this early in the day.
This sure has changed and in very little time, too. I think that I would now VERY gladly eat "steak" in the morning. I've even started feeling hungry while working out, which is something I never really experienced before.
I can't say that I'm hating this. It feels good to crave "real" food in the morning.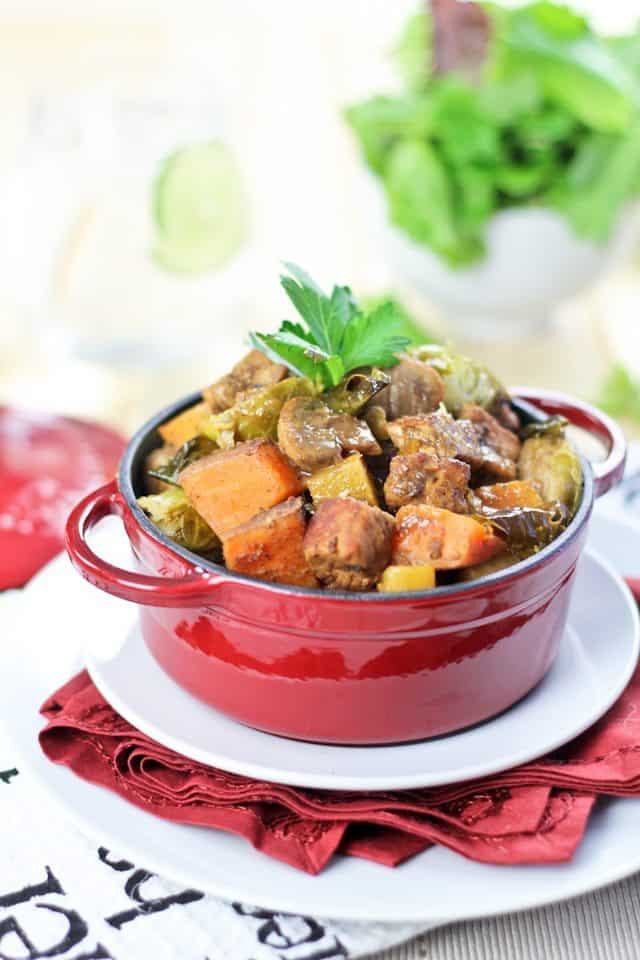 Oh, hey, don't get me wrong here. I'm not saying that I will never again do smoothies and soft serves, for I still love them and still find them to be highly convenient, especially right after a workout.
However, I get the feeling that even they will get a rather drastic makeover.
Don't worry though, I won't go creating Beef Jerky and Mint or Braised Veal and Raspberry Soft Serves or anything like that.
At least, I'm not planning to! 😉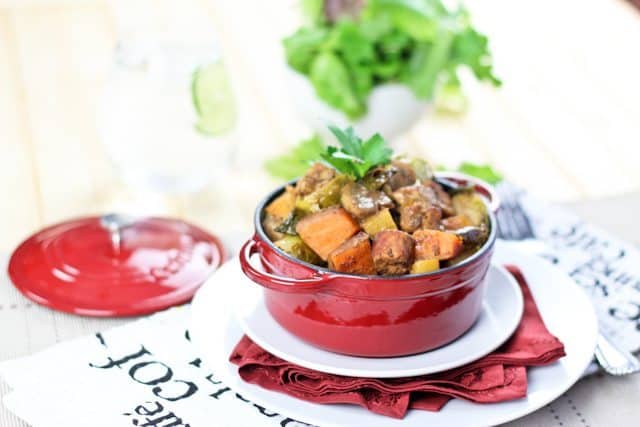 Anyway, enough about my breakfast habits… I'm sure you all want to hear about this super tasty dish that I was enjoying for breakfast that morning.
First off, a word of warning… I told you I was on a major coconut kick lately, so of course, this one contains coconut cream. I find it greatly contributed to the "delectability" factor of this dish. Without being too insistent  it worked very efficiently in the background to add a great deal of creaminess, as well as an overall feeling of richness to the stew. So even if you're not a fan, I would say add it.
Also, my choice of spices, namely chai spice and garam masala, I find gave the experience a really agreeable feeling of suddenly being projected to a tranquil, exotic and faraway place.
I'm telling you, this dish will simply transport you.
And the entire house will smell soooooo good for a very long time, too.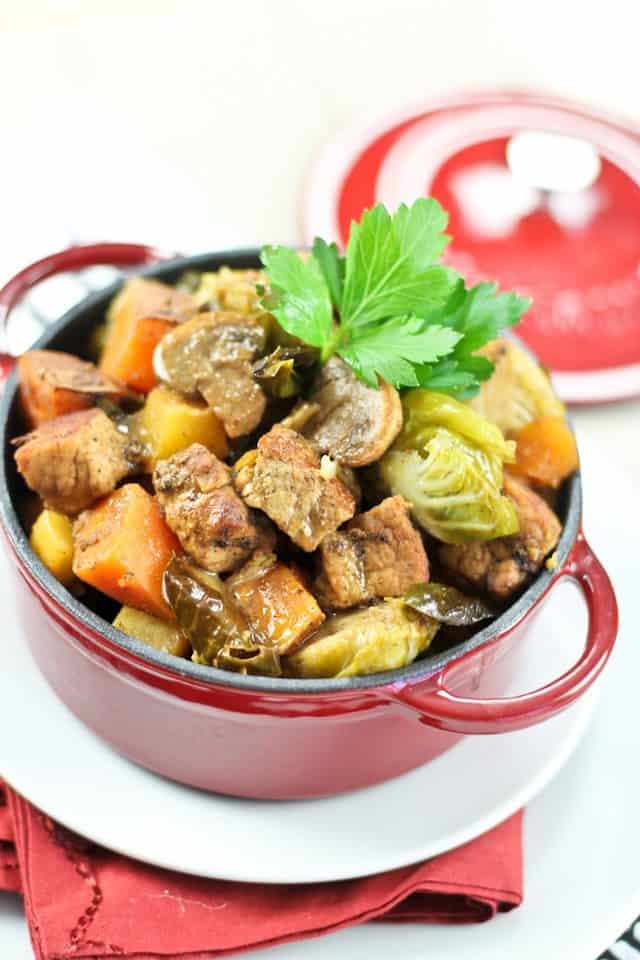 Providing that you appreciate these kinds of spices, that is. (which I personally didn't, until a few weeks ago… yet another weird change that's taken place!)
If you don't care for them, I'm pretty sure that you can leave the coconut cream out and replace the spices with dried herbs such as oregano, thyme, rosemary and tarragon.
You'll still be in for an experience, only it'll be a completely different one.
Finally, I chose to use pork in this dish, but you could very well use beef, chicken, lamb, game, or any other meat that tickles your fancy!
Oh, and one last thing… Do try it for breakfast if you dare. I swear, it'll make for an EXCELLENT start to your day.
One that will easily support you all the way to lunch, and beyond.
Sweet Potato, Brussel Sprouts and Pork Loin Casserole
Servings: 4
Ingredients
700 g pork loin, trimmed of fat and cut into bite size pieces
1 small, 500g rutabaga, cut into roughly 1" chunks
1 large, 675g sweet potato, peel on, , cut into roughly 1" chunks
225 g mushrooms, sliced
550 g brussel sprouts, ends trimmed, cut in half
1½ cup water
¼ cup coconut cream
The juice of half a lime
½ tsp salt
¾ tsp black pepper
1 tbsp garam masala
1 tsp chai spice
Instructions
Preheat oven to 375F.

Heat a little bit of coconut or olive oil in a Dutch oven over medium-high heat; add the pieces of meat and cook until they are nice and golden brown on on all sides.

Meanwhile, add the water, coconut cream, lime juice, salt, pepper, garam masala and chai spice to a medium mixing bowl and mix with a whisk until well incorporated. Reserve.

When the meat is good and brown, add the mushrooms and continue cooking for a minute or two until they start to color.

Add the rest of the vegetables as well as the reserved liquid.

Cover and transfer to the oven, where you will cook the casserole for about 30 minutes, or until the vegetables are fork tender.

Serve immediately.
If you've tried this recipe, please take a minute to rate the recipe and let me know how things went for you in the comments below. It's always such a pleasure to hear from you!
You can also FOLLOW ME on PINTEREST, FACEBOOK, INSTAGRAM and TWITTER for more delicious, healthy recipes!