Lettuce Wraps Version II – Ground Chicken, Apple and Bulgur
Told you I had a second version coming…
And since I might have a slight obsession with these, there's a chance that you'll see quite a few more flavor combos on here in the upcoming weeks!
I already have great plans, such as Chicken, Cauliflower, Shredded Carrot and Fresh Mint or Hard Boiled Eggs, Avocado and Kalamata Olives.
Or a more tropical option, like Shrimp, Coconut, Mango and Pineapple, with a splash of lime juice and cilantro.
Oh, oh, and how about a Taco Style Lettuce Wrap, loaded with Lean Ground Beef, Tomatoes, Avocados, Black Olives, Fresh Jalapeño Peppers and a whole bunch of Mexican flavors?
Can't wait for that one!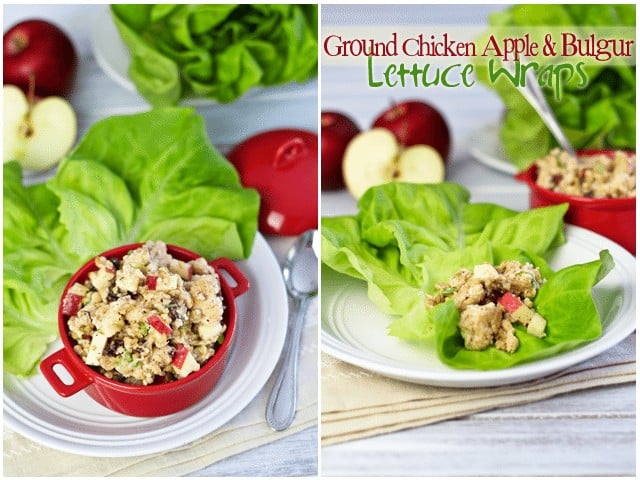 But for now, I give you this delicious Ground Chicken, Apple and Bulgur combo.
Absolutely D-E-L-I-S-H!
And it comes together in no time at all, given that you make a little bit of prep work ahead of time…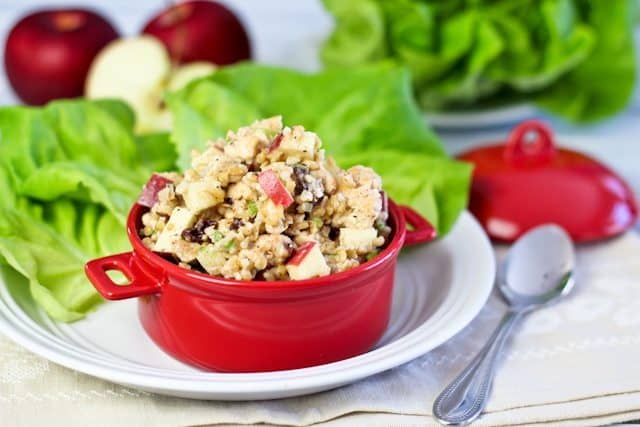 When I made the previous version, i.e. the Ground Chicken and Butternut Squash, I already knew that I would be making these the next day, so I cooked more chicken than needed so that I would have some leftover in the fridge the next day.
Then all I had to do was put some bulgur to soak overnight and I pretty much had dinner ready to go when I got home that next day.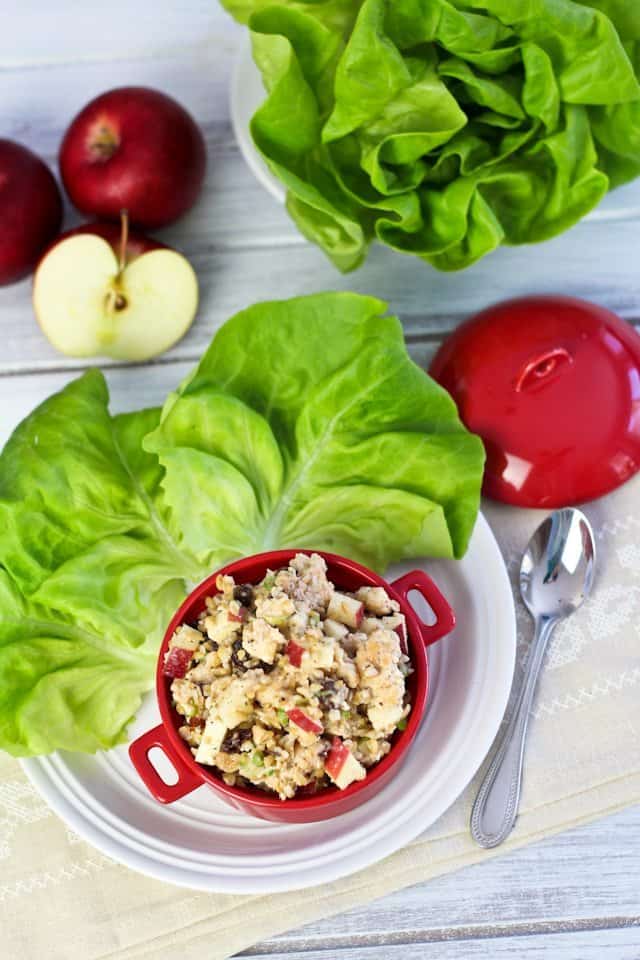 All that was left to do was mix the cold chicken and soaked bulgur together with half a diced apple, a few more ingredients, such as toasted hazelnuts and hazelnut butter… (OH YUM! That hazelnut butter? Totally makes the dish!) and I was good to go.
I would say that in no more than 5 minutes, dinner was on the table (now getting the set prepped was a whole 'nother story!) 
Doesn't look like I had much more talent with making nice little wraps on the second night, but hey, I'm working on it, alright?
Maybe by the time I've made them 6 or 7 times, I'll be [somewhat] good at it.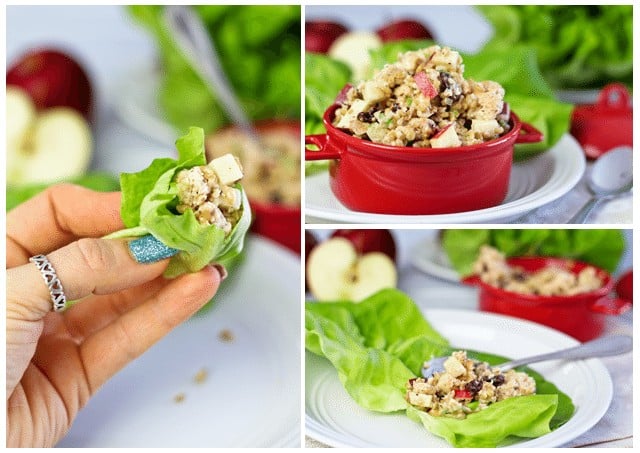 And tell you what… if you don't care for lettuce wraps or just don't have any lettuce on hand, don't sweat it.
That filling is so good, it can totally be eaten on its on, or even as a side dish or as part of a sandwich. It pretty much qualifies as a salad if you ask me.
It certainly would make for an exquisite lunch!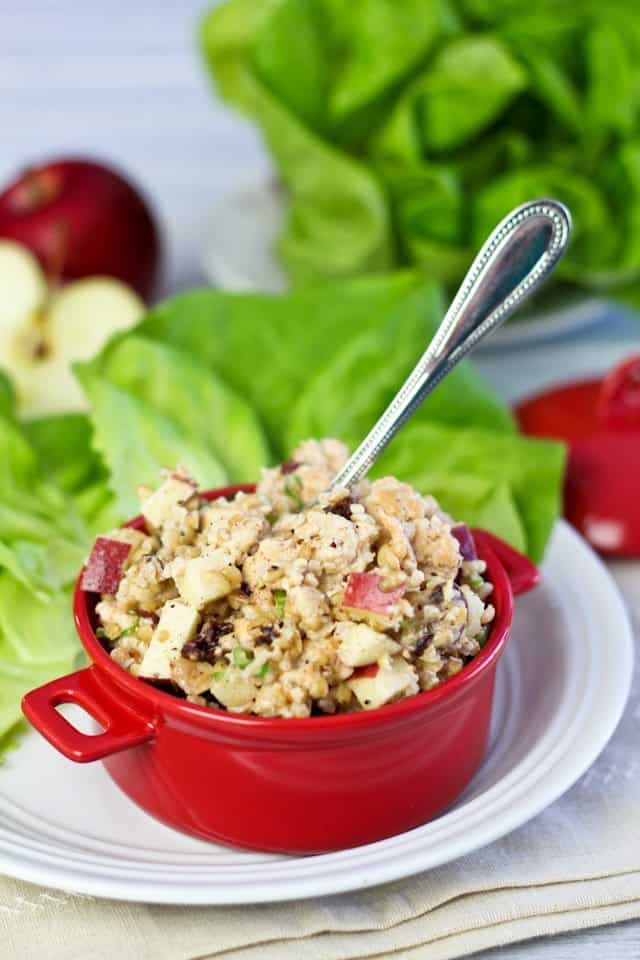 Just one word of advice if you're going to make this…
You might want to double, or even triple the recipe.
Because chances are, you'll be wanting leftovers!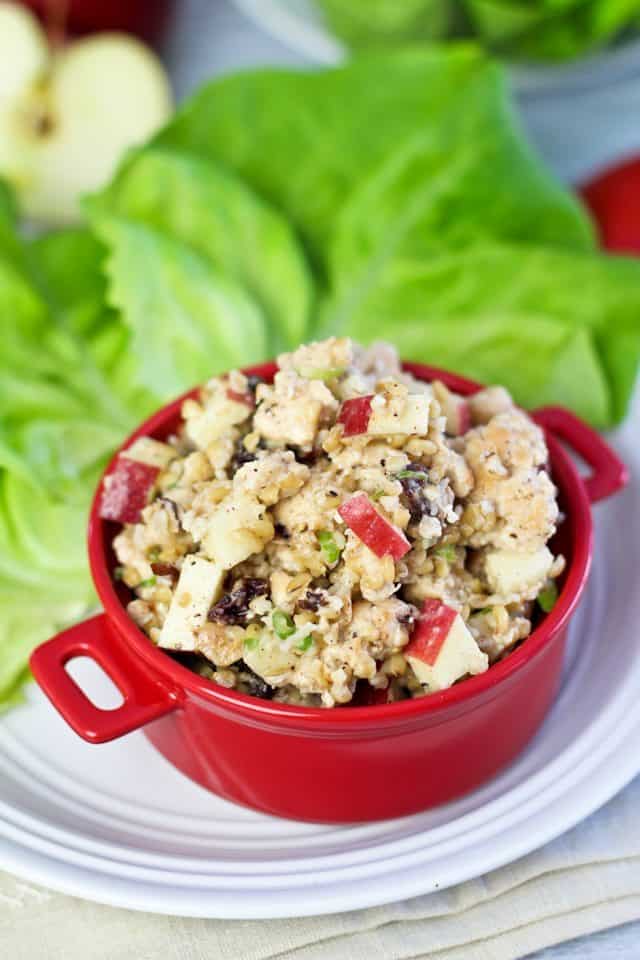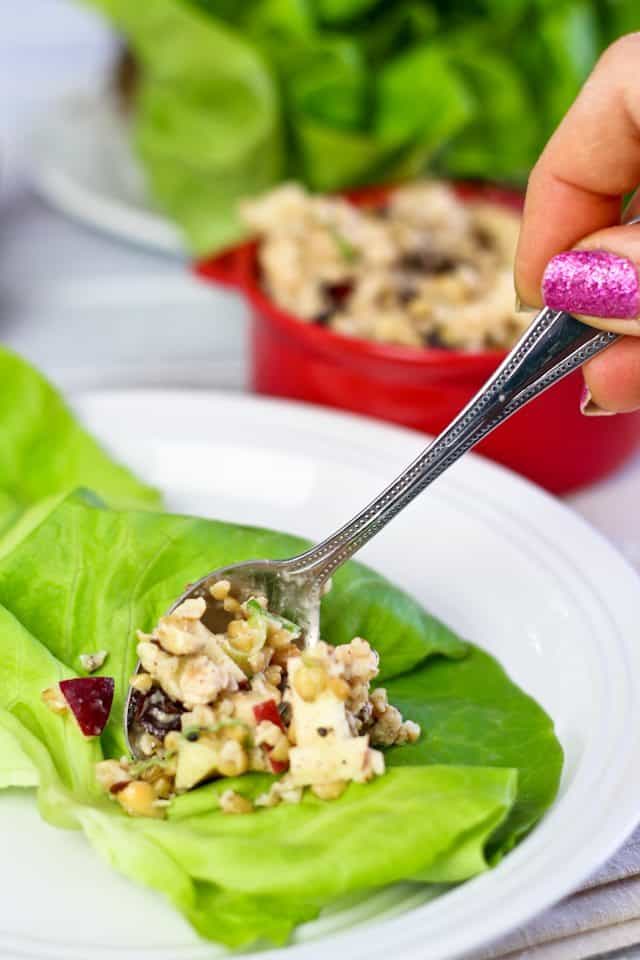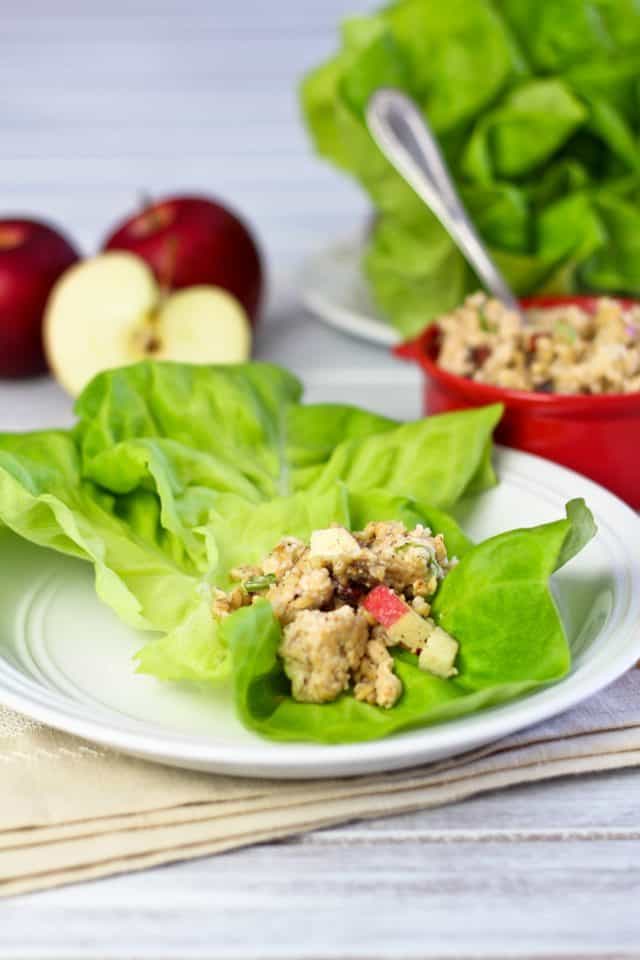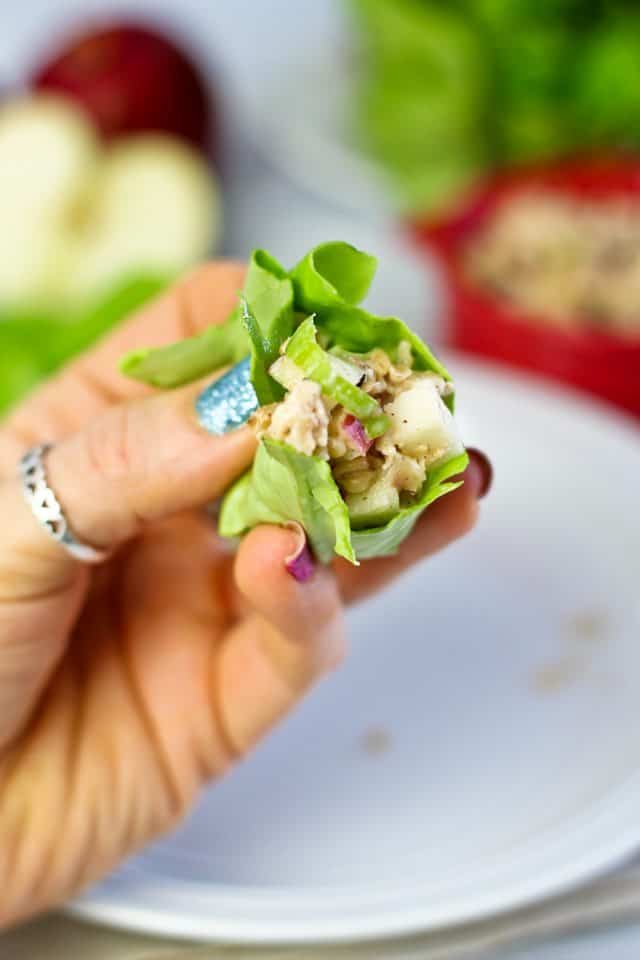 Chicken, Bulgur and Apple Cold Lettuce Wrap
Servings: 1
Ingredients
175 g leftover cooked ground chicken breast
¼ cup dry bulgur soaked in ½ cup water overnight
½ red apple, finely diced
½ green onion, finely chopped
1 tsp all natural halzelnut butter
10 g hazelnuts toasted and crushed
15 g raisins
1 tsp apple cider vinegar
Pinch salt and pepper
Pinch chai spice
Boston or Iceberg lettuce leaves
Instructions
In a small mixing bowl, add all the ingredients except the lettuce. Mix until well combined.

Transfer to serving bowl and serve with fresh lettuce leaves.

Spoon a little bit of chicken mixture onto a lettuce leaf, roll into a wrap and eat.

Repeat for as long as you have some of that chicken mixture left.

You're also allowed eating some by the spoonful. I swear, the lettuce wrap police ain't gonna visit you!
If you've tried this recipe, please take a minute to rate the recipe and let me know how things went for you in the comments below. It's always such a pleasure to hear from you!
You can also FOLLOW ME on PINTEREST, FACEBOOK, INSTAGRAM and TWITTER for more delicious, healthy recipes!