I'm now officially starting week 2 of my Lent Challenge and I have to say I am extremely excited.
As much as I was scared at first and didn't really know what to eat, it seems like I am now getting tons of recipe ideas and wish that I could stay at home and cook all day for the next month and a half to try them all out.
Yesterday, I went grocery shopping and purchased a whole bunch of food, most of which was vegetables.
I came home with my hands so full of grocery bags, I had to ask my son for help.
Funny thing is he looked at all the bags and said:
Oh, I remember a time when you'd come home from the grocery store and I looked forward to foraging through the bags and discover all the good goodies that were hiding in there. There's hardly ever anything interesting anymore…
Pfff… Kids!
I, on the other hand, felt like a kid on Christmas morning taking all my precious findings out of the bags.
I had so many veggies, I could hardly fit them all in my fridge.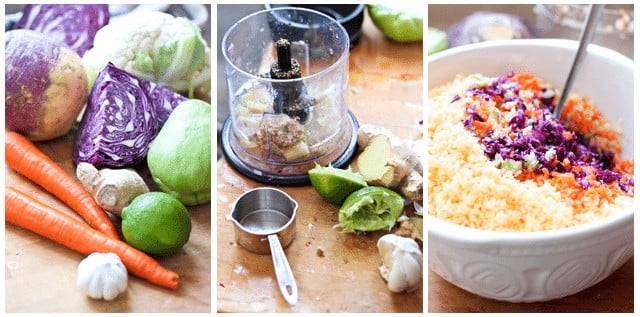 Cabbage, turnip, eggplants, cucumbers, zucchinis, sweet potatoes, coconuts, avocados galore, TONS of mushrooms like shiitake, oyster, enoki and standard button too; collard greens, fresh mint, parsley, even CORIANDER!
Yes, I even bought coriander and fully intend to use it.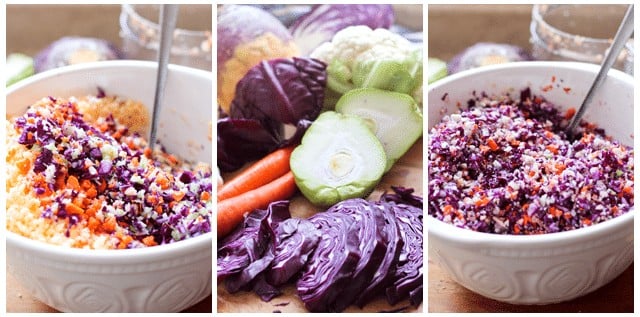 Then came the meat.
That would be the one part that feels really, really weird about all this.
I'm used to NOT eating meat AT ALL during Lent. This time, however, it represents my main source of protein, so I have to eat quite a great deal of it. Well, compared to what I'm used to eating, anyway. I usually get most of my protein from dairy (namely whey, Greek yogurt and cottage cheese) as well as egg whites and some meat, mostly skinless, boneless chicken breasts.
But for now, dairy is out. So is protein powder.
Hmpft. 
I still don't know how I feel about eating so much meat, but I'm taking this one day at a time. So far, I'm really loving the results…
One of the things that I did notice is that I feel a lot less hungry. I get to eat so much more food in volume, sometimes it almost feels like it's way too much.
Like this plate here, for instance…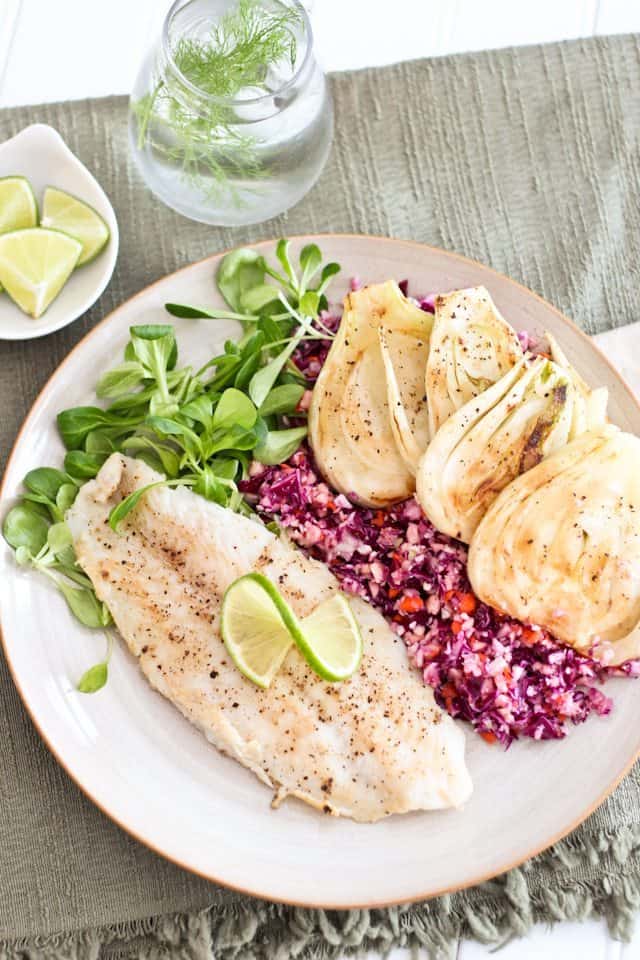 Just look at the size of it, and look at everything that's on it!
Think I wasn't full after that?
This fillet of fish was HUGE! Plus, I had 2 full cups of the coleslaw, half a giant bulb of fennel and a good cup of mâche.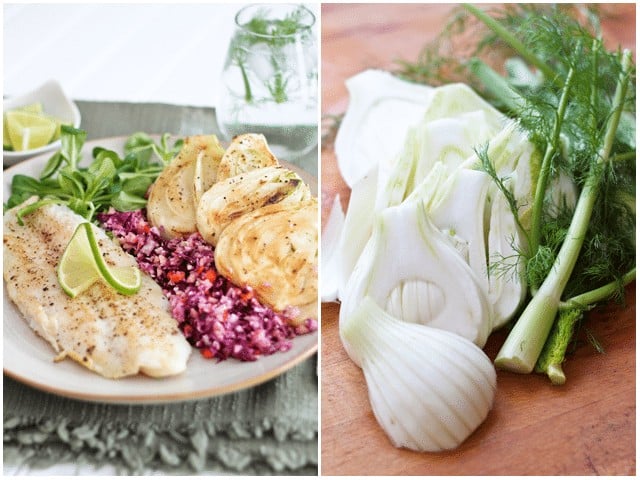 I had a hard time finishing my plate, but it was so good and I felt so excited that I was finally getting somewhere and had been able to create a real decent meal that was Whole30 compliant. I'd been eating nothing but boring stuff like hard boiled eggs and dry carrot sticks until then.
At least, that's what it felt like!
But the more I get into the spirit of this challenge, the more ideas I get and I'm almost starting to feel sad that it's only 6 weeks… 😉
Oh, and by the way, in case you are wondering, I am feeling super fantastic!
A little bit tired and low on energy at times, and I've had occasional headaches as well as a few very minor cravings, but other than that, I'm really doing A-OK!
Let's hope it stays that way!
I think the key to success is to get excited and think of all the new possibilities instead of focusing on all that you've left behind.
Plus, it's only temporary… I sooo can do this!
What's 6 weeks, out of a lifetime?
White Fish Fillet and Braised Fennel
Ingredients
White Fish Fillet
1 large white fish fillet per person
Pinch Himalayan or fine sea salt
Few grinds freshly cracked black pepper
The juice of half a lemon or lime
Braised Fennel
½ large fennel bulb per person
Pinch Himalayan or fine sea salt
Few grinds freshly cracked black pepper
Instructions
For the Braised Fennel
Cut off the stalks from the fennel bulbs and cut each bulb lengthwise into 6 thick slices.
It's important that you do not remove the core otherwise the slices will fall apart.
Season each fennel slice with a little bit of salt and pepper.
In a large heavy skillet, heat a little bit of olive oil or coconut oil over medium-high heat until your pan gets really hot. Add the fennel slices and cook until nice and brown, then flip the slices and cook the other side.
Lower the heat, cover and continue cooking for about 6-8 minutes, until the fennel is good and tender.
For the fish fillets
Pat the fish dry and season with a little bit of salt and pepper.
Heat a little bit of olive or coconut oil in a medium non-stick skillet, over medium-high heat. When pan is hot enough, add fillets and cook until it starts to form a little bit of a brown crust and flesh turns almost completely opaque. Very delicately flip the fillets and continue cooking until fish is cooked all the way through and no longer translucent. This should take about 1½ to 2 minutes per side, depending on thickness.
Sprinkle with lemon or lime juice and transfer to dinner plates
Serve with braised fennel, loaded coleslaw and fresh greens.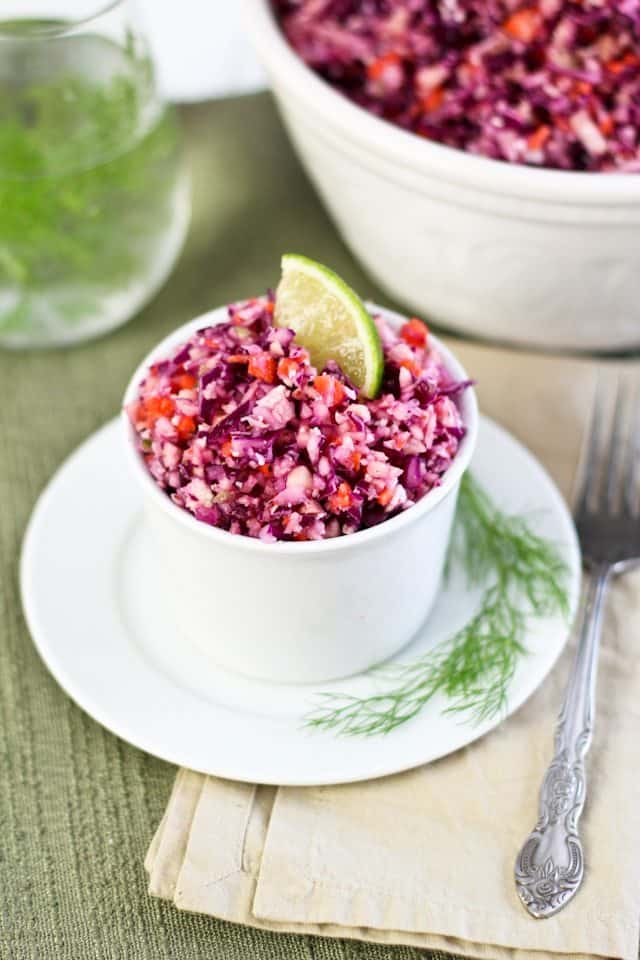 Loaded Coleslaw
Serves:
Makes about 12 cups
Ingredients
For the salad
½ medium red cabbage, cored (about 500g)
½ large rutabaga, peeled (about 400g)
½ large head cauliflower, outer leaves removed (about 400g)
2 carrots, peel on, cleaned, ends removed
½ large chayote, peel on
¼ large red onion
For the vinaigrette
The juice of 1 lime
3 cloves garlic, finely chopped
1 medium jalapeno pepper, seeded, finely chopped
¼ cup apple cider vinegar
¼ cup pure coconut water
2 tbsp Pommery Meaux mustard*
3 tbsp fresh ginger, chopped
½ tsp Himalayan or fine sea salt
½ tsp freshly cracked black pepper
Instructions
To make the salad, simply cut all of your vegetables into chunks of a size that is manageable by your food processor. Throw the veggies, one variety at a time, into the bowl of your food processor equipped with a standard "S" blade and process on pulse until they've reached the desired consistency. You're looking for fine gravel or VERY coarse sand. (appetizing, I know!)
Transfer all the veggies to a large mixing bowl and set aside.
In a small food processor, add all the ingredients for the vinaigrette and pour that slowly over the reserved salad. Delicately mix it in until well combined.
Place the salad in the refrigerator for at least 4 hours to allow for vegetables to wilt a little bit and flavors to fully develop.
This salad will keep for 3-4 days in an airtight container.

Notes
*You can also use Dijon, Whole Grain or any other type of mustard, just make sure it's sugar, alcohol and sulfite free if you want to stay Whole30 compliant.
Nutrition Information
Serving size:
Nutritional Information is based on 1 of 12 cups