Loaded Cauliflower Fritters
After many people made the original version of these Cauliflower Fritters and reported to having a hard time getting them to actually stick together, I thought I owed it to them to revisit the recipe and see what could possibly have gone wrong for them.
But of course, you know me, I can't follow a recipe, not even my own, so instead of simply recreating those fritters, I reinvented them. Good thing, me thinks, 'cuz these turned out MUCH better, in every possible way. They look better, they taste better, and they most certainly HOLD better!
In fact, these you even need to form into patties as opposed to dropping the batter directly into the hot skillet, and even in the raw state, the patties hold their shape very well.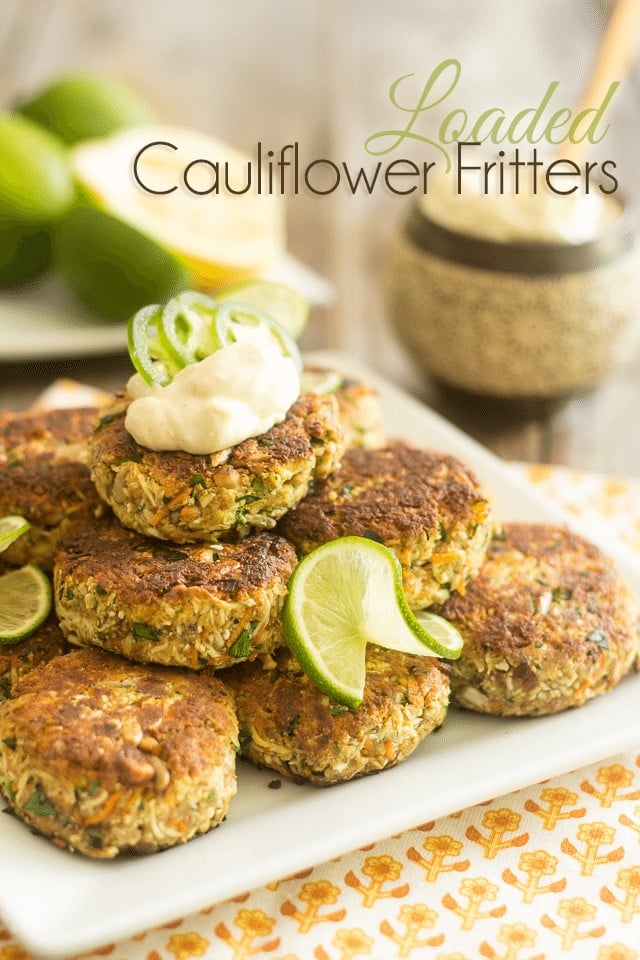 Oh, and you'll soon discover that I am NOT calling these "loaded" in vain! You will not believe the amount of good stuff that these little guys hide under their hood. The overall nutritional value that they pack is pretty astonishing!
We're talking cauliflower, or course, but also too, a whole bunch of lovely green things, some sunflower seeds, hazelnuts and even coconut!
I'm telling you, each of these little fritters is a veritable nutrient powerhouse.
And you know what the best part about them is? You don't need to squeeze the water out of the cauliflower!!! WIN! In fact, you don't even need to precook the cauliflower. DOUBLE WIN!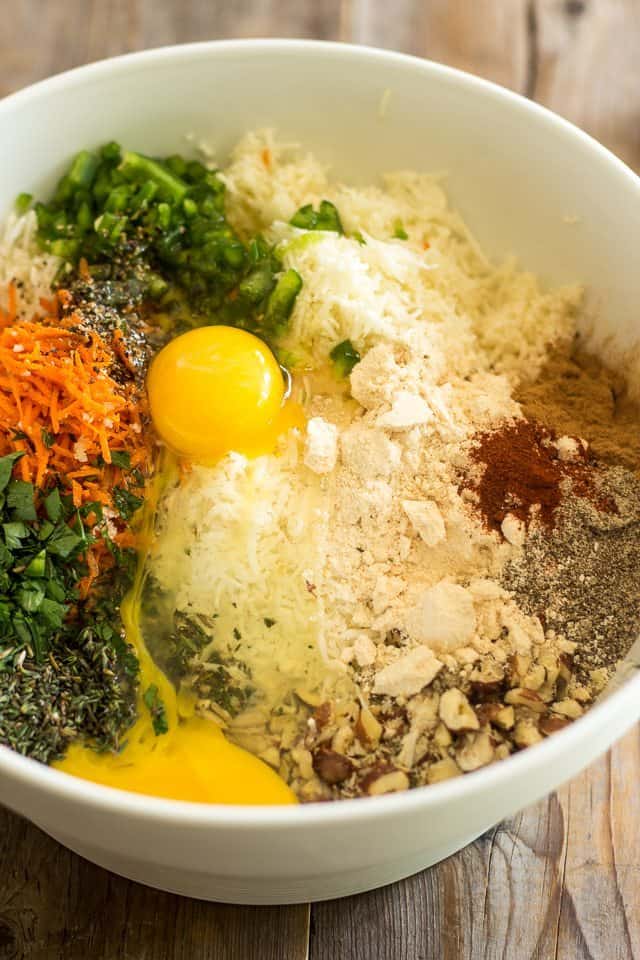 You will need, however, to grate your cauliflower as finely as you possibly can. It needs to resemble finely shredded coconut. In fact, if you look closely at the picture above, you should be able to spot both these ingredients. Can you tell which is which?
The shredded cauliflower is right above the intact yolk while the shredded coconut lies directly under that same yolk. They look pretty similar, don't they?
To get mine looking like this, I used the fine grater disc of my food processor. If you're using a box grater, make sure you use the fine side.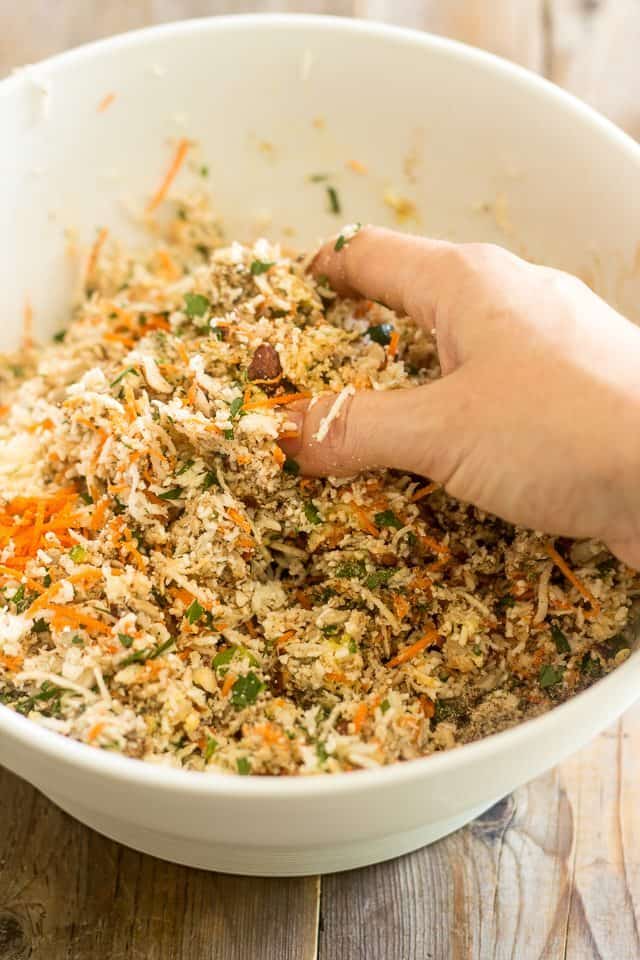 You'll want to grate your carrot in the exact same fashion and then throw it, as well as all the rest of the ingredients, into a large mixing bowl.
Now mix delicately with your most versatile and efficient kitchen tool: your fingers!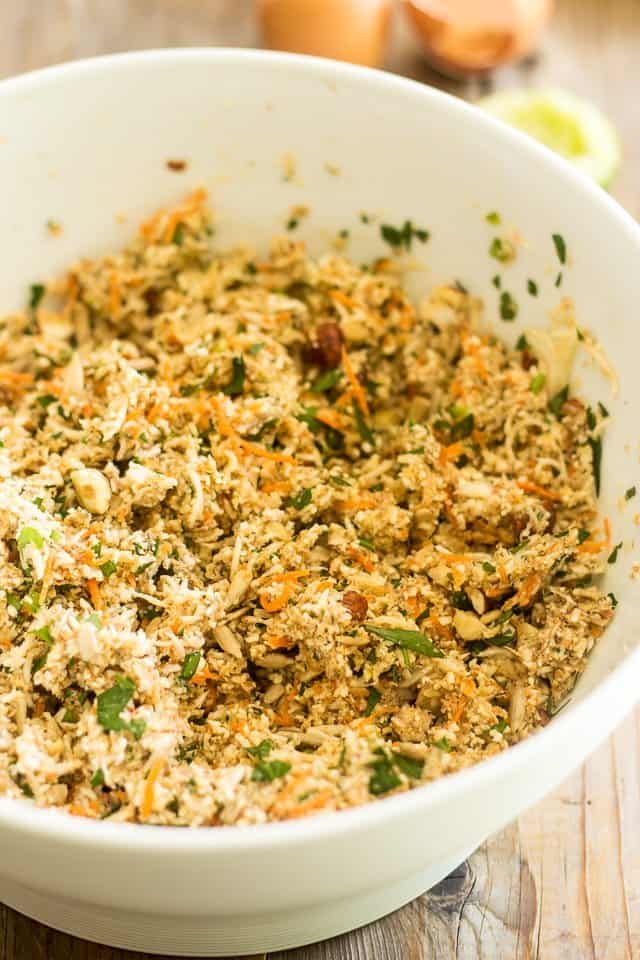 The final mixture should look something like this. Already looks pretty good, doesn't it?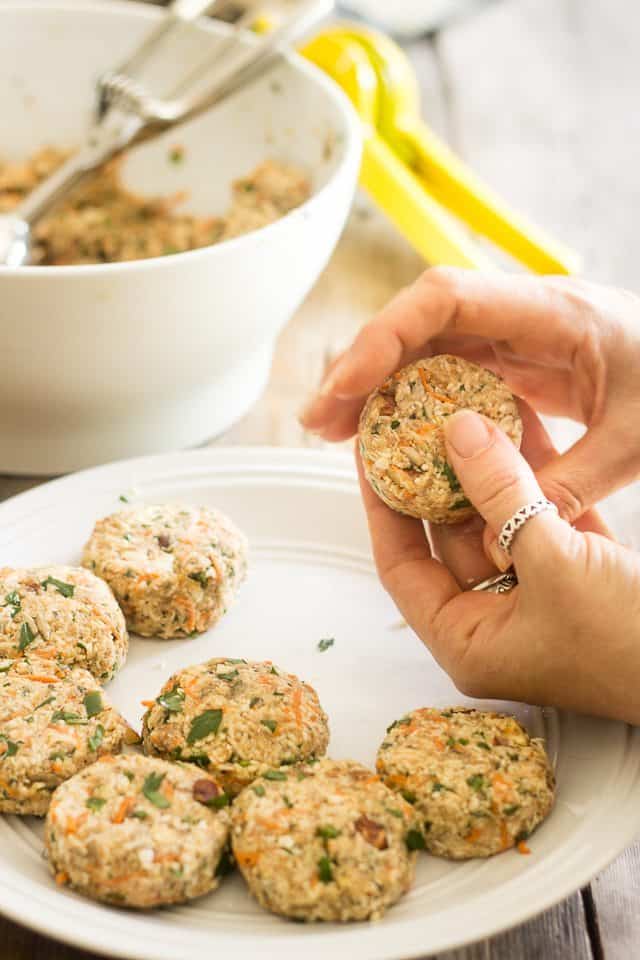 Now form this mixture into 15 patties. As always, when making patties, I like to use my trusty ice cream scoop. I find it makes the job so much easier and takes the guess work out of figuring out how much to use for each patty.
I'm all for evenly portioned patties!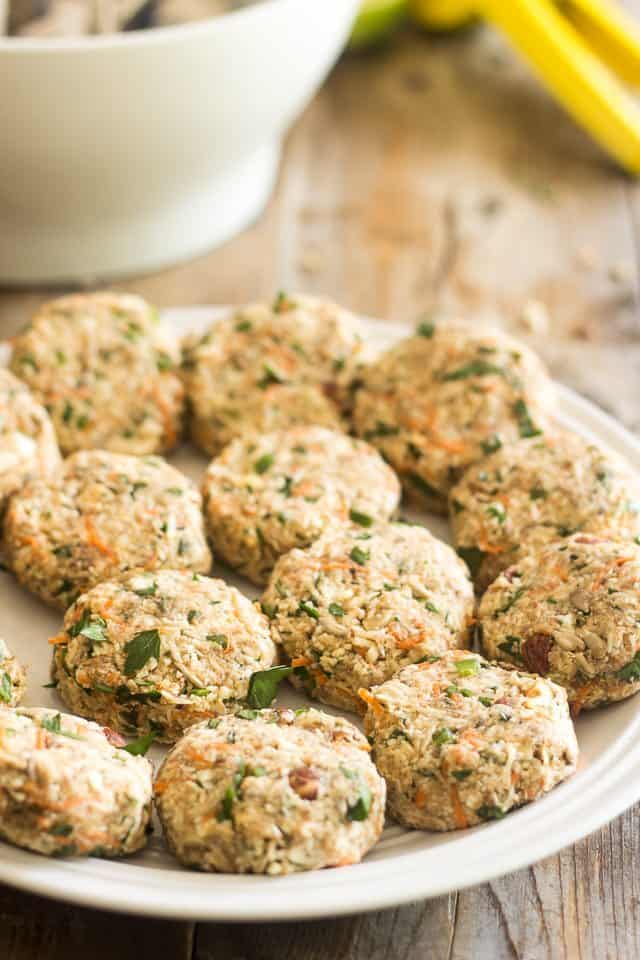 See how nicely the patties hold their shape? There's not a chance in the world that these will crumble and fall apart on you once cooked.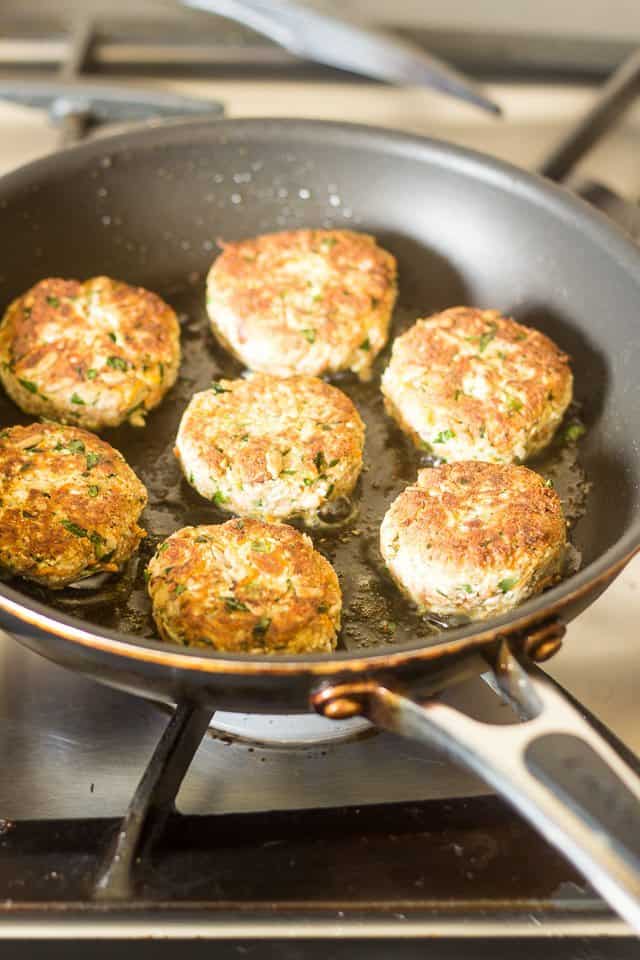 Speaking of cooking…
You want to cook them in a generous amount of heart healthy, heat stable fat (I used coconut oil) over medium heat, for about 2-3 minutes per side or until nice and golden. Notice how each of the fritters has been successfully flipped without falling to pieces! And I wasn't even all that delicate with them. Well, a little, you know… but not overly so!
Of course, you will have to work in batches, unless you own a gargantuan sized skillet, so you might want to keep the cooked fritters in a warm oven while you are working on the others.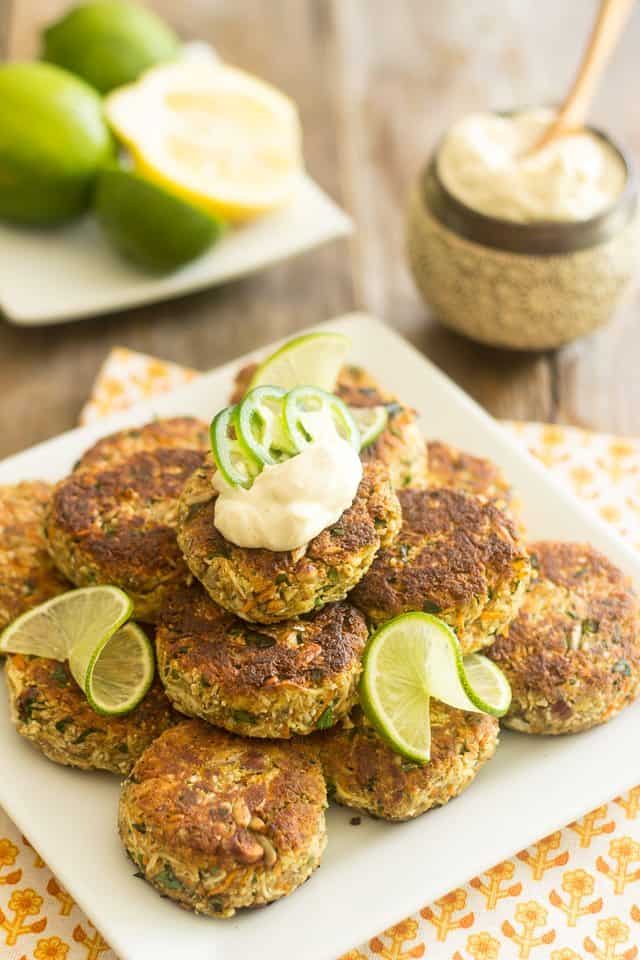 When the fritters are ready, transfer them to a plate, garnish with a generous dollop of paleo mayo, a few slices of lime and jalapeno peppers and serve to your hungry family members, friends or guests…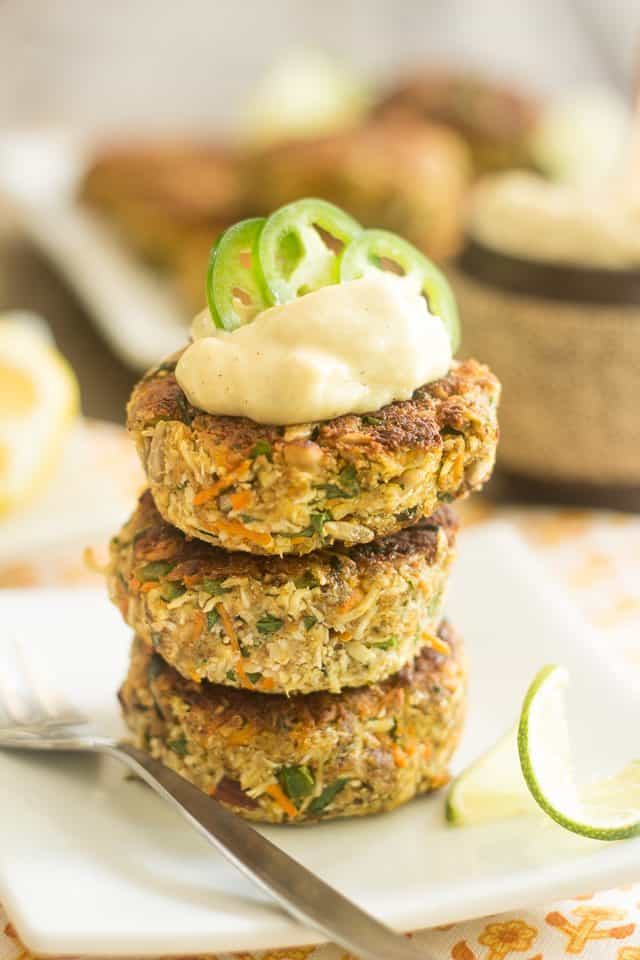 Or pile 'em up high, like such. Just because, I dunno. There's something about fritters: they just demand to be piled up high.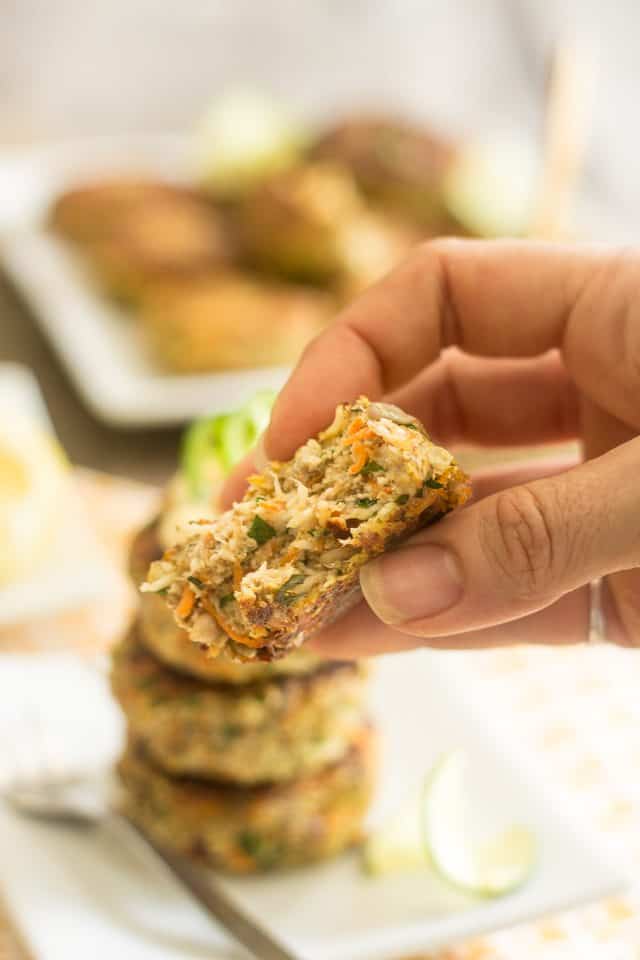 Check out all the yummy stuff that these fritters have to offer! Each of the colors that you see comes with its own flavor and texture, but all of them co-mingle and interact perfectly with one another. You get hints of crunchy, you get bits of soft and creamy, you get spicy, you get nutty, you get mild and buttery, you get… the idea! 
I'm telling you, every single bite feels like there's an orchestra in your mouth and the musicians are playing the grand finale, complete with fireworks and all!
Make these. They WILL satisfy, guaranteed!
Loaded Cauliflower Fritters
Servings: 15 fritters
Ingredients
500 g 1.2lb cauliflower, finely grated (about 1 medium head)
1 carrot, finely grated
2 green onions, finely chopped
1 clove garlic, minced
1 jalapeno pepper, seeded and finely chopped
1/4 cup fresh parsley, finely chopped
1/4 cup raw, unsalted sunflower seeds
1/4 cup raw hazelnuts, finely chopped
2 tbsp coconut flour
2 tbsp ground chia seeds
2 large eggs
Juice of 1 lime
1 tsp fresh thyme
3/4 tsp Himalayan salt
1/4 tsp freshly cracked black pepper
1/2 tsp ground ground Ceylon cinnamon
1/4 tsp smoked paprika
Instructions
Using a

box grater

or

food processor

, grate the cauliflower and carrot as finely as you can. (I used the fine grater disc of my food processor).

Transfer these to a large mixing bowl, add the rest of the ingredients and mix delicately with your fingers until well combined.

Form into 15 patties. Tip: using an

ice cream scoop

makes this job so much easier.

Heat a good amount of

coconut oil

in a frying pan set over medium heat and cook the fritters 6 to 8 at a time for 2 – 3 minutes on each side, until golden brown; keep warm while you cook the remaining fritters.

Serve warm, garnished with a generous dollop of

paleo mayo

and a few slices of jalapeno.
If you've tried this recipe, please take a minute to rate the recipe and let me know how things went for you in the comments below. It's always such a pleasure to hear from you!
You can also FOLLOW ME on PINTEREST, FACEBOOK, INSTAGRAM and TWITTER for more delicious, healthy recipes!