Salted Caramel Brownies – Of course, they're paleo!
My quest for the ultimate brownie continues!
While these are not exactly it, this recipe is still definitely a keeper! I'm not going to bs you and tell you that they're the best brownies I've ever had, but they are without a shadow of a doubt the most intriguing!
Don't get me wrong, they're good. They're damn good even. But you know how I'm all for dense and chewy when it comes to brownies. These guys? They're to-tal-ly on the cake-y side. Well, sort of…
In fact, their texture is so plain weird, I don't even know how to describe it. It's like dry and crumbly but yet, it doesn't feel dry at all. They sorta-kinda melt in your mouth as they are crumbling. Let's say they crumble agreeably, in a moist kind of way. And they're dense, and I do mean DENSE, but yet, they feel super light and airy at the same time.
No, I'm not trying to make fun of you. For realz, these have the coolest, strangest texture and I think they do need to be experienced.
To be honest, though, I wasn't sure that I even wanted to post the recipe at first, but after indulging in a couple of squares, I decided that it was definitely a recipe worth sharing, if only for that Salted Caramel Frosting.
For that frosting, guys… OH! That frosting. I think that its very existence should be considered illegal. Maybe I should destroy that recipe, after all. That one, or the one for the Salted Caramel itself, for that matter.
A single taste of any of these two puts you at high risk of developing a severe addiction. And who needs new addictions, really?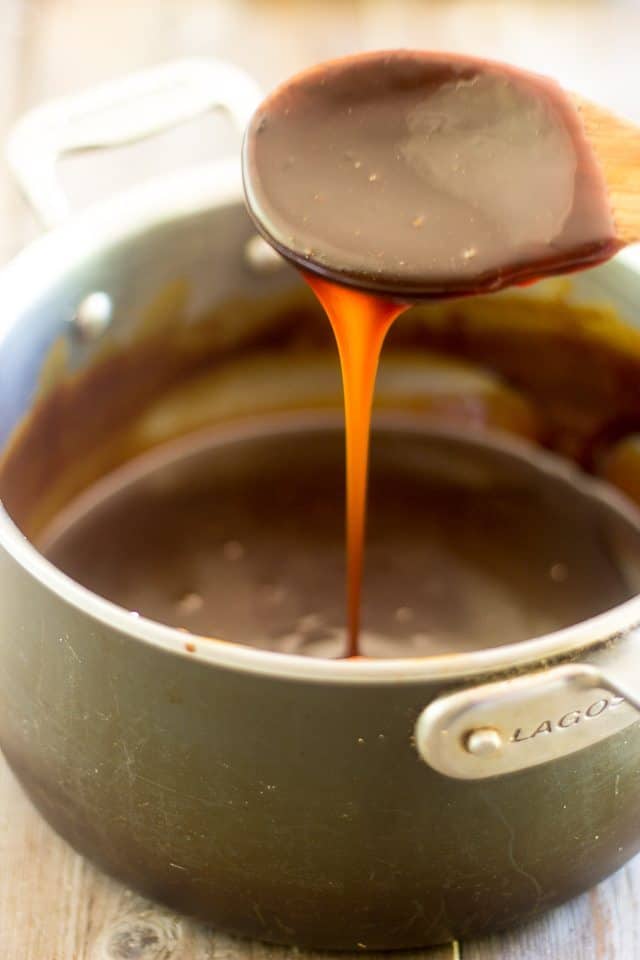 If you've decided to give these guys a try despite my warnings, you will first need to make some salted caramel. I've seen a lot of recipes for paleo salted caramel over the internet, but they all look very light to me. I like my caramel to be dark, and this one truly delivers in that department. It's dark, and it has a very bold and intense caramel flavor that matches its color.
Plus, it's not that complicated or doesn't take that much time to make either, unlike many of the recipes I've come across.
You will need two saucepans, one to boil the sugar, one to boil the milk. You will then mix the two together, boil for a few minutes and voilà! Deliciously addictive caramel sauce. The addition of salt is entirely optional, but I wouldn't even think of leaving it out. It just simply elevates it to a whole new level of deliciousness!
Once you've made that caramel, time to start working on the batter. This couldn't be easier. Add all wet ingredients to your food processor, process until smooth, then add dry ingredients and resume processing until well combined.
As you can see, the batter does come out fairly thick…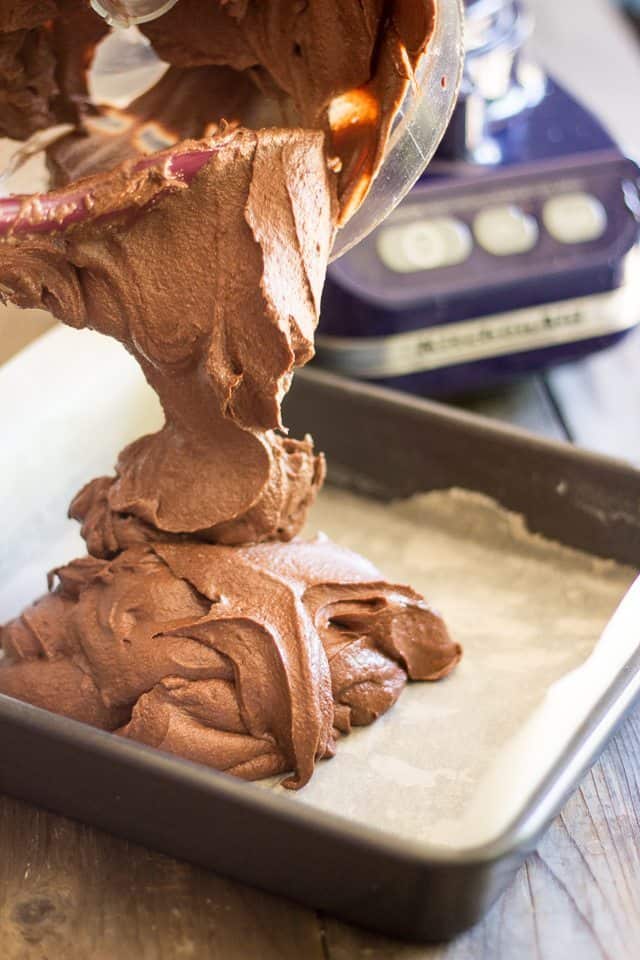 You then need to pour that thick batter into a 9″ square pan that you've previously greased with coconut oil and lined with parchment paper.
Greasing with coconut oil first insures that the parchment paper adheres really well to the pan and that no batter will make its way underneath it. It's always a good idea to leave some of that paper hanging, too. This makes taking the finished brownies out of the pan so much easier.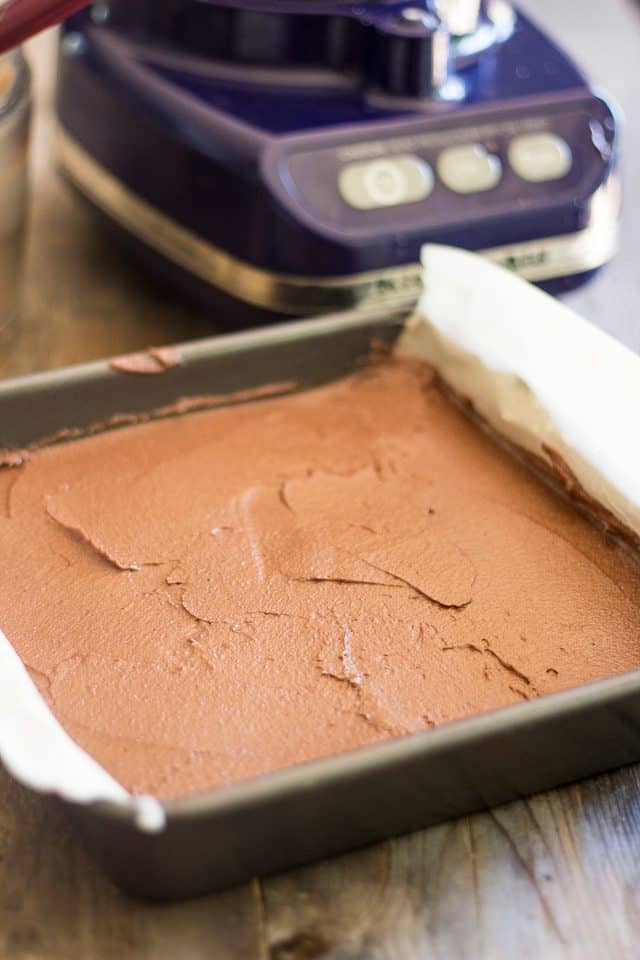 Spread that batter as evenly as you possibly can all the way the the edge, then throw that in the oven for about 20 minutes.
This will leave us with ample time to start working on the frosting! Oh yeah… the frosting!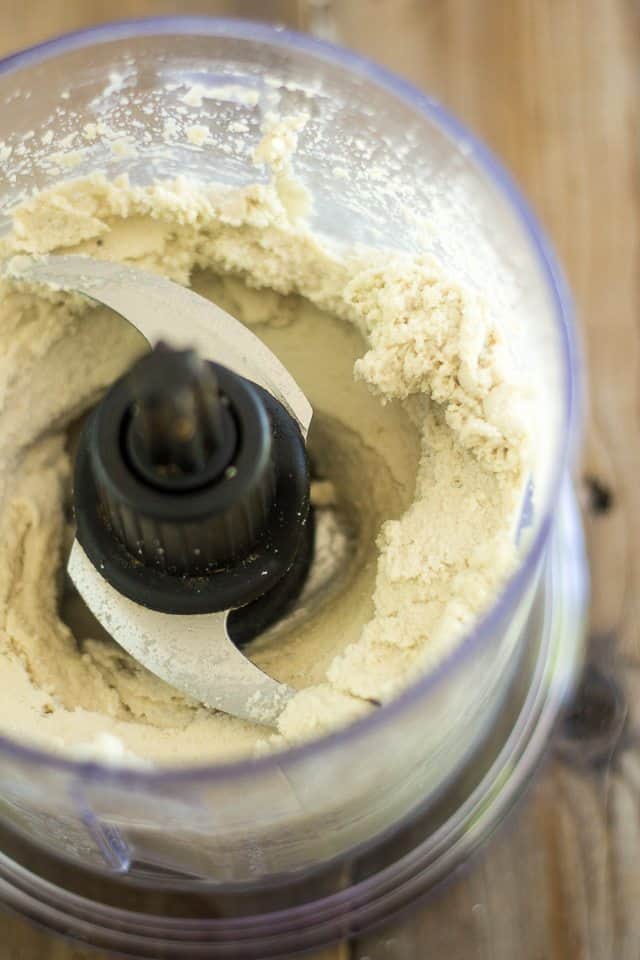 First, rinse your soaked cashews under running water and process them until smooth and creamy, using a small food processor this time. If you'd rather not dirty another piece of equipment, I suppose you could also use your big one, since it's already out and dirty from making the batter, but you might have to do a little bit, or a lot, of side scraping. I'm not really a fan of all that stop and go: I'd much rather take the small guy out and get the job done fast!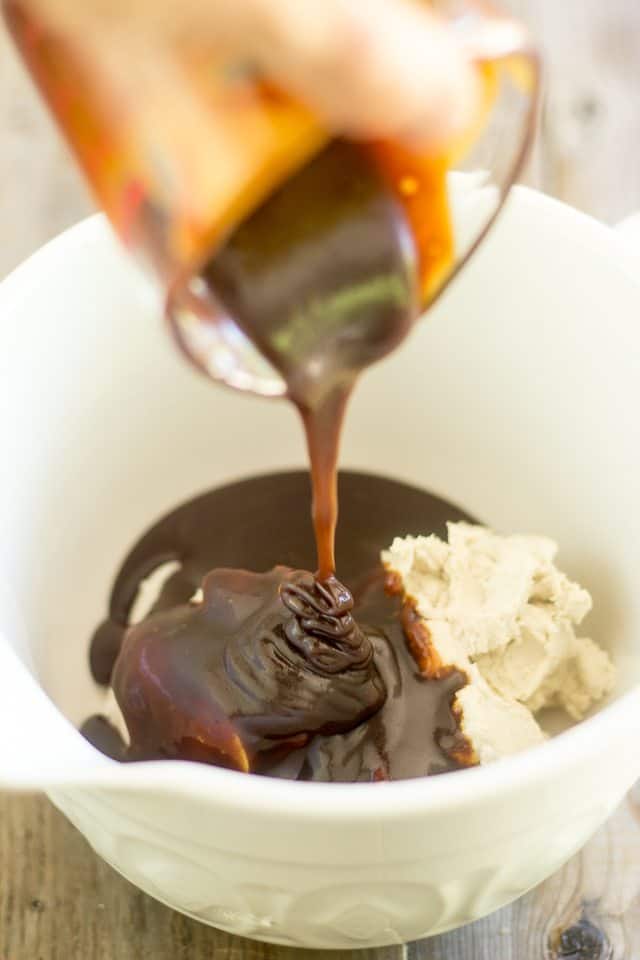 Transfer the creamed cashews to a large mixing bowl, add coconut butter and a cup of that salted caramel you just made. Just make sure that it's had time to come down to room temperature, else that frosting will end up being way too soft!
Oh, and about that caramel… you will find that you have way more of that delicious syrup than you actually need to make these brownies. You will be left with a fairly good amount when all is said and done. Just throw it in the fridge in an airtight container, where it will keep for about a month. While it does set and become fairly firm when chilled, it can easily be brought back to its original ooey and gooey state by reheating it shortly in the microwave or on the stove top over low heat.
Trust me, you won't mind having all that leftover sauce…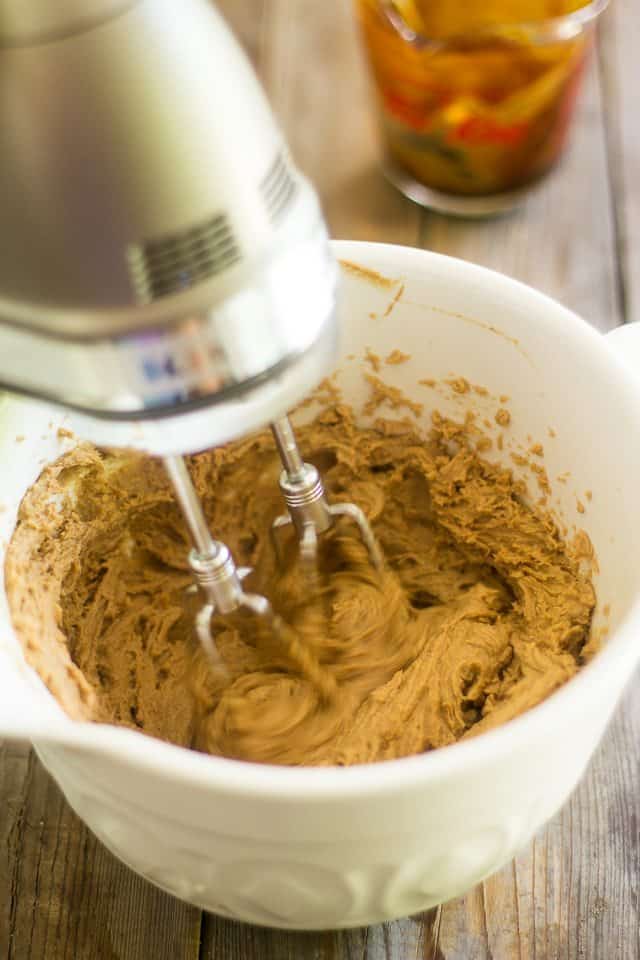 Back to that frosting…
Beat all the ingredients with a hand mixer set on high until everything combines into a smooth, airy frosting. To make it even fluffier, send it for a quick 30 minute stay in the refrigerator while your brownies are cooling, then give it another 30 seconds of high speed whipping action.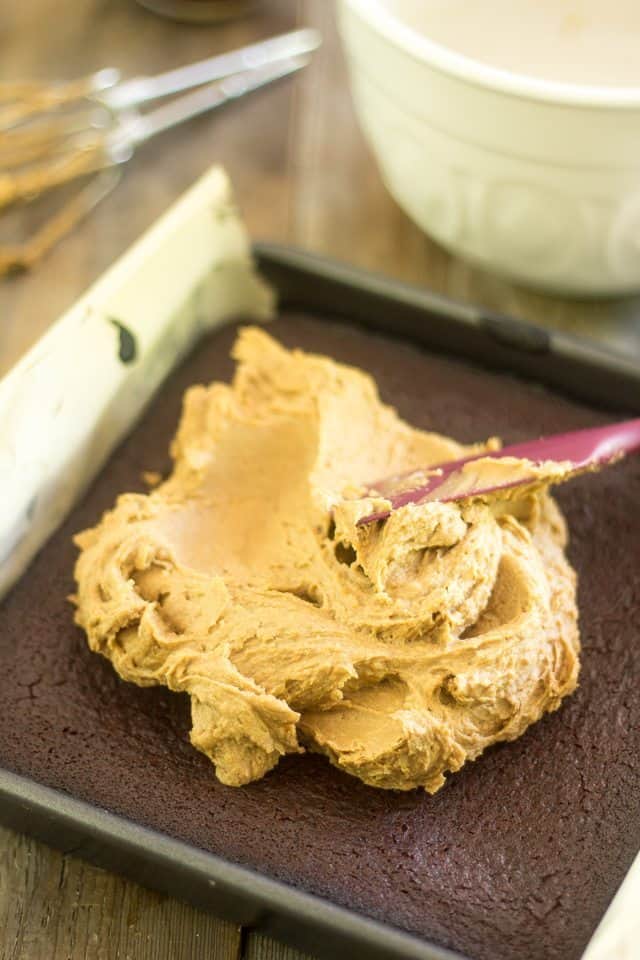 After your brownies have completely cooled, mound that delicious frosting right in the center of the cake…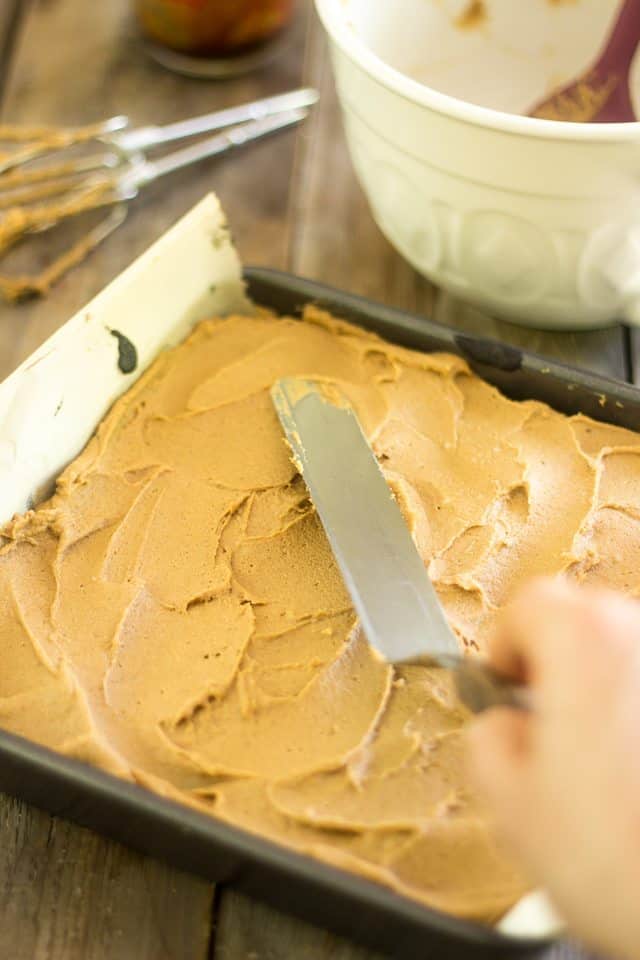 …then spread that frosting all the way to the sides while creating cute little swirls with your spatula as you go.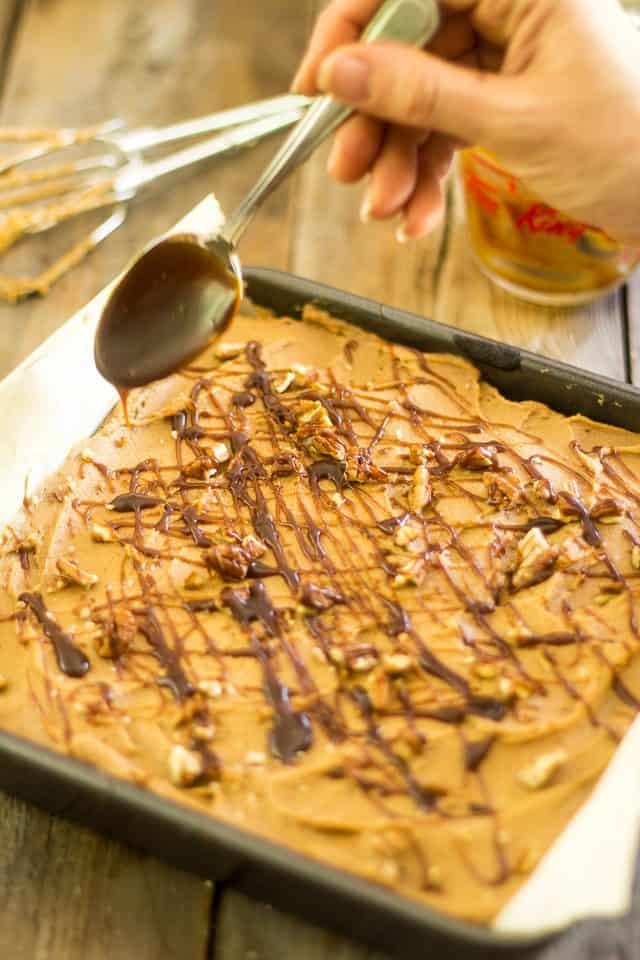 With a spoon, drizzle some more of that delicious salted caramel all over the frosting in a back and forth, criss-crossing motion. No need to get fancy here, just go at it, liberally!
Sprinkle a handful of chopped pecans and a little bit more fleur de sel all over the top.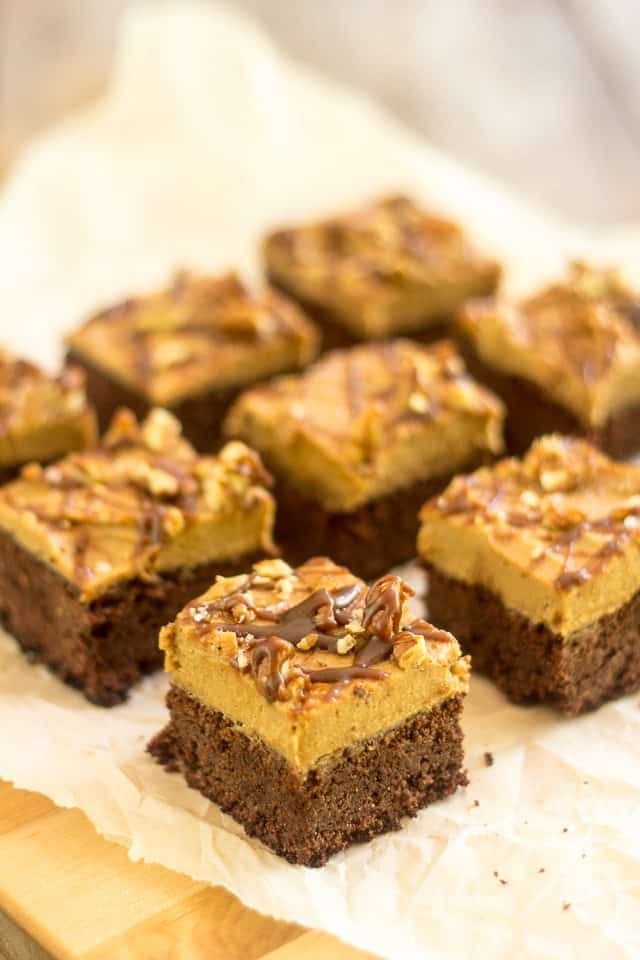 Now I strongly suggest that you put these in the fridge to chill for a couple of hours before cutting them into squares. You'll do a much better job if that frosting has been given a chance to set.
If you don't have that kind of patience that's okay, though. I can't blame you… go ahead and indulge right away. Just make sure, however, that you store any uneaten brownies in the fridge.
For the record, these also freeze beautifully well and can even be eaten practically straight out of the freezer. Erm, yeah… I may have rendered myself guilty of doing that. What? It was nothing but sacrifice on my part, you know… I only wanted to test them one more time. I did have to make sure that the recipe was really worthy of sharing after all.
And you know what? It really was. Could it be that I'm slowly warming up to cake-y brownies?
Could very well be. Let me go try one more, just to make sure!
Paleo Salted Caramel Brownies
Servings: 16 brownies
Ingredients
FROSTING
1 cup raw cashew pieces, soaked overnight
1/2 cup creamy coconut butter, or make your own
1 cup salted caramel, recipe follows
Instructions
Salted Caramel
In a medium saucepan, mix the coconut sugar and water listed under "Part I" and bring to a boil over medium-high heat. Let the mixture boil for about 5 minutes or until the sugar becomes smooth, takes a dark caramel color and starts to get thicker.

Meanwhile, in a separate saucepan set over medium heat, mix all the ingredients listed under "Part II" (except for fleur de sel) and cook, stirring occasionally, until the mixture just barely starts to simmer then kill the heat. It is important that you do not let this come to a full boil.

As soon as Part I is ready, slowly pour in the warm coconut milk mixture while constantly stirring with a long handled wooden spoon.

Once all the milk has been added and completely incorporated, bring the caramel to a boil and continue cooking for 3 full minutes while stirring constantly, then turn off the heat and set aside to cool.

When the caramel is down to room temperature, stir in Fleur de sel.
Brownies
Preheat the oven to 375F; grease a

9" square baking pan

with coconut oil then line with parchment paper. The coconut oil will insure that the parchment papers adheres to the pan really well and that no batter will get under it.

Add all the ingredients listed under "Wet Ingredients" to the bowl of your

food processor

and mix until well combined and smooth.

Mix all the ingredients listed under "Dry Ingredients" to a large mixing bowl and mix with a large whisk until well combined. Add to wet ingredients and resume processing until combined. Pour in the reserved pan, spread as evenly as possible and bake in a 375F for 20-22 minutes. A toothpick inserted halfway between the side and center of the cake should come out clean.

Remove from the oven and place on a rack to cool completely.
Frosting
Drain the cashew pieces and rinse them really well under cold running water. Place them in a small food processor and process until smooth and creamy.

Transfer that mixture to a large mixing bowl; add the coconut butter and one cup of salted caramel.

Beat on high speed with a

hand mixer

until light and airy. Refrigerate for about 30 minutes, and then beat again on high for 30 seconds to fluff up.
Assembly
Mound the frosting right in the center of the brownies and spread it evenly, all the way to the edge, creating little swirls in the icing as you go.

With a spoon, drizzle some salted caramel all over the frosting in a back and forth, criss-crossing motion.

Sprinkle with chopped pecans and fleur de sel; refrigerate until completely chilled then cut into 16 squares.

Store in the refrigerator in an airtight container for up to a week.
Notes
You will end up with leftover caramel. Keep it in the fridge in an airtight container for up to a month. It will become firm when chilled but you can gently reheat it to bring it back to its liquid form.
If you've tried this recipe, please take a minute to rate the recipe and let me know how things went for you in the comments below. It's always such a pleasure to hear from you!
You can also FOLLOW ME on PINTEREST, FACEBOOK, INSTAGRAM and TWITTER for more delicious, healthy recipes!