Creamy Broccoli Salad
I've been loving like mad on this Broccoli Salad lately, so I decided it was probably time for me to share the recipe with you.
Funny how I tend not to share my "regulars" on here, probably because I find they're too boring to make an appearance on these pages. But this salad, I seriously can't seem to get enough of. Every night for well over a week, I've been fixing me bowlful after bowlful.
After a while, I got tired of making practically the same dish night after night, so I decided to test if maybe I could make a bigger batch and see how it would hold up to a somewhat prolonged stay in the fridge. I must say that I was pleasantly surprised with the results of my little experiment. While the salad did wilt some, which was to be expected, it still held its shape pretty decently, maintained a very good amount of crunch and didn't lose one iota of tastiness! 
I will not hesitate to add this one to my list of salads to whip up on the week-end to last me throughout the week. While it might not go through the entire week, it will hold for a good 3 or 4 days. Good enough for me!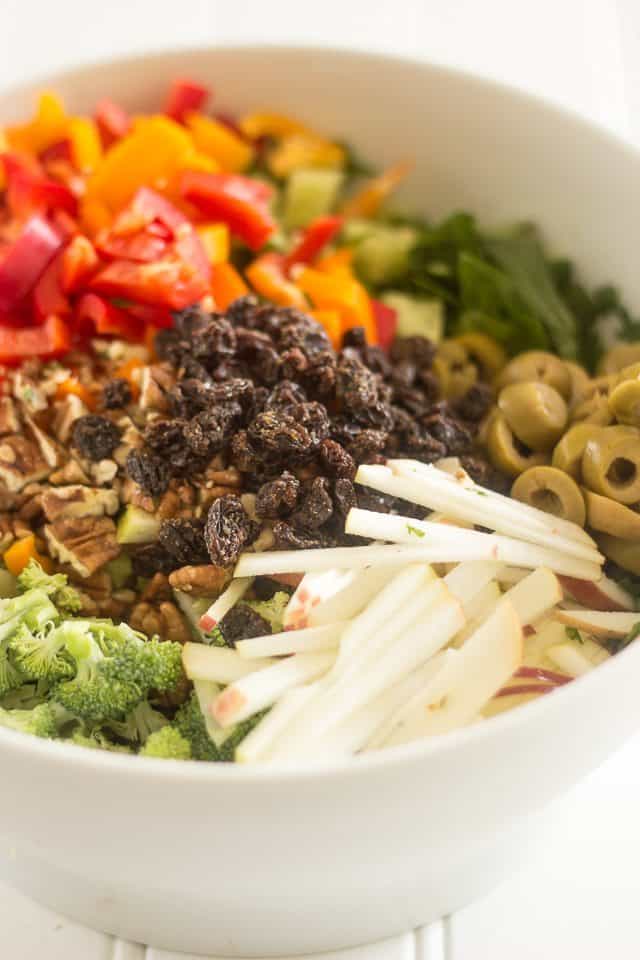 This is the kind of salad that's stupid easy to make too: you just basically prep all your ingredients, which doesn't take much time at all, then dump everything in a giant bowl and stir.
Even prepping the ingredients is super easy. There's no sticky garlic to peel, no meany onions that will make you cry… Only a bunch little broccoli florets, a couple of cute little cukes, some baby spinach leaves and a trio of sweet bell peppers to chop, half an apple to julienne, and a handful of olives, raisins and pecans to throw in.
Heck, there's not even a vinaigrette to make. All this tasty salad requires is a pinch of salt and pepper, a squeeze of lemon juice, a good splash of balsamic vinegar and a generous blob of paleo mayo. Of course, you already have some of that in the fridge, right? If you don't, lucky you will have to whip up a batch. Call me crazy, but making mayo never fails to put a huge smile on my face. I'm always like "YAY! I'm all out of mayo, need to make some more!"  *insert stupid crazy big grin right here* Doesn't take much to make me happy, does it?
Well, if you've made some of that mayo before, you probably understand where I'm coming from. If you haven't… you most certainly will after you have!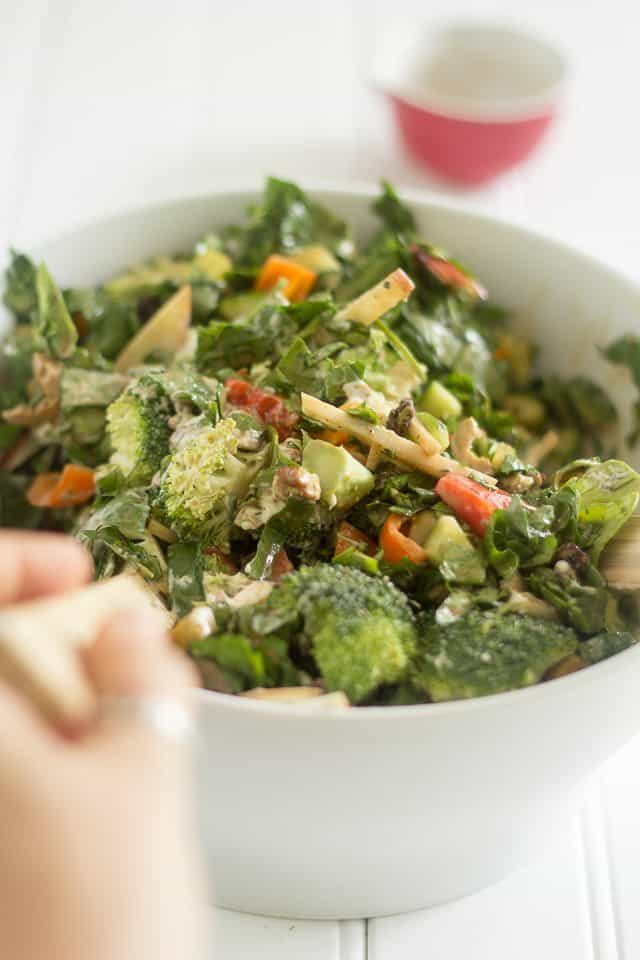 Alright, enough about that mayo already, it's salad we're supposed to be making. It might not be quite as fun, but it sure is just as tasty.
So once you've got all your ingredients gathered into a humongous mixing bowl, give everything a gentle stir until evenly combined.  Ah, and you don't even need to be this gentle. This is a pretty sturdy salad. It can take a little gruffness. So go at it and mix it with all your might! Just don't send it flying all over the place… (who, me? yeah… I might have… just a little!) 
Now of course, you don't have to stick to the exact list of ingredients that I used here. I didn't make it exactly like this every single night I had it, you know. I remember adding avocados once or twice (of course, you know how much I love my avocados) and raw mushrooms, too, which were absolutely brilliant! I wouldn't recommend adding mushrooms if you're not gonna eat this right away though, as they will turn mushy on you.
Some of the key ingredients which vastly contribute to giving this salad its bold flavor and character, namely the olives, raisins, apples and balsamic vinegar, I wouldn't leave out. Oh, and the broccoli of course. It is, after all, the very foundation of this dish, so you definitely want to leave that one in, too!
Other than that, go wild, have fun!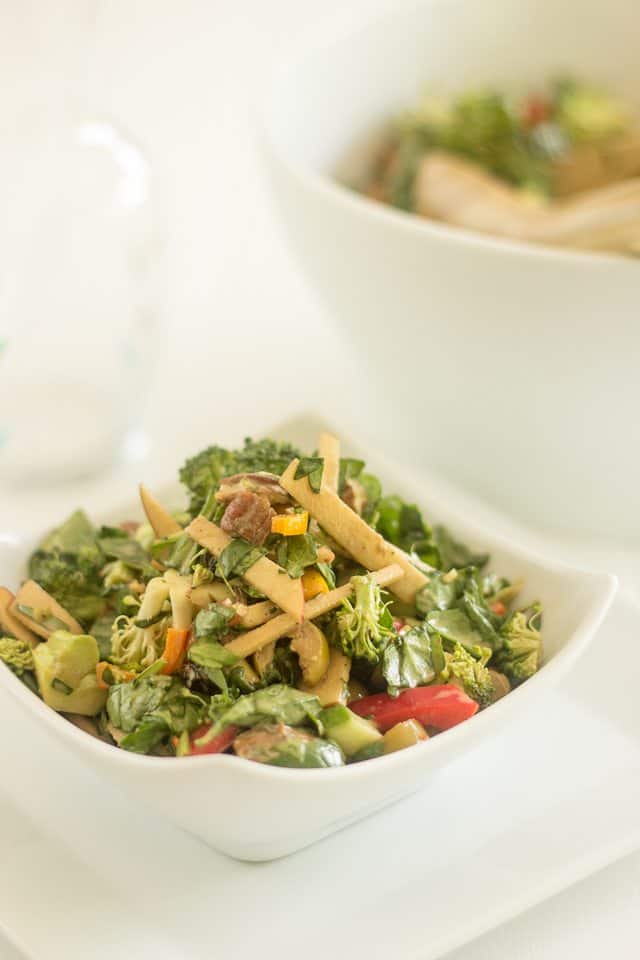 For the record, fresh parsley and watercress instead of spinach work extremely well, and walnuts replace the pecans brilliantly. Zucchinis can very well sub for the cucumbers, and a little bit of finely chopped celery adds a very agreeable additional crunch.
Seriously, I just finished the last of this tonight, and I'm thinking I want to whip up another batch tomorrow.
You know what? I think I will. And want to know what the best part is? I'm all out of mayo!!!
Creamy Broccoli Salad
Servings: 6
Instructions
Add all the ingredients to a large mixing bowl and stir delicately until well combined.

Serve immediately or leave in the fridge for a few hours for flavors to meld.

This salad will keep for a few days in the refrigerator in an airtight container. Although some wilting is to be expected, it still remains very tasty.
If you've tried this recipe, please take a minute to rate the recipe and let me know how things went for you in the comments below. It's always such a pleasure to hear from you!
You can also FOLLOW ME on PINTEREST, FACEBOOK, INSTAGRAM and TWITTER for more delicious, healthy recipes!