Quick & Easy Chickpea Salad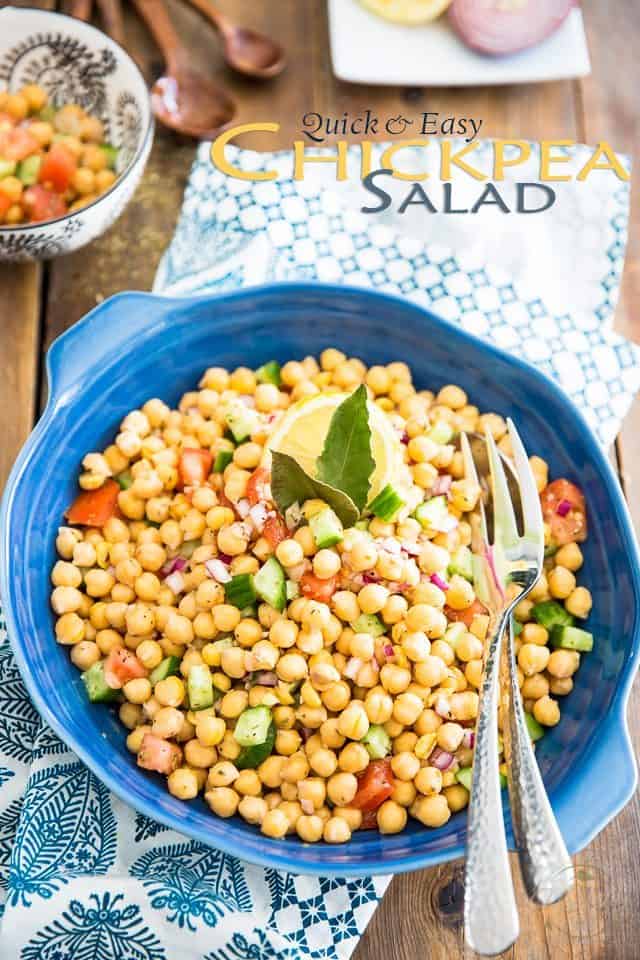 You know how sometimes, you think you're not really all that big on a particular food and have no problem staying away from said food for months and even years on end. But then, for some reason, you get hit by a very sudden and uncontrollable craving for said food and you just can't seem to get over it, no matter how many times you give in to said craving.
Lately, I've have that happen to me a lot… First, it was with peanuts, and now I appear to be going trough a similar phase with chickpeas. I'd forgotten just how much I LOVE 'em little half crunchy, half creamy, nutty legumes. Before I went paleo, I used to have them ALL the time: one of my favorites was oven roasted chickpeas, but I'd also find all sorts of clever ways to add them to my recipes. I've turned them into yummy chocolate chip cookies, once, and then even into decadent chocolate truffles!
But now, I think I would be amply satisfied with sitting myself down with a bowlful of plain cooked chickpeas and munch on them just like that, without even giving them the tiniest bit of flavor-enhancing treatment. Save for maybe sprinkle them with a tiny little bit of salt.
But that would be kind of boring, wouldn't it? So I thought why not treat myself to a real quick and easy chickpea salad, instead?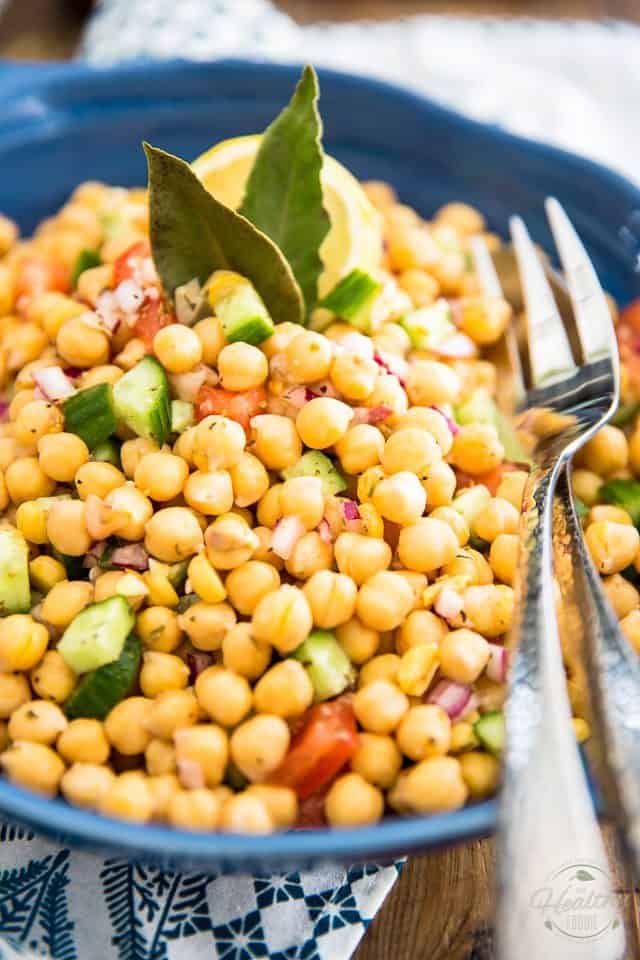 Indeed, that salad is extremely easy to make, especially if you're gonna use canned chickpeas. But even if, like me, you prefer to cook your own chickpeas, once that is out of the way, the salad will come together in about 5 minutes, tops! And cooking chickpeas, well, it really isn't that complicated, is it? Basically, you soak them overnight, simmer for about an hour, drain and use immediately or put them in the fridge to cool.
I find there are many benefits to cooking your own, as opposed to buying the canned stuff.
For starters, I get to change the water a few times while they soak, and then rinse them real well one more time before I cook them. That simple precaution is apparently known to really help in lessening their "ahem" undesirable side effects, if you get my drift… Plus, I can keep them a bit more on the crunchy side, which for me is a big plus: I find that canned chickpeas are often a bit too mushy for my taste. And you can also cook your beans in a lightly flavored broth, which will make them tastier. The only downside to cooking your own, if there is one, is that you need to plan a day ahead, whereas with the canned version, 10 seconds of planning is about all you'll need (which is about how long it will take to pop open that can…)
So honestly, if you're in a pinch, canned chickpeas definitely make for a very suitable option.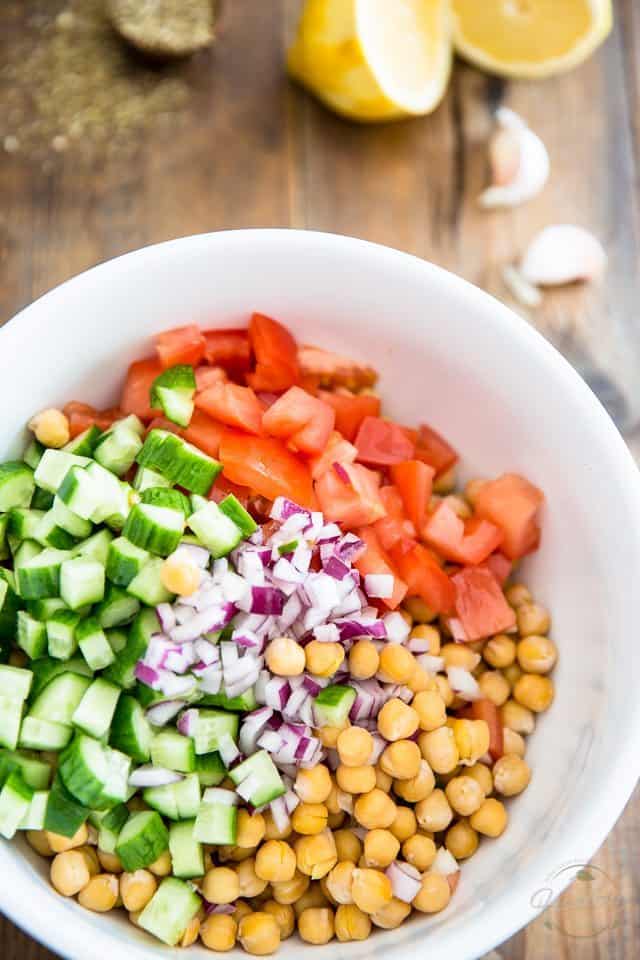 Now that we have our chickpeas, let's turn them into a delicious salad…
Chop 2 Lebanese cucumbers, a ripe tomato and about two tablespoons of red onion and throw all of this, along with 4 cups of cooked or canned chickpeas, into a large mixing bowl.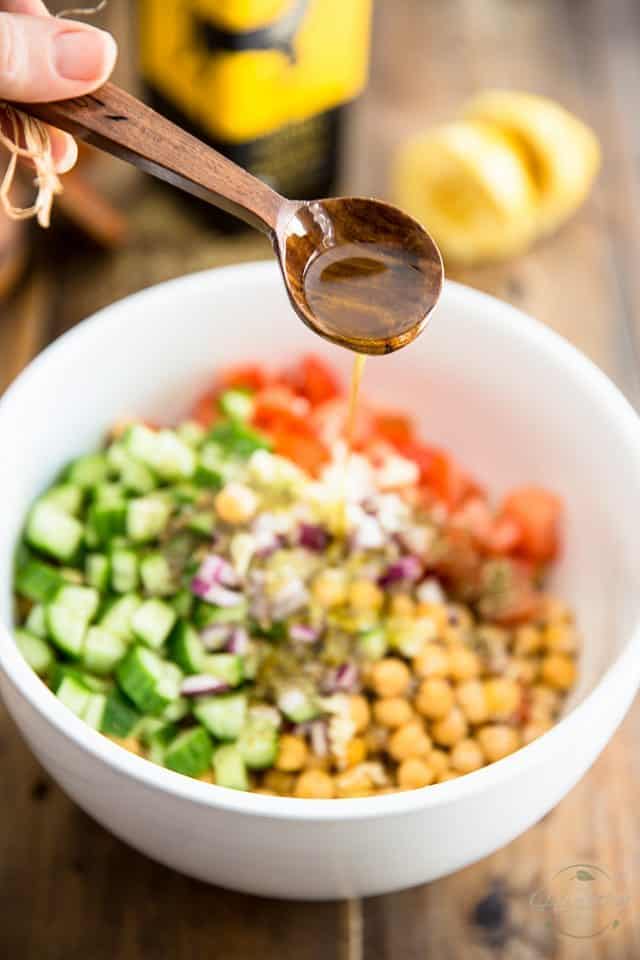 Add some dried oregano leaves, salt, pepper, lemon juice and olive oil.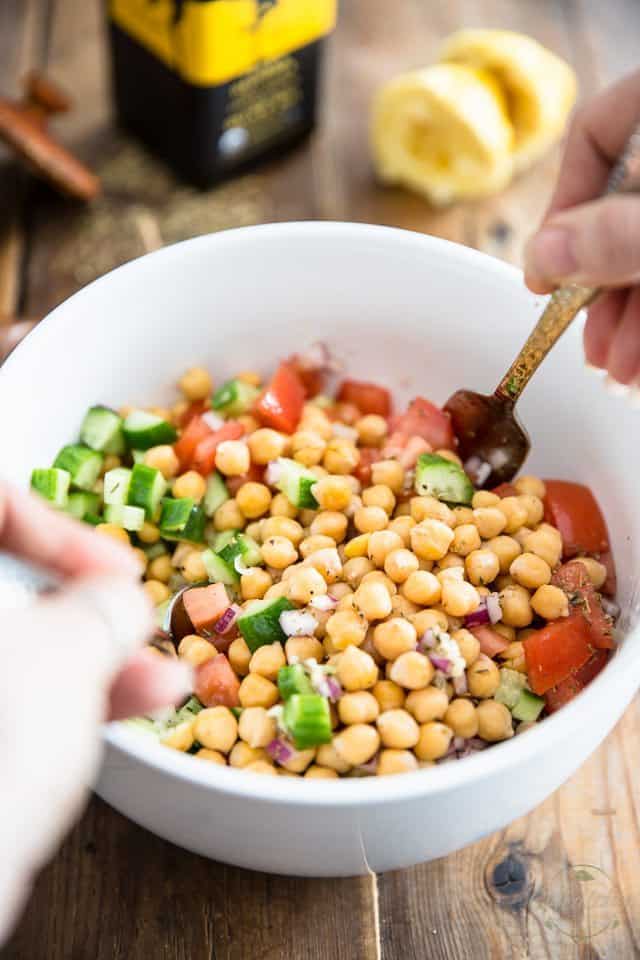 Toss gently to combine and serve your salad immediately, or place it in the fridge for about an hour to allow flavors to meld.
Note that it will keep for a couple of days, but the cucumbers and tomatoes won't look nearly as fresh and appetizing the day after, so if you're planning on serving this to guests, you definitely want to put it together shortly before serving.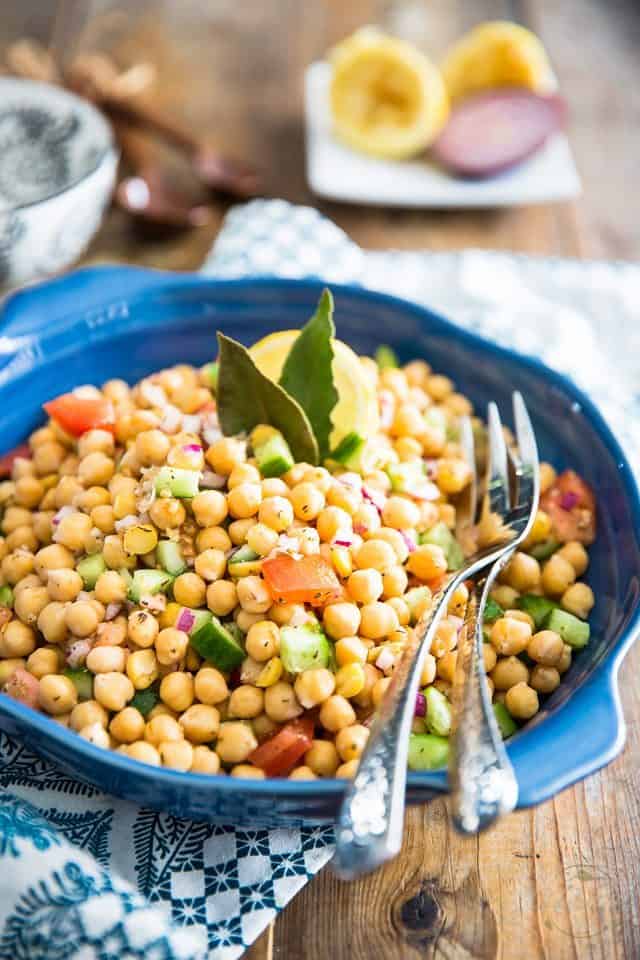 Quick & Easy Chickpea Salad
Chickpea Salad doesn't get much easier than this: just toss a few cups of cooked chickpeas with fresh cucumber, tomatoes, onions and a few herbs and spices
Servings: 4
Ingredients
4 cups cooked and cooled chickpeas*, (you could also use canned)
1 large red tomato, diced
2 lebanese cucumbers, finely diced
2 tbsp red onion, finely chopped
2 cloves garlic, minced
the juice of 1 lemon
2 tbsp extra-virgin olive oil
1 tbsp dried oregano
1/2 tsp Himalayan salt
1/2 tsp freshly ground black pepper
Instructions
Add all the ingredients to a large bowl and toss gently to combine.

Serve immediately or place in the fridge for about an hour to allow flavors to meld.

This salad will keep for up to a few days in the refrigerator.
Nutrition
Calories: 242kcal, Carbohydrates: 31g, Protein: 10g, Fat: 10g, Saturated Fat: 1g, Sodium: 752mg, Potassium: 545mg, Fiber: 9g, Sugar: 4g, Vitamin A: 460IU, Vitamin C: 9mg, Calcium: 107mg, Iron: 3mg
If you've tried this recipe, please take a minute to rate the recipe and let me know how things went for you in the comments below. It's always such a pleasure to hear from you!
You can also FOLLOW ME on PINTEREST, FACEBOOK, INSTAGRAM and TWITTER for more delicious, healthy recipes!