SNEAK PREVIEW OF PALEO HOME COOKING AND A FREE RECIPE!!!
*Clears throat and reads with the deep, low voice of a TV announcer*
We interrupt our regular programming to bring you this very special announcement…
Haha! Seriously you guys I AM SO FRIGGIN' EXCITED, I can't control myself. I'm acting all silly!
My very first cookbook, Paleo Home Cooking, will be released in just a little over a month now. The designers have been working like mad for many weeks now to make every single page look just as beautiful as I imagined it, and then some. Just a few more little tweaks and then the files will be off to the printers.
Would I sound extremely obnoxious if I told you that I am absolutely IN LOVE with my book? It looks so beautiful you guys, I just can't wait for you all to see it. Oh, and by the way, If you haven't secured your copy yet, now's your chance… you may never get a better deal!
I probably shouldn't be doing that, but I just can't resist. I HAVE to show you some of the interior pages. If I had my way, I'd post each and every single page for you to see, but then that would kind of ruin the surprise, wouldn't it? Plus, I don't think my publisher would be too happy with me…
So let's only do a few. I'm sure I can get away with that!
The table of contents looks so pretty, I think I could have it framed and hung on a wall.
And that index! Oh my! I think it's the best I've ever seen, by far! I'm so stoked that it should happen to be in my book!
Check out the chapter dividers… and while you're at it, why don't you take a look at what you can expect to find in the Sweets and Treats chapter!
Between you and me, you really want to give that Carrot Cake a try. It'll have your taste buds and tummy hold hands and make back flips together! Oh yeah, trust me; such a thing IS possible. You'll understand once you've had a taste of it!
There's much more than just recipes in my book, though. I've also included a few guides to help you better understand what the paleo lifestyle is all about. I'll show you how to stock your kitchen with Paleo-approved ingredients and equip your kitchen with indispensable kitchen tools.
Of course knowing me, you know I'm ALL about pictures, so you can expect TONS of them. In fact, there are pictures on pretty much every page of the book. That or super cute illustrations that the awesome designers at Victory Belt made exclusively for me. Seriously… how adorable is that cast iron skillet? There are many more just like that… You'll look forward to discovering them all as you flip through the pages!
Alright… don't tell anyone, but I'm also wanting to share a recipe with you. Just one, just this once…
How do Blueberry Muffins sound? I mean, who doesn't like Blueberry Muffins, right? Most paleo versions, though, tend to be extremely eggy in flavor and/or have a really weird texture to them. Not these guys. In fact, they are so true to the real thing, they'll have your friends and family members fooled for sure. Hey, they may even have your own personal taste buds tricked.
So here you go. Take this one and run with it. It's all yours, all free. Below is the recipe as it appears in Paleo Home Cooking, but I've also plugged it into the recipe plugin for you so you can easily print it, until you can get your hands on the book…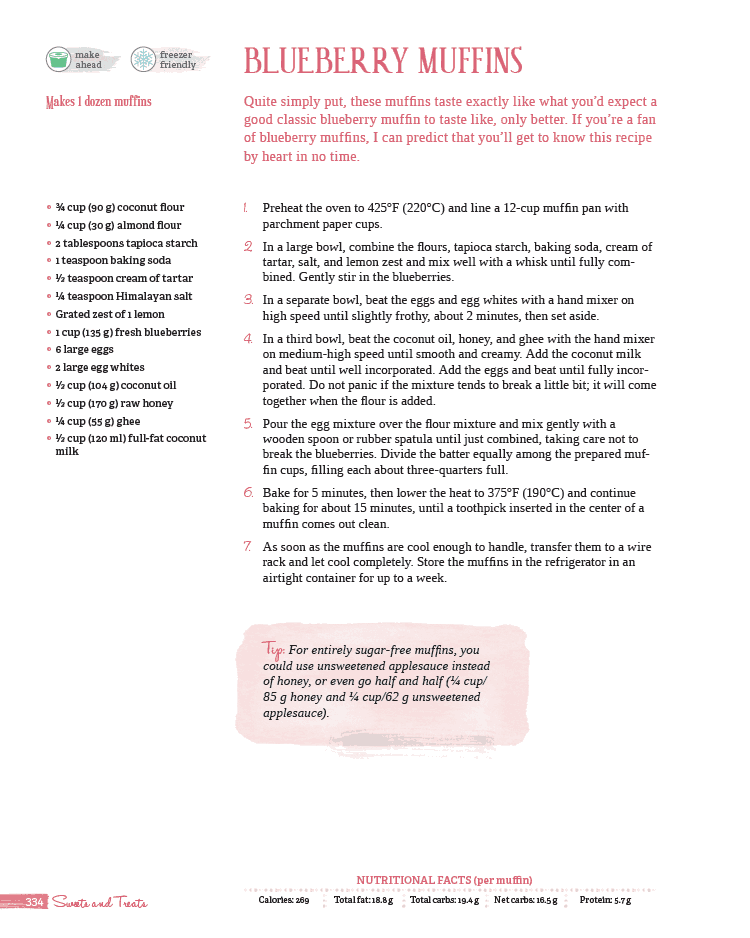 Oh, hey, one more thing before I go. If I were you, I'd watch this space very closely.
I'll have a few other sneak peeks for you over the course of the next weeks, as well as all sorts of AWESOME CONTESTS AND GIVEAWAYS!!!
Hey, one can't release a book without throwing some kind of a party, can they? There will be advance copies to be won, of course, but I'm also thinking kitchen gadgets to help you recreate some of my recipes.
Hint hint… Do you remember that I dedicated an entire chapter dedicated to nut butters in Paleo Home Cooking? And what do you absolutely need to make nut butters? Stay tuned for more details!
Until then, go make some muffins… and take advantage of that sale! Who knows how long it'll last, and it may never return…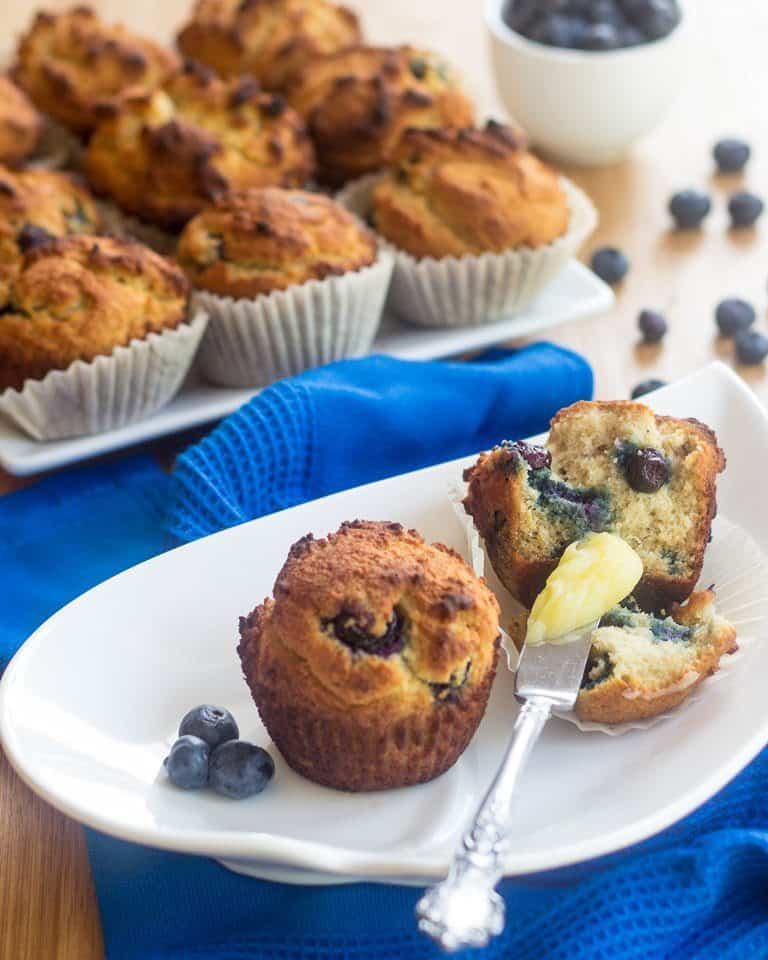 Blueberry Muffins
Quite simply put, these muffins taste exactly like what you'd expect a good classic blueberry muffin to taste like, only better. If you're a fan of blueberry muffins, I can predict that you'll get to know this recipe by heart in no time
Servings: 12 muffins
Instructions
In a large bowl, combine the coconut flour, almond flour, tapioca starch, baking soda, cream of tartar, salt, and lemon zest and mix well with a whisk until fully combined. Add the blueberries and gently stir them in.

In a separate bowl, beat the eggs and egg whites with a

hand mixer

set on high speed until slightly frothy, about 2 minutes, then set aside.

In a third bowl, beat the coconut oil, ghee, and honey with a hand mixer set on medium-high speed until smooth and creamy. Add the coconut milk and resume mixing until well incorporated. Add the reserved egg mixture and resume beating until fully incorporated. Do not panic if the mixture tends to break a little bit, it will all come back together when the flour gets added.

Pour the wet ingredients right over the dry ingredients and this time, mix gently with a wooden spoon or rubber spatula until just combined, taking care not to break the blueberries; divide equally between the prepared muffin cups, filling each about three-quarter full.

Place in the oven and bake for 5 minutes, then lower the heat to 375°F (190°C) and continue baking for about 15 minutes, or until a toothpick inserted in the center of a muffin comes out clean.

As soon as the muffins are cool enough to handle with your bare hands, transfer them to a

wire rack

and let them cool completely. Store them in the refrigerator in an airtight container for up to a week.
Notes
For an entirely sugar-free muffin, you could use unswetened applesauce instead of honey, or even go half and half (1/4 cup/85 g honey and 1/4 cup/62 g unsweetened applesauce)
Nutrition
Calories: 268kcal, Carbohydrates: 20g, Protein: 5g, Fat: 20g, Saturated Fat: 14g, Cholesterol: 91mg, Sodium: 197mg, Potassium: 102mg, Fiber: 3g, Sugar: 14g, Vitamin A: 125IU, Vitamin C: 2mg, Calcium: 20mg, Iron: 1mg
If you've tried this recipe, please take a minute to rate the recipe and let me know how things went for you in the comments below. It's always such a pleasure to hear from you!
You can also FOLLOW ME on PINTEREST, FACEBOOK, INSTAGRAM and TWITTER for more delicious, healthy recipes!