Star Anise Braised Pork Stew
I can't believe that I'm sitting here, staring at these pictures and find myself having nothing to say.
Well, no. That's not entirely true. Let me rephrase that. I do have stuff to say, only I can't seem to find or align my words properly. I'm just having one of those days where words seem to elude me, where the only ones that come to mind sound insipid or feel like they've been pre-chewed.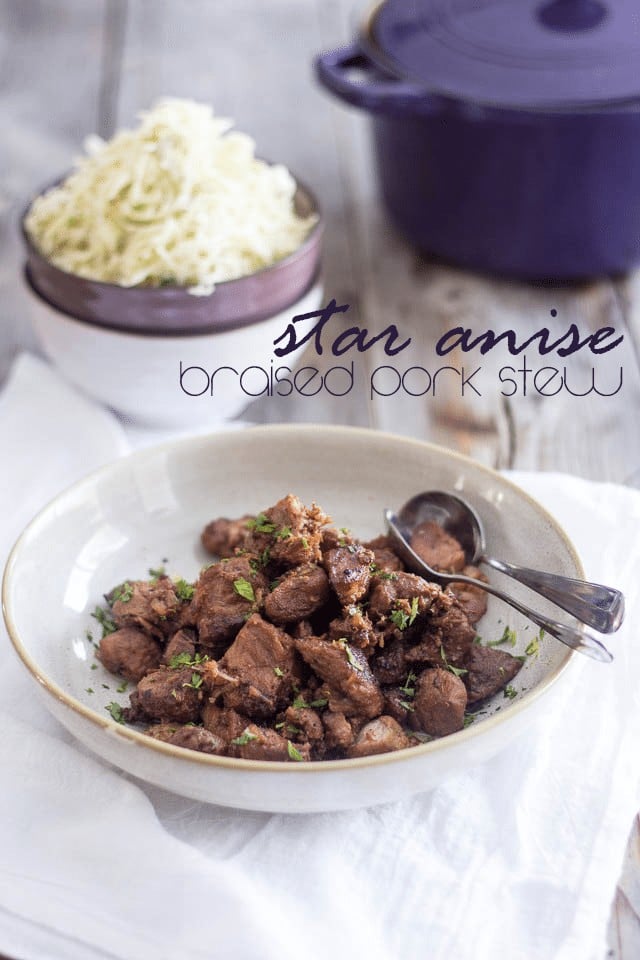 Now don't you go and imagine that my lack of inspiration is any indication of my appreciation for this recipe which I am sharing with you today. In fact, it's probably inversely proportional. Trust me when I say that this Braised Pork Stew was very much to my liking.
A little bit too much even, perhaps.
I had a very hard time not gobbling down the entire pot in one sitting. For real!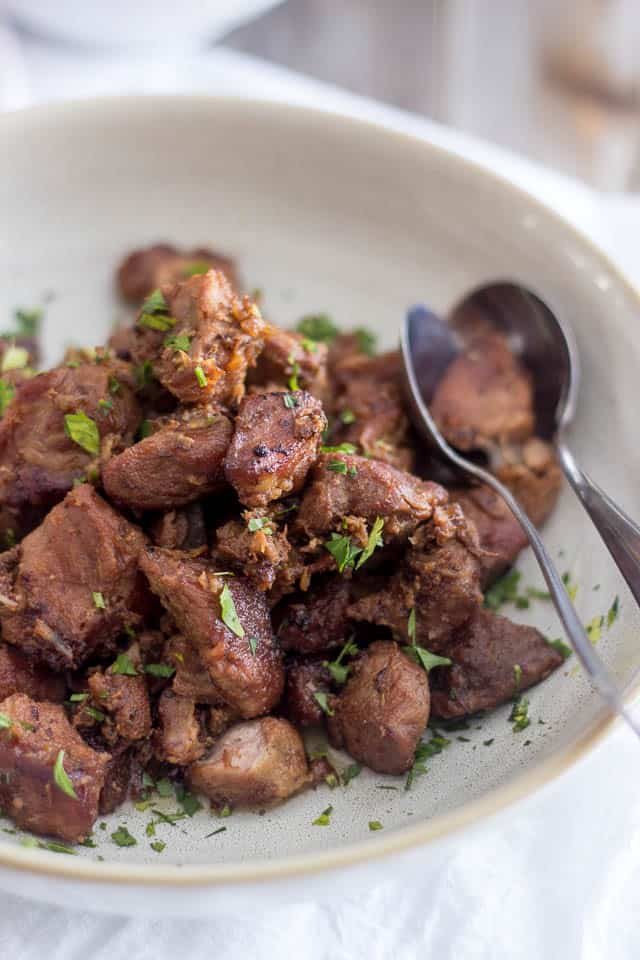 I have to be honest, though: initially, I was fairly skeptical when I came up with the idea of adding some serious anise flavoring to a pork dish. But you see, I'd been going through a black licorice kick and wanted to have black licorice flavored everything. Unfortunately, no matter how awesome and unique this flavor is, it's not one that goes good with just about anything… Apart from dark chocolate and a few other sweet treats, I couldn't think of many "real food" combinations that would work well.
I know shrimps and scallops do work, and so does salmon, but I'd already been down these roads and wanted to explore new avenues. I went deep inside my mind and tried to imagine the mild, buttery flavor of pork meeting with that of highly aromatic anise. In theory, I found them to be a very good match. I had to test practice.
The actual dish was just like I'd imagined. Pork and anise pair and complement each other p.e.r.f.e.c.t.l.y well. If they were to officially announce their engagement to the world, I would not be one to object.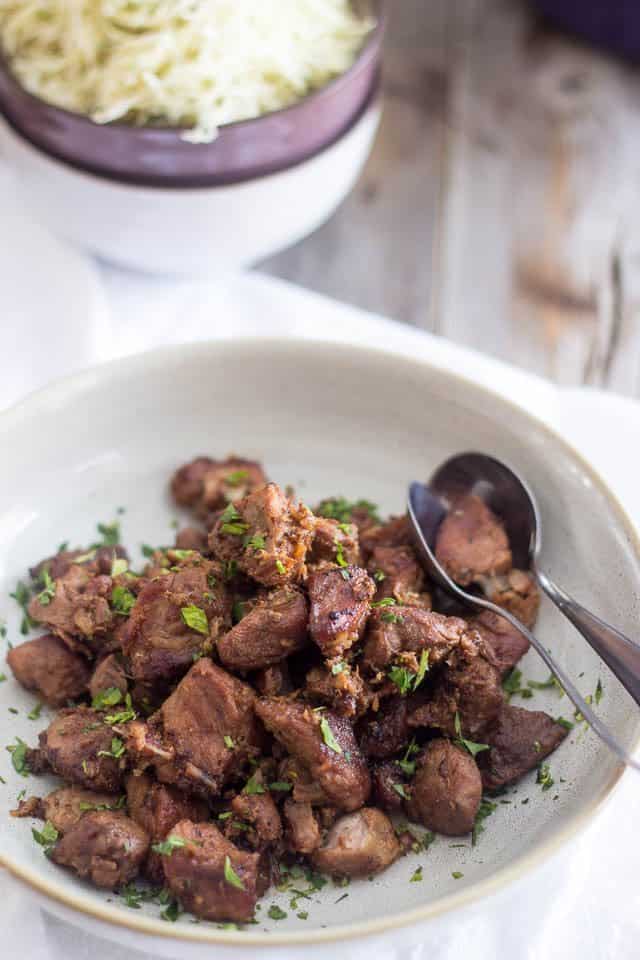 My only issue with this stew was with adding veggies to it. I typically like my stews to have some kind of veggies in them, but I just wasn't sure which ones would go well with the anise so I chose not to add any. In retrospect, I think that your standard mushrooms and carrots would've been a good choice, as would have pearl onions and fennel. Maybe next time, I'll try adding some, or all of these.
But for now, this is a veggie-less stew. The veggies got to be served on the side!
And honestly this goes super good with creamy coleslaw. I bet it would be absolutely awesome with a fresh fennel salad, too. Or maybe a creamy coleslaw with very thinly sliced fennel in it.
I'll have to try that too, next time I make this. Because trust me, a next time, there will be.
And many other ones after that! 
Star Anise Braised Pork Stew
Ingredients
2 tbsp lard or coconut oil
1 medium onion, chopped
1 garlic clove, minced
2lbs pork loin, cut into 1" cubes and patted dry
½ tsp Himalayan salt
½ tsp freshly cracked black pepper
2 cups bone broth
½ tsp whole anise seeds
2-3 whole star anise
3-4 drops anise essential oil (optional)
Instructions
Preheat your oven to 325F
In a medium sized Dutch oven, melt your fat over medium-high heat.
When fat is hot enough, add your pieces of meat, sprinkle with salt pepper and cook for about 10 minutes. Drain any liquid that may have rendered (add it to your bone broth) and resume cooking the meat until it becomes golden on all sides and a crust forms at the bottom of the pan, about 5-10 more minutes.
Add sliced onions, garlic, anise seeds and star anise and continue cooking for about one minute or until fragrant.
Add broth and previously drained cooking liquid, star anise and anise essential oil and stir well.
Place in the oven cook for about 2 hours, stirring occasionally, until meat is fork tender and cooking liquid has almost but not completely evaporated.
Serve immediately

Nutrition Information
Serving size: NF based on 1 of 4 servings