STOCKING UP YOUR BOOKSHELVES
---
Books I reviewed
---
Your Favorite Foods Made Paleo

This book is the Hidden Gem of the Paleo cookbooks, if you ask me. It might not be placarded all over the place, but trust me, it's worth every single penny you'll spend, and then some! Every recipe in that book looks better than the next. I'm telling you, I want to try each and every single one of them. And the pictures… Oh,the pictures!  They are simply stunning AND plentiful. Every recipe has its own mouth-watering picture, a feature that is absolutely crucial for me in a great cookbook. Can you say food porn anyone? Oh yeah! That's exactly what Primal Cravings is!
READ THE FULL REVIEW HERE
.
.
.
Paleo Recipes For People Who Love To Eat

In her first Cookbook, Melissa gives us so much more than just recipes. She offers many tips, tricks, pointers and ideas. She speaks in a way that is fun, lively and easy to understand. She drags us right into her own paleo universe; reading her, you almost feel as if you've known her all your life. She shares what she feels works for her, what she believes in and what "rules" she chooses to live by. Mostly, she tells us how she made paleo work for her. And she makes it sound like it's so super fun and easy. Oh, and of course, the recipes are pretty darn incredible too. Honestly, I read that one from cover to cover, and more than one time, too. This is a purchase you will not regret!
READ THE FULL REVIEW HERE
.
.
.
More Paleo Recipes for People Who Love to Eat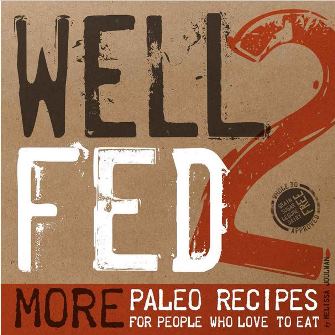 Well Fed 2: More Paleo Recipes For People Who Love To Eat is the follow-up to the deliciously popular Well Fed — by "The Clothes Make The Girl" blogger Melissa Joulwan — and it's packed with even more internationally-inspired recipes, mouth-watering photos, and easy meal ideas.
All 200 recipes and Quick Meal ideas in Well Fed 2 are made with zero grains, legumes, soy, sugar, dairy, and alcohol — without sacrificing fun and flavor. The recipes are easy to prepare and were tested extensively so they work every time — and so you don't have to spend all your free time in the kitchen.
READ THE FULL REVIEW HERE
.
.
.
Paleo Recipes that Respect the Whole Hog
This is one truly magnificent and amazing book. On top of providing the reader with top notch recipes, which all have their very own little intro paragraph, super clear and easy to follow instructions as well as a mouth-watering pictures of the expected result, you also get TONS of extremely helpful information on the art of sourcing, purchasing and consuming a whole hog.   If you are thinking of purchasing a whole hog or if you are a fan of pork who is looking to expand their horizons a little bit by learning to cook different, less popular cuts, do yourself (and the pigs) a favor and get this book.   In fact, you don't even need to care for pork to appreciate this book. If, like myself, you happen to have a real deep appreciation for beautiful cookbooks, go ahead and get this.   Trust me, you will NOT regret it!
The fact that this recipe book was written by a teenager absolutely BLOWS MY MIND, and I really think that it will blow yours, too. The level of maturity that Josh exhibits is absolutely astounding: the recipes that he elaborated are surprisingly complex and sophisticated,  well refined and always CRAZY mouth watering! Each and every single one of them!And, I really mean that: Josh's picture taking skills are BEYOND excellent. The book is worth getting if only to lose yourself in the beauty of the printed images that illustrate each and every recipe.
And if that alone wasn't enough, Josh also has an amazing story to share, in that he managed to lose over a 100 pounds simply by turning from trendy diets to real food. In his book, not only does he share a whole bunch of his favorite recipes, but he also shares how he developed a sensible, yet still indulgent, philosophy of eating for health and happiness.  Can you say inspirational?
READ THE FULL REVIEW HERE
.
.
.
.
---
BOOKS I'VE READ AND RECOMMEND
---
Discover the Whole30 and Change Your Life in Unexpected Ways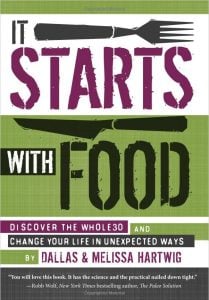 IMAGINE YOURSELF HEALTHIER THAN YOU EVER THOUGHT POSSIBLE
It Starts With Food outlines a clear, balanced and sustainable plan to change the way you eat forever – and transform your life in profound and unexpected ways. Your success story begins with the Whole30, Dallas and Melissa Hartwig's powerful 30 day nutritional reset.
Since 2009, their underground Whole30 program has quietly let tens of thousands of people to weight loss, enhanced quality of life, and a healthier relationship with food, accompanied by stunning improvements in sleep, energy levels, mood and self-esteem. More significant, many people have reported the "magical" elimination of a variety of symptoms, diseases and conditions in just 30 days.
.
.
A Jump-Start Guide to Losing Body Fat and Living Primally

The Paleo Primer combines a clever and memorable presentation of ancestral health principles with someof the most creative and delicious recipes you will find anywhere. It's a great book to introduce newcomers to the movement or to take your paleo eating to an entirely new level of imagination, convenience and enjoyment.
London-based health and fitness coaches Keris Marsden and Matt Whittmore offer a fun and simple approach to the Primal lifestyle, with culturally rich recipes inspired by their families, local cafés and travels through the Mediterranean. With each turn of the page, their wit, passion and personality shine through as they relate ancestral principles that led them to experience brilliant health.
.
.
.
.
180 Delicious Recipes for Raw Living
This outstanding collection of raw food recipes is part of an ever-growing movement – they're eco-friendly, meet your nutritional requirements and are immensely satisfying and delicious. You'll delight in the exciting new flavors and textures. All of the 180 recipes are relaxed and flexible, so they're perfect for those who are just beginning to embrace the lifestyle. The recipes are also gluten and lactose-free, making them an ideal choice for those who have concerns about these elements in their diet. Here, the well-known adage applies perfectly: we are what we eat!
.
.
.
.
A Four Season Approach to Paleo Probiotic Foods
Learn the basic techniques of fermentation and become comfortable with how to ferment anything
Expand your fermentation wings and go beyond the produce aisle to try your hand at fermented meat, beverages, dairy, coconut products, condiments, dressings, cocktails and mocktails
Start exploring the foods that are in season where you live and put your newly learned fermentation skills into practice
Incorporate healthy probiotic foods into your ancestral diet to maximize the nutrition of those foods you already love to eat
.
.
.
75 Recipes for Kombucha, Kefir, Ginger Beer, and Other Naturally Fermented Drinks
With clear step-by-step directions, beautiful photographs, and more than seventy-five recipes, this is the ultimate guide to homemade probiotic drinks. You'll find numerous recipes for:
Kombucha
Jun
Kefir
Lacto-fermented lemonade
Ginger beer
Cultured vegetable juices
And more!
In addition, you'll find recipes for making yogurt, smoothies, and kefir ice cream. Fermenting drinks may seem daunting, but Julia Mueller shows how it can be fun, much more cost-effective than buying ready-made drinks from the store, and delicious!
.
.
A Customized Approach to Health and a Whole-Foods Lifestyle

REAL FOOD FOR REAL PEOPLE
Achieving optimal health without calorie-counting, diet foods, or feelings of deprivation has never been easier. Practical Paleo explains why avoiding both processed foods and foods marketed as "healthy" – like grains, legumes and pasteurized dairy – will improve how you look and feel and lead to lasting weight loss. Even better – you may reduce or completely eliminate symptoms associated with common health disorders!
Practical Paleo is the resource you'll reach for again and again, whether you're looking for information on healthy living, delicious recipes, or easy to understand answers to your questions about how a Paleo lifestyle can benefit you, your family and your friends.
.
.
The Art of Paleo Entertaining
Enjoying good food with friends and family is one of the greatest pleasures in life. Yet, many home cooks shudder at the thought of entertaining guests for even a simple meal. In Gather, The Art of Paleo Entertaining, you'll find everything you need to make cooking for family and friends a carefree and delicious affair.
The book is organized by season, providing inspiring menus to enjoy throughout the year. Whether you are planning an informal Sunday brunch with family or hosting an elaborate feast for a crowd of friends, Gather provides inspiration through gorgeous photography, concise recipes and a foolproof plan for effortless entertaining. Inside, you'll find recipes for Halloween, Christmas, Easter, and New Year's Eve. It includes menus that celebrate Chinese, Italian, and Caribbean cuisine. It also incorporates creative ideas for cooking with game meat, hosting an elegant farm-to-table dinner, organizing a garden party, or even enjoying traditional afternoon tea.
.
.
Delectable Paleo Recipes to Eat Well & Feel Great
Coupling her delightful recipes with elegant photography, Danielle takes you on a multicourse Paleo and gluten-free culinary journey from appetizers to dessert. Because Danielle knows that she's not the only one with a finicky toddler at the dinner table, she has included a special children's section with amusing dishes that will bring joy to any child and also pass any mom's test for wholesome ingredients.
Omitting grains, gluten, dairy, and refined sugar doesn't correlate with omitting taste in these recipes. Easy-to-follow instructions are complemented by mouthwatering photos that seem to burst off the page with flavor. Danielle's recipes are sure to leave you feeling satisfied and exhilarated, rather than deprived.
.
.
Over 200 Grain Free Recipes For Any Occasion
Transitioning from conventional foods to a grain-free Paleo lifestyle can be a daunting proposition to most people. Hayley Mason and Bill Staley, authors of The Food Lovers Primal Palate, show you how easy it is to take any dish and Make it Paleo! Adapted from Chinese, French, Mexican and classic American meals, the over 200 mouthwatering recipes are each accompanied by vibrant photos and thoughtful notes to ensure you recreate each dish with ease.
Beyond its wealth of recipes, Make it Paleo describes fundamental cooking techniques, includes tips for selecting the best ingredients, and chronicles a variety of menus for holidays and special occasions. Hayley and Bill demonstrate how to make cooking gourmet Paleo meals a carefree affair for everyone, from a kitchen rookie to a seasoned chef. Make it Paleo is filled with meals that all lovers of great food will enjoy, whether they follow a grain-free lifestyle or not.
.
.
FOOD FOR HUMANS

Crackling with humor and bursting with flavor, Nom Nom Paleo offers a fun, fresh approach to cooking with whole, unprocessed ingredients free of grains, legumes, and added sugar.
Authors Michelle Tam and Henry Fong, creators of the acclaimed Nom Nom Paleo website, have cooked up a visual feast, with more than 100 fool-proof Paleo and gluten-free recipes, and over 900 step-by-step photographs and cartoons. There's something for everyone here, whether you're a busy mom, a triathlete in training, or a lifelong foodie who's curious about the "caveman" approach to eating.
.
.
…more to come!