Good food doesn't always have to be complicated. Sometimes, the best meals come together in a matter of minutes, and happen to come to life when the fridge is at its emptiest!
This is pretty much what happened with this Warm Lamb and Apple Salad.
I opened the fridge one night only to find it particularly empty. There wasn't much left in there, aside from some leftover Roast Lamb, which I'd made a couple of days prior, a few red apples, some spinach, a bag of sugar snap peas, about 4 or 5 carrots, some celery, bell peppers and a couple dozen eggs. Oh, and a bunch of condiments too, you know: Dijon mustard, paleo mayo, green and black olives, fermented pickles, a few bottles of hot sauce… the usual!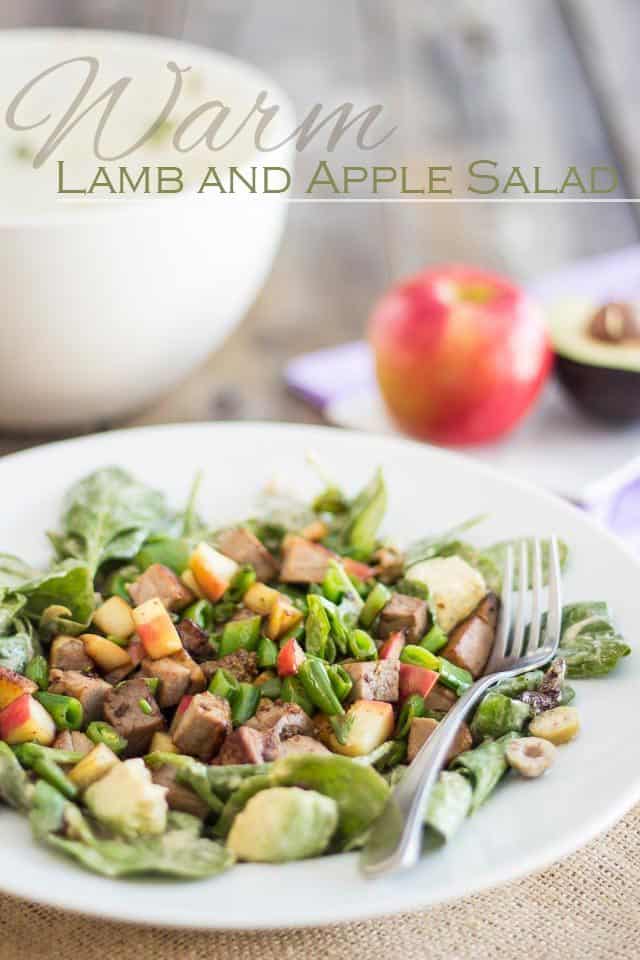 Good thing is I was in the mood for a humongous salad, and the few ingredients that I had on hand were perfectly well adapted to whip up a tasty one. I wasn't too sure about including lamb in a salad, however. I'd never tried that before and I wasn't convinced that it would work all that great. But then I had a brilliant idea: I would sauté it in ghee, along with the apple and sugar snap peas, to make some kind of a warm salad!
Oh yeah. Now THAT sounded yummy! I instantly got super excited and couldn't wait for my salad to be ready. The 10 minutes that it took me to put it together felt like an eternity.
When I finally got to sit myself down to the delicious meal that I'd just created, I felt I was instantly transported to the land of the gods. I wanted this feast to last forever. I wanted to eat nothing but this for the rest of my life… I wanted to stop time. Honestly. It was that good.
Trust me, you NEED to make this, NOW! Even if you don't have leftover lamb roast, don't worry about it. I'm sure cooked chicken or turkey would work just as good… 
Melt the ghee in a small skillet set over medium heat and add the lamb (or chicken, or turkey), apple and sugar snap peas.
Sauté until the meat is browned and warmed through and the apples and sugar snap peas are softened. Set aside to cool slightly.
Meanwhile, add the rest of the ingredients to a large mixing bowl and toss delicately until well combined.
Transfer to a large salad plate or shallow and create some sort of a bed to accommodate your warm goodies.
Time to add the warm meat, apples and sugar snap peas.
The wait is almost over… thank goodness!
YES! Now sit yourself down and prepare to be amazed!
I'm telling you, this salad was so unbelievably good, so incredibly tasty, so crazy satisfying to both my tummy and taste buds that I didn't even bother hitting the grocery store for another 3 days. I ate that very same salad 4 days in a row, and I think I'd have eaten it again, had I not been out of apples, lamb and sugar snap peas.
Bummer!
Now I want to try all kinds of different meat/nut combinations, such as cooked chicken and roasted cashews, warm shrimp and toasted pine nuts, grilled salmon and pecans, or maybe even smoked turkey and bacon! Yeah, I know: bacon is not a nut, but hey, the combo sounds too yummy to pass. I'll throw in some shelled pistachio for good measure, how's that?
Honestly, I think this was my favorite salad ever! Hope you like it too!
Warm Lamb and Apple Salad
Instructions
Melt the ghee in a small skillet set over medium heat and add the lamb, apple and sugar snap peas.
Sauté until the meat is browned and warmed through and the apples and sugar snap peas are softened. Set aside to cool a little.
Meanwhile, add the rest of the ingredients to a large mixing bowl and toss delicately until well combined.
Transfer to a large salad plate and top with warm meat.
Serve immediately

Nutrition Information
Serving size:
NF based on entire recipe