*EDIT: I've just made a paleo version of these brownies that's at least a million times better, and healthier too! I say you should totally check them out! 
I've had this thing on my mind lately.
It's almost all I can think about…
It's like an obsession!
Not a day goes by without me getting ideas, and lots of them!
I'm talking cakes, crumbles, cookies, bars, chocolates, cheesecake pops, BROWNIES!  All of them super healthy, of course!
What? Were you expecting something else? 😉
Baking is what it's called. And I've been in the mood for nothing but that lately.
Perhaps I have to blame this on the colder weather? I have to admit that I do find a lot of comfort in baking.
Or perhaps it's just the Holiday spirit that's already getting to me…
Whatever it is, I don't think you guys are gonna mind, are you? I'm getting tons of great awesome dessert recipe ideas.
It all started with my Cookie Dough Chocolate Chip Cheesecake Bars. Those were HEAVENLY, to say the least.
Them came these Lord Have Mercy On Me Sweet Potato Brownies. …
Oh yum! Need I say more?
These were shortly followed by a Beet and Chocolate Bundt Cake, which I am still enjoying as I type these words. Hmfpt. Enjoying would be a serious understatement!
The plan for this week-end is to whip up another Bundt Cake, but a Spicy Cinnamon Apple and Pumpkin this time.
I actually have an entire list of desserts that I want can't wait to try, so I get the feeling that you will be getting at least one recipe per week for the next few months.
Hey, feel free to contact me with complaints! 😉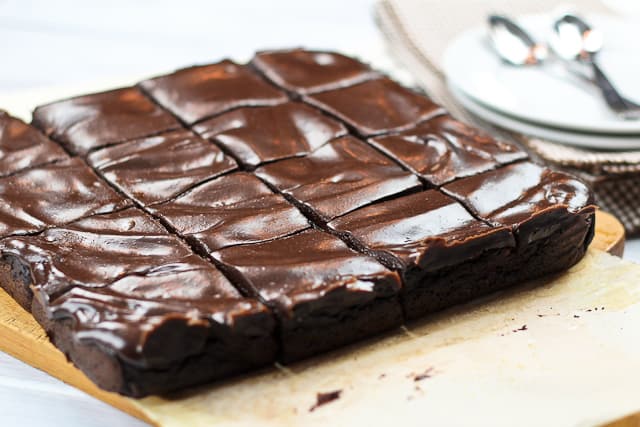 Back to the brownies… I'm sure you want to know about them. At least a little bit.
Well, they came out PERFECT in every way.
If I was to make them again, I wouldn't change a single thing. (except for maybe turn off the darn tungsten light that I had inadvertently left on right above my brownies when I photographed them…)
Their texture was nice and dense, super sticky and chewy, just the way I like 'em. I don't normally do walnuts in brownies, but I thought they brought a really interesting little "creamy crunch" to this batch and I absolutely do not regret throwing them in.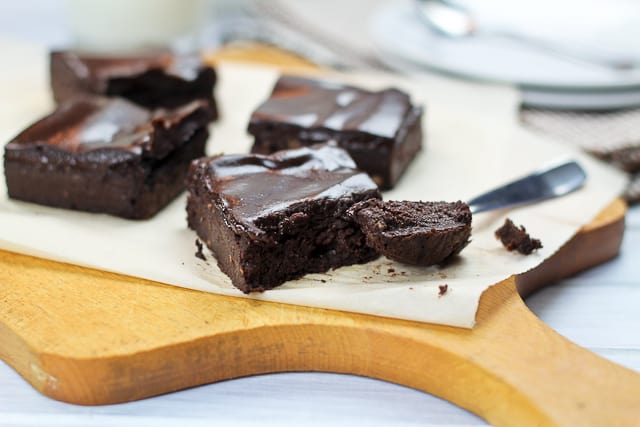 The flavor was also superb and it only got better with every passing day. Don't overdo that, though… A few days in the fridge and they were just PERFECT! Sweet, but not overly so. Very intense and chocolaty but not bitter in the least. Just sweet and smooth, all the way.
As for the avocado and sweet potato? Erm… was that really in there?
Really?
No way!
I swear, no one will ever be able to tell. 
Sweet Potato Brownies
Serves:
Makes12-16 brownies
Ingredients
Cake
1 ripe avocado
1 cup sweet potato puree*
½ cup unsweetened applesauce
¼ cup date paste
1 tsp pure vanilla extract
2 eggs
½ cup spelt flour
½ cup cocoa powder
½ tsp sea salt
1 tsp baking soda
½ cup walnuts
Icing
Instructions
Preheat your oven to 375F. Spray a 9" square baking pan with cooking spray and line pan with parchment paper, leaving enough extra to extend over the sides.
In the bowl of your food processor, combine avocado, sweet potato puree, unsweetened applesauce, date paste, vanilla and eggs and process until smooth and creamy.
In a large mixing bowl, mix together with a whisk the flour, cocoa powder, salt and baking soda.
Add sweet potato mixture and mix with a rubber spatula until well combined.
Fold in walnuts and transfer to your prepared pan. Spread batter evenly and bake for approximately 25 minutes, or until a toothpick inserted in the center of the cake comes out almost clean.
Set brownies on a wire rack to cool for 15-20 minutes.
While brownies are cooling, prepare the icing by adding all the ingredients to the bowl of your food processor and process until smooth and creamy.
Pour over warm brownies and spread evenly with a spatula.
Leave the brownies on the wire rack until they reach room temperature then transfer to the fridge until completely cool. Cut into squares.

Notes
*To make the sweet potato puree, cut one large sweet potato in half, place it in a baking sheet, add a little bit of water in the bottom, cover with foil and roast it in a 375F oven for about 35 minutes or until soft. Allow to cool completely, remove peel and puree.
Nutrition Information
Serving size:
Nutritional Information based on 1 of 12 brownies