Broccoli Carrot and Orange Slaw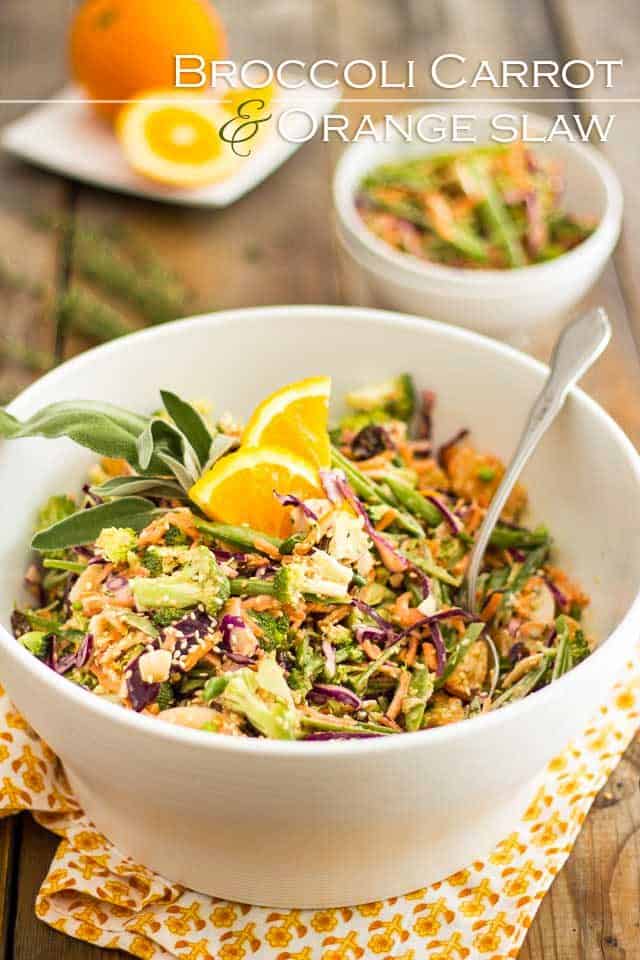 That's it guys, I'm done! I just completed 2 rounds of Whole30, back to back.
In retrospect, I'm thinking that perhaps doing 60 consecutive days of Whole30 might have been a little bit much, especially at this time of year when winter is already taking its toll on me. Towards the end of the cold season, I always tend to feel kind of… not depressed, but not my usual super peppy and lively self either, you know; just like there's some kind of weight on my shoulders and I just can't wait to see it being lifted. HA! and speaking of lifting weights, that is the only thing that seems to make me happy, nowadays. My favorite time of the day is definitely that which I spend working out in my humble little home gym.
Also, my birthday is coming up soon and since it happens to coincide with Easter this year, the baker in me wants to make a fab cake for the occasion. Whole30ing and having cake on the mind doesn't necessarily walk hand in hand. I've been pondering for days now as to whether I should make a Classic Opera Cake (the paleo way, of course) or a Sweet and Salty Cashew Maple Pie, or a super dense and fudge-y Mayo Chocolate Cake, or a Tatin Style Apple and Maple Caramel Cake… I can't seem to decide, my mind is just like this big land of confusion that's drowning in its own drool.
To make my brains' condition even worse, there's this guy whom I'm still madly in love with and who, despite my not seeing him anymore, totally refuses to get out of my system. I still think about him every minute of every hour of every passing day. His deep blue eyes, enigmatic smile and soft, angelic voice are still haunting my memories; I honestly never thought that it was even possible to feel so strongly and for so long for a half-stranger, but apparently it is. It's even making it hard for me to function normally…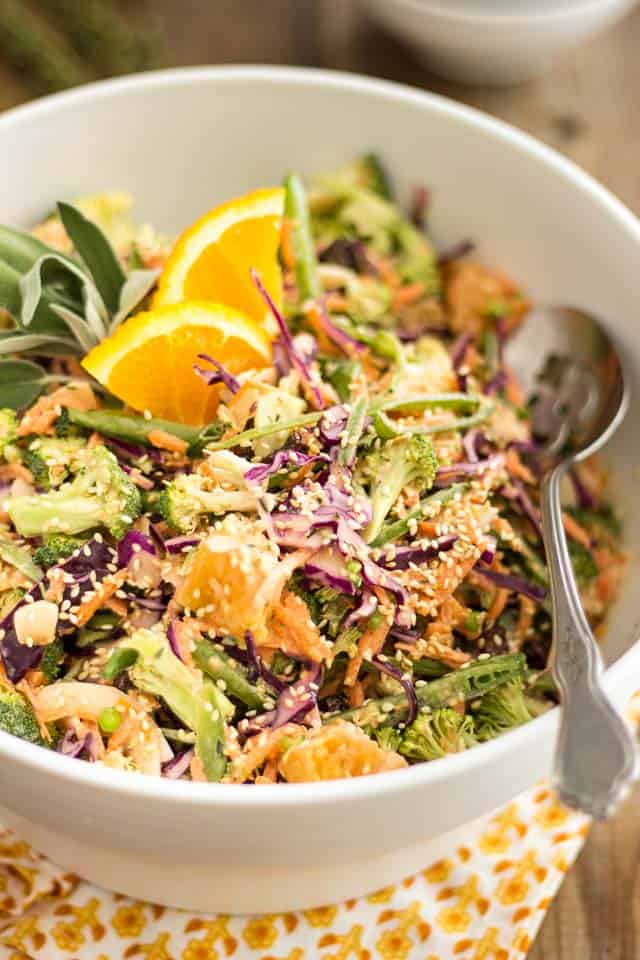 And so I've been feeling particularly blah these past couple of weeks. I always struggle to find something to say about the recipes that I create and share with you all. I feel terribly boring and seem to have lost my habitual sense of humor. Plus, I tend to get discouraged with my pictures lately: I feel they always look the same and lack a certain vibrancy; the light is just so dull and cold. I never seem to be quite satisfied with them. But that's probably the blah in me talking…
Luckily, I'm planning on taking a little bit of time off in May, that should do me some good. Not having to think about cooking or about how to make a dish look its best or how to describe it for a full week will feel kind of nice… I imagine.
That said, I haven't changed my mind about doing another round of Whole30 almost just as soon as this current one is over. I think I still have it in me to come up with all kinds of Whole30 friendly dishes. And I don't think that you guys are fed up with being served them either, at least not just yet…
Take this Broccoli Carrot and Orange Slaw, for instance. I'd made it without really logging any of the ingredients one night when my daughter was visiting, but then I got so many requests for the recipe that I decided I just had to redo it and share it this time.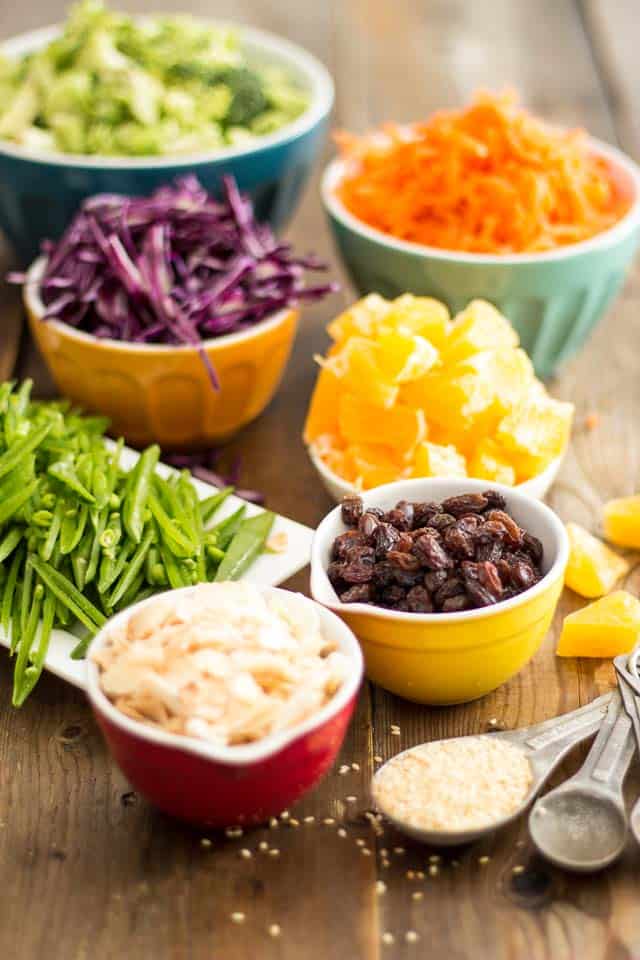 Start by prepping all your fruits and vegetables. Since you have a lot of chopping, shredding and grating to do, it might be worth your while to get the food processor out of the cupboards.
– Use the "S" blade to chop the broccoli. Don't overcrowd the bowl though, and only pulse a few times: you don't want to reduce your broccoli to mush.
– Switch to the grating disk to grate the carrots, and then install the slicing disc to shred the cabbage.
Peel the orange, pull the wedges apart and cut each wedge into 5 to 6 bite size chunks.
Then, carefully julienne the sugar snap peas with a sharp chef knife. It's best to tackle them one at a time, as to avoid cutting your fingers in the process! It may take you a wee while longer to get the job done, but trust me, it's much safer that way.
Now all that's left to do is measure the coconut, raisins and sesame seeds.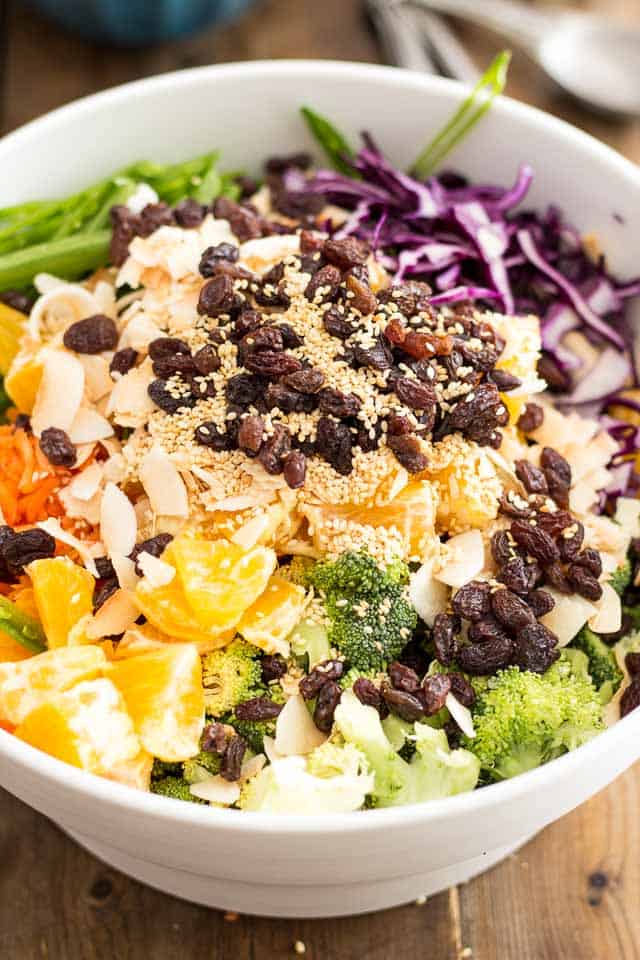 Throw all of that into a large mixing bowl.
Now, as a side note, I kept wanting to add nuts to this one, but couldn't because I ruled them out of my Whole30. But honestly, I think that toasted sunflower seeds would be a brilliant addition to this salad; That or walnuts, or toasted hazelnuts, even.
Oh, and sliced green olives go tremendously well in this salad; I strongly suggest that you add some, if you're a fan.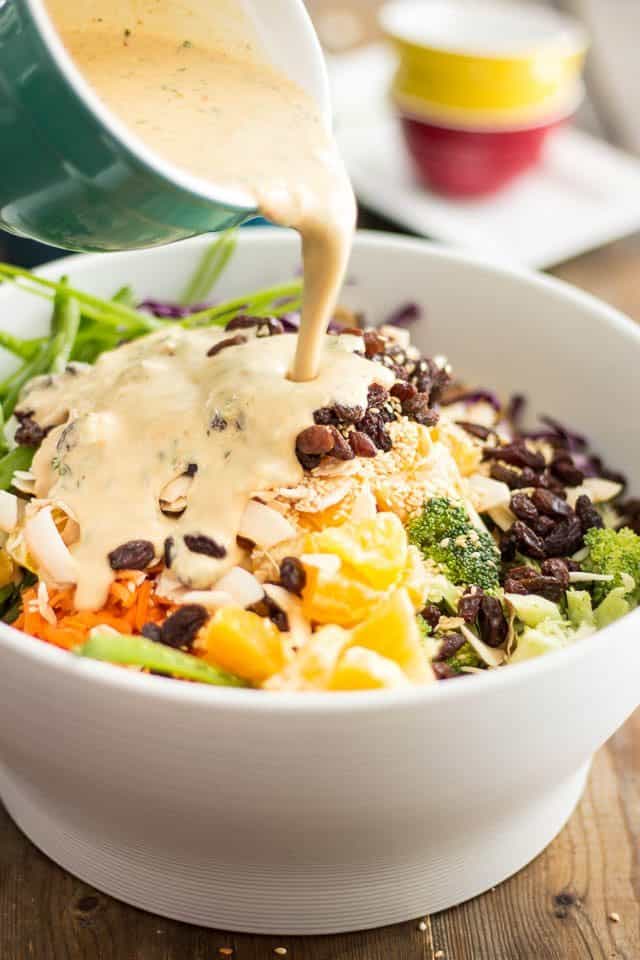 Now to make the salad dressing… easy peasy!  Throw all the required ingredients into a large glass measuring cup or some other kind of mixing bowl, preferably one that's equipped with a pouring spout. Mix with a whisk until well combined and slightly emulsified. 
Pour that dressing right over the salad and mix well.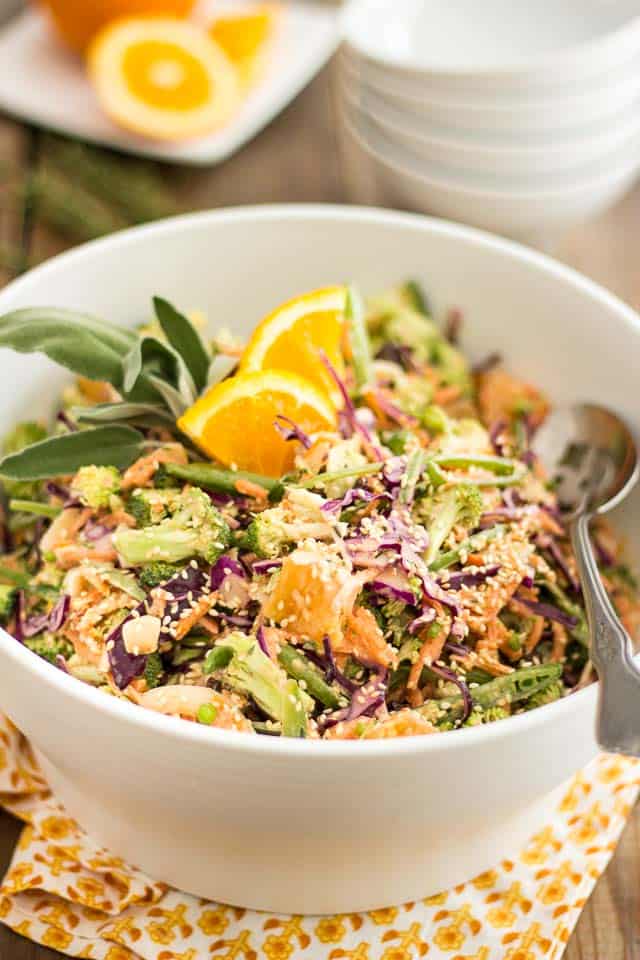 You can serve this salad immediately or give it a couple of hours to rest in the fridge to allow for all those delicious flavors to meld.
Also, this is one of those sturdy salads that will keep well in the fridge for up to a week without going all mushy on you; this means you can most definitely make it ahead of time.
But honestly, this broccoli slaw so crazy delicious, I can't imagine it lasting that long… unless perhaps you made a triple batch!
Broccoli Carrot and Orange Slaw
Servings: 6
Ingredients
For the Salad
3 cups broccoli florets, chopped
2 medium carrots, peeled and grated
1 orange, peeled and cut into bite sized chunks
30 sugar snap peas, julienned
1 cup shredded red cabbage
1/2 cup organic raisins
2 tbsp toasted sesame seeds
Instructions
Prep all the fruits and vegetables and throw them into a large mixing bowl, along with the raisins, coconut and sesame seeds. Set aside.

Add all the ingredients listed under "salad dressing" to a la large

glass measuring cup

or other mixing bowl that's equipped with a pouring spout; mix well with a whisk until well combined and slightly emulsified.

Pour the dressing over the salad and mix well.

Serve immediately or give the salad a couple of hours in the fridge to allow for flavors to meld.

This salad will keep for up to a week in an airtight container.
If you've tried this recipe, please take a minute to rate the recipe and let me know how things went for you in the comments below. It's always such a pleasure to hear from you!
You can also FOLLOW ME on PINTEREST, FACEBOOK, INSTAGRAM and TWITTER for more delicious, healthy recipes!