Okay, before I start, I gotta warn you guys. I'm feeling extremely boring tonight.
It's just too darn hot and humid here to even think straight, the air is stale and heavy and it feels like my body swelled up to twice its size. I don't know why it feels the need to do that, but whenever it gets real hot and humid like this, it never fails to. Maybe my molecules think I'm made out of wood or somethin'? All I know is, as I sit here writing these words, I kinda feel like a beached whale and all II can think dream about is a swimming pool.
What I wouldn't give to have one of those in my backyard right now. But I'm afraid I don't (and never will!) so I guess a cold shower before bed will have to suffice… Or maybe I could go sit in my car for a wee while. At least I have air conditioning in there!
Alright, enough complaining for now, let's get on with the eats, shall we? Not that I am all that hungry…. but hey! Food is what I do after all, so food we shall do!
Believe it or not, I'd never had a crab cake before in my life .
Oh, I've had all sorts of very similar fish patties, of course… some made with salmon, others with tuna or shrimp. But crab? Never.
I think it was about time I rectified this, for seriously, I'm a HUGE fan of fish patties. Or maybe I should say that I'm especially a fan of turning plain and boring canned fish into something super fun and delicious to eat.
These crab cakes really fit that bill! Man, did they ever deliver. They're probably my favorite fish patty so far. Mind you, I'm positive that adding a coconut and almond breading really helped in taking them to a superior level. Not only did it add tons of flavor, but it also conferred a nice little crunch to the fish patties.
Pretty tasty, if I may say so myself! 
Making crab cake, or any other fish patty for that matter, is a real piece of cake. Simply throw all your ingredients into a large mixing bowl and mix until well combined.
Frankly, if you didn't feel like crab tonight, or if you didn't have any on hand, you could very well substitute canned tuna, salmon, herrings, sardines, or even minced raw shrimp or scallop. I'm pretty darn sure that any leftover cooked fish would work wonders, too!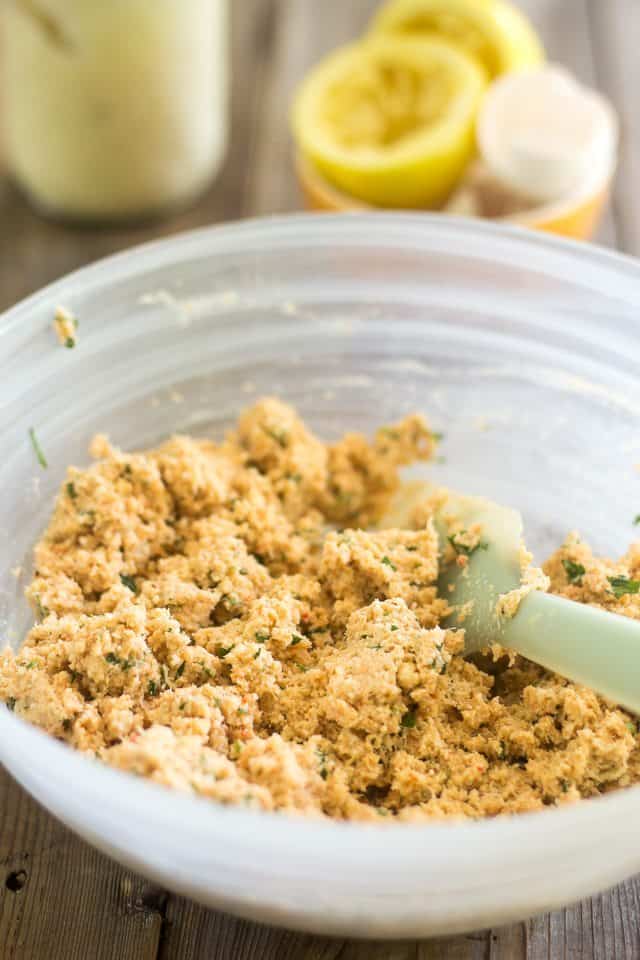 Once my fish mixture is all good and combined, I always like to send it for a quick stay in the fridge, just to give it a chance to rest and firm up some. I find it's just so much easier to shape the patties when the meat has had a few minutes to chill.
Plus, while the crab mixture is chilling, it gives us time to work on the breading. Using a coffee grinder or small food processor, we want to grind the shredded coconut, sliced almonds, Old Bay Seasoning, salt and pepper together to a coarse sand-like consistency.
This then needs to be transferred to a shallow dish or plate.
By now, it's probably time to form patties. We're looking to make 10 to 12 equally sized patties, which we then want to press into the coconut/almond breading until well coated on both sides.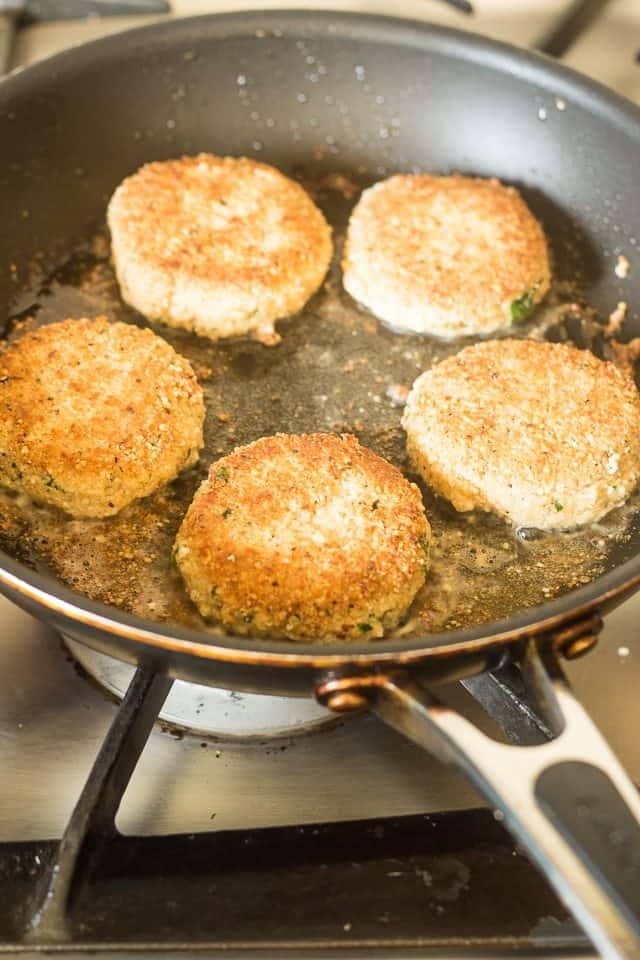 Now for the best part: cooking and tasting!
Melt a few tablespoons of coconut oil in a large, heavy skillet set over medium heat then fry the crab cakes 5 or 6 at a time until they're golden brown on both sides, about 3 minutes per side.
You can serve these as is, but they are absolutely delicious with a little touch of paleo mayo. And if you want to kick things up a notch, add a little bit of Old Bay seasoning to that mayo. OH!
No Old Bay? Smoked paprika, a pinch of celery salt and cayenne pepper would most certainly do the trick!
For the record, these reheat fairly well in a covered skillet set over low heat. And they make for a pretty awesome breakfast, too.
Perfect for those of you who are trying to incorporate a little bit more protein to their morning fare!
Paleo Crab Cakes
Serves:
Yields 10 to 12 Cakes
Instructions
In a coffee grinder or small food processor, grind the shredded coconut until it has a very fine, almost flour-like texture. Transfer to a large mixing bowl, along with the rest of the ingredients, except for the coconut oil for pan-frying and those listed under breading. Stir this mixture with a wooden spoon or rubber spatula until evenly combined. Set in the fridge to rest and firm up for about 10 minutes.
Using your coffee grinder or small food processor once again, grind the shredded coconut, sliced almonds, Old Bay Seasoning, salt and pepper together until the mixture has the consistency of coarse sand. Transfer to a shallow dish or plate.
Form the crab mixture into 10 to 12 equal patties and press them into the coconut/almond breading to coat well on both sides.
Melt a few tablespoons of coconut oil in a large, heavy skillet set over medium heat then fry the crab cakes 5 or 6 at a time until they're golden brown on both sides, about 3 minutes per side.
Serve hot with a generous dollop of paleo mayo (add a pinch of Old Bay to it to kick it up a notch!)

Nutrition Information
Serving size:
NF is based on 1 cake