Paleo Salmon Terrine
My mind recently got a glimpse, a flash memory from my distant past, of this wicked salmon terrine that my grand-mother used to make back when I was a kid. Even though I was not big on fish or seafood back then, there was something about her salmon terrine that kept me coming back for more.
That brief flashback left me with an intense and uncontrollable craving for Salmon Terrine. I had no choice, I had to try my hand at making a Paleo version of it.
To be honest, I was a tad skeptical that it would yield great results. I really wasn't convinced that the flavor of coconut milk would work all that well with that of salmon. In my mind, it just seemed like a very odd combination. And I couldn't think of any other suitable substitution for the much required heavy cream.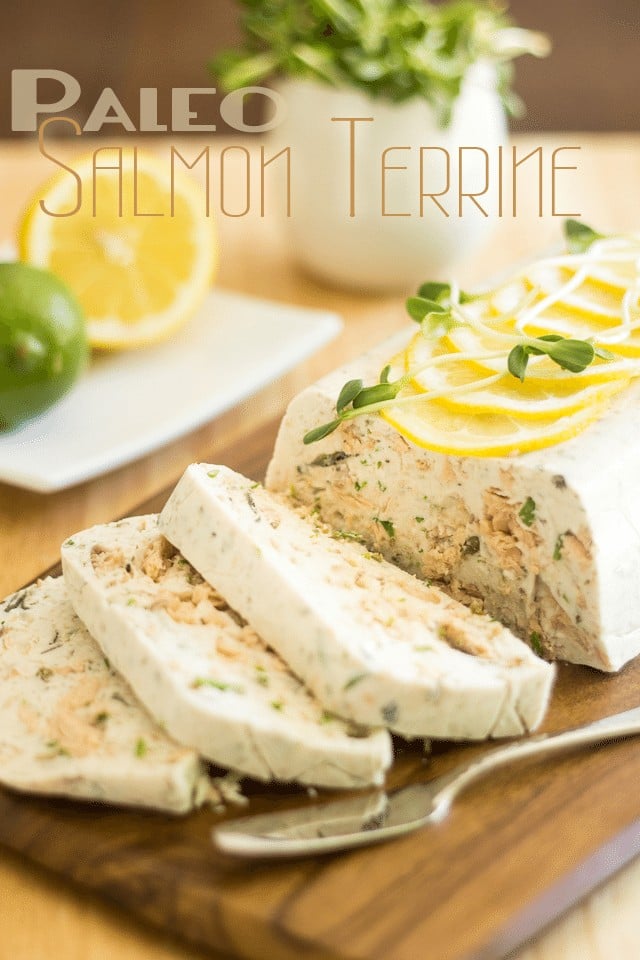 But, since I really really had my mind set on eating Salmon Terrine, I decided (or well, my brains made that decision for me, and when they want something, there's no arguing with them) that I was gonna go ahead and give it a try anyway.
Boy am I glad I listened to my brains' insisting demand. Not only does this salmon terrine taste amazingly good and fresh, but it also has the bestest texture ever, I swear.
Seriously, I will be making this terrine A LOT and often. And I won't be making any changes at all to that recipe, either. I think it's perfect just the way it is. If you ask me, I think coconut milk makes this dish even better than heavy cream would. It kind of tones down the fishy flavor and gives it a little je-ne-sais-quoi, a subtle hint of sweetness that is not in the least unpleasant to the palate.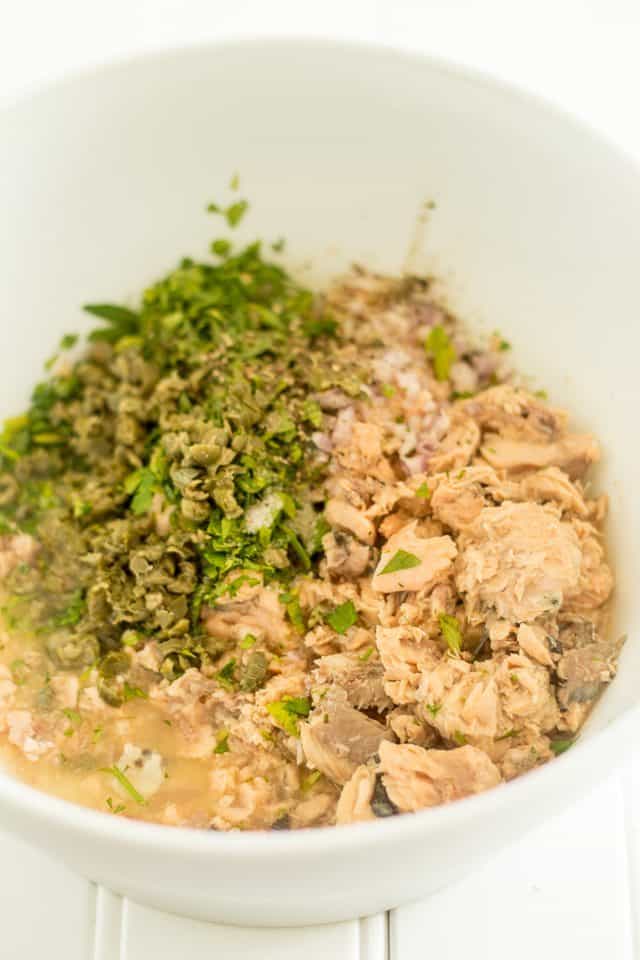 Unlike many other terrine recipes, this one is super simple, quick and easy to make. Just throw your salmon, herbs and seasoning in a large mixing bowl.
I used canned pink salmon (wild caught and sustainably sourced, of course) with skin, bones and all, but you could very well use leftover cooked salmon, or even tuna if you wanted to.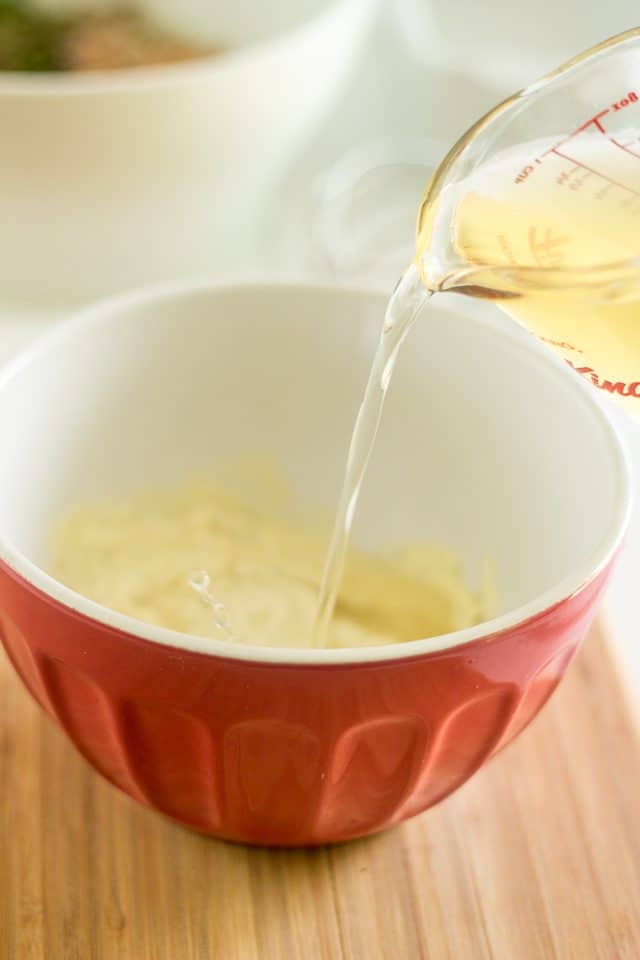 You then need to mix some paleo mayo and coconut milk in a separate bowl, and then add some melted gelatin to it.
Melting the gelatin may sound like it's rocket science, but in fact, it couldn't be easier. First, you need sprinkle the powder over some cold water and let it bloom (that's a fancy way of saying absorb water) for a few minutes. Once it's absorbed all the water, pour some boiling water over it and mix well until the gelatin is completely dissolved, then let it come down to room temperature.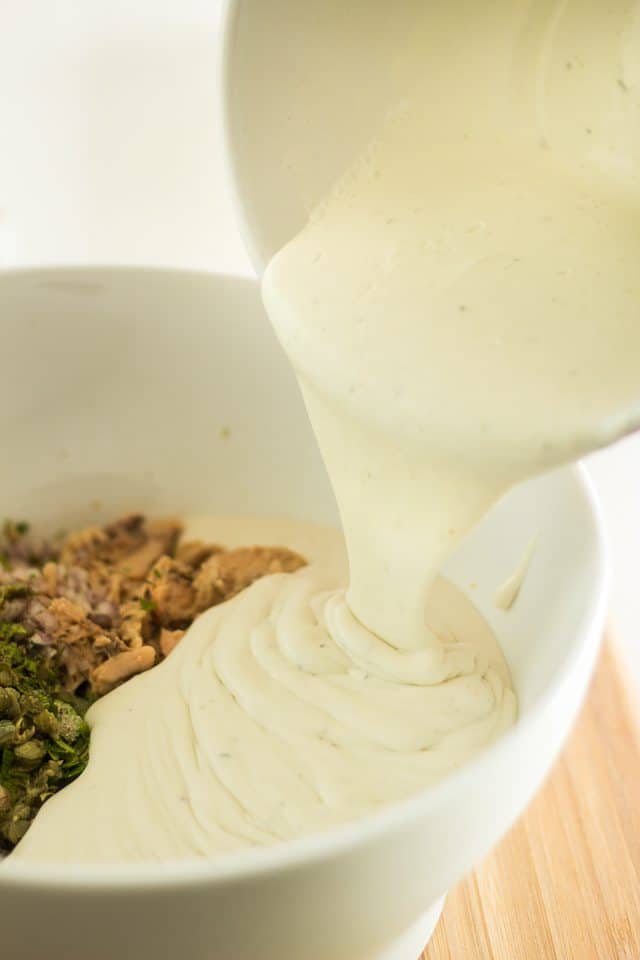 Pour the coconut cream / gelatin mixture over the salmon and gently fold it in until everything is evenly combined.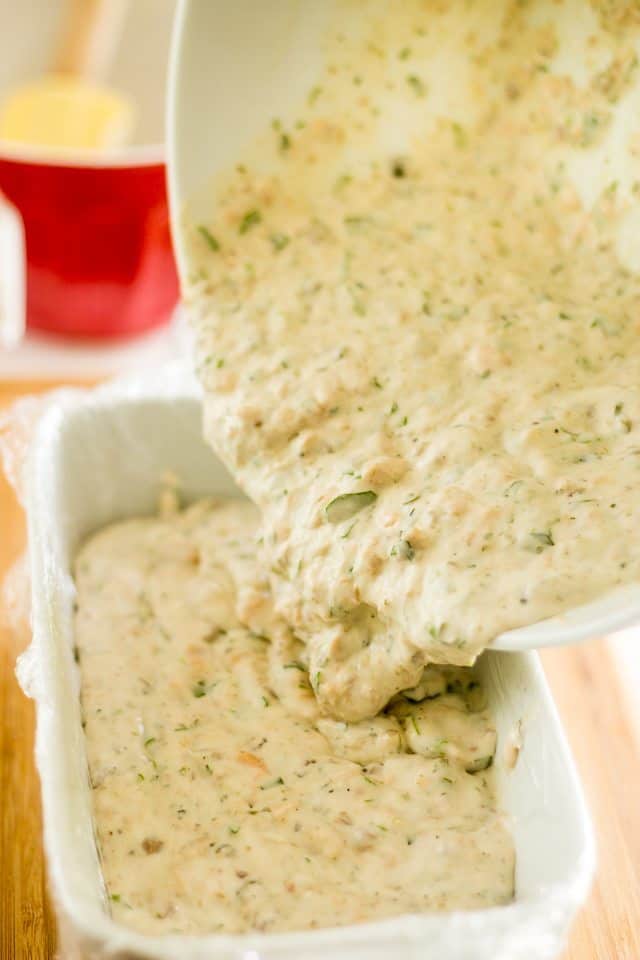 Pour that salmon mixture into a 9″ loaf pan that's been lined with plastic film and throw that in the fridge to set, at least 6 hours but preferably overnight.
To line your pan with plastic film, it really helps if you grease it lightly first, as the fat will help the plastic film adhere to it and will make it easier to take all the wrinkles out. You really want to smooth out that film as much as you can, as any wrinkle will imprint on your terrine.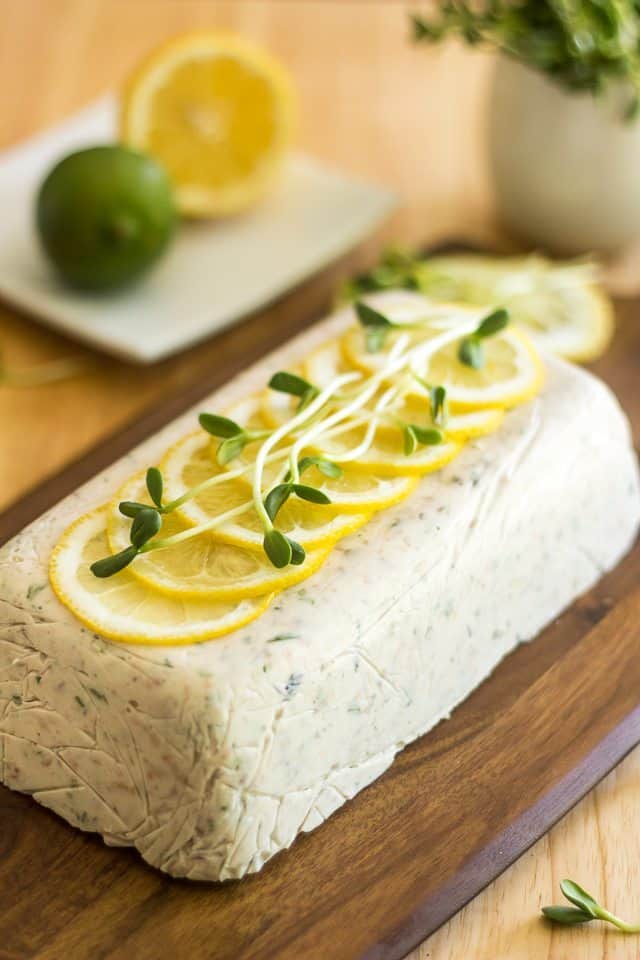 See what I mean? Wrinkles! At least, the top is nice and smooth.
And wrinkles don't look so bad, do they?
Garnish the top with a few slices of lemon and a handful of sprouts and you're all set. Wouldn't this look super pretty on a buffet table? I know I would go straight for that dish if I was invited to that party!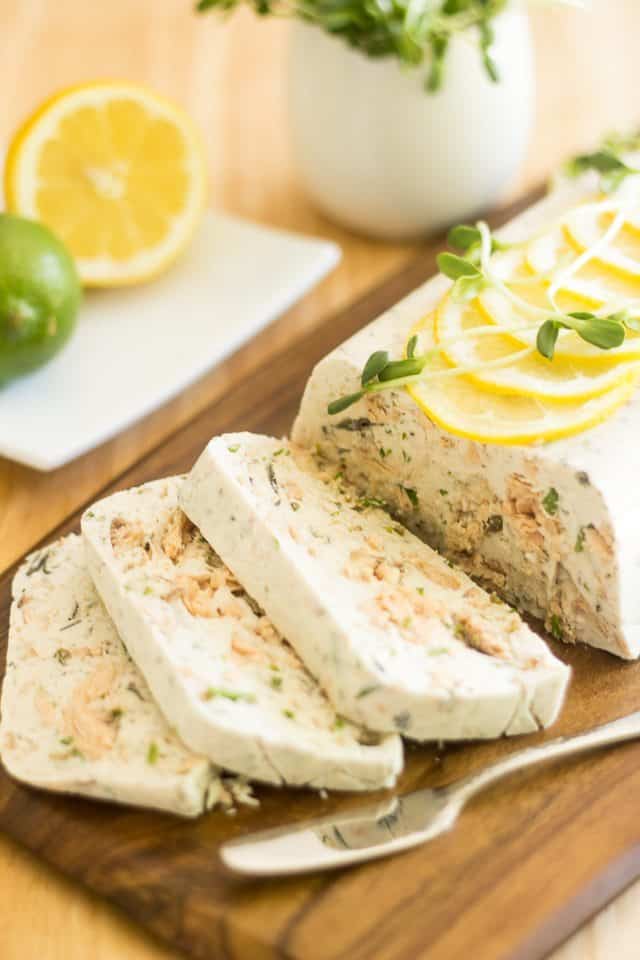 Honestly, though, you don't need to wait for a special occasion to whip this one up. It is absolutely spectacular at breakfast, served alongside a couple of scrambled eggs and a load of fresh vegetables.
And it makes for a fantastic little snack, too!
Quite frankly, you don't even need crackers or toast to put it on.
A simple fork will do just fine!
Paleo Salmon Terrine
Servings: 12
Ingredients
2 -213 g 7.5oz cans wild caught pink salmon
1 shallot, minced
2 tablespoons fresh parsley, chopped
2 tablespoons capers, chopped
1/2 teaspoon Himalayan salt
1/2 teaspoon freshly cracked black pepper
1 tablespoon lemon juice
1/2 cup paleo mayo
1 cup full fat coconut milk, refrigerated overnight
2 tablespoons grassfed gelatin
1/2 cup cold water
1/2 cup boiling water
Instructions
Grease a

9" loaf pan

and line it with plastic film. Greasing the pan will help the plastic film adhere to it and will make it easier to take the wrinkles out. You want the plastic film to be as smooth as possible as any wrinkle will transfer to the terrine.

In a large measuring cup, add 1/2 cup cold water and sprinkle gelatin on top. Let the gelatin bloom over the cold water for about 5 minutes, then pour boiling water and mix well until the gelatin is completely dissolved. Let this come down to room temperature.

In a large mixing bowl, add salmon, shallot, parsley, capers, salt, pepper and lemon juice and mix well until the ingredients are well combined and salmon is broken down into flakes.

In a separate bowl, mix the mayo and coconut milk then add the gelatin and whisk until well combined; delicately fold in salmon mixture then pour this into the prepared loaf pan.

Refrigerate until fully set, at least 6 hours but preferably overnight.
If you've tried this recipe, please take a minute to rate the recipe and let me know how things went for you in the comments below. It's always such a pleasure to hear from you!
You can also FOLLOW ME on PINTEREST, FACEBOOK, INSTAGRAM and TWITTER for more delicious, healthy recipes!